Whet Travel has officially announced an insane phase one lineup for Groove Cruise Miami 2017! Will you be joining us aboard the Victory?
---
Groove Cruise Miami returns next January, but this time on a brand new ship (the Carnival Victory) to an all new location…Grand Turk! The Groove Cruise Miami is an amazing adventure filled with beach parties, 96 hours of non-stop music, and the amazing Groove Cruise family.
Announced tonight is the first phase of the Groove Cruise Miami lineup, including big names like Roger Sanchez, Anthony Attalla, Chus + Ceballos, Markus Schulz, and many more. This is only phase 1! It's expected that there will be more artists announced soon, boasting one of the biggest Groove Cruise lineups to date.
Check out my review of last year's Groove Cruise Miami to get a glimpse of how amazing it really is!
Curious about the themes and hotel options this year? Click HERE!
---
Groove Cruise Miami 2017 – Phase 1 Lineup: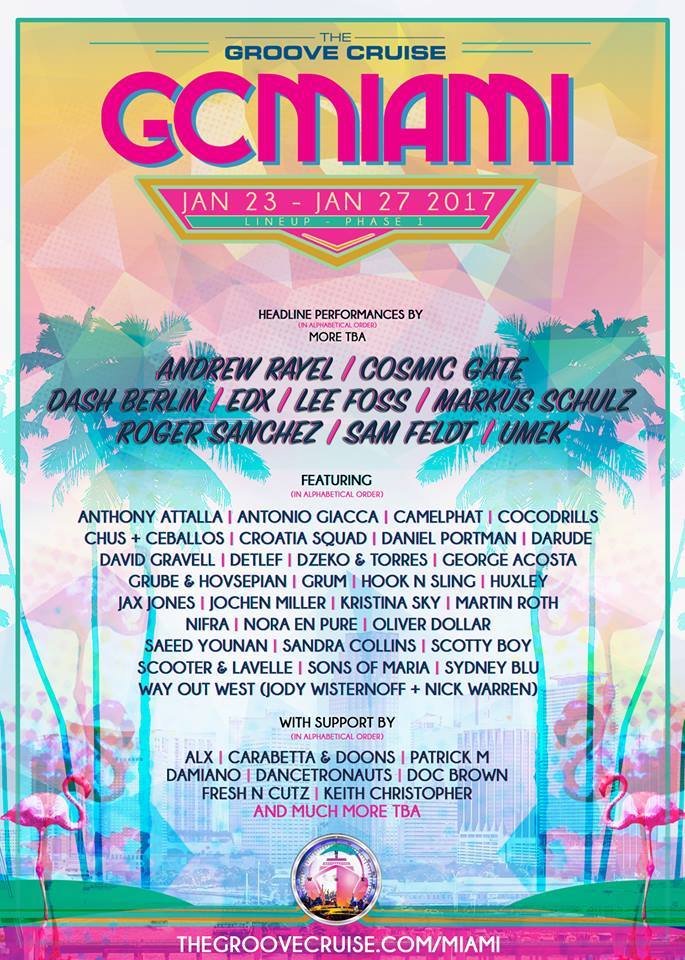 In alphabetical order, so far the announced artists include:
ALX
Anthony Attalla
Antonio Giacca
Camelphat
Carabetta & Doons
Chus + Ceballos
Cocodrills
Croatia Squad
Damiano
Dancetronauts
Daniel Portman
Darude
Dash Berlin
David Gravell
Dean Mason
Detlef
Doc Brown
Dzeko & Torres
Fresh N Cutz
George Acosta
Grube & Hovsepian
Huxley
Jax Jones
Jochen Miller
Keith Christopher
Lee Foss
Martin Roth
Oliver Dollar
Patrick M
Roger Sanchez
Sandra Collins
Scotty Boy
Scooter & Lavelle
Sons of Maria
Sydney Blu
Way out West (Jody Wisternoff + Nick Warren)
---
Groove Cruise Miami 2016 Virtual Reality Experience:
Official EDM Identity Groove Cruise Miami 2016 Aftermovie:
---
Have we convinced you yet? Book your cabin now. Prices go up $50 per person on September 28th. Use code "EDMIDENTITY" for a $50 per person discount!
Follow The Groove Cruise on Social Media: