Groove Cruise Cabo 2016 is this week and we couldn't be more excited! The sailing is sold out and the cabin names are already locked, did you get booked in time? This essentials post will be packed with all the information you might need to get by on Groove Cruise Cabo 2016! We're here to help you get through the festival safely and with ease.
We at EDM Identity know that internet access will be spotty on the high seas (though WiFi is available for purchase as well as an internet cafe), in anticipation of that, we've prepared a PDF version you can download to your phone by clicking here!
---
Groove Cruise Cabo 2016 Essential Info:
Check In: 12PM
Event Start: 4PM October 28th 2016
Event End: 7-8AM November 2nd 2016
Location: Port of San Diego Cruise Ship Terminal (1140 N Harbor Dr, San Diego, CA 92101)
Facebook Event Page: Click Here.
Acceptable Forms of Identification for Entry
Whet Travel/The Groove Cruise and EDM Identity strongly recommend that all guests travel with a passport (valid for at least six months beyond the completion of travel). Having a valid passport will enable you to fly from the U.S. to a foreign port in the event you miss your scheduled embarkation, or to fly back to the U.S. should you need to disembark the ship mid-cruise for any reason.
The Western Hemisphere Travel Initiative (WHTI) stipulates the following information with regards to "closed-loop" cruises, which are sailings that originate and terminate in the same U.S. Port. Please note that this information could change at any time without notice.
U.S. Citizens (including children) taking "closed-loop" cruises will be able to enter or depart the country with either a valid U.S. Passport – or – Proof of citizenship, such as an original or certified copy of his or her birth certificate (or a ConsuMiamir report of Birth Abroad, or a Certificate of Naturalization), along with government issued photo identification, such as a State issued driver's license.Other acceptable forms of identification include:
Enhanced Driver's Licenses
Trusted Traveler Cards (NEXUS, SENTRI, or FAST)
Military Identification Cards (for members of the U.S. armed forces on official orders)
U.S. Merchant Mariner Document (for U.S. citizens on official maritime business)
Enhanced Tribal Card (where available)
Non-U.S. Citizens: You will need a valid passport and, in some cases, a visa. If you live in the U.S., you will also need the original copy of your Alien Registration Card (ARC or "Green Card") and any other documentation the countries on your itinerary require due to your alien status.
If you are not a U.S. Citizen, please contact U.S. Immigrations at 1-800-375-5283 to be sure your identification will be satisfactory for both entry into the U.S., and for the cruise.
Citizens from the Visa Waiver Program countries will require a machine-readable passport valid for the duration of their voyage.
All guests must present the required documentation at embarkation. Guests without the required documentation will be denied boarding and no refund will be issued. Please understand that Norwegian Cruise Line will strictly enforce this requirement to be in compliance with this important U.S. Government mandate.
Unacceptable Forms of Identification for Entry
NO

 School ID

NO

Consular ID

NO

Photocopies of any ID
---
Groove Cruise Cabo 2016 Itinerary: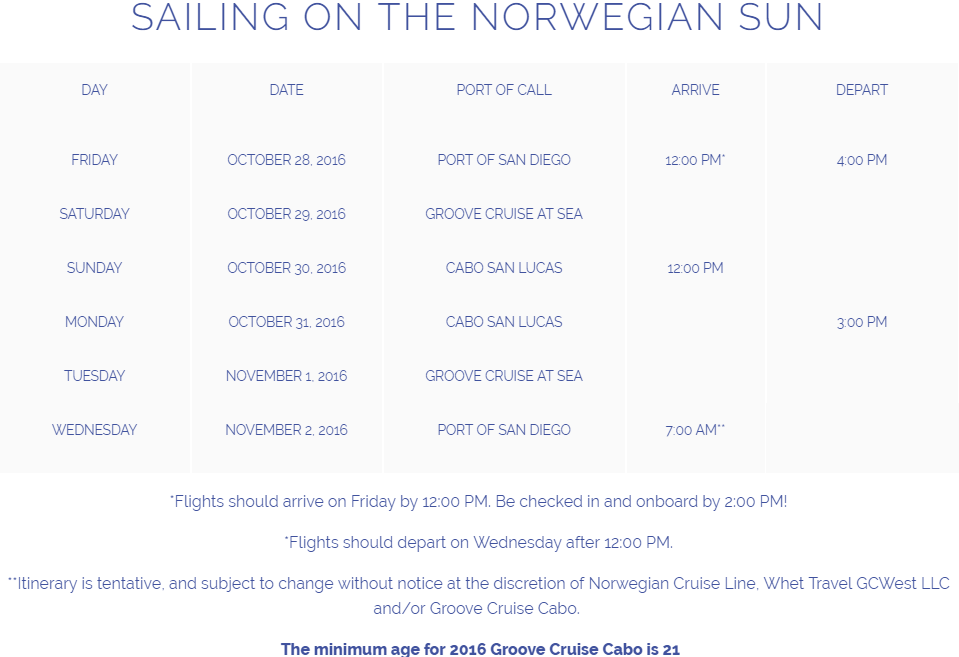 ---
Groove Cruise Cabo 2016 Set Times:
Plan your night out. This event has 120 hours straight of music from the time we board in San Diego until we get back! This is a marathon, not a sprint. Be sure to pace yourself and enjoy all the events and options available to you during the festival I generally try not to keep a rigid schedule, I generally pick 2-3 artists that are a "MUST SEE" and then just let the flow of the event take it from there. Make sure to leave adequate room to take bathroom and water breaks.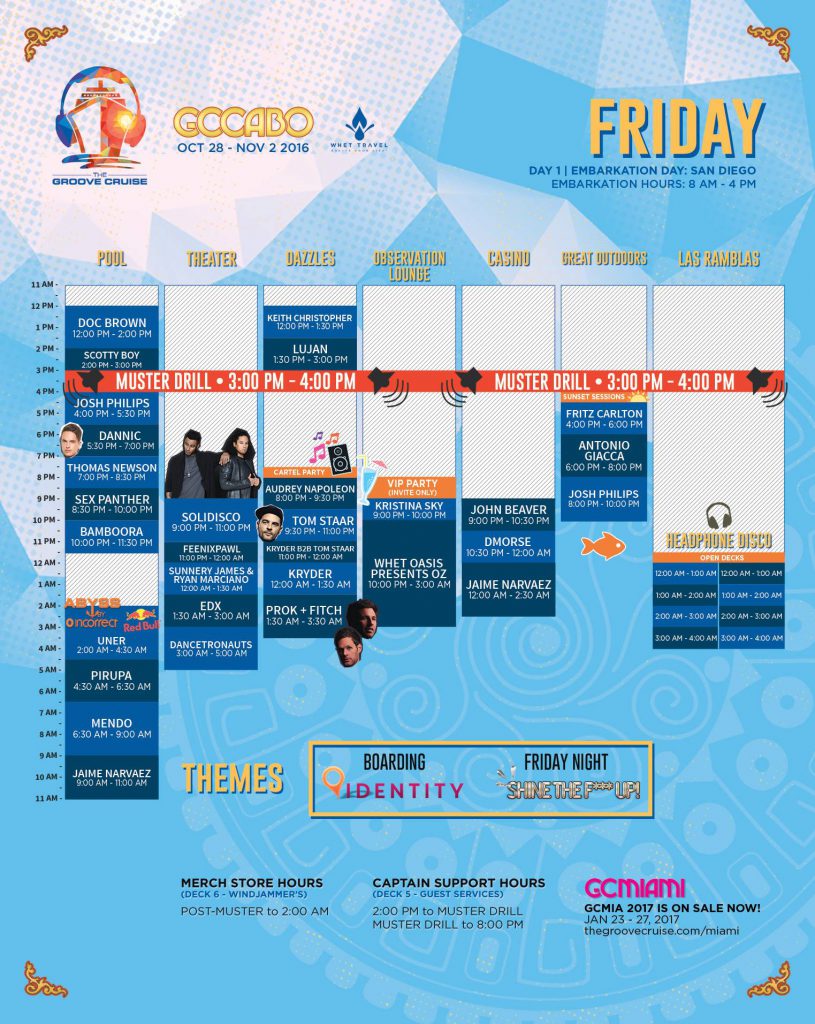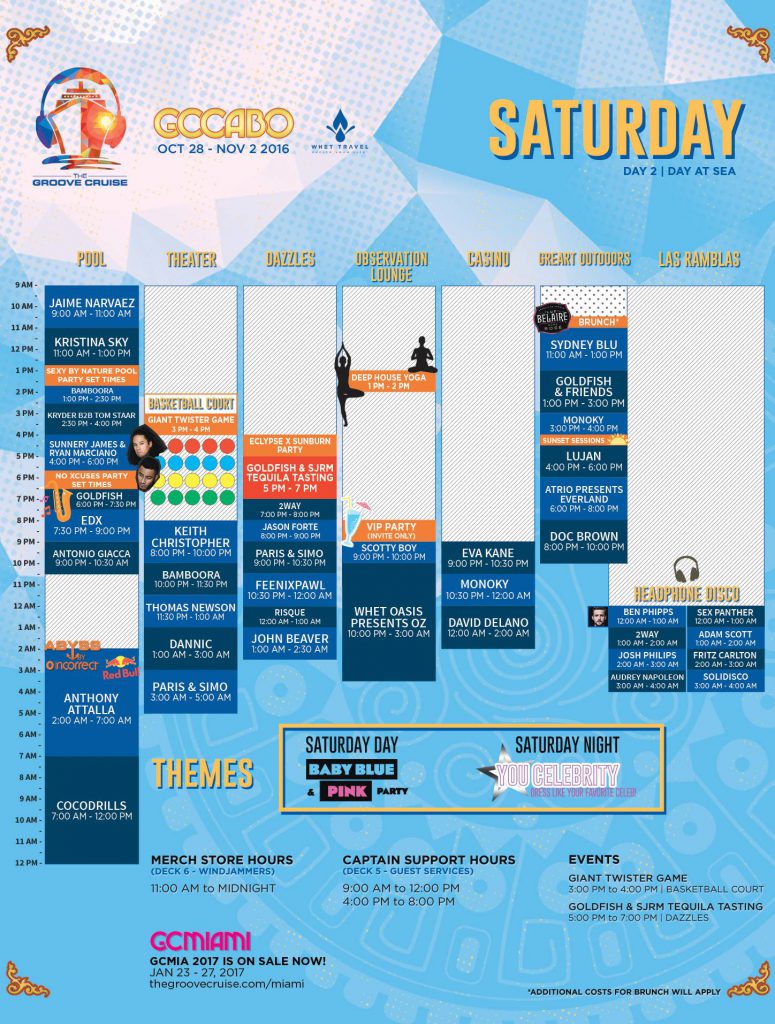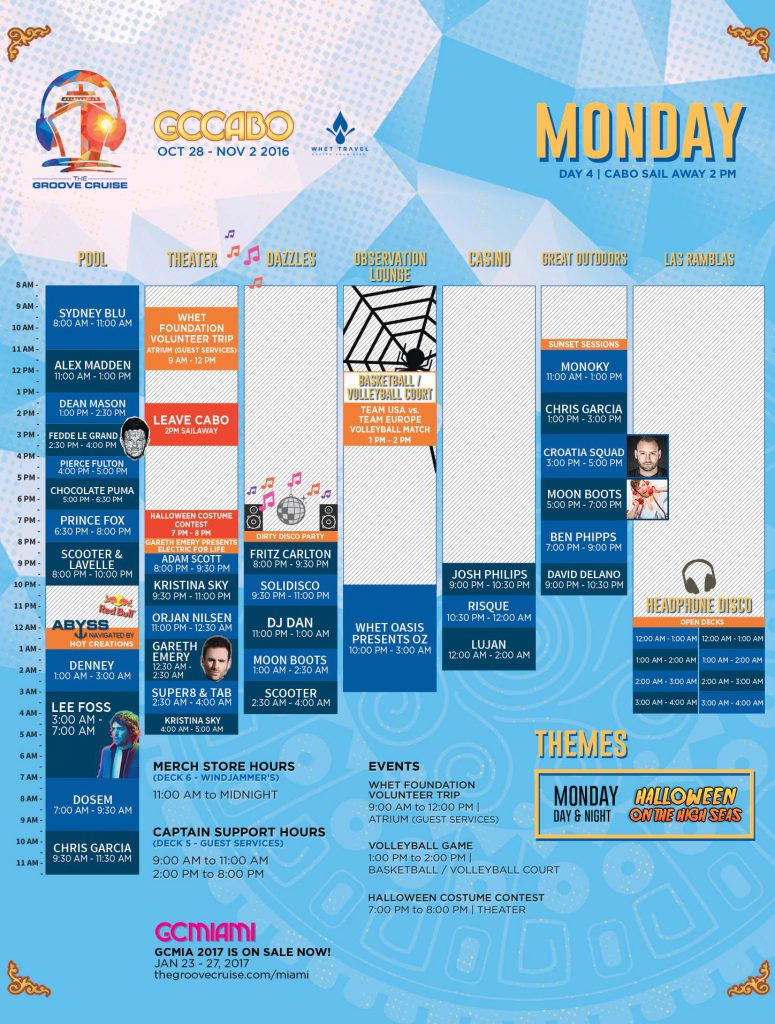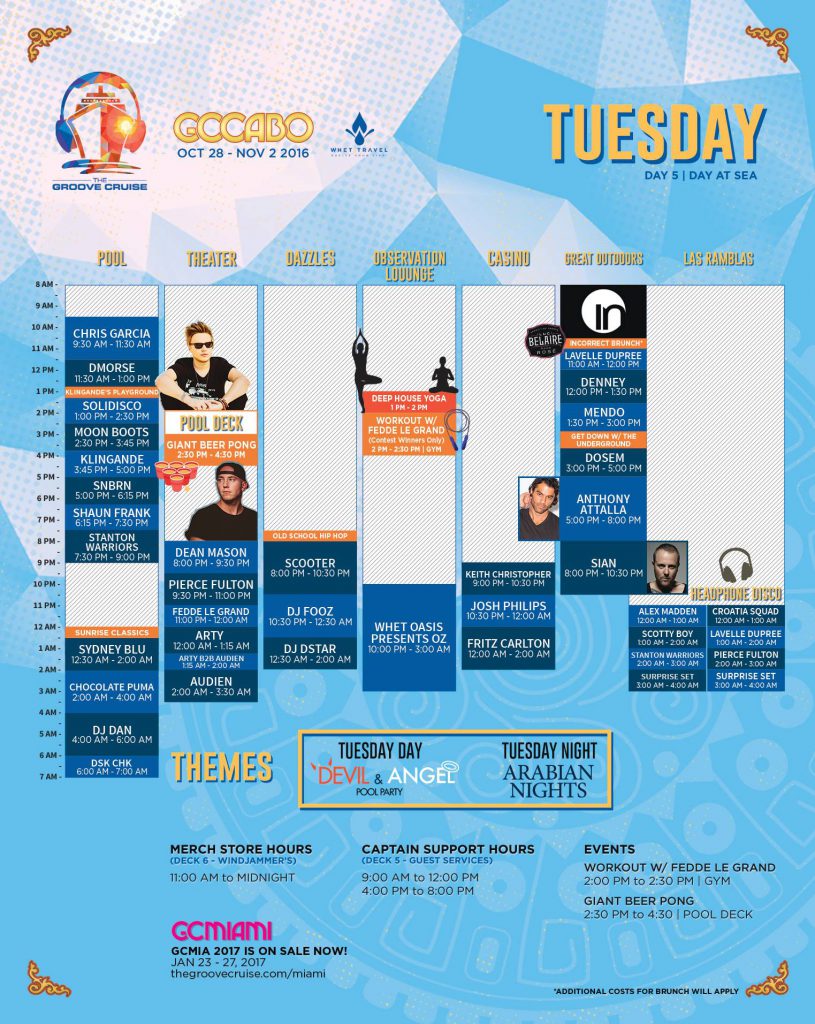 ---
Groove Cruise Cabo 2016 Map:
Unfortunately there isn't a traditional festival map available online for Groove Cruise Cabo. However the event is onboard the Norwegian Sun. We recommend checking out the deck plans for the Norwegian Sun on Cruise Critic's website. Although things may be slightly moved around and it won't have exact stage locations like a traditional festival map, it will definitely help you get your bearings in a new environment!
---
Mind Your Belongings
Unfortunately, many people have reported pickpockets, bag slashings, and theft of wallets, smartphones, purses and other valuables during this festival season. While this small number of bad apples in the bunch doesn't define an entire crowd, there are opportunistic people who come to these events to take advantage of unsuspecting party goers and it's important to be mindful of your valuables while on Groove Cruise Cabo.
Pay attention to who's around you and what's going on around you. Keep your wallet and phone in your front pocket(s) if you can. Treat your phone the same way you would treat cash; don't set it down on a table or bar and look away. If a friend isn't standing behind you in a crowd, be careful of your backpack or purse, and don't put valuables in a pocket that could easily be unzipped by someone behind in a crowded spot without you realizing.
---
Groove Cruise Cabo 2016 Do's And Don'ts
Below is a list of items you can and cannot bring. Be mindful as this list is not all-encompassing and is subject to change at the discretion of Whet Travel, Norwegian Cruise Lines, and US Customs/Border Security.
What to Bring With You
Cruise eDocs
Photo ID (see Acceptable Forms above.)
Festive yet comfortable clothing and shoes
Smiles and good vibes!
Acceptable Items:
The following items are allowed, however we recommend using proper caution when bring and using the items. Don't be the bad apple that spoils the bunch and ruins it for everyone else.
| | |
| --- | --- |
| · Personal grooming devices (Hair dryers, flat irons, curling irons, shavers) | · Glowsticks & glowing/illuminated costumes or jewelry |
| · Electronics (Laptops, Camera, Cell Phones) | · Sealed packs of gum |
| · Fans, power strips, multi-plug adaptors, extension cords (without surge protectors) | ·Prescription medication |
| · Musical instruments | · Hula hoops (including led hoops) |
| · Radios & Boomboxes | · Inflatables (must be deflated upon entry) |
| · Sunglasses & hats | · Flags/banners or handmade signs (no corporate/company branded and no hard flag poles) |
| · Lighters and sealed packs of cigarettes | · Festival totems or decorated pool noodles (see TOTEM GUIDELINES below) |
| · Earplugs | · Non-professional flash/still cameras, handheld video devices under 6" (sony action cam, GoPro, etc.), and GoPro extendable poles |
| · Sealed lip balm & gloss | · Food items must be pre-packed & unopened (homemade or pre-cooked foods not permitted) |
| | |
Prohibited Items:
In addition to the list below, weapons of any kind are not prohibited on board the Norwegian Sun. This includes but is not limited to.
Firearms & Ammunition
Fireworks, Pyrotechnics, Explosives & Explosive Components
Tasers, Stun Guns, Pepper Spray & Mace
Telescopic & Regular Batons
Lasers
Martial Arts Equipment (ex. Flails, Throwing Stars, Belt Buckle Knives etc)
Handcuffs & Brass Nuckles
Compressed Gas Bottles/Cylinders
Knives with blades longer than 4″
| | |
| --- | --- |
| · Illegal substances | · Scissors (With blades longer than 4″) |
| · Drugs or drug paraphernalia (Prescribed OK in reasonable quantity & original container) | · Bicycles |
| · Alcohol (Hard Liquor & Beer) | · Surfboards, boats & canoes |
| · Large coolers | · Scooters |
| · Hookahs | · Inflatable kiddie pools |
| · Heating pads | · Hoverboards |
| · Clothing irons & steamers (Norwegian offers laundry services with irons/ironing boards) | · Any radio controlled flying toys (incl drones) |
| · Household goods or tools of trade (Not listed under Acceptable items) | · Satellite communicators & staphones |
| · Candles & Incense | · Any footwear with wheels (ex. Heelys) |
| · Flammable liquid (ex Cigarette lighter fluid) | · Fish of any kind (If caught during excursion, must be shipped home) |
Totem Guidelines:
Totems are allowed however poles/sticks are not!
Decorated pool noodles work great for easy entrance through security.
Inflatables attached to totems must be deflated upon entry.
Any item deemed dangerous will not be allowed.
---
Get To Know Groove Cruise Cabo 2016
Want to know what you're in store for? Get in the mood for Groove Cruise with some of our other content!
Check out our Groove Cruise Miami recap here.
Phase 2 Lineup, Themes & Venues
"Countdown to Groove Cruise Cabo" Artist Series
---
Catch up with Groove Cruise on Social Media: