Groove Cruise Miami 2016…Miami to Jamaica – A Groove Cruise Veteran's Review
Groove Cruise Miami 2016 marked my fourth year on this adventure. To be perfectly honest, it was my favorite year yet. When I found out that, for the first time ever, the Groove Cruise would be heading to Jamaica, I was beyond excited. I've been on the last three – Bahamas, Cozumel, and back to the Bahamas. A new destination was one of the highlights of my excitement for this year, and definitely an avenue that I hope Whet Travel continues to pursue in the future.
Leaving Port…
Leaving the port of Miami is one of the most exciting parts about Groove Cruise. This year, however, it was not so exciting. Due to Norwegian Cruise Line's heightened security and a bit of bad weather, it took an abnormally long time to board the ship. I like to focus on the positive though, because once you're on the ship with the Groove Cruise family, all your worries float away! Watching Miami grow smaller and sailing into the sunset is one of my favorite moments each year. Although there wasn't as much sun as we'd all hoped, it's always a beautiful sight. By the time you board, dancing and music festivities have already started and no one wastes anytime waiting to get involved.
Just as I have the last two years, I once again booked a balcony room on the ship. It's something that I'd highly recommend. Being able to wake up every morning listening to the ocean outside your door and seeing the sun setting and rising from your balcony is an indescribable experience. There's also plenty of space for over-packers (such as myself) and people with lots of costumes. If you pay payments for your trip, it's worth the extra monthly amount for a balcony room. I promise!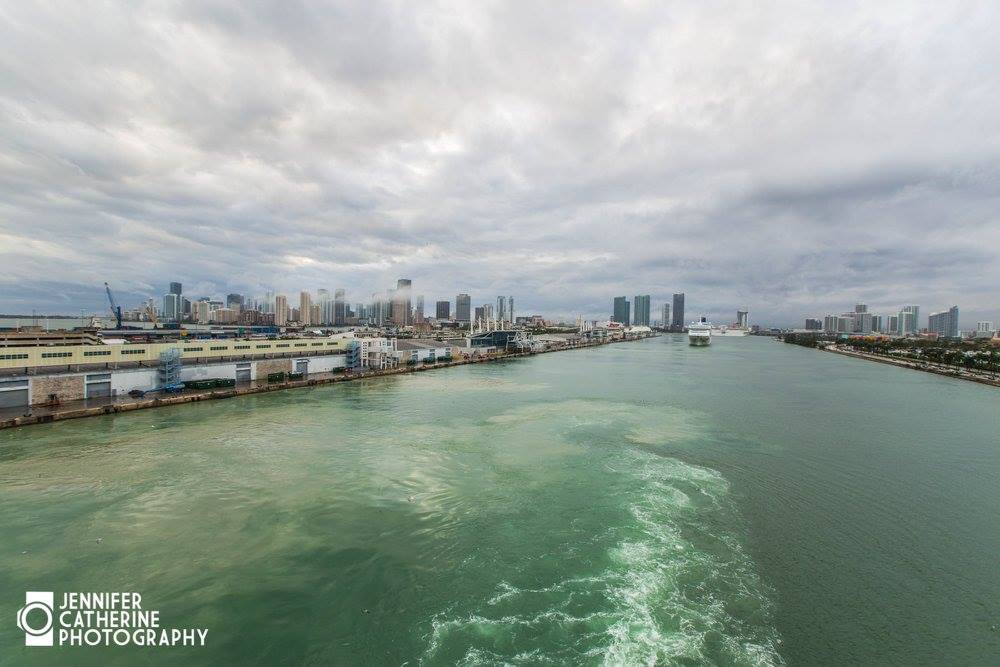 The First Night on the Ship…
Unfortunately, due to the first night's weather, the main pool deck was shut down. However, Whet Travel was able to move sets around to different locations to accommodate. Being the trance fan that I ultimately am, I was most excited to see Markus Schulz. Every year, I carry around my Schulz Army flag. I like to think that people recognize me because I've carried it for the last 3 years and can see me from far away with it hanging off my back, which is why I continue to wear it. Meeting up with my family is important to me, so I prefer to remain recognizable. I also wear it to support Markus Schulz. I'm so happy that Markus continues to support the Groove Cruise, and therefore I like to support him. I should mention here that one of my favorite things about the cruise is that most of the artists are on the boat with you! They usually make this a vacation for themselves and have multiple sets for the duration of the event. There's always a good chance that you'll see at least one of them dancing around or enjoying a sunset. The Groove Cruise family is one of the best… we appreciate the artists and understand that this is also their time for pleasure. However, most of the artists don't mind having a chat or snapping a picture, which is really quite awesome!
Markus's "OTC" 6 hour set was absolutely amazing. He took all of us down the rabbit hole and I'm proud of myself for sticking it out until almost the very end. He told the crowd at the beginning that he would "be there until the very last Groove Cruiser left the theater!" I became way too danced out to stay until that happened. Boarding the ship with all of your bags takes its toll on you! After Markus, I crashed and got some rest to prepare myself for day two. Pacing yourself, especially on day one, is a good idea — although I guarantee you not everyone will take that advice. #teamnosleep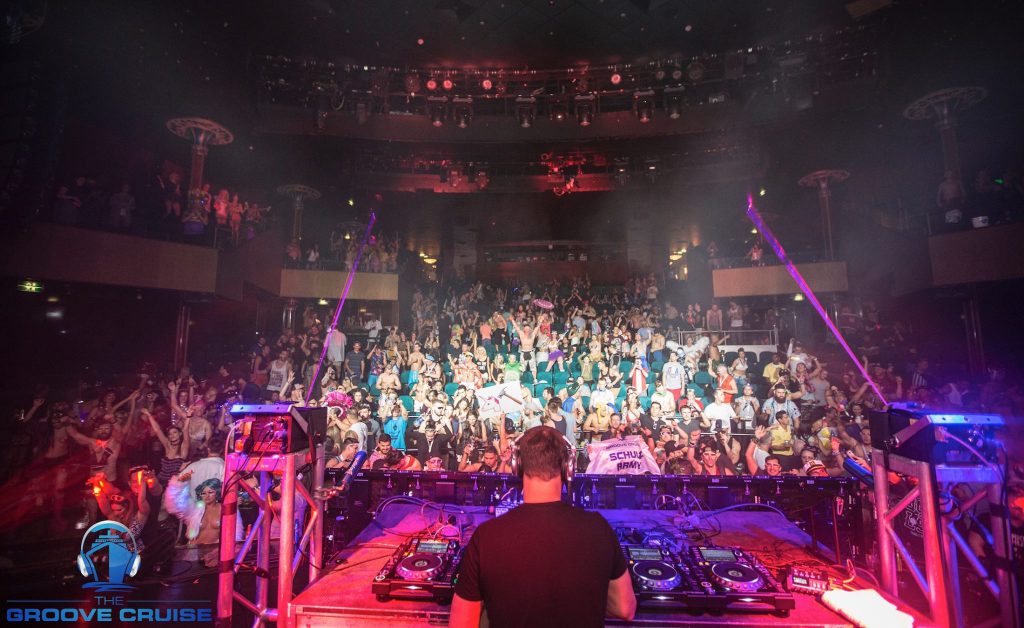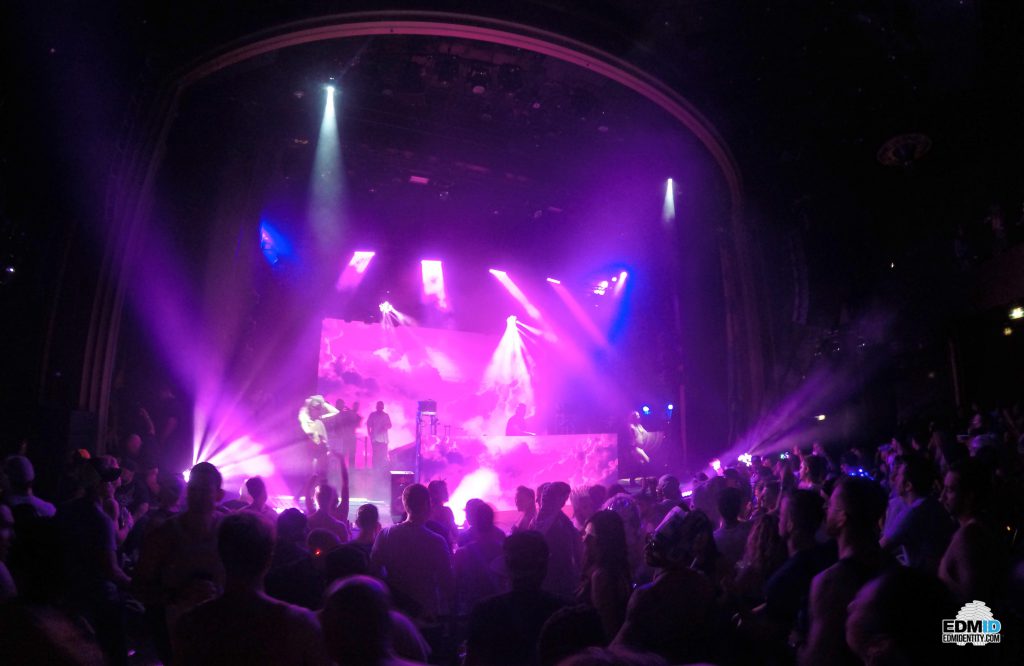 Day Two… Back to School.
Day two, Saturday, boasted costume themes of daytime "Welcome to the Jungle" and the night time theme of "Back to School". I usually participate in every theme, and although I did buy a costume for Welcome to the Jungle, I actually felt content dancing around in my flip flops and sundress. Unfortunately, Pierce Fulton's flights got cancelled due to weather, so he was unable to make the trip. I was disappointed, but honestly, the lineup doesn't make the Groove Cruise. This is the one event that I feel comfortable saying, "IT'S ALL ABOUT THE EXPERIENCE." It truly is. Chocolate Puma killed it on the pool deck in the afternoon followed up by Roger Sanchez. I headed to the back Great Outdoors stage for EDX and Croatia Squad, who were also just as amazing.
After that, I hit up the Theater, which is sort of the like the other "main stage" (second to main pool deck). Kristina Sky, per usual, absolutely nailed it with trance tracks and Darude was just as amazing. His set on this night was one of my favorites out of every one of them. Dash Berlin started next. I was pretty excited and danced around joyously for a while, but I didn't enjoy it as much as I wanted to. Maybe I was tired, or maybe it was just not as much like the Dash I used to listen to, but I headed out early. Surprisingly, I headed to sleep after that. I wanted to stay up for Cocodrills, but I knew that I needed some rest if I wanted to survive day three (Jamaica).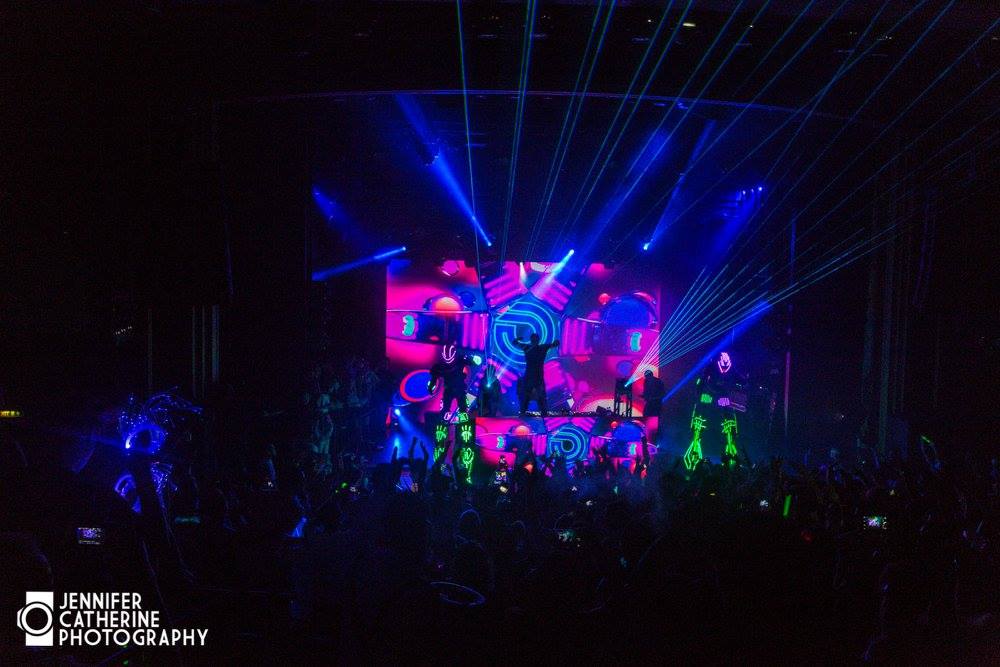 Ocho Rios… Jamaica Mon!
The time finally came to head to Jamaica. Waking up and seeing Jamaica from my balcony was a priceless moment that I'll never forget. It was beautiful: clear blue waters and palm trees for miles. I didn't wake up as early as I'd hoped to, but still managed to make it to Bamboo Beach Club by noon. The Norwegian Pearl docked in Ocho Rios, and we were able to walk right off the ship. From there, we took a bus (set up by Whet Travel to make it easy for everyone) with other Groove Cruisers to Bamboo Beach Club. Bamboo Beach Club was really awesome. There was the option for all-inclusive drinks and food or a cash bar for higher end beverages. There were also merchandise shops as well as a bar where they chop an actual coconut for you to drink out of! We definitely didn't miss out on that. You also had the option to purchase Jamaican rum… which we didn't pass up. It had to be drank before boarding the ship again, but handing out alcohol to random strangers (aka new friends) is a ton of fun! Bingo Players on the beach main stage was really epic. One of the highlights was watching a guy in a T-Rex outfit (he was spotted all weekend around the ship) up front dancing away and frolicking around. Every time I saw him over the weekend, I was grinning ear to ear. What I enjoyed the most about Jamaica music-wise was Doc Brown. He is also a Groove Cruise veteran who makes an appearance every year on the ship. He always plays awesome house music that gets everyone's feet moving.
The bus ride back to the port at Jamaica was another highlight. Riding back with Groove Cruise friends and blasting music that even the Jamaican bus driver got down to became a priceless memory. Once back on the ship, we hurried and got prepared for Kristina Sky and the surprise set (Markus Schulz) on the main pool deck. During Markus's set, there were multiple Schulz Army flags being waved around in support of the legend. Darude played after Markus and was just as amazing as ever. Another highlight of the trip was Dancetronauts. They had an epic and unique performance in the Theater. Next up was Project 46, who also became one of my favorite sets of the cruise. Dzeko & Torres was next and a pleasant surprise being artists that I'd never heard before.
However, the craziest set of them all from the third day, hands down, had to be Dada Life. WOW. INTENSE. They literally had everyone goings bananas. Blown up bananas were everywhere and everyone in banana suits even got on stage to show off their costumes. The highlight of the set was the famous pillow fight. Stuffing was everywhere. Thankfully, pillows were provided for it. I'm sure Norwegian wouldn't have been pleased had we used theirs.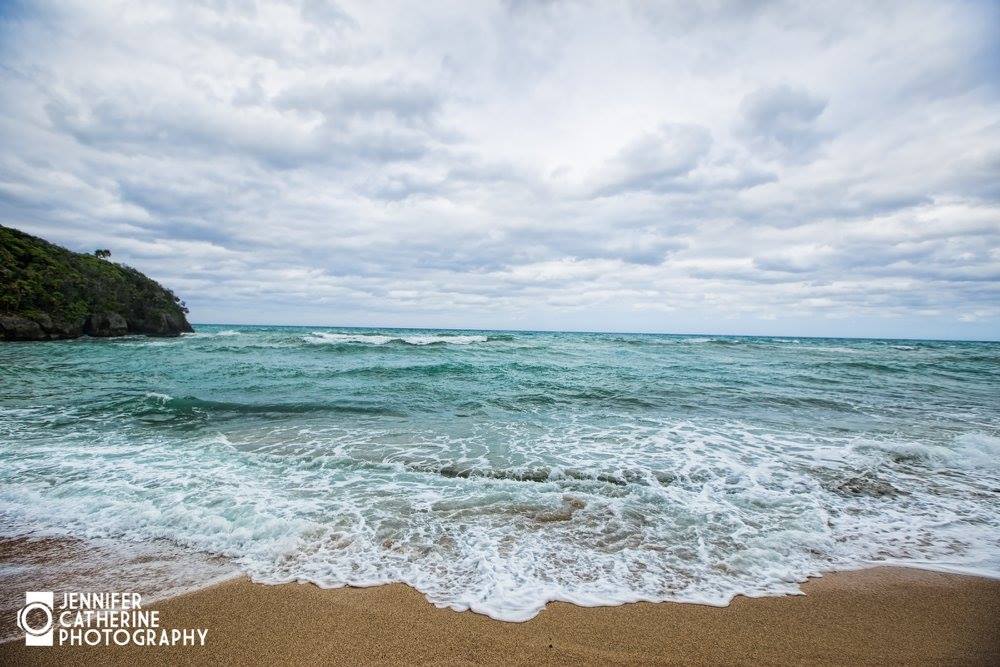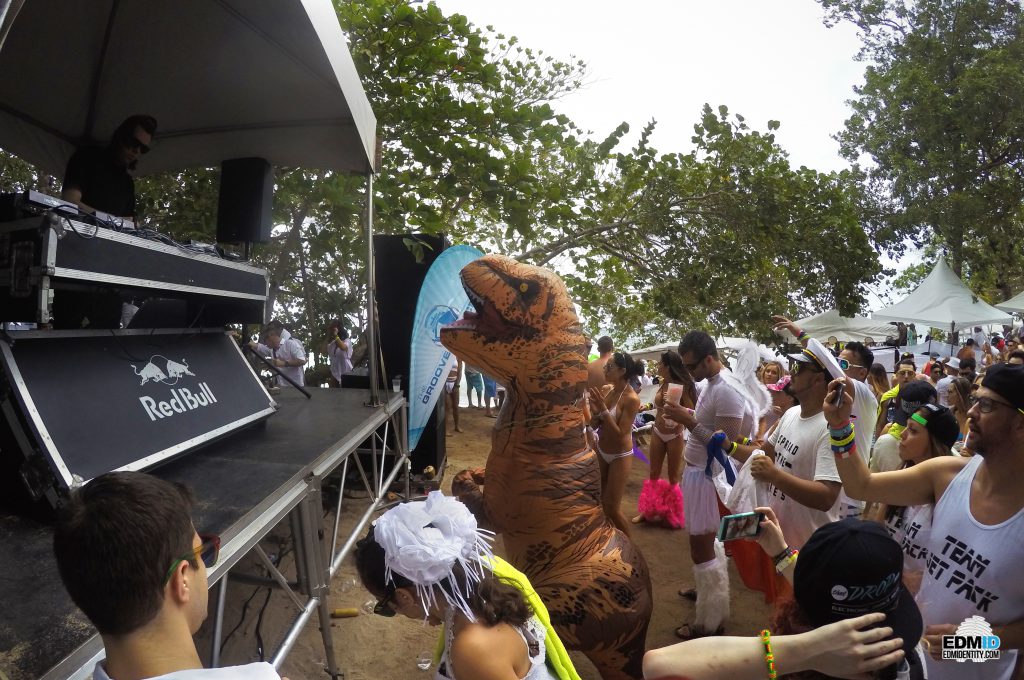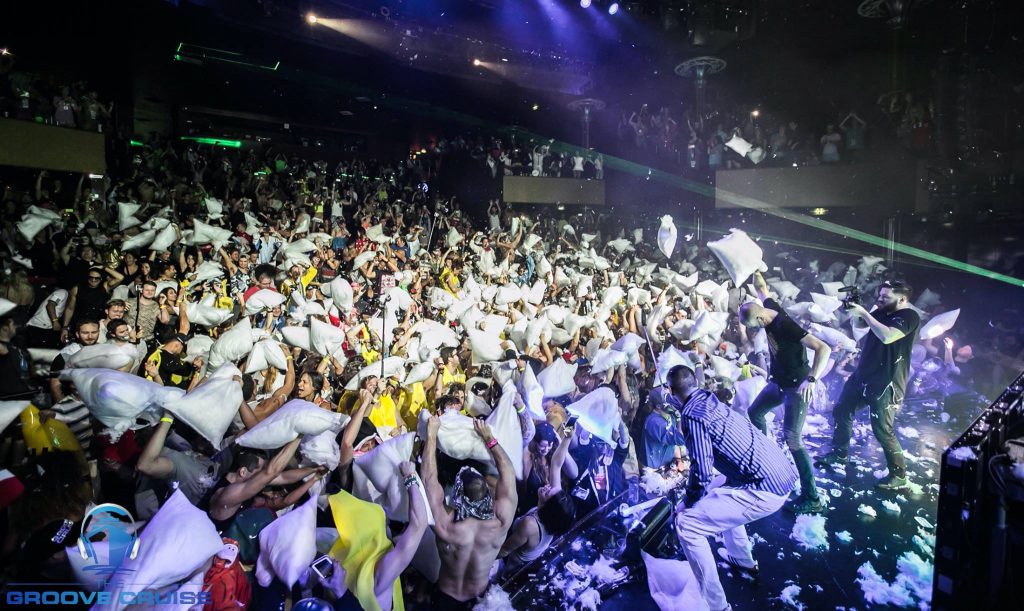 A bittersweet ending…
The last day and night of Groove Cruise is always bittersweet. The main pool deck was awesome on the last day with: Drums of the Sun, Michael Woods, EDX, and Project 46. To say I was tired was an understatement, but I knew that I wanted to experience my first sunrise set (crazy, right?) for the Roger Sanchez classics set that night. I think that the highlight of the last day was spending as much time as possible with all of my Groove Cruise family. As I write this, I tear up, knowing that I might not see many of them for a long time. It was the last night that I finally took the opportunity to go to the first ever GCFAM Open Decks. Whet Travel allowed Groove Cruise attendees to sign up to play a set. I'm happy that I went and saw Victor Cape play an amazing trance set.
My favorite set of the last night had to be Chicago's Phil Rizzo in the Casino. Although I've known Phil for a while, it was my first time hearing him spin and my opinion is not biased when I say that his set was epic. If you haven't had the pleasure of hearing him before, you should definitely do so. I sincerely hope that I get the opportunity to see him play again. After Phil's set, we rested up and enjoyed Kristina Sky again in the Theater – never disappointing.
Finally, one of the most anticipated moments — the Roger Sanchez Classics Sunrise set. There are no words to describe the final hours of this year's Groove Cruise. Being docked at port with a breath taking view of downtown Miami, watching the sun rise, and listening to this set with my Groove Cruise family is a memory that I'll cherish for my entire life.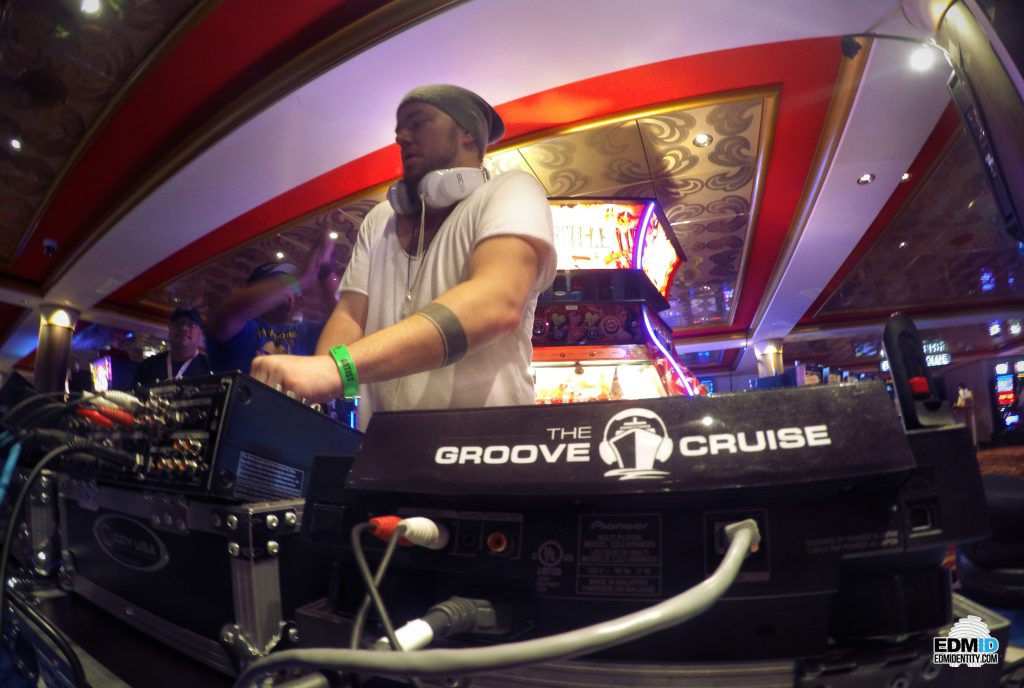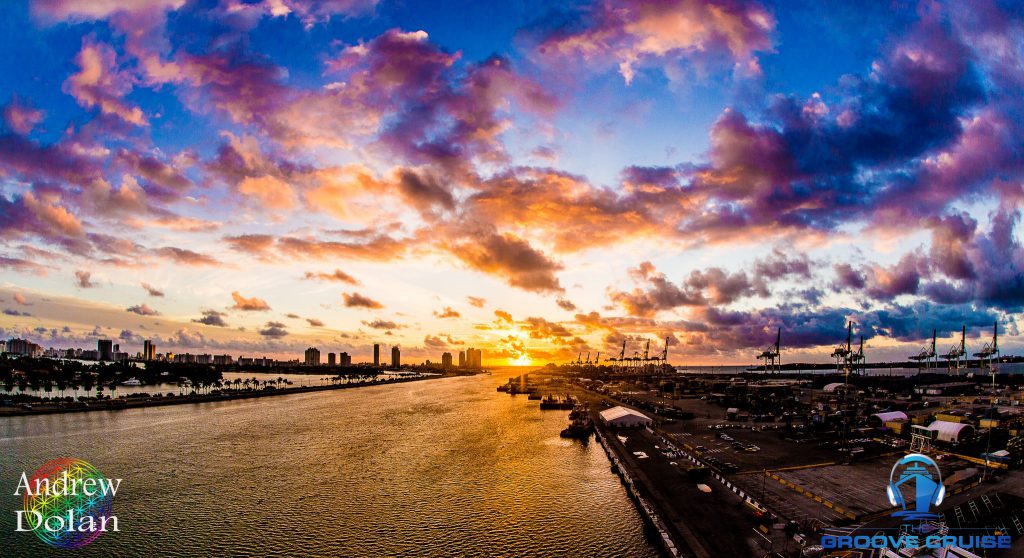 Memories to Last a Lifetime…
If you're contemplating Groove Cruise – my advice is to just do it! If you opt in early, Whet Travel graciously allows you to make monthly payments which makes the trip affordable. It's 96 hours of non-stop music and fun with the best people you could ever ask to be around. Every year, it's music mixed with a tropical destination making Groove Cruise even cooler than other events. After you experience Groove Cruise, you'll find that you have another extended family. This family is one that you'll see at other events you go to who can't wait to see you again, individuals who will be there for you if you ever need somebody, and friends for a lifetime who will make memories with you that you'll hold dear forever. You won't regret it!
A huge thank you to my Groove Cruise family and to Whet Travel for everything. The impact you've made on my life is one thing I'll be forever grateful for!

See more Groove Cruise Miami 2016 photos here, including photos from Jennifer Catherine Photography.
Follow The Groove Cruise on Facebook and Twitter to stay up to date and be on the look out for updates from us!
Groove Cruise LA pre-sale is now open and can be booked here. Use code "EDMIdentity" for a discount! Stay tuned for more news about Groove Cruise Miami pre-sale!