It was the second day of Sundown Music Festival in Huntington Beach when I first heard Saeed Younan spin a set in person.
Something that has always intrigued me about music is artists who have stood the test of time. Artists who have careers that span decades in their respective genres. Those music makers that transcend social, political, and economic change while providing an escape from our current reality. Now, I'll be the first to admit it, I am not some old-school raver with a deep history in the scene. I wasn't there in the 90's or early 2000's, but that hasn't stopped my passion for knowledge of how things were in the past and how that can be seen in today's era. So when I was doing my usual research on artists playing Sundown Music Festival, I was excited to see names on there that I had not heard or seen play before. One of the names of that list was house/tech artist Saeed Younan.
For those of you who are unaware, Saeed Younan is an Iraqi-born, Washington D.C.-based DJ, producer, and label boss of Younan Music. As I dug into his history that spans nearly the entirety of the electronic music scene it gave me a deeper appreciation for his music and electronic artists. He has seen so much, and played so many shows over the years, so I was immediately drawn to the wealth of knowledge he clearly had hidden away.
Known for his tribal sound, he has released music on multiple labels, played parties around the globe, and hasn't shown signs of slowing down over the years. Recently selected to play at Space Ibiza during Carl Cox's Final Chapter #14, you can catch him at his bi-monthly residency at GLOW in Washington D.C., which coincidentally starts tonight, October 7th! As I listened to his set at Sundown, watching the crowd react and have a blast, I knew that the conversation I was going to have with him afterward would be a great one. Here is how my chat with Saeed Younan went down, live from behind a giant pirate ship at Sundown Music Festival last month!
---
First, welcome back from Ibiza! You just played at Carl Cox's Final Chapter #14, how was that? How was the vibe at the show?
I can't compare it to anything here in the States to be honest with you, it's amazing. The amount of people that come out and show their love and support for a man like Carl Cox that has been doing it for well over 15 years at least in this venue, it's just unbelievable. It's a vibe I've never felt anywhere else before, and the kids really know what they are out for.
Being a well-traveled artist, playing festivals and clubs around the world, what is the most unique spot you've ever played at?
The driver for this festival actually asked me that. *laughs* The last one that I can think of, the most recent, I played at a bull fighting ring in the Azores Islands. It's an island that is part of Portugal, situated in the Atlantic between the East Coast and Portugal. It's a beautiful island, so I played at a bull fighting ring all the way until the sun came up.
That's so cool, I've heard of artists playing beaches and such but never a bull fighting ring…
Bull fighting ring, baby! It was pretty cool man.
There were no bulls in the ring though, right?
No no no, no bulls, thankfully. But they should have let them in though, that would have been awesome!
In the past you have cited artists like Danny Tenaglia and Carl Cox as some of your inspirations. Are there any artists who are fresh on the scene that inspire you today?
Yeah, a lot of them I try to sign on my label. I've got Electronic Youth, which are based out of Bristol in England. I have artists from all over the place. Some of my favorite guys are just coming out of Spain and Italy. I'm really feeling the vibe from the guys that have a more percussive tech house sound. Anything with a groove, a bassline, just a funky vibe, that's what I'm feeling right now.
As a DJ in genres known for powerful beats that keep the crowd going all night, what is the most important element in selecting a track to get the dance floor moving?
To me I have a simple formula. If it's sexy enough to get the girls going, then you get the guys going, and everybody is dancing. So, for me it's all about a good, sexy bassline, a good rhythm, something that locks you in mentally and physically. I like loopy stuff, because I think loopy stuff really hones in on what the mind and body really wants. Not too much mid-range and high-end, more of the deeper stuff that is what I'm into.
More along the lines of what tribal represents…
Yeah, tribal, basslines, think of it like an undercurrent.
We're currently seeing a rise in popularity of true house, techno, and tech house in the US right now through labels like your own, Dirtybird, and more. Where do you see these genres going in the future, and what direction do you want to take it in as an artist and label boss?
Actually, I like…if I say a word I know I'm going to throw off a lot of people but please take this with a grain of salt…I think things will go more electric, it's more electro, it's very prog. But it's a good programming, so it's hard for me to say it in words. I know what I'm thinking but I can't portray it in words, but it's going to get more organically electronic. So that's the best way I can put it.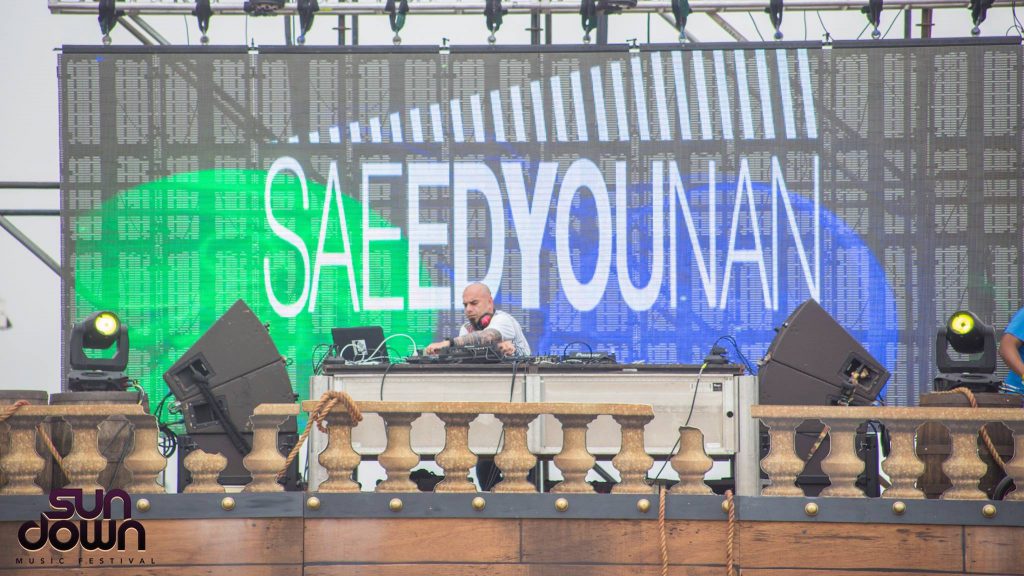 If you could go back in time and tell yourself in the beginning of your career one piece of advice, what would it be?
Uh, not to get into this business. *laughs* I don't know, I would say I've had a lot of sharks in my life. I've been doing this professionally since 1988, so I've been with the good and the bad and there is a lot of bad out there. It's best to know where you're heading, and talk to your peers. Like you mentioned earlier, Danny Tenaglia and Carl Cox, they're my people, my go to guys so I can avoid the pitfalls. So, if you find somebody you can model what you want to do with, get with them, let them know what you're doing, and if you're passionate enough they will recognize you. They can help you avoid those pitfalls so you won't have to deal with them later on.
You share a common idea with artists like UMEK about giving back to the community. Do you have any current or upcoming projects with non-profits that you'd like to share?
I do, once a year, I'm trying to do a compilation where I give back to everything. In 2014 we did Virunga, which is something I've always been passionate about, the animals. For this particular compilation, it was for the mountain gorillas. I know they are critically endangered, so I spoke to all the artists on Younan Music and said "look I'll take out my half, I don't mind giving you your share of royalties, but my share of royalties is going to go directly to the park." And a lot of them actually came back and said "You know what, give up my part as well." So, it's amazing to do something to give back. Charities like that, like Virunga National Park, trying to close down SeaWorld, which I'm kind of really passionate about because I don't feel orcas belong there, that's another thing I feel passionate about. So, I've got a lot of stuff like that, I think next year we're going to do one about helping the elephant population.
Being born in Iraq, do you feel that your introduction to music was different from others at the time, and who were some of your favorite artists growing up?
Absolutely, it was definitely different because in Iraq you don't have the same music that you would get in the states. So, I literally had to sit down as a little kid and try to tune an AM/FM radio, just to pick up international radio. And when I did, I actually fell in love with ABBA and disco music. Whatever I could find, whatever I could get my hands on, I had a cassette tape in the player ready to hit record. I've had a lot of influence throughout the years, I would say ABBA and all the old school disco artists like Donna Summer, whoever I could grab…that's what I fell in love with.
Do you have a favorite era of the electronic music scene? Do you wish there was an aspect of the old school that would return today?
Well considering that I started DJing in 1988 as a hip hop DJ…I think '88, well just the 80's in general were a very critical time for dance music. That's when you had hip hop emerge, new wave emerge, punk emerge, dance music too. I think the 80's were critical. From '81-'82 to '89-'90, I think those were the times where you had never seen so much music being presented. And I'm a kid from the 80's, I was born in '72 but I am an '80's kid because that was when I really took hold of music. When I was skateboarding I was into punk, then I got into new wave, then I got into alternative, I can name you hundreds of pieces of music that influence what I do today.
It's cool because you pull from that, and a lot of artists now are somewhat stationary in where they came from.
Yeah, they only know dance music, that's all they know. The 80's is a pinnacle point of really where music started to mash-up together. Hip hop, dance, that's when you had Aerosmith hooking up with RunDMC on "Walk This Way," you had never seen that before. It was all brand new.
Having a career that now spans over 20 years, what has helped you stick to your sound over that time?
Well, I don't stick to one particular sound, I stick to a foundation of sounds. I'm known for being very percussive, bass driven, really sexy, intimate kind of vibe. Being born in Iraq, obviously that is where the percussion comes from. Arabic music is full of percussion. I think the bassy stuff and synthy stuff is from the 80's, like I said new wave and punk. It's actually everything that has influenced me in my life that brings me to where I am today. I think that's with everybody else, you don't just say "oh, okay I'm only doing dance music," but it's like a timeline, so that everything that you drag with you in your life, it gets you to where you are today. So, everything that I mentioned earlier is what brought me to where I am today.

You've mentioned in the past that you can do more behind the decks now in the digital era of DJing than in the vinyl era, but that comes with some problems too in which DJs have become a little lazy. Do you have any thoughts on DJs who have taken the new technology for granted?
I'll speak for myself, I like using a laptop, I like using controllers, I think that I've been doing this for such a long time and I know progression is the only way. You can't just hold on to the past, you just got to move with the times. But, it's always about what you do with what you have. If I have a laptop and I'm looping some stuff, yeah I've used vinyl in the past, but it allows me the freedom to manipulate the music. Adding samples, adding acappellas, it frees my hands from what I used to do with turntables.
So, to me, you kind of have to progress with the time. For example, none of us use a typewriter anymore, right, why? Because there are keyboards and word processors. So for the people who are like "oh well he's not using a vinyl anymore, he's not using this or that," it's like come on. If you're using it creatively, if you're actually doing something different, then it stands out. But if you're just the guy that pushes buttons up there, playing Track A and then mixing to Track B, then maybe you need to look back and see what the history is about. But I've been doing this since vinyl days, I was a hip hop DJ, I was in DMC competitions, so I know what this is all about. It's all about progression, it's all about creation, and it's all about moving forward.
Traveling around the world has led you to experiencing many different cultures. Is there a place you'd like to go back to visit that you haven't had a chance to yet?
I've played Israel a while back, when they had Pacha, and unfortunately I found out the club that I played at, there was a bomber there that took away a lot of lives. It was an amazing spot, I just wish…life would go back, the violence ceases, and everyone can just have a good time. There are a lot of amazing spots that I've played that I can't actually go back and visit because of the world that we live in now. Sometimes that's like a reality check for me when I travel as well. It's difficult.
Finally, is there a favorite culinary dish that you have and would like to share with our readers?
I don't know if it's culinary, but I am a big ceviche guy, a big South American guy, so when I go to South America I like to try out different places that do ceviche. It's one of my favorite things. Peru takes it every time!
---
Connect with Saeed Younan on Social Media:
Facebook | Twitter | Instagram | SoundCloud | Beatport | Mixcloud | YouTube