UMEK Talks EDC20, New Tracks, Pizza & More!
---
UMEK is probably one of the busiest DJs in the world right now, spending his time running multiple labels, producing a radio show, producing his own music, and of course playing shows all over the world. Whether you learned about him in the 90s, 00s, or 10s, doesn't really matter because he has consistently brought some of the best beats out there. His beginnings in the scene all the way back in 1993 mimic the likes of Pasquale Rotella, and perhaps that is why UMEK is a constant and well-received addition to the EDC Las Vegas lineup. Carrying a history that speaks for itself, this Slovenian DJ is one of the most highly decorated in the business and doesn't seem to be stopping anytime soon. I had the pleasure of chatting with Uroš Umek about his history in dance music, EDC Las Vegas, and more.
Stream UMEK – Delirium is Family 2 on SoundCloud:
---
Being active in the music industry since 1993 you've seen many different "eras" of electronic dance music. How do you feel the scene has changed since you first were involved?
In 22 years of my professional career practically everything changed: from the tools and techniques for music production to the hardware and software we use, the sound, light, and designs of clubs and other venues we perform at, megalomaniac stages and heavily produced shows at major festivals, everything is hi-tech now, the way people discover and consume new music changed … everything changed.
When I had the first urge to become a DJ, I was watching guys playing music from tape cassettes at the school dance and this wasn't even considered a proper job. Only a couple of guys in the whole of Slovenia could live from playing music at major discotheques then, and even most of them did that as a hobby along with some other job. Nowadays everybody can do and play music and there's an inflation of DJs who mostly sound the same.
Also, when I started there was no infrastructure: I had to drive 500 kilometers to Munich or Vienna by shopping bus if I wanted to buy some vinyl, we had no internet and no media covering this culture, so I tried to get as much information as possible at the parties and from the specialized magazines in Austria or Germany – and I don't speak German. The scenes were very local, the one in our region was a nice example of that – we build it on techno, the hierarchy of international artists was different here as for example in Germany, UK or USA as we successfully kept out major British and Dutch promoters until some 10 years ago. Nowadays this is a global thing and the once alternative culture became major business dominating the mainstream pop culture.
For me, music was always the first thing in this whole experience and I believe it still is. It's just that now it's played in an environment that is upgrading the experience with stimulus for all senses. But without good music, all these massive stages and hi-tech productions don't work. Music is still the dynamo of the scene and I can't imagine the day anything else would be more important for a good party.
Partnering up with Insomniac for the EDC Week Charity Auction to give a fan a chance to go back to back with you on stage was a unique opportunity. Do you feel that artists and the EDM scene should be giving more back to different communities?
Everybody who is in the position to help the less fortunate should do that – and I mean not only musicians but every single person. I'm blessed to make a living by playing music to other people, traveling the world first class and get paid well to do that and most of us DJs are able to speak to and move big audiences. We should use those channels not only to promote our arts and businesses but also to make the world a better place for people who are not as lucky as we are. With my team, we support various good causes. The last major activation in this field was last autumn when we asked our fans to donate funds and things they don't need to help refugees from Syria, Africa and Asia fleeing to Europe.
For a decade I was a face of the event and national campaign Party for a Cause, where we promoted non-violence, gathered money for school tuitions, supported small businesses, helped victims of criminal acts and kids fighting cancer … and I even did a campaign with the president of state against binge drinking, which is quite a problem among Slovenian youth. I don't have a problem getting involved in that kind of projects, but I try to pick the ones that have a serious reach and can do major impact in the community.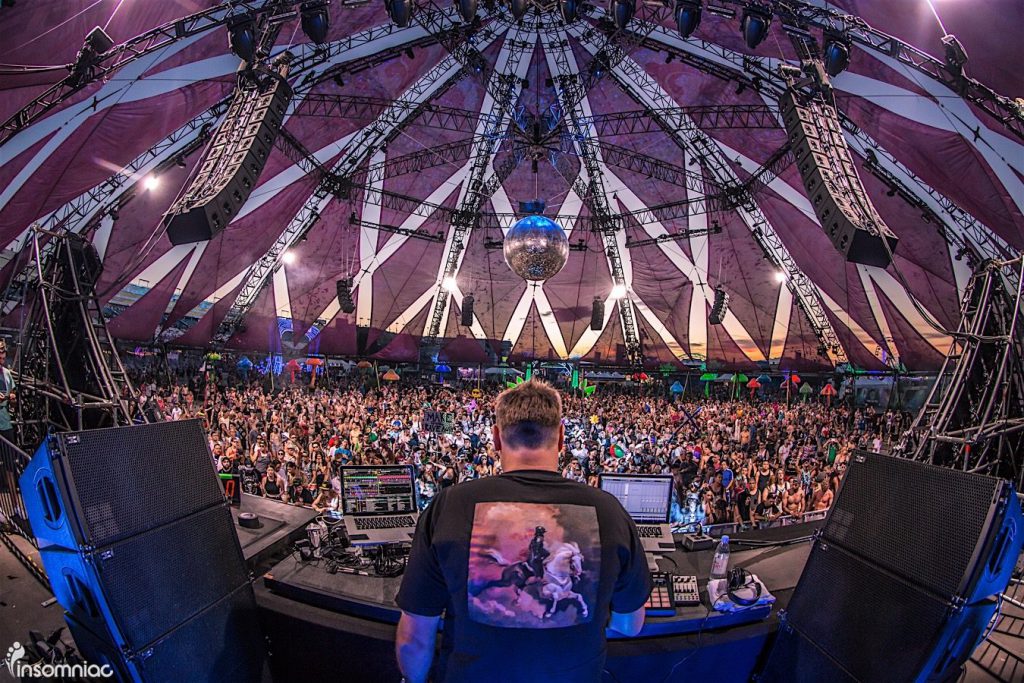 With 6 consecutive EDC's under your belt, what has been your favorite moment at EDC Las Vegas?
All six were really nice experiences, but I remember the last two the most – as they were the recent ones and because I played the closing set on both occasions, which I always enjoy doing. The moment when you see all those people having fun on the dance floor after the whole night of dancing in the sunrise over the desert is just amazing.
Recently you released a new track titled "Culminate", what brought you back to your techno roots?
I get bored and saturated quickly, so I always have to do things a bit differently, trying new tools, changing studios, collaborators, work processes…and by following music where it takes me I'm oscillating between darker and warmer sounds all the time. This is not something that I've planned but after a couple of years of softer production I've recently returned to more primal, rough, hard, electrified techno sound as my ears took me there.
I've rediscovered a passion for electro, even reviving my legendary moniker Zeta Reticula, with no special goals, just to enjoy producing that fresh sounding music again and to see if I can reach any audience with that kind of sound at all. It's a very niche thing but people who like this kind of stuff are giving me lots of positive feedback. I'm not sure the sound I'm into right now is something really new, but I found it fresh, I really enjoy what I do right now and this is where I feel very good right now as an artist.
Viberate.com is a company that you began to help standardize some tools for the music industry. Can you elaborate on this for our readers?
I'm actually one of the founders there, together with members of my management. Through the years technology has turned many industries upside down, but the music business somehow got left out. I'm not talking about consumer services. Here we witnessed some major changes. I'm talking about decision-making tools and business intelligence for music professionals. Although there are piles of data out there, we still rely on personal taste and gut feeling when deciding about who to book, who to sign to a label or which venue to do an event in.
With Viberate we are tapping into data from social media, streaming and multimedia sites, music stores and other relevant channels and with the help of big-data analysis, we will offer insightful information and a set of sexy tools for musicians, labels, promoters, venues and all other music business professionals. We like to joke that we're calculating people's taste. I love being a part of the vibrant startup culture and I can't wait to be there when we launch around ADE this October.
Check out Viberate.com by clicking HERE!
Your radio show 'Behind The Iron Curtain' has been massively successful and is played around the world. Do you ever find hosting a weekly show to be overwhelming?
Producing radio show is a funny thing: selecting tracks, mixing them, speaking to the audience … can be very sterile, as you don't get instant response of the crowd as playing music live in the club or at the festival. So I'm asking my team all the time about the quality, reach, responses, statistics for the show. You can see the number in no time, but at the same time, I miss having direct instant feedback from the crowd. So just from the point of feelings, it's very different to playing music live where you get the adrenaline going seeing people partying madly in front of you. With the radio show, this satisfaction comes with a bit of delay, where you read posts from your fans who really enjoy listening to your radio show.
If you had to pick three artists to listen to for the rest of your life, who would they be and why?
Hans Zimmer is definitely the one who amazes me with every single movie he does music for. I'd like to pick Michael Jackson as the second one, but sadly he isn't able to do new music anymore. I'm still deciding on the third one …
Owning a vast amount of labels allows for you to curate artists and tracks that are both known and unknown. What are some things that you look for in an artist's tracks that make them stick out to you?
In a track, I'm always looking for something that stands out and gets my attention: a riff, synth line, vocal hook … I don't pay much attention to who made the track, who's hot and who makes waves on the scene – if I like the track, I buy it and play it, regardless if that's some big name producer or totally anonymous one. This is the philosophy I stick to when I play my sets, select music for my label 1605 and pick up music for my radio show. Also, when I listen to the track, I listen to the content, the structure, as well as the quality of sound. The idea can be amazing but if the sound is awful, that's no good. Content is king but it has to be produced on a certain level as well.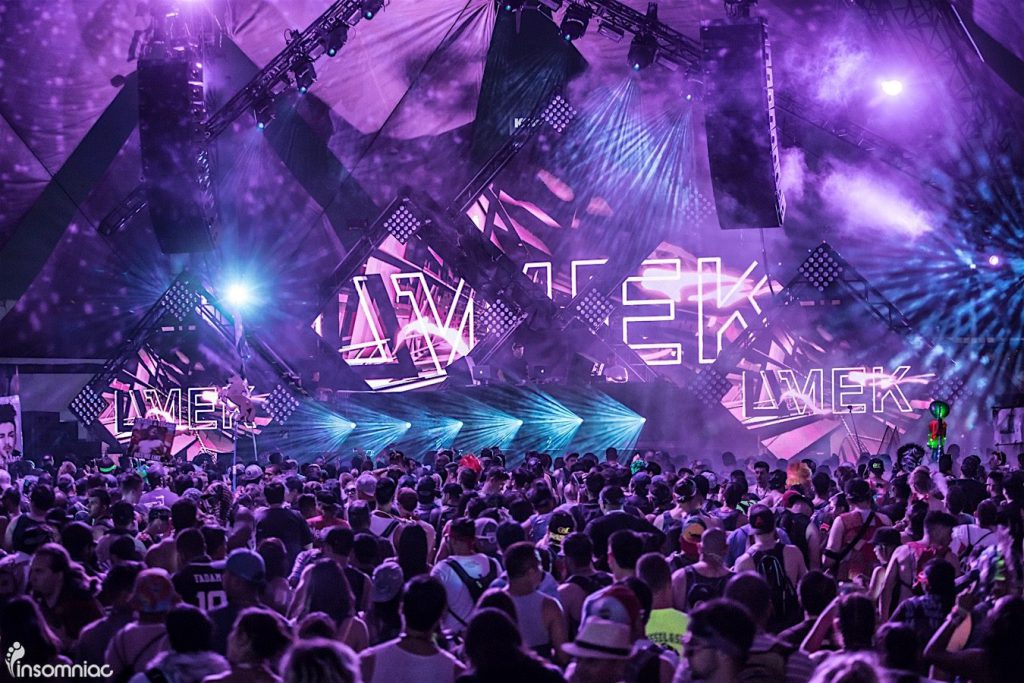 You mentioned you won a jackpot in Las Vegas at the MGM Grand in your latest tweet. Do you usually gamble while in Vegas or was that a random happening?
First of all, this was a mini jackpot, nothing major. But it feels nice to win something. I don't have a rule about gambling, sometimes I do, sometimes don't play any game at all. On my last two visits to sin city before this one, I didn't gamble at all. It's not something I have to do. I usually gamble where I'm with my friends just for to have fun. We go to a party, do some fun stuff and lay some slots. Regarding games, I like poker, but I'm doing well only when I play it with my close friends, I don't stand a chance against professionals. My favorites are slot machines, as that's pure game of chance. No skills needed there: you just push the button and wait what will happen.
What are your favorite pizza toppings?
There's one key rule regarding pizza everybody should be aware of: once you master Margherita, you can make any kind of pizza taste really good. Pizza is not so much about toppings as it is about the basics: good dough, tasty tomato sauce and high-quality mozzarella buffalo or burrata with a pinch of basil. If you know how to do that taste really good, you can sell pizza with any additional topping.
---
Connect with UMEK on Social Media:
Website | Facebook | Twitter | Instagram | SoundCloud | YouTube