EDC Las Vegas is on the horizon, so get to know the artists on the lineup for the wasteLAND stage that will be home to the harder styles.
---
The neon gates of EDC Las Vegas are close to opening in Sin City's annual dusk-to-dawn electronic dance festival. This festival is home to several genres of electronic sectors, from house to bass music and trance to fast-paced favorite – hard dance. Curated by Basscon, the wasteLAND stage is bringing European legends and American home-grown talent to the stage this year, representing nearly all areas of the hard dance spectrum.
If you're on the hunt for euphoric melodies, popular sing-along hits, harsh rawstyle kicks, intense hardcore, and even a minute selection of bass-heavy uptempo, the wasteLAND stage has you covered. And if you're unfamiliar with these artists – here's your chance to dive in through the different styles that will be present at the festival by streaming our curated playlist and diving into the artists performing.
Beginning with larger-than-life, euphoric hardstyle, you'll "Get Up" with the sounds of Adrenalize as he tugs at your heartstrings along with I AM HARDSTYLE label boss Brennan Heart. Those two and Code Black are sure to draw your emotions out during their sets. The blissful melodies of hardstyle don't stop there as Coone will aim to be the "Superman" of elite hardstyle symphonies in addition to the iconic twins Sound Rush which just spread their wings from the Art of Creation nest. Additionally, legendary artist DJ Isaac will also join these heavenly names, sure to bring his classic plethora of HARDSTYLE SESSIONS sounds.
Jagermeister-crazed duo Da Tweekaz is guaranteed to get the party pumping with hardstyle remixes of popular tunes. Similarly, Dr. Phunk will bring mainstream hardstyle sounds to this Mecca of hard dance. Although these two artists will play today's latest styles, don't fret as Rob Gee will turn back the clock with a special "30 Years" set to memorialize his profound history and impact on the scene.
Transporting you through a vast variety of hard dance sounds from this year's lineup, Audiofreq will surely take you to church with his careful selection of euphoric hardstyle, rawstyle, hardcore, and everything in between. Akin to this Aussie's ability to effortlessly assemble diverse sounds, Sub Zero Project will bring the latest of their "psycho" sets, coined "rawphoric" – pulling elements from both rawstyle and euphoric hardstyle. These Dutchies will also debut the first B2B with trance titan Ben Nicky, who will turn the table with his "XTREME" side and likely cover the harder sounds of trance, euphoric hardstyle, and rawstyle.
On the rougher edge of this genre's diamond, rawstyle raptor D-Sturb invites you to his "playground" of intense kicks and catchy melodies. Royalty in rawstyle steals the spotlight with his b2b set with Warface, sure to bring both the reminiscent sounds of their collaborative album Synchronized and their latest tracks. Youri from Warface is also playing a solo set and is sure to set wasteLAND ablaze with fresh hits, while Scottish duo Rebelion will "Numb" your mind with a gamut of rawstyle and uptempo hardcore.
Sliding across the scale, Darren Styles will bring his signature happy hardcore style to the stage for some feel-good vibes. If you're a fan of this sub-genre of hardcore, another set you should not miss is Gammer b2b Tweekacore, where Gammer will return to his roots in this genre in partnership with Da Tweekaz. Meanwhile, Deadly Guns is sure to "Inflict The Pain" with his darker, demonic beats, while DJ Anime from hardcore royalty label Dogfight Records will also bring a heated mix of heart-stopping hardcore.
Although the grass is pretty green across the pond, Basscon has also recruited the freshest home-grown talent to this year's edition of EDC Las Vegas. Don't be fooled by their striking beauty as the dominating femme fatales Shei, Lady Faith, and Softest Hard are sure to bring America's hard dance crowd a bass-heavy collection of tracks. Similarly, rough kicks and melodies will be blasted by American masters Soren, Mrotek, and Suae.
Additionally, the exponentially growing artists Dionysus and Yosuf will give you more energy than pre-workout with their "Bigger, Stronger, Faster" for their debut set at the festival, along with Lenny Dee. Home-grown hardcore will also increase the speed with Lil Texas, sure to bring his signature "Texcore" sounds, along with Frenchcore party animal Levenkhan and Omar Santana.
Listen to our EDC Las Vegas 2023 wasteLAND playlist on Spotify, and let us know who you're excited to see on Twitter.
---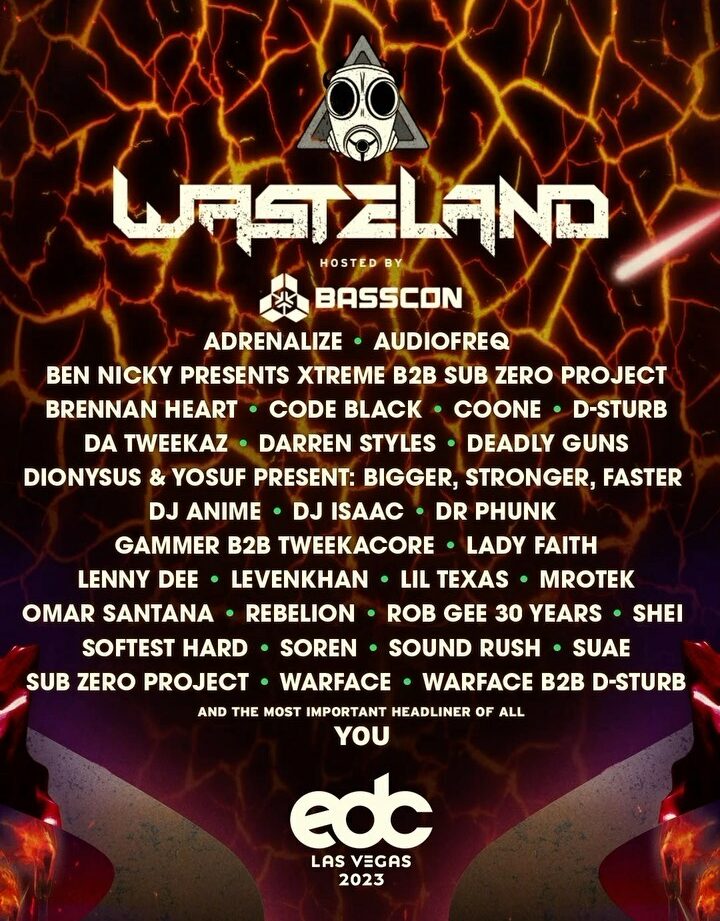 ---
Follow EDC Las Vegas: