Levenkhan gives us an inside look at his debut album, Stalin Wears Balenciaga, and reflects on his decade-plus career ahead of Basscon Wasteland.
---
Among all of the artists that have contributed to the ever-rising American Hard Dance scene, there's one artist that has quietly flown under the radar of most fans – that is until now. Levenkhan has been pushing his interpretation of the Frenchcore sound and finally, his home turf is starting to notice. Widely known as America's first Frenchcore DJ/producer, his producing career has beginnings in hip-hop music, and he hasn't shied away from his extreme passion for classical music.
With experience all across the music spectrum, Levenkhan takes influence from every corner of his mind to create his unique style and brand that has captivated listeners and put him on par with the best producers in the entire world. Over his decade-plus career, Levenkhan has come a long way from posting beats on YouTube to destroying the biggest stages around the globe like Defqon.1 Weekend Festival and Intents Festival. With momentum snowballing for Levenkhan, there's no doubt he's one of the most promising Hard Dance Artists to Watch in 2023.
In 2022, Levenkhan left his mark on the industry with many international shows and the release of his debut album, Stalin Wears Balenciaga. This album is a unique body of work as he goes beyond genre constraints to deliver a cohesive project that spans hip-hop, punk rock, and of course, Frenchcore. Following the announcement of his latest USA performance, Levenkhan stopped by to discuss his origins, SWB, Basscon Wasteland in February, and much more. Get a taste of Levenkhan with his latest album on Spotify and read on for our full conversation with everybody's favorite pinkboi!
Stream Levenkhan – Stalin Wears Balenciaga on Spotify:
---
Hi, Levenkhan. Thanks for taking some time to chat with us today. How were you exposed to hard dance music, and why did you begin to produce it in addition to Hip-Hop?
Thank you for having me. The more people know about me, the better. I truly appreciate this!
"The Sacrifice" by Headhunterz was the first song to impact me. The dark, melodic vibes got me immediately hooked. I tried to replicate the melody on my own and then felt trapped in attempting to make a hardstyle kick. There weren't any tutorials at the time, and I also had no hard dance producer friends. By trial and error, I experimented with hardstyle with no success. Somehow, hard dance was still consuming me and I was leaving hip-hop behind. I found Frenchcore thanks to Lebask, Dr. Peacock, Radium, and the whole Peacock Records entourage. That's when I completely made my decision to proceed with this newly found genre.
Apart from your music, your sense of fashion and the way you present yourself also seem to set you apart from the rest of the scene. How does your unique fashion style play a role in your brand as Levenkhan?
It's who I am. I always gravitated towards fashion and the endless possibilities behind dressing however the f*ck you want.  I am known as the pinkboi and most of my wardrobe is pink. I simply love pink and the combinations I can wear with it – nothing too deep. People who put thought into what they wear have my attention. It also feels dope to get complimented on what you wear and on your style. You can dress however you want, but having a branding that people immediately identify with is very powerful.
You just released your album, Stalin Wears Balenciaga which took fans across many genres. How does this album fit into your discography, and can fans expect your future releases to be similar?
SWB is a special project that represents me as a whole. Every genre of music that I have worked with in the past is in this album. I purposely didn't collaborate with any other producers because I wanted to showcase my production and vocal skills as a whole. Besides the musical aspect, I have also focused on the fashion and art of this project. This will certainly not be the last time I make a project like this. I am always evolving and getting better over time, and I want to express my art through my music.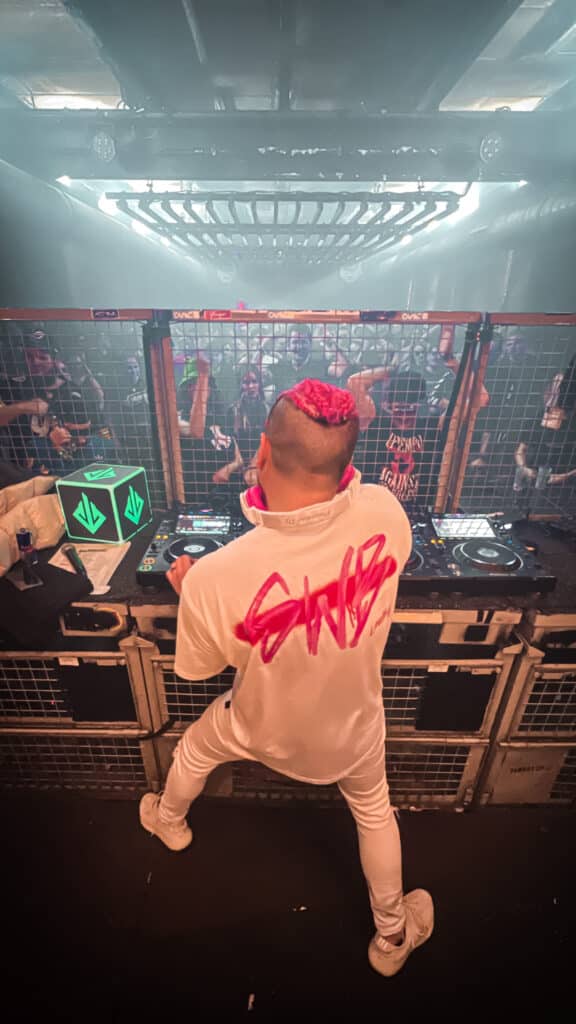 In the album, you "call out" producers that only copy the greats in the scene on "Curate and Create." Why was it important for you to bring awareness to this problem in the highly saturated hard dance market right now?
I like that you caught this and took the time to listen. We just did a music video for it, so go check it out on YouTube. "Curate and Create" starts by calling out people who have no personality – those who lay back and watch what others do and what makes them successful. They replicate the same formula without adding their own special touch to it; A simple 1:1 copy. The hard dance scene is a bit saturated, but pay close attention to those who make the effort to stand out. They are the difference between a champion sound and just another copy. 
I am a strong believer in developing your producer ear, experimenting with sounds, and tapping into your inner self to evolve as an artist. It's great to take inspiration from other artists, but it is also very crucial to be unique and different to be able to stand out from the rest. I can say that after all these years, I have developed my own sound that fans can start to notice and enjoy.
The album has heavy hip-hop and punk rock influences. Are there certain artists or life experiences that inspired you while you made these records on SWB?
When it comes to hip-hop, Mobb Deep is my biggest influence. With punk music, GG Allen is my role model. I am also heavily influenced by life experiences, friends, relationships, and musical outcasts. Weekends with special friends, building memories, and seeing and exploring the world are my drive to compose new music.
Your latest music video for "Punked Up/Fucked Up" embodies the spirit of "do it yourself," which is a staple in punk music. Can you give us insight into your creative process for the music video and what message you wanted to convey?
That is right! I shot the music video and edited the entire video with my phone. There are times when you don't have the budget to initiate projects, so my message to upcoming artists is to simply use the tools that you have at your disposal; Don't limit yourself. You should always aspire to bring the best quality that you can, however, there are times when you simply can't. If that is the only reason to hold you back, then use what you already have to produce, create and evolve. I also don't like purely perfect videos. I like real, authentic, messy s*it if that makes sense.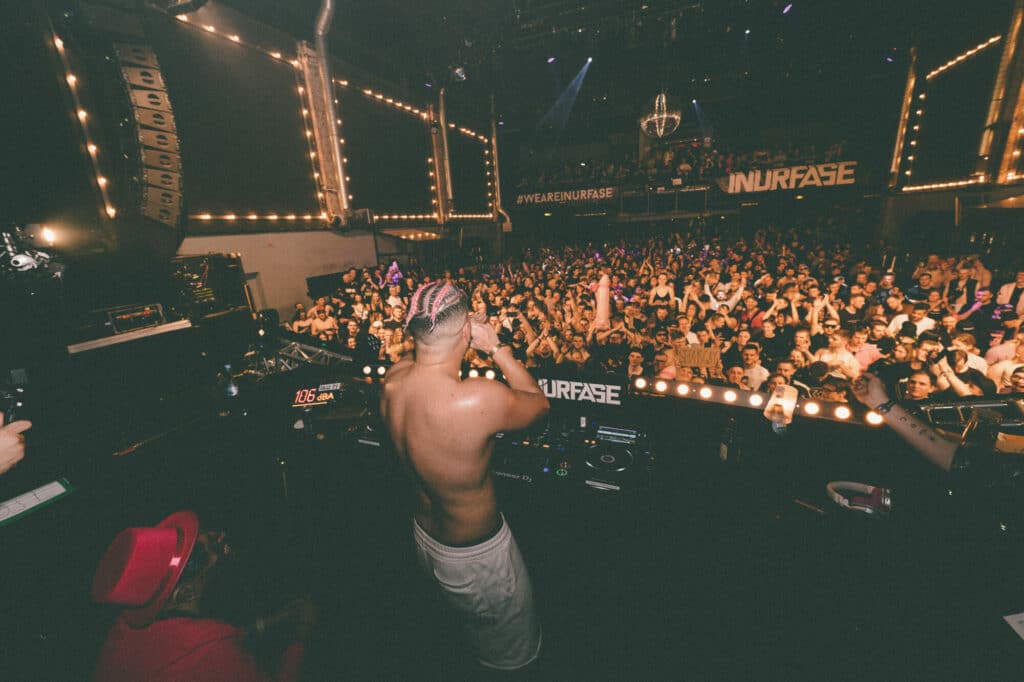 SWB is still fresh and growing in numbers, but are you already working on any new projects that you can tease for your fans here?
I am always working. I just released a remix of "Katakataboom" by Ender on Afterlife Hardcore, I am releasing a collaboration with Rayvolt right before Basscon Wasteland, and I have a couple of other collaborations and solo projects that are near completion. The sound I am bringing this year is insane, and I can't wait to unleash it all!
Next month, you'll be playing your first Basscon Wasteland ever. How are you preparing for your set, and what can fans expect to hear at your debut?
I am super stoked about making my Basscon debut because it's something that I have been working on for years. I believe that I am the very first Frenchcore DJ to play at Basscon Wasteland and even Basscon as a whole. I will be playing a set that will be slightly different, setting the tone at 160 BPM and of course ending with 200 BPM or higher. I have lots of exclusive AR Gang s*it that nobody else has, so in honor of my homies Sickmode, Rooler, Malice, and Riot Shift, I will include their secret tracks that nobody else will be able to play.
How would you describe the journey that you've been on and the growth you've achieved personally and professionally?
It's been a steady incline. Nothing was ever given to me; No favors, no handouts. I busted my a*s from the beginning of my journey, and it's been one long but steady road. I decided to move out of New Jersey to Amsterdam back in late 2017 and it was the best decision of my life. I have performed at festivals that wouldn't have been possible without making the move, and I have established friendships that are now everything to me. Stay true to yourself, don't pretend to be someone you are not, and drop the ego. I promise life gets better. You have to take a gamble sometimes and you never know when the lighting can strike.
With 2023 in full effect, what goals do you have for the Levenkhan project this year?
I want to expand and spread the Levenkhan sound. There is a special booking in the U.S. where I will also make my debut. I am excited about it, but that's an announcement for the near future. Lastly, I want to try out skydiving.
---
Follow Levenkhan:
Facebook | Twitter | Instagram | SoundCloud | YouTube | Spotify