With 2023 in full force, Warface has unleashed their next chapter, Rest In Pieces, which showcases their hardest sound to date.
---
Late last year, Warface started building hype around the ominous words, "R.I.P. WARFACE." This got many fans speculating about their status as active producers and believing that the iconic duo could be teasing their retirement or a change of genre. However, some fans pointed out that Warface was booked to host the Sunday Mainstage at REBiRTH Festival, which has been reserved for album release parties for artists like B-Front, Rebelion, Sub Zero Project, and more. Once January came around, Warface officially announced that Rest In Pieces would be the start of a new chapter, complete with a new album, live show, and visuals.
For the duration of 2023, Warface has been dropping singles leading up to the release of Rest In Pieces, which highlights their hardest sound to date. In actuality, "rest in pieces" should be directed at fans that are about to experience the insanity Warface has created. In addition to releasing brand-new tracks, Youri set the stage on fire with an exclusive REST IN PIECES album showcase when they had the honor of hosting the Sunday Mainstage at REBiRTH Festival.
Today, Rest In Pieces is finally out for the world to enjoy. Over the course of 13 tracks, Warface delivers absolute destruction in the form of unique, distorted kick drums, drifting screeches, unexpected collaborations, and a sprinkle of melodic elements. Make sure to stream Warface's newest album on your preferred platform, and read on for our in-depth review of Rest In Pieces.
Stream Warface – Rest In Pieces on Spotify:
---
Rest In Pieces begins with "Down To Earth," immediately setting the tone for the madness to come.
"Down To Earth" is a feel-good song that places listeners in the middle of a crowd at an outdoor festival. With sing-a-long lyrics about weekend vibes, dancing all night, and turning up the speakers to the max, this creates the perfect mix for a certified summer anthem. The drops take a sharp turn as they highlight brutal PVC kicks and monstrous screeches before giving listeners a tiny sliver of a melodic drop at the end.
"LEVITATE" comes next which is a collaboration with one of the best talents in the scene, Adjuzt, and vocalist Iris Goes. All artists' styles are prevalent throughout the track without compromising in a record full of hard kicks, powerful melodies, and a unique fake-out drop using zaagkicks.
"Sky Fall" highlights the melodic side of Warface, which is rarely explored.
This track is a party starter as the soft vocals and groovy basslines smoothly transition into reverse bass kickdrums in the first drop, followed by an epic melody. "Taste The Blade" blends elements from house, hard techno, millennium hardcore, and rawstyle all before the first drop ends. "FLYIN' HIGH" with Rooler follows up for a fun track that nicely highlights the style fans have come to expect from every AR Gang record.
The title track, "Rest In Pieces," is an uplifting record with the vocals of Iris Goes in a synth-wave-inspired introduction. The first drop teases a 303 bassline and then injects a lethal dose of ice-cold, distorted kicks into the speakers. "Nothing To Lose" is a straightforward tune that encapsulates Warface's aggressive style. "Satisfaction" once again pulls from early rave music with sharp stabs and repetitive one-shot vocals while still pushing into the future of rawstyle.
Mutilator arrives on the album for his own remix of "Control The Sound," bringing pure chaos in a track that exists only to be an obnoxious bomb of a record. "Dead End" follows up and marks the first-ever collaboration between Warface and Riot Shift. This tune does an excellent job of showcasing the DYSTOPIA concept that Riot Shift has been perfecting, keeping it at the forefront of the record.
"Come With Me" was released back in December, long before Rest In Pieces was confirmed. Warface was sneaky, though, as this tune served as the tease for the upcoming album. Being the first time there is a clear use of zaagkicks in a Warface track, this was a sure sign of a new production style.
RVAGE was tasked with remixing the iconic Warface and D-Sturb collaboration, "Open Your Eyes." The young producer gave it a good facelift by keeping the original feel but kicking it up a notch with harder elements. Rest In Pieces finally ends with "Burn It Down." Offering no rest, this track is the final firework show that sends listeners home happy, wondering what the next chapter will be.
Overall, Rest In Pieces is a highly energetic and exhilarating listen to that is all gas and no brakes. It revolutionizes the sound that Warface is known for and sets the stage for the future of their project. Although every song is top quality in terms of production, it did feel like some of the tracks were included just because they were new "bangers" as opposed to being a part of the story. Nonetheless, Warface continues to show why they are deservedly at the top of the scene, and I can't wait to hear these tracks in action at Defqon.1 Weekend Festival in June!
---
Warface – Rest In Pieces – Tracklist:
Down To Earth
LEVITATE with Adjuzt, Iris Goes
Sky Fall
Taste The Blade
FLYIN' HIGH with Rooler
Rest In Pieces with Iris Goes
Nothing To Lose
Satisfaction
Control The Soul – Mutilator Remix
Dead End with Riot Shift
Come With Me
Open Your Eyes – RVAGE Remix
Burn It Down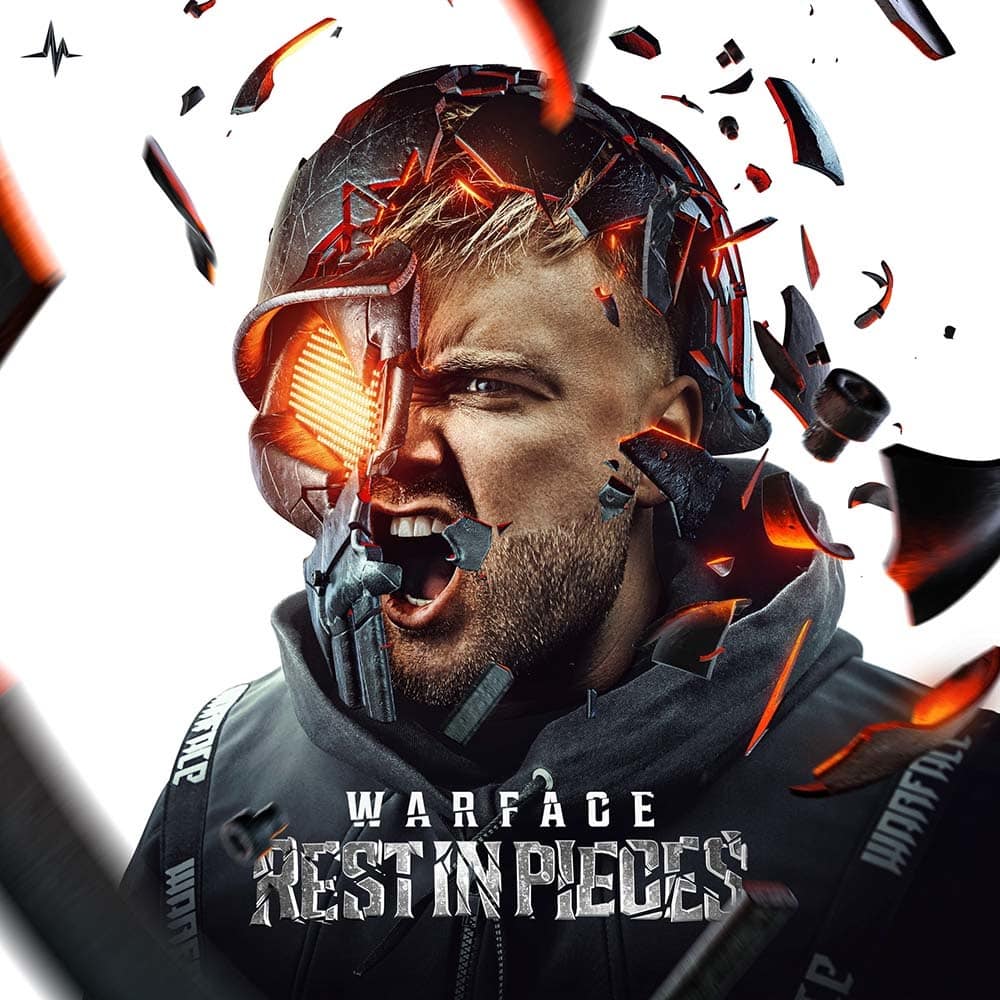 ---
Follow Warface:
Facebook | Twitter | Instagram | SoundCloud | YouTube | Spotify