After five years of summer shows at Academy LA's patio, Day Trip is moving to LA Historic Park on The Promenade for their run of shows.
---
Since making its debut, Day Trip has become a force to be reckoned with in the Southern California scene. Not only have they hosted countless showcases at Academy LA that have allowed those in the City of Angels to dance the day away each summer, but they've also grown to have a standalone festival and team up with Factory 93 for Skyline on both coasts. But with growth comes inevitable change, and this year will see Day Trip do just that for its summer series.
While many have flocked to The Patio at Academy LA each Sunday to bask in the sun and catch some high-quality house beats, this year sees Day Trip shake things up with a move from the beloved space to LA State Historic Park. Each Sunday, the newly dubbed Day Trip In The Park will see these tastemakers light up the Promenade with top-tier talent, decked-out decor, a bigger sound system, and plenty more room to dance. We got a taste of this new experience when P.O.S landed in Los Angeles earlier this year, and it's an upgraded experience worth attending.
Day Trip In The Park at LA State Historic Park on the Promenade will kick off on Sunday, May 28, with a show featuring Kyle Walker and Mason Maynard. The following editions will run each Sunday all summer long, with featured artists including Mau P, Hugel, Tita Lau, Joshwa and Max Styler, Todd Terry, and more. September 24 marks the end of their run this summer with a set from Luttrell that shouldn't be missed.
Tickets for the upcoming Day Trip shows at LA Historic Park on the Promenade are available now. Head over to DayTrip.LA to check out the full lineup and grab your passes!
---
Day Trip in the Park Summer 2023 – Lineup: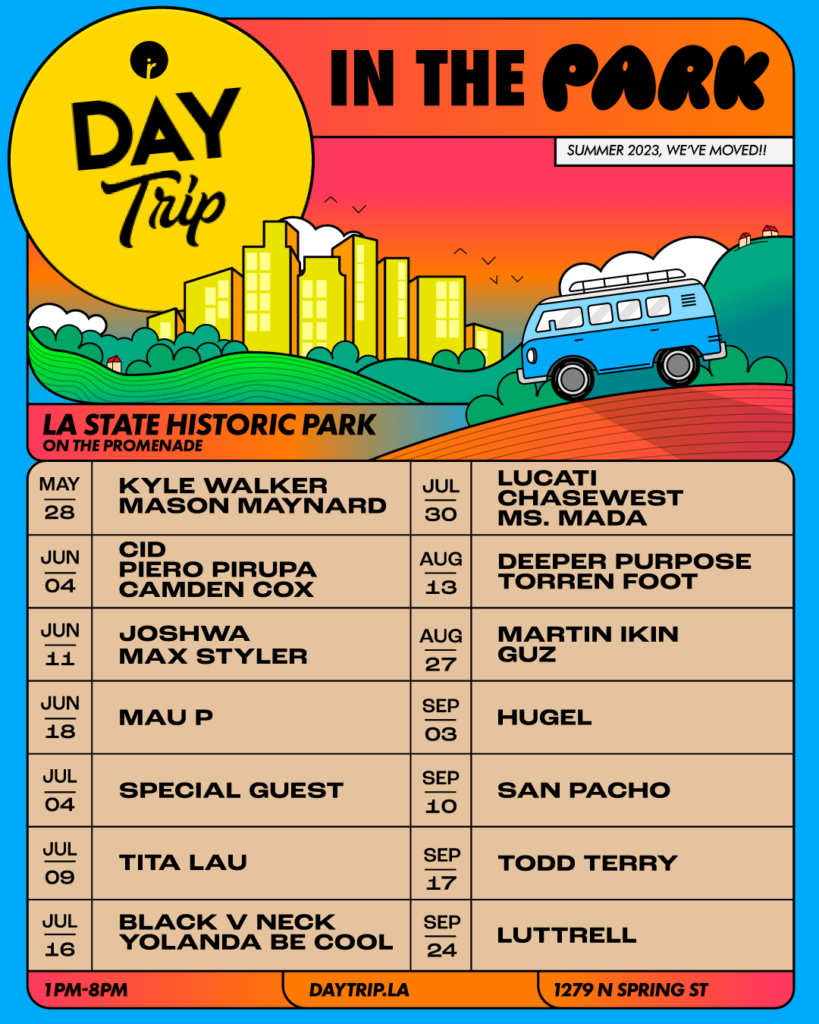 ---
Follow Day Trip: