Following their set at Beyond Wonderland SoCal, Rebelion sat down with us to chat about their music, outlook for the scene, and plans for the future.
---
Scottish hard dance duo Rebelion has graced mainstages across the globe and is more than ready to bend the barriers of crystal clear-cut genre categories in the electronic scene. The duo has grown exponentially in recent years, even during the pandemic, and the sky is the limit for their potential. Last year, Rebelion released their massively successful album A.I. (Artificial Intoxication), which featured new and previous collaborators such as singer-songwriter Micah Martin, rising uptempo star Dimitri K, Frenchcore prodigy Sefa, and more.
Due to their rising successes, especially over the past year, Rebelion had the opportunity to host one of the most notable events Q-Dance offers: X-Qlusive. This show is reserved for an artist with immense history in the scene that has made legendary accomplishments, with the featured artist in charge of the lineup, production, and operations of the entire event. Rebelion's featured special moments, such as Micah Martin's live performance during their collaborations, a versus set with Sickmode, the unveiling of The Second Dose, and more.
More recently, Rebelion brought their limitless talent to the Cheshire Woods at the NOS Events Center for Beyond Wonderland SoCal for their US debut. From the melodies of the Qlimax edit of "Never Back Down" and the zaagkicks of their "Numb" remix with Vertile to the signature kicks in their latest album's title track "A.I" and the speaker-blaring uptempo kicks of their "Miss You" bootleg by Revealer, the duo took the crowd to "the edge" of insanity.
After making history, Rebelion is not stopping any time soon. Listen to their latest release, "Vendetta," the official anthem of their X-Qlusive event, and read on to learn what more the future holds for these unstoppable stars!
Stream Rebelion – Vendetta (X-Qlusive OST) on Spotify:
---
Hi Gary and Raymond, I'm excited to get the chance to interview you both during your US debut. How are you feeling now that your debut is finally here? What do you plan for your sets here?
Gary: Yeah, well, obviously, we just came off the decks, so yeah, it was incredible. It even exceeded more than what we were already expecting. We're really happy that it went so well.
As a #RebelForever, I was thrilled to be at your debut set. After seeing you perform in Europe several times, both regular and Overdose sets, how do you plan to establish your name here in the US hard dance scene? 
G: Just doing our thing. I don't think we will do anything different than we already do in Europe because we're big believers in keeping your own style and doing your own thing.
Raymond: Yeah, I agree.
Are there any more bookings your American fans can look forward to?
R: We fly out to Miami tomorrow to do Ultra, and then after that, we do have a couple, but we can't announce them yet, so you guys can speculate what they might be.
With the rise in rawstyle and uptempo, your name has gained popularity in hard dance. In what direction do you see the scene heading in Europe and globally?
R: I only think it could get bigger, you know? It's gaining more traction, and more people and the younger generation are also starting to listen more to hardstyle. We see that everywhere we go, just the reaction to the music is always really next level.
G: Yeah, the lines between genres are blurring even more. The young generation doesn't care about labels anymore. For us, that's really good because we also don't believe in a specific label. We're not just hardstyle, rawstyle, or uptempo. We're just Rebelion.
R: Whatever we find cool, we will make it cool.
With the rise in popularity of downtempo/zaagkicks, which I've noticed you play in your sets now, what other works in the studio can we expect from you two?
R: Yeah, we like to do everything. To be honest, we love all styles of kicks, so we're cooking up some new stuff that involves gated kicks and back to some of the simple, distorted ones.
G: We don't really have a narrow sound. We like to reach out to do different things and combine them to create new sounds. By doing it that way, you can't expect anything, so what can you expect?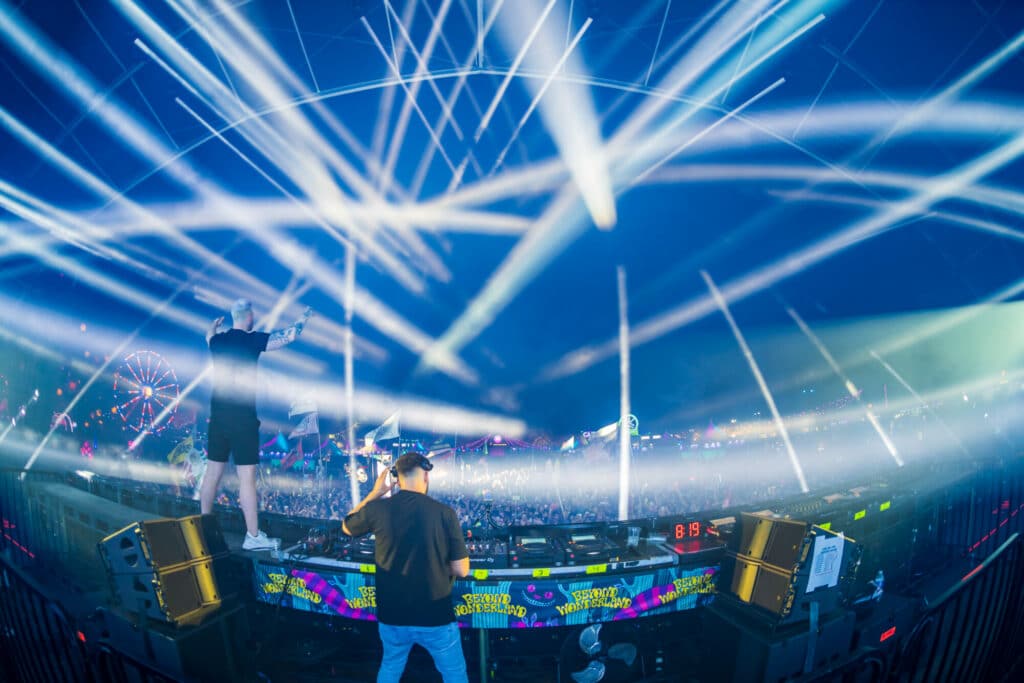 You founded your Acid Reign sub-label in 2022 and currently have one other artist on the roster. What are your plans for this label? How do you plan to recruit new talent for it?
G: Last year was all about starting up Acid Reign with our own music and our album, but this year we're also welcoming other artists to the label. We just signed Boray to our label. He has a very cool sound, so we immediately found him a good fit on the label. Next to that, we just announced a guest release by Anderex, which is a very promising talent; plus, we're going to announce more guest releases soon!  
R: In the future, we definitely want to sign more artists, but we don't wanna force any talent at the moment. The signing should make sense, and we need to see potential in the artist. For us, the most important thing is that we have 100% control and freedom over our own music. From there, we're going to add things to the label through signings, collaborations, and guest releases. 
With the new beginnings of The Second Dose, can you elaborate on how this is different than The First Dose and what makes this live act unique?
R: It's just a level-up, the next part of the saga with new visuals, new music, and new outfits. We're not even finished exploring The Second Dose yet, so expect bigger things to come.
Following a long list of successes over the past year, such as your Tomorrowland debut, a REBiRTH stage, and an X-Qlusive event, where do you see the Rebelion project heading over the next few years?
R: We have big goals, so we never really stop. Even after X-Qlusive, we were already looking to the next thing. We've done our own sold-out German show and stuff, so we're just going to keep adding things and building the brand and our fanbase if we can. It never stops for us; it's just a milestone. We always want to look to the next one once that's finished. We have a lot of things planned.
After your Red stage debut at Defqon.1 last year, which I was front row for, you've been given the opportunity of one of this year's spotlight sets. What are your plans for that set since you get a large say in planning?
G: Well, we're still working on that at the moment, and I think we're definitely going to do something special—there's going to be a lot of new music and special moments within the set.
R: We get to program the Endshow as well with it, so there's going to be a show that goes towards the fireworks with it, et cetera.
---
Follow Rebelion:
Website | Facebook | Twitter | Instagram | SoundCloud