Sub Zero Project sat down with us at Beyond SoCal to discuss their new live act and outlook on the scene before setting the stage ablaze!
---
Last year, Sub Zero Project released their Renaissance of Rave album, which was full of bangers, several of which were voted by fans in the Q-dance Hardstyle Top 100 last year. The magnum opus of an album featured collaborations with stars in the scene, such as Rebelion, Timmy Trumpet, Devin Wild, Coone, and more, winning awards from Hardstyle.com and HardNewsNL for best album.
Flash forward to 2023, and Sub Zero Project is still keeping things fresh and exciting. Earlier this year saw the duo debut their Psychodelic LIVE show at Reverze, and more recently, they returned to the US for another flaming set at Beyond Wonderland SoCal that was filled to the brim with energy. Sub Zero Project didn't stop there, though, as the following day, they flew to Miami to dominate the Dirty Workz stage at Ultra Music Festival.
With so much excitement surrounding Sub Zero Project, including a mainstage set at Ultra Australia and multiple sets at EDC Las Vegas on the horizon, it was a no-brainer to chat with them at Beyond SoCal this past month. They dive into their Psychodelic project, what fans can expect in the coming months, and more, so check out their recent single "Illusions" for a taste of what's in store and read on for the full conversation.
Stream Sub Zero Project – Illusions on Spotify:
---
Hi Nigel and Thomas, thanks for chatting with us. You're a global phenomenon in the hard dance scene, riding the high of your Spotlight performance at Defqon.1 last year and being named this year's anthem makers. What can we expect from you at upcoming events like Defqon.1?
Thomas: For us, Defqon.1 is always something special. We always try to deliver a lot of new music, and especially this year with the anthem, it's going to be very special for us. We're already making some new stuff in the studio, especially for that set. And, of course, it's going to be one of the biggest moments in our career..
Could you elaborate on what inspired the new "Psychodelic" set regarding the edits, visuals, and concept you two have been planning and performing?
T: , Almost every year, we're doing a brand new show. For example, last year, we had the Renaissance of Rave, which was a brand new show including a new album. For this year, we came up with Psychodelic. The name says it: we're doing a lot of 'psycho' stuff, music-wise but also show-wise. 
Nigel: We like to do crazy stuff in the studio, which goes really hand in hand with the visuals and the overall show. 
After the booming success of your Renaissance of Rave album, what more can we expect from the studio from you two this year? Any new collaborations?
N: Definitely a lot of music! Which also includes multiple collaborations. In a month or so, we'll start working on a new collab with a true rising hardstyle artist, which we are very excited about. 
T: Besides that, we're also working on music with some names outside of hardstyle. For example, our collaboration with Hardwell is coming out soon. Those collaborations are also very exciting!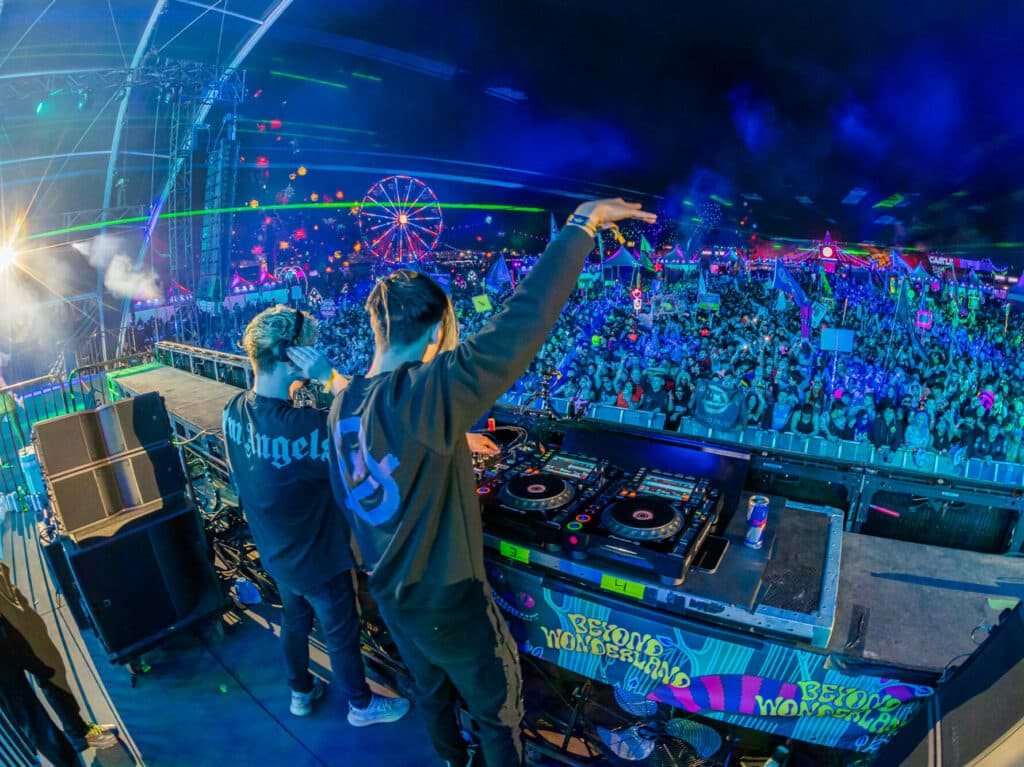 With the rise of rawstyle, your sound has gradually become rougher compared to years prior. What are your thoughts on this shift in the scene and the rising talent it brings?
N: I think it's good for hardstyle to keep evolving, or hard dance, whatever you want to call it. We just like to make the music we love—sometimes it's harder, sometimes it's more melodic, but I would never ever think inside a little box and just do one thing. I just like to do whatever Sub Zero Project wants to do, you know? And I hope new talents will also keep doing this instead of just jumping on the hype. Music is about creating something you like and believe in. 
Speaking of rising talent, who are some rising stars that we should keep our eyes on in the hard dance realm?
N: There are a few. Vertile's really talented, for example. He's already getting a lot of attention, which is totally deserved. And like we said, we really would like to make a track with Hard Driver. Of course, he's not a talent anymore, but in the last few years, he's really taking his space to become bigger in our scene, and he's really showing his qualities. 
As a name already immersed in North America's hard dance scene and on an international scale, what are your plans for expanding your reach and dotting more spots on the globe? Any new debuts we can look forward to?
T: It's really awesome that Ultra has a hardstyle stage right now. It definitely shows that hardstyle is growing on a global scale, which is a good thing. I think it's cool that Ultra now has a hardstyle stage. Last year was the first time, and I think that it's really cool for hardstyle to be at such a cool festival like Ultra.
N: Next month, we're also playing on the Mainstage of Ultra Australia, and more cross-over stages like that will follow this year. 
Let's end with a fun question: you've been to the States several times, yet it's vastly different from Europe. Are there any culture shocks that still hit you every time you're here?
N: There are so many different things in this country compared to The Netherlands.. Where to begin? [Laughs] 
T: We're in the US for four days now, and what still amazes me every day is the BIG portions of food you always get when you order something! [Laughs] It's such a big difference compared to Europe. 
N: We're not complaining, but it's heavy! [Laughs]
---
Follow Sub Zero Project:
Website | Facebook | Twitter | Instagram | SoundCloud