Charismatic duo Da Tweekaz swung by ahead of their performance at Circus Maximus in Croatia to discuss their career, the hardstyle scene, and more.
---
The Norwegian duo, Da Tweekaz, has helped pave the way for euphoric hardstyle for many years, and more recently, happy hardcore under Tweekacore. These two artists are certified veterans in the scene with many classics under their belt including "Letting Go," "Bad Habit," and their highly successful "How Far I'll Go" hardstyle remix. Their charismatic presence and driving beats have infected stages all over the world, with notable appearances at world-renowned festivals such as EDC Las Vegas and Tomorrowland, and of course the granddaddy of them all for hard dance, Defqon.1.
After a year without live shows, 2021 has already shown signs of being a great year for the Da Tweekaz as they celebrated the one-year anniversary of Tweeka TV and got to take the decks at Defqon.1 At Home. They also kicked off the year by taking the stage for a run of shows in Asia to get back into a groove behind the decks. Now they're only a few days away from taking the stage at Circus Maximus in Croatia for a headlining set that will surely blow minds and further increase their growing fanbase.
Ahead of their set at Circus Maximus, we caught up with the legendary duo to pick their brains about their experience during the pandemic, their continued growth in the scene since first coming together in 2007, their thoughts on the state of the hardstyle scene, and more. Check out their tune "Ich schenk' Dir einen Jodler" on Spotify and read on for the full conversation!
Stream Da Tweekaz – "Ich schenk' Dir einen Jodler" on Spotify:
---
Hey Da Tweekaz, thanks for taking some time to chat with us! We really appreciate it and are glad to have you both here. This year has been a great one so far for Da Tweekaz from the one-year anniversary of Tweeka TV to playing Defqon. 1 At Home. Among all the madness, what has been the most fun memory you both have from this year?
This year has been a lot of fun considering the rollercoaster we've all been through! One of the most memorable things we can think of is our tour to Taiwan this year in January. We had to do a strict quarantine for two weeks, and afterward, we had three wonderful weeks of full freedom. Being back on stage in front of a full crowd after a full year of silence left us absolutely speechless!
2021 also marks the return of live events for Da Tweekaz including your upcoming headline performance at Circus Maximus in Croatia. How are you both feeling heading into the event and what kind of set can your dedicated fans expect?
Croatia has always been close to our hearts. Now in 2021, it feels like one of the very few places where people can truly enjoy themselves, party all night long with their friends, and forget about all the madness going on at home. If anything, we expect a full-on dedicated crowd who's ready to pick right up where we left off. We will make sure to bring our most energetic performance, packed with new music and bootlegs. Can't wait!
Da Tweekaz have been in the hardstyle scene for quite some time now accomplishing everything there is to do, so I want to take you guys back in time a little bit. How did it all begin with Da Tweekaz?
Da Tweekaz started in 2007 in a small bedroom studio with very limited equipment. We had been friends and producers for multiple years already, but never focused on one act like this before. Back then, there were no YouTube tutorials or sample packs so we had to experiment and find our own way. Only one year later, we had our first release on the Italian label, DJs United (shoutout to Tatanka), and the rest is history!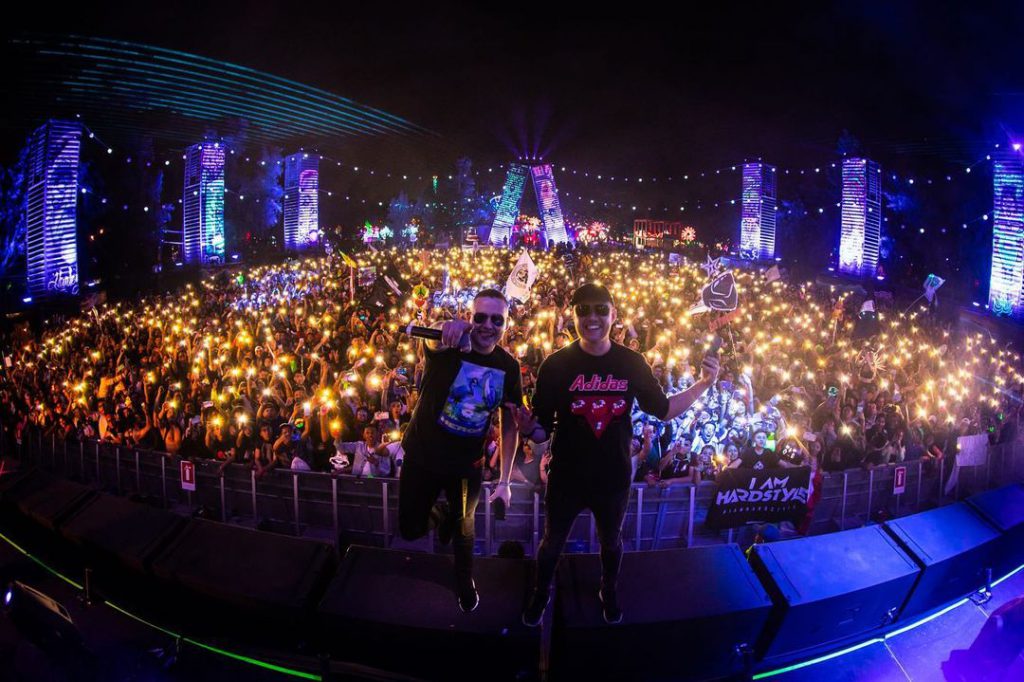 Both of you have seen the evolution of hardstyle first-hand, so what's something positive that's changed about hardstyle music or the scene in your opinion?
The most positive thing about the evolution of hardstyle is the reach to broader audiences, while still keeping the dedicated core intact. Over the past few years, we've visited so many countries and places where we'd never imagine hardstyle being popular. But we've been shown time and time again that hardstyle is loved by so many people around the globe.
Your music is very unique because many records by Da Tweekaz have themes whether it's cultural, alcohol, or Disney-themed. Your latest release, "Ich Schenk' Dir Einen Jodler" took fans to Germany to learn all about yodeling. What's the purpose of incorporating different themes into your music?
We are very creative spirits at heart, and doing the same thing over and over is not our style. Once in a while, we feel the need to stir things up and make something shocking and crazy, whether it's a track about our favorite alcohol, Jägermeister, or collaborating with a Swiss yodel band.
Considering the few side projects you guys have, how different is the production process when making music for Da Tweekaz and Tweekacore?
From the very beginning of our hard dance career, we've both been huge fans of happy hardcore. Together with Darren Styles, we decided to launch our very own label, where we focus on happy hard music under the alias Tweekacore. The process is somewhat similar, but with happy hard, we get to crank up the BPM's and go a little extra euphoric. It's very nice to have an alias when you want to work on something "different" too.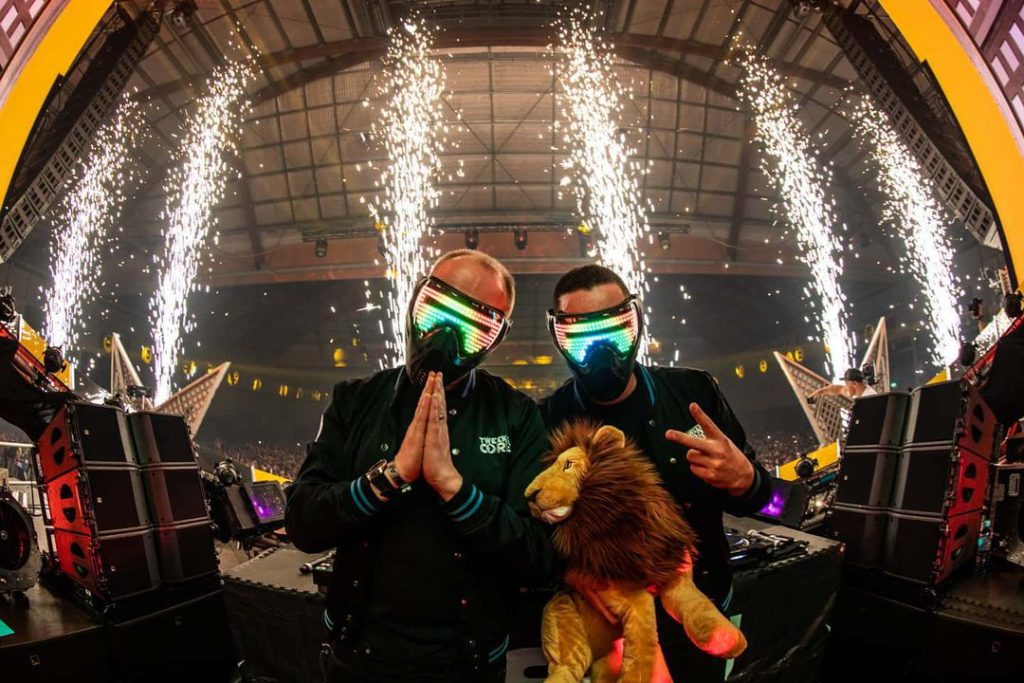 Hardstyle music has solidified its place in Europe and it's quickly spreading to other parts of the world. As long-time producers, where would you both like to see hardstyle get more recognition next?
Hardstyle does for sure have its best foothold in Europe. But as we mentioned, we've already traveled to so many places where we never thought that hardstyle would be popular in the first place! We're hoping the genre will grow more in North America, and also some parts of Asia where we still would love to visit.
A few years ago, we saw Da Tweekaz play the mainstage of Tomorrowland. What made that performance so important, and how did you prepare knowing that the majority of the crowd was going to be non-hardstyle listeners?
Playing Tomorrowland mainstage was an absolute honor, especially considering there had only been ONE other hardstyle act to do so before us. Looking back, it's hard to grasp what was going through our minds while playing in front of so many people. However, we tried to approach the set very calmly and rationally. We wanted to make our Tomorrowland set the best experience for both the hardstyle and the non-hardstyle fans, with a little shocker at the end of course.
Many of the lyrics in Da Tweekaz records are very deep and meaningful, like in "Weapons of Love" with Atmozfears, and "We Are Fighters" with Destructive Tendencies. Are the lyrics in these songs and many others inspired by real-life events and periods of time?
We have been very blessed to work with talented vocalists and artists throughout our entire careers. Sometimes we'll receive a vocal demo and think "wow this is amazing", without putting too much depth into what the words are actually saying. The most important thing for us when it comes to vocals is the energy and the atmosphere we would like to bring with the song. 
Before we wrap up, if Da Tweekaz walked into a bar, are they choosing 'wodka', tequila, or Jägermeister?
Haha, Jägermeister for sure! But it needs to be ICE COLD.
Thanks for chatting with us, Da Tweekaz. Tear the stage at Circus Maximus, and we hope to see you both in the USA soon!
Thanks for having us, hope to see you soon!
---
Follow Da Tweekaz on Social Media:
Website | Facebook | Twitter | Instagram | SoundCloud | YouTube