Hard dance dominator D-Sturb stopped by to reflect on his origins, his Defqon.1 performance, the future of the project, and much more!
---
D-Sturb has taken over the world of hardstyle by storm over the past decade and there's no end in sight for his continuous rise. His signature style makes for records that are truly larger than life as he mixes the roughest sounds known to man with electrifying melodies that take listeners straight to Hard Dance Heaven. His talents haven't gone unnoticed with End of Line Recordings picking him up and allowing him to realize the full artistic potential of his project.
Over the span of his career, D-Sturb has produced festival anthems for REBiRTH, Supremacy, and this year, Decibel Outdoor. While this is no easy task, D-Sturb masterfully captures the energy and adds his own flavor to every festival anthem he creates. Apart from his festival anthems, D-Sturb has released a multitude of singles that tell his story along with a full collaboration album with Warface titled Synchronized. His producing talents translate into his DJ career as well as he's played all over the world, tearing through stages like wasteLAND at EDC Las Vegas and the main stage of Defqon.1.
This past weekend, Defqon.1 made its glorious return to The Netherlands for the first live edition since 2019, and the first time with a fourth day as well. D-Sturb found himself closing down the Blue stage playing alongside industry heavyweights like D-Block & S-Te-Fan, Wildstylez, and Da Tweekaz. Luckily, we were able to catch up with him before the madness to discuss his backstory, his Defqon.1 performance, his latest release "Break Free" with ATILAX, and more. Turn up the volume for "Break Free" on Spotify and read on to catch our full discussion with D-Sturb!
Stream D-Sturb, ATILAX – Break Free (Official Decibel Outdoor 2022 Anthem) on Spotify:
---
Hi D-Sturb, thank you for taking some time to chat with us today. Your project is almost ten years old now since your first release. Can you take us back and share what inspired you to create D-Sturb? 
Back then, I would listen to hardstyle, but not often and mostly on my way to school on my bicycle. When I started making music, I tried different things like hip-hop and dubstep to figure out how sound design works. After about a year, I started liking hardstyle more and more. I would try making hardstyle, but it's difficult if you're still developing yourself as a producer.
At some point, I started liking hardstyle so much that I went to my first party – Qlimax 2012. After that, I was hooked. I was immediately convinced that I wanted to stand up there one day, playing my music to the audience. After that event, that goal and dream never went away.
In 2020, you and the other producers from End of Line released a super-collab called "Strongest Formation." It was seven producers in total, so how did you all create this track together and agree on the final version?
We had two group tracks – "Strive for Domination" and "Strongest Formation." We had a five-day writer's camp in The Netherlands and one in Belgium, where we rented a house and took our workstations to make music. We started by talking about concepts for the track and then splitting tasks like making melodies, kicks, or screeches. We all worked on music with our headphones, and if one guy showed his idea and we all liked it, we would continue with it.
At a certain point, someone had the mid-intro, and someone had the kicks for the climax, so we just needed to glue it together with whoever had the break. Now all that's missing is some details and effects. In the end, everyone sends their parts to the person making the entire track, and that's how you get the blend of all of us.
Last month, you played EDC Las Vegas for the first time. Can you share more about your experience and how you felt getting to play at EDC Las Vegas?
I went to Las Vegas once with my family ten years ago. My parents gave me my first laptop as a present for my 16th birthday, and we went to the United States. We traveled from Salt Lake City to San Francisco for one month in a Camp America RV. That's where I first started making music. We stopped in Las Vegas, but when you're sixteen in Las Vegas, you're totally in the wrong place. You can't do anything – you can only watch.
Anyway, I first had an agreement to play EDC Las Vegas in 2021, but COVID postponed it. I had been looking forward to it for a long time because I had heard so many crazy stories about EDC from my colleagues. I also wanted to go back to Las Vegas to avenge what I couldn't do ten years ago when I was sixteen. Overall, EDC was an epic experience.
This year, you made the Decibel Outdoor anthem "Break Free" with ATILAX. This is not an easy task, so how do you approach creating a festival anthem instead of a normal single? Can you also go over the meaning of the track title?
My approach is different for an anthem and a regular release. For "Break Free," we had some meetings with B2S, the organizer of Decibel, about the concept for this year's edition. We were locked up for two years because of COVID, so every organization and festival had to wait. Now, we're finally breaking free from those horrible two years, which it has been for people who like to go to festivals. That's why "Break Free" is the theme.
In the first part of the track, you can hear ATILAX breathing. In the music video, I'm locked up in a box. These elements and the lyrics represent being locked up in your home and thinking about what you're missing [festivals]. In the main break, listeners are breaking free with the chords of the melody. In the climax drop, the real, full melody comes in. Finally, the anti-climax is all about going hard!
You finally make your return to Defqon.1 Weekend Festival next week. It's the first time the festival will have a live crowd since 2019. What can fans expect from your performance this year?
I played Qlimax for the first time in 2019. At the time, I was working on the Synchronized album with Warface, but I wanted to play something only for myself. On the Thursday before the show, I stepped into the studio to make a track from about 1 to 11 PM. Then I played it at Qlimax for the world. What I made that day was basically the whole track except for some final details and mixing. 
Similarly, I got really inspired last week because Defqon.1 is so close now. I made a new melodic solo track that is not finished yet and has a summer vibe. It has Defqon.1 vocals in it for the show, but after Defqon.1, the vocals are going to change. I also have a song with Miss K8 I will be playing.
I'm going to try to deliver a balance between new, hard, and melodic tracks. Of course, I'll play some older tracks. Maybe "Feel It" with D-Block & S-Te-Fan, which we played for the first time in 2019 at Defqon.1.
You have played many editions of Defqon.1 in the past, and both editions of Defqon.1 At Home. What is one of your favorite Defqon.1 memories from over the years?
I remember playing for the first time on the main stage in 2019, and it was a huge achievement. For every hardstyle artist, it's their dream to play on the main stage of Defqon.1. I was excited to receive the news that I would play. Building towards the show and playing the gig was a dream come true. 
Also, the first time I played the Blue stage with Warface was magical because it's huge. It's like playing in a stadium. I remember walking up to the stage, getting my first look at the crowd, and I was like, "wow, this is much more than I was expecting!" The atmosphere was great, and we also had beautiful weather that year.
This year, you will be playing the Blue stage at Defqon.1, which is known to host the aggressive sounds of rawstyle. How does it feel to be able to represent your style of music on one of the biggest stages in the world for rawstyle?
It's still unbelievable. My current studio for music is not much, and I don't have much more than what I started with. It's insane to think that I make music in this bedroom studio, and it reaches so many people at different parties like the Blue stage at Defqon.1 – one that fits about 25,000 people. It's hard to imagine sometimes, but it's awesome because it's what I've been working on for the past ten years.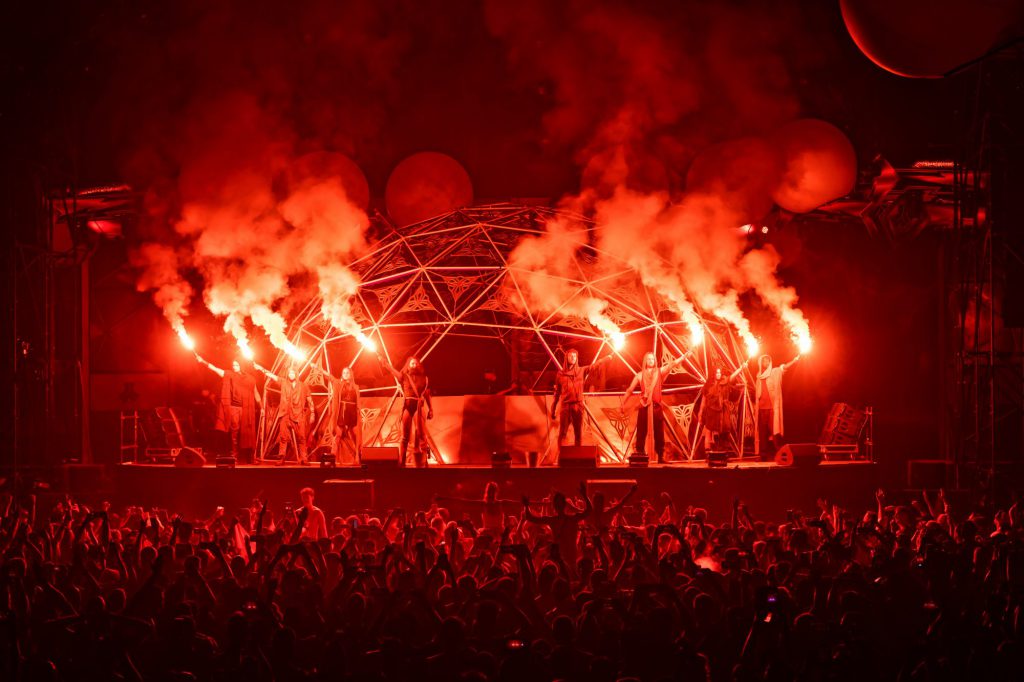 Now that we're in the second half of 2022, can you share more of what's coming for D-Sturb for the rest of the year?
In my personal life, I recently bought a house, and I'll be moving in August. It doesn't change much music-wise, but I will build a professional studio to make better quality music. 
For D-Sturb, the last half of the year has a lot of insane shows. I'm looking forward to Escape Halloween together with Warface. In August, I'll be back in the States, but it still hasn't been announced, so I won't say anything about it yet. I'm also playing Knock Out Festival in Australia, and it's the first time the festival has come to this location. 
Lately, I've been making lots of new solo tracks and collaborations. For the rest of 2022, there will be lots of new music. But in 2023, I will be doing something very special. I cannot say what it is yet, but it's good for people that like my music to keep their eyes and ears open.
Finally, with your 10th anniversary coming up, what is the ultimate goal you would still like to accomplish as D-Sturb?
I want to have my own event on a large scale. I did one right before COVID in The Netherlands in a 2,700-capacity venue. That event was epic, and many people already came, not just for me but mostly for me. I'd like to do it again on an even larger scale.
My ultimate goal is to keep doing my work with joy for as long as I can. I think a part of that is that I need to challenge myself. There are a lot of times, especially during the lockdown period, when you have no feedback and fall into the same pattern and process of making music, but I want to challenge myself every time and keep it interesting. 
I don't find any of my work boring, but I need the challenge to test myself and see how much more I can achieve. If I continue with that, I'll still be playing when I'm 50 or 60 years old.
---
Follow D-Sturb on Social Media:
Facebook | Twitter | Instagram | SoundCloud | YouTube | TikTok | Spotify