Bass enthusiasts from near and far traveled to Northeast Tennessee for this year's extraterrestrial edition of Sound Haven.
---
When it comes to intimate events with tight-knit family vibes, Sound Haven takes the cake as the hidden gem of bass music festivals in the South. Thrown by the Nashville-based collective known as Sacred Hive, this festival returned for its fourth edition in 2022 with an incredible new venue and, as always, an insane lineup. Designer sound systems, notable names in the visual artist game, and top-notch production elements were just a few of the other treats in store for what was set to be an amazing weekend.
Campers arrived on a wet first day at Sound Haven's stunning new home, the Catoosa Event Center in Jamestown, TN. While some attendees arrived early on Wednesday for the official pre-party that kicked off the festival at the Planetary Stage with Yheti, Potions, Freddy Todd b2b Flintwick, and more, my journey to the festival began Thursday.
Having attended Sound Haven at its old venue last year, I couldn't wait to see the bigger and better plans the Sacred Hive team had in store for the new venue. After getting settled during the rainy morning, I made it to the UFO stage just in time to catch the end of Just John and his sick hip-hop bass edits.
The UFO stage was a beautiful beast that was even bigger and more detailed than last year.
With massive LED panels behind and surrounding the front of the DJ table, this stage, with its incredible production and sound, would become a sight to behold during the evening. Its Funktion-One Vero sound system rang loud and clear across the venue and shook the surrounding serene Tennessee farmland. When Tripzy Leary's weird wubs seemingly made the rain return, I could still hear his set from the campgrounds, where I went to wait out the rain and grab a bite to eat in preparation for the night ahead.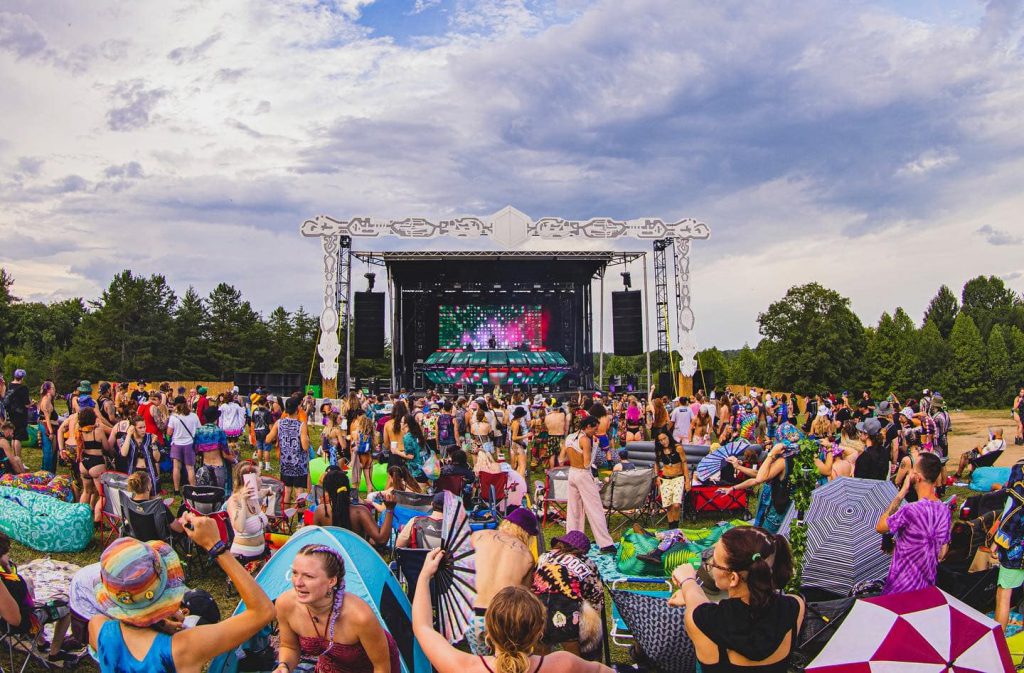 As the sun set, we were treated to a heavy performance from smith.
Returning for his third consecutive year playing Sound Haven, smith played tunes that fit the dusk hours perfectly and set the tone for what was to come later that night. Following was G-Space, whose set I was looking forward to as I'd never caught him play before. A highlight of the performance that had everyone talking after the festival was his fan-favorite flip of "Buttons" by The Pussycat Dolls that had the whole crowd hollering. It didn't disappoint and easily was one of the most fun of the weekend.
With nightfall, the UFO stage was brought to its full potential. The intricately patterned border that framed the stage came to life with visuals that were cohesive with the ones on the center LED board. Crisp, shooting lasers filled the sky, making the stage look surreal from afar. Live painters could be seen hard at work on several stunning murals throughout the back of the mainstage crowd.
The final mainstage performances on Thursday came from EAZYBAKED, the duo who has recently become quite the crowd favorites, and Minnesota to close the stage. It's true that the music never truly stops anywhere at Sound Haven, as the late-night Planetary stage played from midnight until sunrise each day. This smaller stage was my favorite place to be, with a gorgeous patterned shade structure overhead that made it feel more intimate and created a beautiful ceiling that seemed to give off a blacklight glow.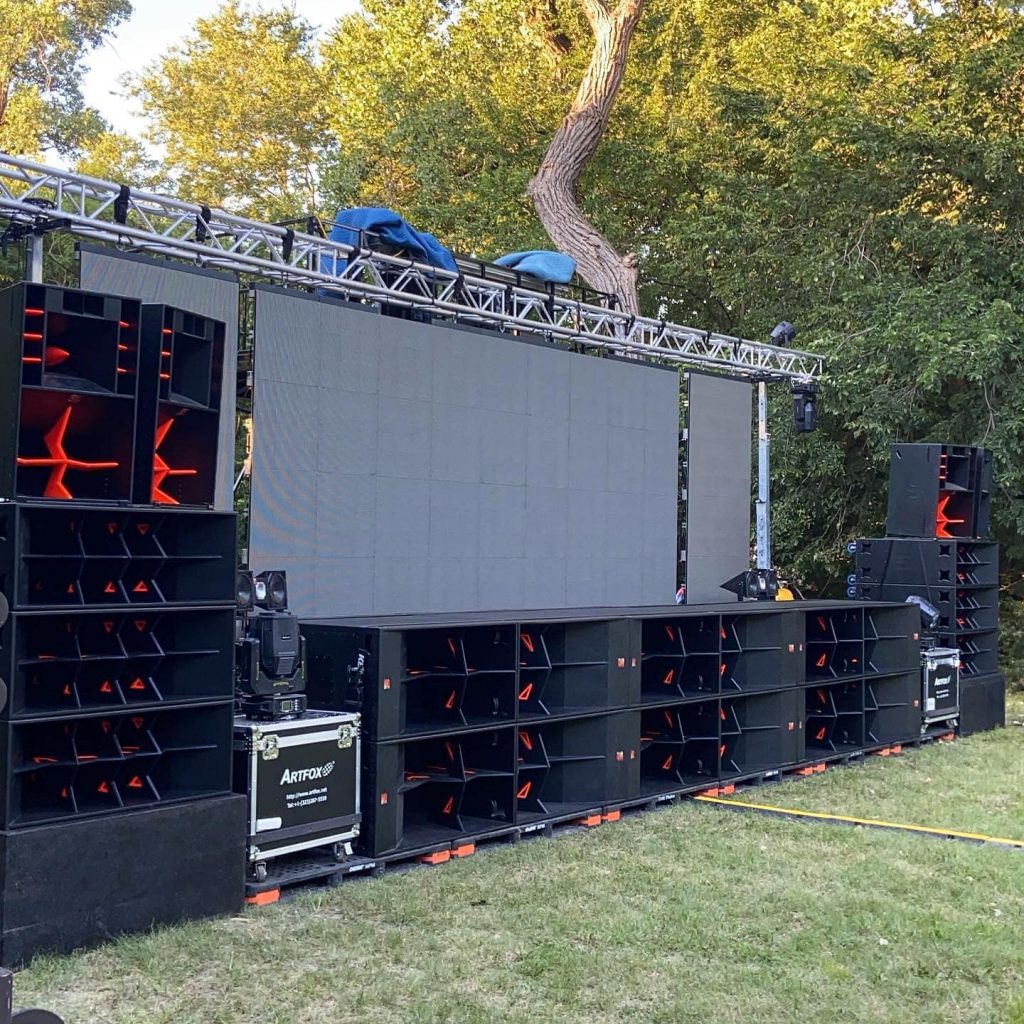 The Planetary stage also boasted upgraded Element-5s as the sound system for this year's edition, which is rare at US venues.
Not only was the Element rig a gorgeous stack of speakers to look at, this system truly delivered bass in a way I've never felt before. I could feel it in my stomach, and it was intense enough even to make some people around me overstimulated. Because of this, I was making sure my friends had their earplugs as the importance of protecting your hearing at events like this cannot be stressed enough.
ENiGMA Dubz was the first artist I had the pleasure of hearing on this gem of a stage, but sadly it was cut short by the most intense flash thunderstorm of the weekend. While the ceiling structures above the Planetary stage offered some blockage from light rain, they are no match for Tennessee monsoons. The ceiling collected buckets of water that were then quickly dumped over the sides of the panels in huge waves as the storm hit all at once. There was no sticking this one out, so as the rain came down in sideways sheets, my friends and I sprinted to the shelter of their vendor booth.
Sound Haven is just one of those events where you have to be prepared for rain and crazy storms, which I learned last year. We waited it out as it rained heavily for another half hour before changing into dry clothes at our camp. I made it back to the Planetary stage in time to catch the last half of one of my favorites, MYTHM, who threw down his signature UK-dubstep style beats as the perfect follow-up to ENiGMA Dubz.
I couldn't be more excited for my first set from Chef Boyarbeatz, who was next after MYTHM, to continue with the perfect lineup curation of Thursday night. He had just released his highly-anticipated EP on Deep, Dark & Dangerous that same day, and his late-night set was everything I'd hoped from the rising dubstep star. While I always love seeing Zen Selekta throw down, I decided to call it a night after Chef Boyarbeatz so I could get some rest for the next day.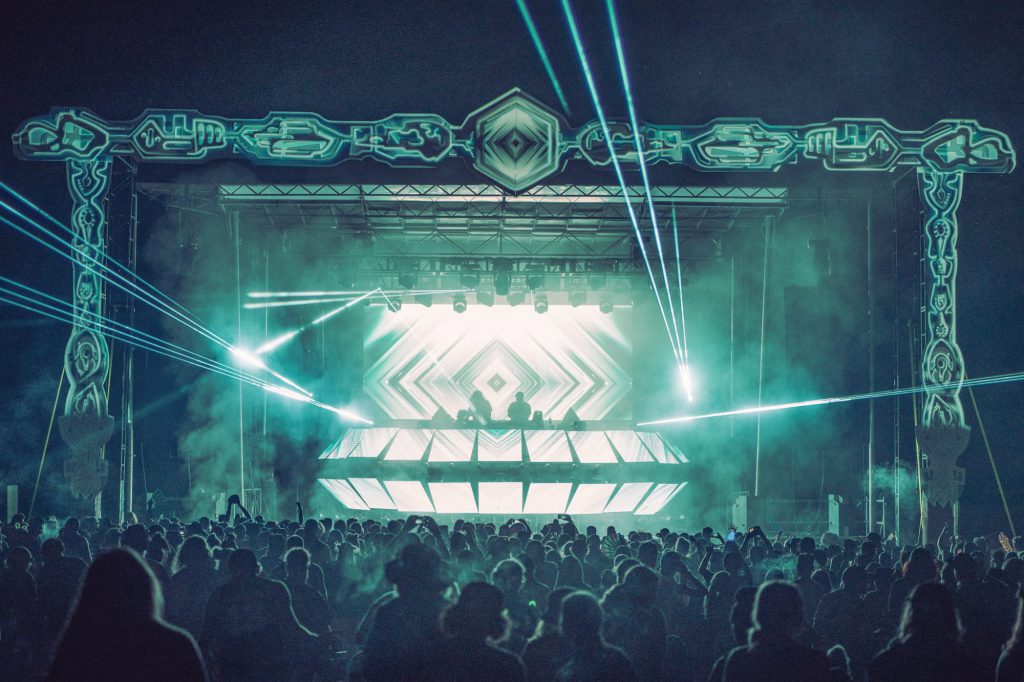 Waking up to another rainy morning on Friday, I got ready and caught Tape B on the main stage to start my evening.
Tape B's sounds set the stage perfectly for the beautiful wave beats from KTrek that followed. While I was looking forward to my first set from Deadcrow, I ended up not enjoying it. The performance felt all over the place, and he didn't play very much of his wave music, which is what I was most looking forward to hearing from him.
Smoakland was one of the most hyped acts of the weekend, considering they were a huge favorite at last year's edition and were now playing two sets this year. With a mainstage performance following Deadcrow plus the debut of Liquid Smoak later, fans were excited for a double dose of Smoakland, and their main set didn't disappoint. Later, Rusko played a fun set full of old-school beats and drum and bass to perfectly close out the main stage.
Friday's Planetary stage lineup was my favorite series of performances all weekend.
The madness began with The Widdler, another returning Sound Haven favorite. I've seen my fair share of him over the years, but that one had to be the best I've ever seen from the dubstep don to date. I was planted close to the crazy Element speakers and soaked in every vibration. I didn't want The Widdler to end, but there couldn't have been a more solid set to follow his than a deep one from Chief Kaya with King Shotta on MC duties.
Salty then played an incredible set, followed by Substance. EAZYBAKED was playing for the second time on the third mini-stage in the campgrounds, The Nebula bus stage, but I wanted to keep my killer spot in the crowd for the debut of Liquid Smoak. I've fallen in love with their liquid drum and bass mixes under that alias over the last two years, and it was so refreshing to hear an entire set in that style live. The Smoakland boys were having a blast on stage, and four in the morning was the perfect hour for those euphoric beats.
The euphoria carried into the sunrise as Super Future took the stage.
Super Future's set was one that I was most excited about all weekend, as his sunrise sets feature a sultry blend of dreamy downtempo, chill bass, and trap styles, with some tasteful hip-hop and R&B thrown in as well. While his sunrise set at Sound Haven was pushed into the later, hot morning hours last year, this year was just how it was intended to be during a serene, misty morning as the sun softy rose behind us. It was pure bliss, accompanied by the stunning morning sky, and it reminded me that I will always stay up until sunrise for Super Future.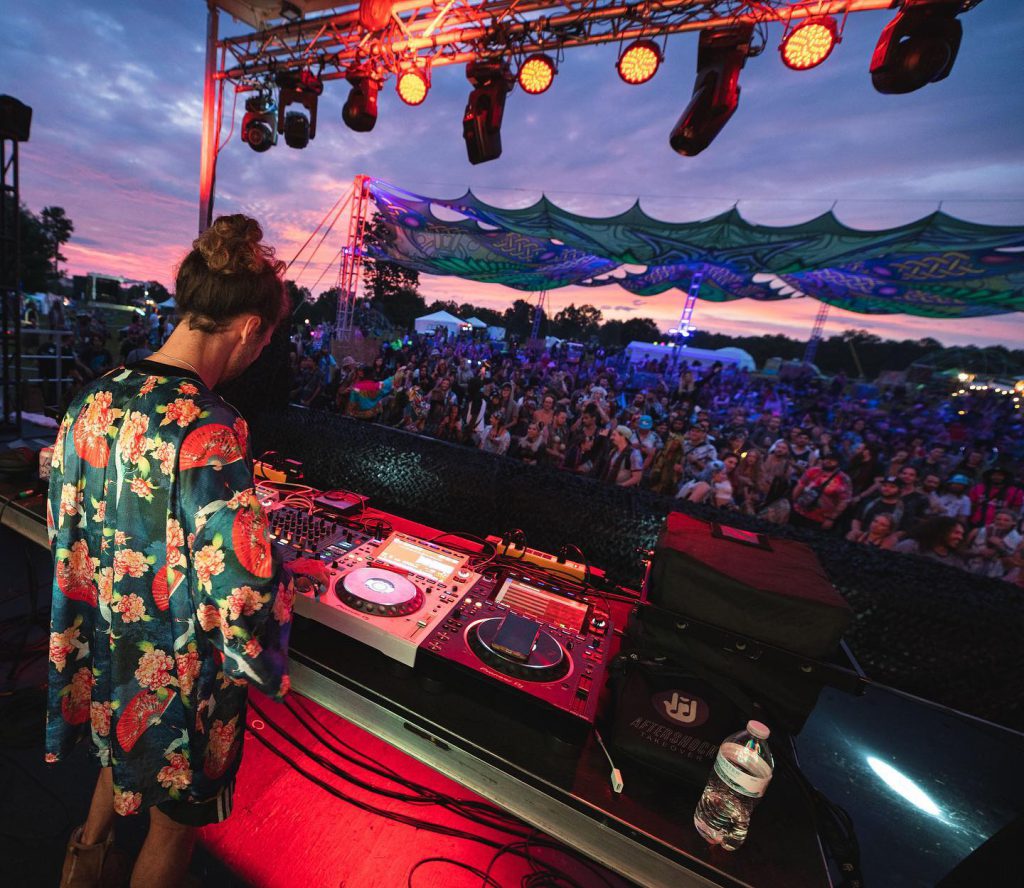 I spent a large portion of Saturday catching up on sleep from the night before, and I was looking forward to catching Chmura on the main stage as my first set.
I wandered about with friends hanging out at campsites to the distant sounds of Vide and Ultrasloth before heading to the stage to secure a close-up spot with my group for Bricksquash. He threw down funky, wobbly tunes that acted as a perfect lead into Kursa, who put on a fabulous show with the well-known visual artist Actualize running his visuals.
Following was the biggest headliner on the bill, Jade Cicada, who hadn't played a festival since 2019. This was my first time seeing him, and his unique style paired with visuals from Fractaled Visions was breathtaking. His mystical sounds bubbled through the Funktion-Ones, and to the surprise of many, fireworks popped to close the performance.
I was eager to get my spot at the Planetary stage for another late night there and couldn't wait to catch Distinct Motive.
Distinct Motive ended up being one of my friends and I's top sets of the weekend as he threw down banger after heavier banger. Dalek One is always one of my favorites to see live, and his massive sound hit perfectly on the Elements to follow up. He's played every Sound Haven since their debut event in 2018 and has grown exponentially as an artist since. He crushed it this year with MC King Shotta backing him up, keeping the crowd's energy higher. ZIIM played a great set to follow before Dalek One and MYTHM went b2b on the Nebula stage. I called it a night once again as I was more than musically satisfied.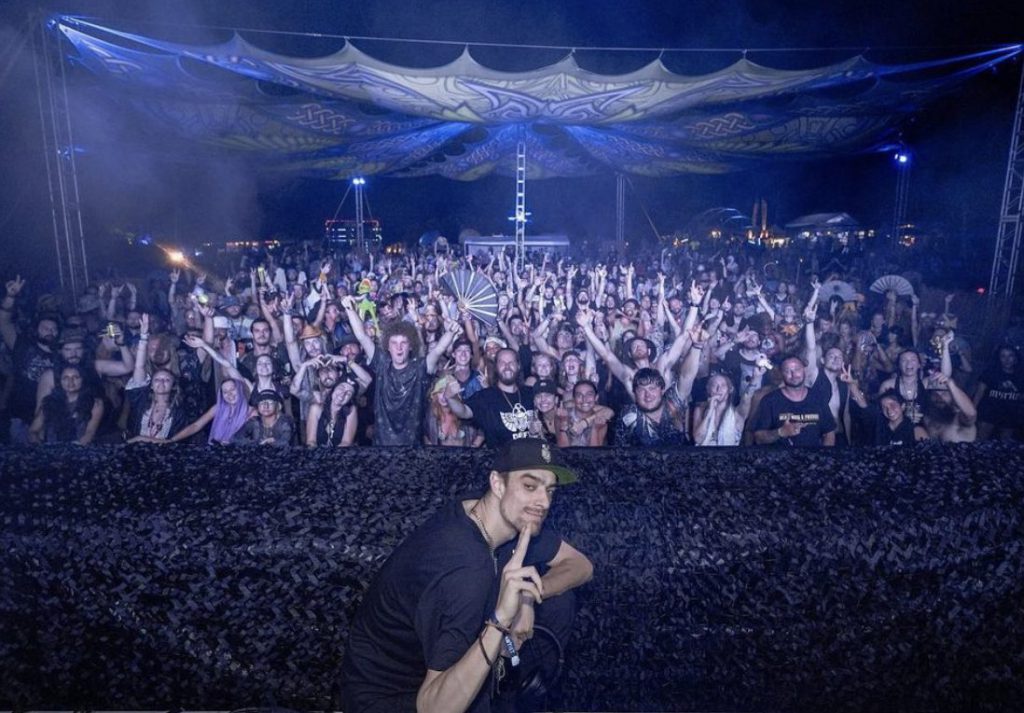 Sunday afternoon was another rainy one, with another brief flash thunderstorm during Daily Bread.
My friends and I have a running joke that the artists and organizers control the weather during Sound Haven, as the strange Tennessee storms come and go quickly. It cleared just in time for an incredible four hours of music to close out the final day, starting with a fire set from Keota. Mickman is one of my absolute favorites in the game right now, and he showed off his effortless ability to hook a crowd with his glitch-hop sounds.
kLL smTH has been dominating festival stages all summer, and for a good reason. I will always catch one of his sets whenever I can, as it's guaranteed to be a blast each time with his fun energy and unmatched mixing skills. The star of the show on Sunday to close out the UFO stage for the final time was none other than Detox Unit. His performances speak for themselves, so you just have to experience one to understand his well-deserved hype.
Always feeling bittersweet on the last day of an event, I spent the late night getting in as much last-minute time with friends as possible. I bopped around the Planetary stage without a care who was playing at any given time. That's one of the many wonderful things about Sound Haven; even when you're not sure who's playing, it's pretty much guaranteed to be good. The flip side is that it can be overwhelming how much amazing music is happening all weekend because there's simply no way you'll be able to see every artist you plan to.
This year's improvements to the festival, aesthetically and organizationally, cannot be praised enough.
Some things were just hectic last year as Sound Haven saw far more attendees than they'd prepped for. Set times moved around a lot, lines for water and ice were crazy, and the only body of water in the blistering heat of the old venue was a gross still pond. This year, supplies and food vendors were more readily available with much less chaos.
While water stations and bathrooms were still on the scarce side, Catoosa offered a gorgeous lake that campers could jump or float in to cool off during the hot afternoon hours. If the lake wasn't already amazing enough to have during a hot weekend, they set up a renegade stage on the beach where smaller DJs hopped on the decks all morning and afternoon. The lake was a vibe and an ideal way to spend a late morning in the campgrounds.
There was still more to see beyond the stages, like the grotto area that was a clearing in the woods across from the main stage. This was where various workshops and activities were held during the daytime, and at night it lit up with all kinds of illuminated art, making it a gorgeous photo op.
The venue was spotless all weekend, thanks to the hardworking homies of Manifest Green, the team in charge of trash for the whole event. Their passion project turned business began with their first Sound Haven in 2019, and they have been killing it at festivals all over this side of the country since.
Additionally, the venue owners and the security team were kind, happy for us to be there, and were on top of everything all weekend. Not only were things more organized this year, but I experienced security and venue staff exceeding expectations to keep attendees safe. When a patron had been harassing a friend of mine and others during the festival, they immediately took action to have him removed from the property.
Joseph Coates, the security team leader, and Josh Connor, an owner of Catoosa, went out of their way to ensure we were safe, and we couldn't thank them enough. They stressed that that kind of behavior was not welcome at Catoosa and to let them know immediately of any other issues anyone had.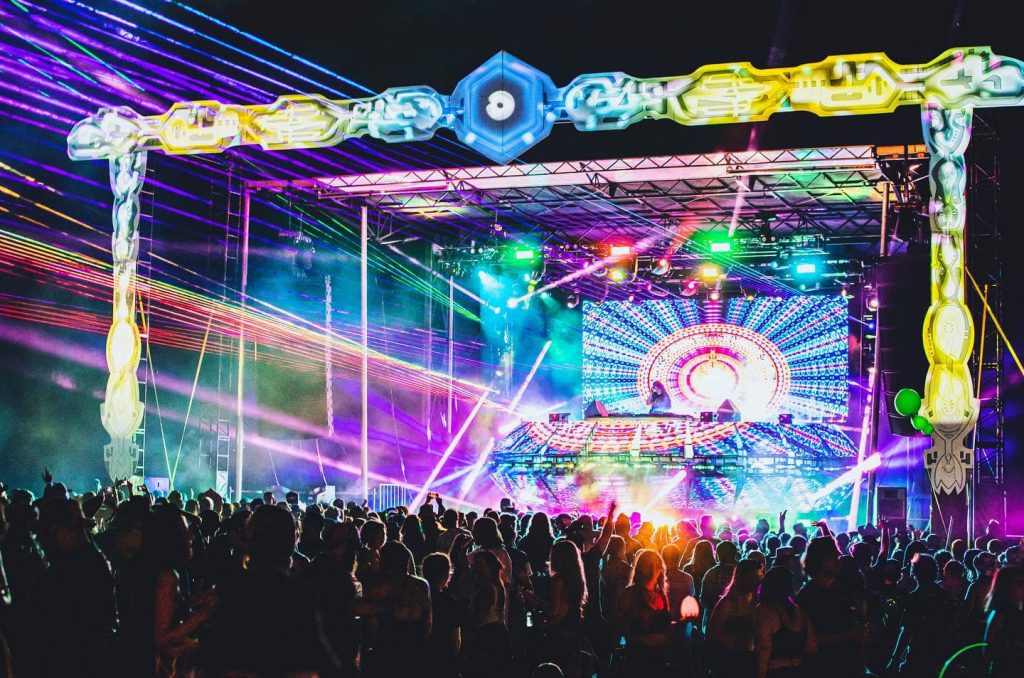 I left this year's Sound Haven experience feeling light years more fulfilled than last.
My heart was incredibly full after a successful weekend, which overall ended up being much less stressful than last year. While there were still areas for minor improvement, Sound Haven did a fantastic job covering corners they missed or neglected in previous years.
Although there could've been things like more lighting throughout the campgrounds and more water and bathroom stations, I was satisfied with pretty much everything. It's safe to say that Sound Haven has found its perfect home at Catoosa, and I hope it can return there for years to come.
From the attention to detail in sound/production to the caring staff, it was an all-around high vibrational weekend with a wonderful crowd and continues to be one of my favorite festivals. I can't wait to return next year and continue to watch this beautiful experience grow and transform.
---
Follow Sound Haven on Social Media:
Website | Facebook | Twitter | Instagram | SoundCloud | Twitch