Manifest Green is a waste management team with a passion and their team is keeping a festival near you spotless this summer.
---
While immersed in an experience, it can be easy to forget about all of the things that happen behind the scenes to make our favorite festivals come alive. Something that typically never goes unnoticed by a majority of festival attendees, however, is when an event is dirty with facilities that aren't kept up. Cleanliness directly reflects the quality of the entire festival, and the folks over at Manifest Green have made it their mission to help keep events spotless and environmentally mindful.
The Manifest Green Team is a waste management collective that stemmed from a passion for hearing the music and turned into a commitment to keeping festivals green. They've exploded over the last year in growth, working hard to create clean experiences at smaller festivals all over the South and the Midwest, such as The Astral Project, Goddess Awakening, DreamFest, and Bigfoot Electro. Their team will be keeping it green at plenty of upcoming events including Sound Haven, Greenway, and Big Fam Festival, so be sure to keep an eye out for them and their booth if you are attending these!
Manifest Green has run its own booth at some events as well, where they offer sustainability information and resources while also selling repurposed or upcycled clothes and items. Their team even creates artwork from festival trash that they theme around the festival, like at Bigfoot Electro, where they created a huge foot sculpture out of recycled cans.
While I was at Bigfoot Electro Festival in Tennessee this past May, I spent my weekend camping with the Manifest Green Team where I got to learn about their mission and tag along on some of their work ventures. I also was able to pick the brain of the collective's founder, Austin Boughner, about how it all came to fruition. Read on for the conversation!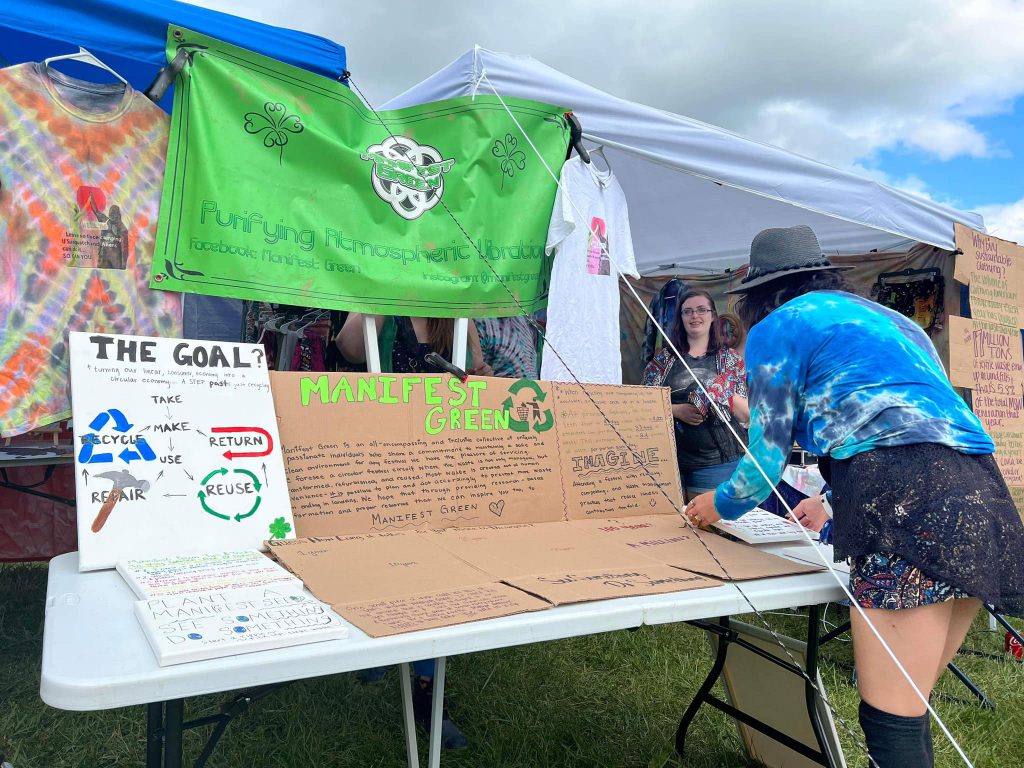 ---
Hey Austin, thanks for taking the time to chat with me. You've been running your own festival cleanup crew for a few years now, and you started it completely from scratch. When and how did Manifest Green begin, and with what ultimate goal in mind? 
It all started with a passion for our community and a drive to get involved. Before we were Manifest Green, I began my journey cleaning up events by working with Sacred Vibrations, a tiny festival in Michigan where I started as an excited volunteer in 2017. Shortly after, I had an empowering and enlightening experience at Electric Forest that year. I wasn't working or volunteering, but I found myself trotting around cleaning up trash in a GA Lot while the sun rose softly. 
I was in a meditative, tranquil state of mind, and strangers began to tag along and join me in cleaning up trash. I reflected on my previous experiences at Sacred Vibrations and envisioned the potential for the future, and I knew that this was what I was meant to do. After this sunrise picking up trash with strangers, I felt like The Manifest Green Seed was planted, and I began to manifest my goals. I later went on to lead the cleanup crew for Sacred Vibrations for the following two years.
In 2019 the team behind Sound Haven Festival, Sacred Hive, heard of my previous endeavors and my passion for keeping events green. They recruited me to run the waste operation and lead some volunteers for Sound Haven 2019 with only a month to prepare. I was ecstatic and overwhelmed at the same time, but I knew that this was meant to happen and would be a doorway to my future. I had very little experience in taking on a gig like this, but I had all the confidence and passion I possibly needed.
I was living in Michigan at that time and couldn't find a ride, but nothing would stop me from embracing this opportunity. A week before the festival, a friend and I packed up everything we could possibly carry on our backs and flew our thumbs high in the sky. It took us 5 long adventurous days to hitchhike from Detroit to Sound Haven. This journey was epic and transformational. We did the best we could with the resources, experience, and people we had, and it was then that Manifest Green was officially born. 
How has Manifest Green grown since it was officially born at Sound Haven, and what are some of the teams proudest achievements? 
We have grown exponentially since we first launched. What started as a passion project to get groups of friends into festivals for free for putting in a little work has now evolved into a full-blown career. What really launched us forward were a pair of investors who believed in me and my dream and are now my partners. Devon McPherson and Cameron Sloan are continuously investing in the infrastructure necessary for the evolution of Manifest Green. Thanks to them, I went from having almost nothing to having all of the supplies needed for the team to succeed.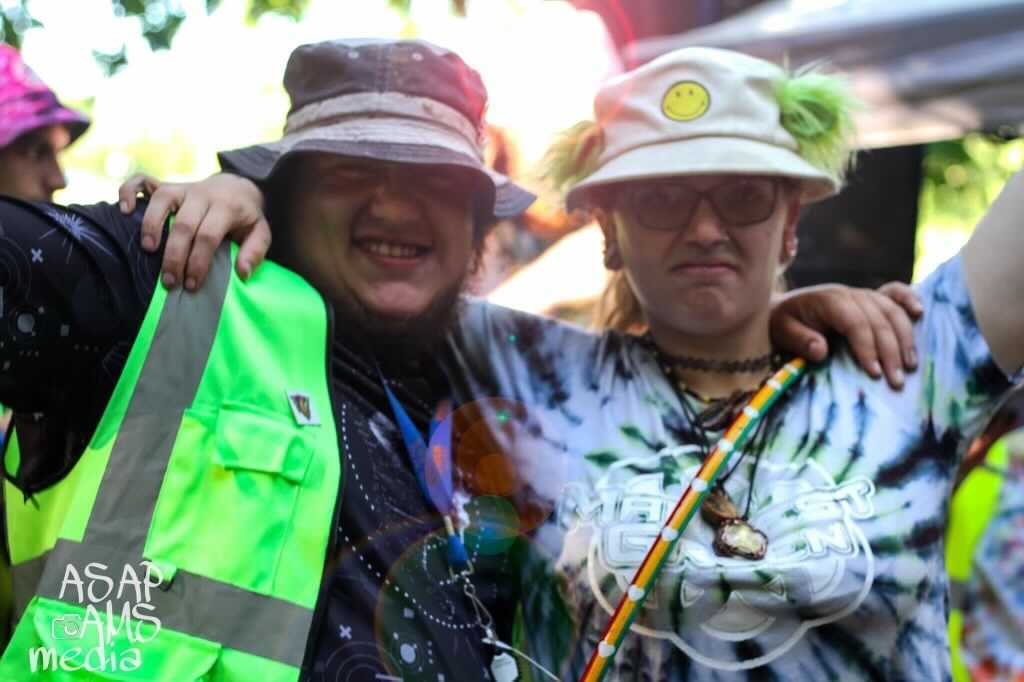 What goals do you have for Manifest Green as the team expands? 
Definitely obtaining more infrastructure and doubling my core team. I want us to level up to the next tier of festivals and work as many events as possible. We strive to inspire better sustainability as well as recycling habits at festivals and beyond via our informational Manifest Green booth. In the future, we hope to create items like shirts and reusable bottles from recycled festival trash, as well as more art from trash like we've done in the past. I even hope to launch a non-profit someday.
How can potential new team members get involved if they're interested in working for Manifest Green at a future festival?
Reach out to us by messaging our Facebook or Instagram page, so we can add you to a group chat designated for new opportunities. We also have an application you can complete where you'll be added to a list to be contacted about all future opportunities. Contact information for events hoping to book Manifest Green can also be found on our Facebook page.
Finally, what ways can all festival goers stay green and mindful while attending events? 
Be mindful of the waste you produce, dispose of it properly, and be extra conscious about your micro-trash. Always have trash bags for your campsite; even better if you have one bag for recycling. Bring a trash bag with you when you go into the venue so as not to leave your "home base" at the stage trashed. Put cigarette butts into your pocket, and don't litter your cellophane from cigarette packs or cigar wrappers. 
If you use leisure items like moon mats, be accountable for the micro foam pieces they leave behind. A huge one for camping events is zip ties! Pick up all of your zip ties, please, and look into reusable zip ties or non-plastic alternatives. Bring reusable water bottles to refill, as well as large jugs for your campsite to prevent going through cases of plastic water bottles. And of course, properly pack up, clean your area, and don't leave entire campsites behind for us to clean up. 
---
Follow Manifest Green on Social Media: