Jade Cicada, Rusko, Kursa, and more of the best bass talent in the scene will take the stage at this year's edition of Sound Haven Festival.
---
Following a wildly successful 2021 that saw thousands of bass music fans travel to Tennessee for its killer lineup, Sound Haven Festival is back for its fourth edition. After the hype surrounding last year's event that saw more attendees show up than tickets sold, the festival has quickly outgrown its old venue at Jaceland. The Sacred Hive team is cooking up bigger and better plans for Sound Haven's new home this year at the Catacoosa Event Center in Jamestown, TN on July 28-31.
With lineups for so many events being announced almost daily, some are starting to lack originality and underground representation – this is where Sound Haven's stacked bill takes the cake. A rare appearance from fan-favorite Jade Cicada reserves the headlining slot followed by Detox Unit, Rusko, Minnesota, and Kursa. While there are still a few mystery names to be announced, it's hard to picture this lineup getting any better.
Deadcrow, Distinct Motive, Keota, Bricksquash, ENiGMA DUBZ, EAZYBAKED, Mickman, and Ultrasloth are just a handful of the talents that are sure to shine on the designer sound systems and top-notch production elements in store for Sound Haven. This year will also see the return of some favorites from last year like Dalek One, Chief Kaya, Super Future, Zen Selekta, and two sets from the Smoakland duo who's 2021 Sound Haven set had everyone talking.
The bottom of the lineup is every bit as impressive as the rest with so many rising stars that include MYTHM, Chef Boyarbeatz, Meduso, just john, Sky Suite, and Tape B, to name a few. Stay in the know regarding the phase two lineup and more festival information via Sound Haven's socials, and we hope to see you all in Tennessee this July!
Tickets for GA and VIP, as well as camping options for Sound Haven, are on sale now via their website, so let us know in the comments if you've locked in yours!
---
Sound Haven 2022 – Lineup: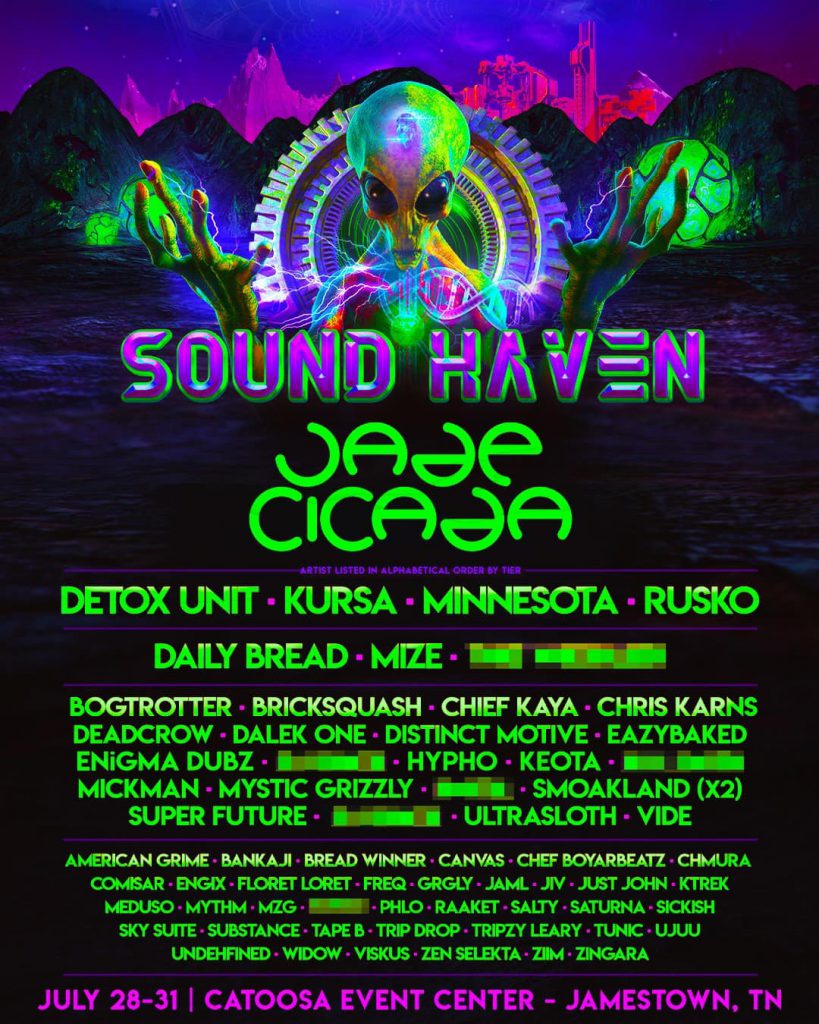 ---
Sound Haven 2022 – Lineup By Artist:
Jade Cicada
Detox Unit
Kursa
Minnesota
Rusko
Daily Bread
MIZE
Bogtrotter
Bricksquash
Chief Kaya
Chris Karns
Deadcrow
Dalek One
Distinct Motive
EAZYBAKED
ENiGMA DUBZ
Hypho
Keota
Mickman
Mystic Grizzly
Smoakland (x2)
Super Future
Tiedyeky
Ultrasloth
Vide
American Grime
Bankaji
Bread Winner
Canvas
Chef Boyarbeatz
Chmura
Comistar
Engix
Floret Loret
Freq
Grgly
Jaml
Jiv
just john
Ktrek
Meduso
MYTHM
MZG
Phlo
Raaket
Salty
Saturna
Sickish
Sky Suite
Substance
Tape B
Trip Drop
Tripzy Leary
Tunic
Ujuu
Undehfined
Widow
Viskus
Zen Selekta
Ziim
Zingara
---
Follow Sound Haven and Sacred Hive on Social Media:
Website | Facebook | Twitter | Instagram | SoundCloud | Twitch