ENiGMA Dubz' album Awakening, is some of his most incredible work yet, and we had the wonderful opportunity to chat with him about it and more.
---
ENiGMA Dubz is a staple of the bass music community and over the course of his career, he has touched the lives of many with his versatile production skills. From early projects like Hard To Smile and Duppy, to newer ones like Geater Dubz and Coming Down. His talent knows no bounds and he continues to blow minds with his innate ability to create a wide range of genres. Whether it's breakbeat tracks like "Haven" or beautifully sculpted sounds like Sleepy from his itona project, the emotions he pours into each and every creation are otherworldly.
Back in 2015, ENiGMA Dubz released two albums, The Journey so Far, Pt. 1 and Pt. 2, both of which were immaculate projects. While he hasn't released an album since then, he's consistently put out EP's and singles, highlighting different emotions and the growth he's made as an artist. We have all been eagerly awaiting a new album, and now that time has finally arrived. For those who have been following ENiGMA Dubz, you've likely heard the first releases off of the new album, "Up in the Safe," "Out of My Mind," "Lost Souls," and "I'm Ghost." Now we all get to sit back and enjoy the magic that is Awakening, out now on his imprint, Morii Records.
This project is some of this tastemaker's most intimate and vulnerable work yet, reaching the deepest depths of listeners' souls. It's true when they say that good things come to those who wait and many of us would wait a decade or more just for a release like Awakening. For those who have yet to listen, be prepared to be taken on an odyssey of a range of emotions and frequencies. You might even want to have a box of tissues close by when you hit those more emotional tracks like "I'm Ghost" and "And Then You Were Gone." And for the more ominous tracks on the album like "The Sunken Place" and "Bump in the Night," be sure to play them out on a proper system as they deserve.
We had the absolute pleasure of chatting with ENiGMA Dubz about his album, his early memories of dubstep, his favorite system to play on, and even asked for some advice on mental health. It's always so humbling and an honor to be able to work with your favorite artists on their projects, and this was definitely one for the books. Read on to see what we're talking about, and maybe even stream the album while you read. If you have a favorite track or tracks, be sure to tell us in the comment section below.
---
Greetings ENiGMA Dubz! Thank you so much for taking the time to chat with us today, it means a lot! First off, big ups on all the successes you've had recently – from starting itona to putting out "Haven" as well as countless other projects. If you had to pick a favorite recent moment, what would it be and why?
Thank you firstly Ali, always good to catch up with you! 
I'd say my favourite recent moment was the reaction to the DnB single "Out of My Mind" off the new album when I dropped it in Denver at the end of 2021. I don't usually play DnB in my sets – as mostly mix at 130 and 140 bpm – but I ended my set with it and it went down so well, I was absolutely buzzing from it. It's made me think I need to delve into DnB more often.
Another moment I want to mention was moving into my new studio space at the start of this year. It's been a very long time coming and after months and months of work on the acoustic treatment and room adjustments, to finally move in and be working in there now is a dream come true, literally.
You're definitely one of the most versatile tastemakers to have graced this corner of dance music with an extensive discography. Where does your inspiration stem from when it comes to getting in the zone to create so many different styles?
It really depends on my mood and emotions day to day. Having been in the game for over 10 years, making a huge variety of music week in, and week out for my various projects, I find my mind is always very open to new musical paths and directions. I also grew up listening to such a wide range of music, so no doubt it's really helped me tap into the various genres I touch on under ENiGMA Dubz in particular.
Now, you're back with your first album since The Journey So Far Pt. 1 & Pt. 2. Tell us, what was the reasoning (if any) behind just putting out EP's and singles since 2015? And what emotions are you feeling right now over such a massive release?
To be honest, life has taken many turns over the last six years, both for the best and also with some challenges. I've also managed to make a living solely from music since 2014, and whilst this is amazing, it's also taken a lot of time and energy to find the right balance between music for myself and music for other artists I produce and co-write. 
Over these years, I've had to learn to juggle a lot, so having smaller projects going on in between was my strategy. I've always put my heart and soul into it, but I'd say the last two years have been by far the most productive and insightful to date in my ENiGMA Dubz journey. Shout out to my manager, Tom, who I teamed up with in 2020. I'd say that was a big turning point and I've finally got everything far more organized and planned out.
Right now I'm feeling extremely motivated, excited, and grateful with the new album, it's been coming together for a few years now and I'm so happy with the response so far.
Awakening is an incredible body of work, it feels like diving into each and every element you so seamlessly create. What are you hoping listeners will take away from this project? And if you have any, what were some of your favorite tracks that you worked on for it and why?
Thanks so much, it certainly is a journey through all things ENiGMA Dubz. I hope that listeners enjoy the ride as much as I have. I'm blessed to have a really open minded following and this album is all about that. A lot of emotion runs through the album, as is with most of my music to be honest, so I also hope listeners can lose themselves in the various styles they come across, it's what I always strive for when writing music, total escape.
My favorite tracks in no particular order are; "Lost Souls," "Out Of My Mind," and "ASMR." I really connect with these three tracks on a deep level and I'm yet to tire of listening to them. 
"Lost Souls" has been in the unreleased vault since 2018 and it's my ideal mix of dark and chill, alongside a heavy bottom end that works well in the club during my sets. 
"Out Of My Mind" has been stuck in my head since making it, plus I loved working on a new DnB track. It fuses the liquid DnB vibes that I absolutely love, alongside the trance-y synths and captivating top line that I always love capturing too. 
"ASMR" is as chill and vibey as it gets. ASMR is something I find really useful in studio sessions and when touring to help clear my head, so writing a track to capture those feelings was so much fun. The vocal from Queen Of Hearts was the icing on the cake too, it just worked out so well and her lyrics are dope.
You've been involved in the scene for many moons. What are some of your most beloved early memories of dubstep and what are your thoughts on where the scene's at now?
I've spoken about this before, but going right back to 2007 and going to my first Dubstep rave will live in my memories forever. Entering the rave with "Goblin" by Coki tearing through the room on such a weighty system was like nothing I've ever experienced, it genuinely changed my life. 
On a different note, I'll also never forget my fist Dubstep set in Denver, it was a sold out show, headlining alongside The Widdler. The set went amazingly, but to top it off, I had my final track corrupt on me not only once, but twice at the end of my set, both times as the drop kicked in. You couldn't write it honestly, but the crowd were so amazing they just cheered me on until eventually I had to grab Yoni (The Widdler) and beg him to start his set, I couldn't risk a third attempt!
Dubstep at this current period is just flying too, there's so many sick artists pumping out music and expressing themselves. I can't get over how many wicked tracks are coming out on the regular, it's a very exciting time for the scene. As is with music in general I think too, I'm constantly finding new music, both touching on sounds I love and also pushing the boundaries. I just love music, where would we be without it, aye!?
Now that you've signed with Sub.Mission (congrats, by the way!) and will likely be traveling more in the states, where are you hoping to play that you haven't before?
Absolutely, this move really made sense too after years of great experiences with the Sub.Mission gang. There are so many cities I'm yet to perform in, so to be honest I'm just excited to reach as many as possible, and no doubt Corey my agent can help make that happen.
Any new foods/restaurants you're excited to try while on your travels?
You may have seen from my Instagram stories that I'm a serious coffee head, so I'm also very excited to hit many new coffee spots in the various states. I'd say I get at least 30% of my DMs whilst on tour talking about the 'coffee tour' over the music, I love it.
We know you've rinsed out your tunes on countless systems over the years, what's your favorite rig to play on and what are some you haven't played on yet that you'd like to?
Some of my favorites to date are: The Black Box in Denver (amazing), "The Purple Beast" Hennessey rig from "Ronin" in Chicago was incredible, so weighty and alongside awesome clarity. One system I've wanted to experience and play on is "Sanai Sound System" in the UK, that would be so dope. Also, I'm getting to finally experience "Firmly Rooted Sound System" on March 26 for the album launch night in my hometown Birmingham UK, can't wait for that! 
Sound systems really are the headliner at events though, it can make such a huge difference in how everyone experiences the music at a rave. Out to all the sound systems and crews out there doing their thing, you're appreciated trust me!
To close it out: Many are still struggling with mental health and adjusting to everything being back in full swing. If you could give some advice to everyone right now to bring a little light and hope into their minds, what would that be?
The only advice I can give is to be kind and considerate. It's very easy to judge people, especially online, but it's impossible to know what someone's going through. Life gets very hectic and it's so easy to get caught up in the noise, but I try and take a step back in every situation and consider what it's like to walk in the other person's shoes. 
If there's anything that's helped me through the toughest times too, it's music. It's my therapy a lot of the time and I feel very lucky to have the skills to allow me to release and escape through it. If you're out there struggling, don't give up, things will start to work out soon and you will look back in a better place.
Thank you so much for taking the time to chat with us again, we really appreciate you and look forward to the full album release <3
Thanks, as always, for having me.
---
Stream ENiGMA Dubz– Awakening on Spotify:
---
ENiGMA Dubz– Awakening – Tracklist:
Replicants
Up in the Safe ft. S.O.
I'm A Ghost ft. Hedara
Lost Souls
Out of My Mind
Bump in the Night
ASMR ft. Queen of Hearts
Enlightenment
The Sunken Place
And Then You Were Gone
Afterlife ft. CoMa
Dawn Chorus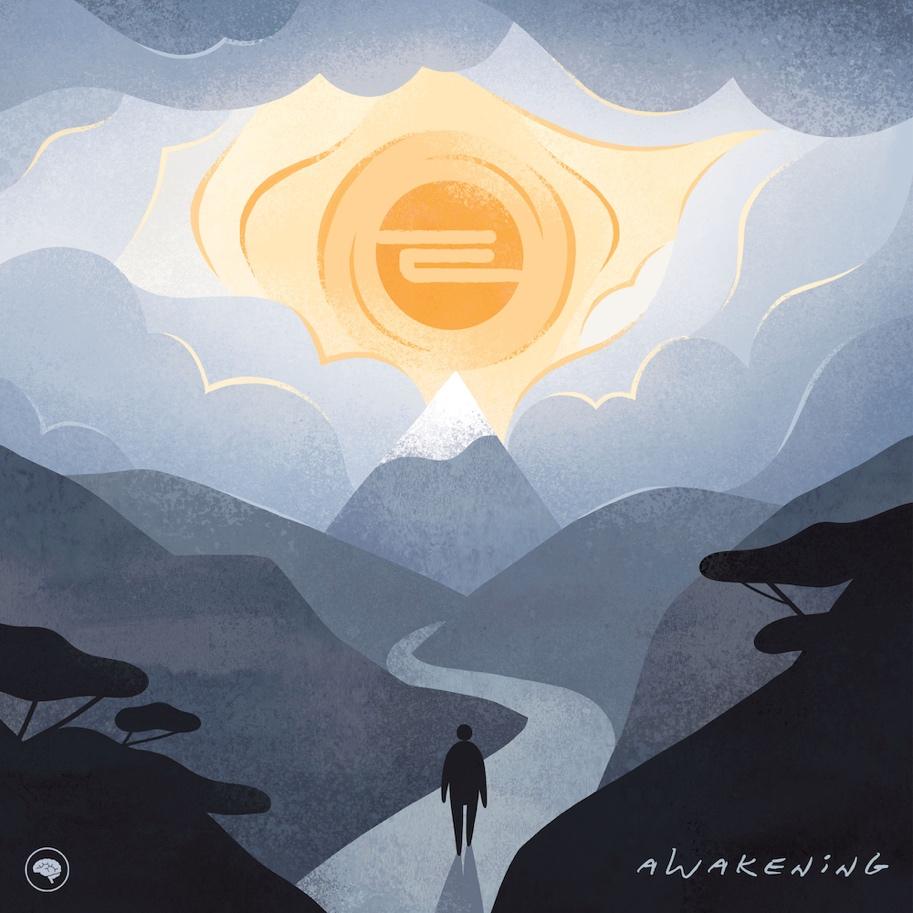 Connect with ENiGMA Dubz on Social Media:
Facebook | Twitter | Instagram | SoundCloud | YouTube