EAZYBAKED takes listeners on an elegant, experimental bass journey with their biggest project to date, INTERTWINED.
---
EAZYBAKED has remained one of the hardest working and best performing duos in bass music in recent years. Known for their heavily experimental style, they are constantly pushing boundaries in production while carrying some of the highest energy with them to live shows. This Florida-based, childhood-best-friend duo has crafted sounds that are uniquely theirs – and now with their debut album, INTERTWINED, they've proven just how wide their range can span musically.
Featuring eight original tracks and two collaborations, EAZYBAKED has shared some of their most emotion-filled work in INTERTWINED. "With so much time alone and so much changing around us every single day, it was a perfect time for us to take a step back and think about what our trajectory should be," they said when asked about the album's creation. "It was just writing music that felt good and gave us an escape." While their experimental sounds still shine as bright as ever, there's no doubt this release taps into their emotional side in a beautiful way.
The musical escape that is INTERTWINED begins with "Intertwine" and a long-awaited collaboration with Of The Trees, "Sapped." These two tracks couldn't fit more perfectly next to each other on the project, both giving an earthy-experimental sound. "Intertwine" rolls forward with glitchy, distorted elements and a vocal sample before the bass arrives in full force. Then, Of The Tree's signature, nature-y melody meets a satisfying bassline from the duo on "Sapped," effortlessly guiding listeners deeper into a bass-fueled, bliss-like state.
The previously released single "Letting Go" lands soon after and is one of the most impressive pieces of the album. Emerging the listener into its looping melodic escape, this track is a masterpiece that proves experimental can absolutely be euphoric simultaneously. From there, "Simulated" delivers a heavier, wonkier sound before "Isolation" turns down the energy with its intro before some wonky elements are added in to create an effect that will leave everyone stunned.
"The East" is the second collaboration on INTERTWINED and sees the duo team up with VCTRE. Both artists' styles go hand in hand, and fans may recognize this bass-heavy heater as an ID from VCTRE's Esoteric Tides mix. Another previously released single, "Capsule," comes in hot soon after with its hard-hitting sound that EAZYBAKED has become known for.
The energy slows down a bit on "S.O.T.E," which offers a floaty, feel-good melody before leading into some heavier bass with "Goon Mentality." Then, the closing track on INTERTWINED arrives front and center to make for a perfect emotional finale. "Distant Voices" is a tune that simply can't be played just once and the groovy beat alone makes it impossible to listen to without your head-bopping to the beat and a big smile on your face.
The mix of euphoric versus wonky in INTERTWINED shows off the incredible range of EAZYBAKED's music and it's clear after listening that the sky's the limit for this duo. Experience the variety of sounds that this duo has to offer by listening to their debut album on Spotify or your preferred platform, and let us know your thoughts on this release in the comments.
Stream EAZYBAKED – INTERTWINED on Spotify:
---
---
EAZYBAKED – INTERTWINED – Tracklist:
Intertwined
Sapped (with Of The Trees)
Letting Go
Simulated
Isolation
The East (with VCTRE)
Capsule
S.O.T.E
Goon Mentality
Distant Voices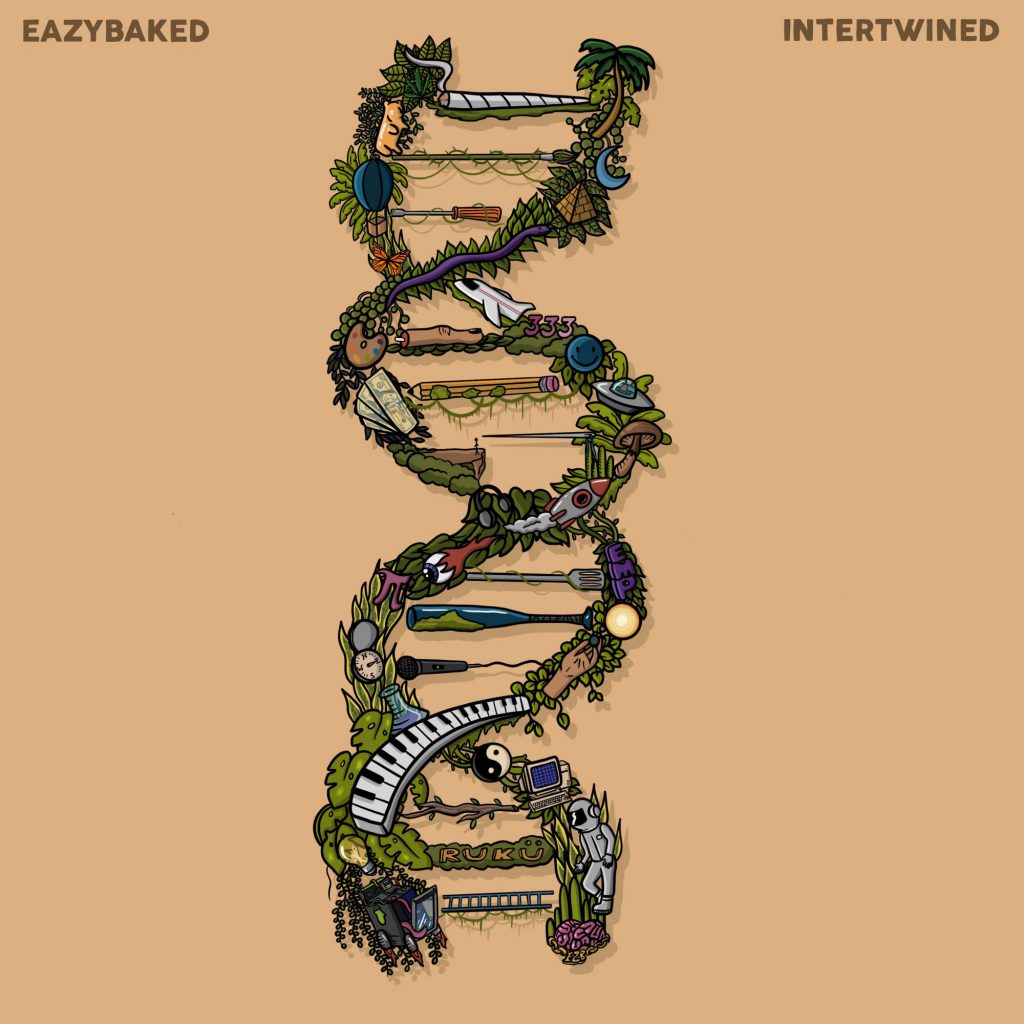 ---
Follow EAZYBAKED on Social Media:
Website | Facebook | Twitter | Instagram | SoundCloud