After being rinsed in countless artists' sets this year, Chef Boyarbeatz's The Power of Sound EP is finally here on Deep, Dark & Dangerous.
---
Among all of the up-and-coming dubstep artists to have your eyes on right now, Chef Boyarbeatz should be at the top of everyone's list. Truly living up to his name, this Southern California-based producer has been whipping up some of the hottest tunes in the bass scene lately while playing festivals like The Untz and Sound Haven. With a telltale sound that leans on classic elements but uniquely his own, the character of Chef Boyarbeatz is a chef alien who transmits galactic sounds from deep space. Now, he's making his debut on Deep, Dark & Dangerous with The Power of Sound EP.
If you thought you were unfamiliar with Chef's music, there's a good chance you have heard a track or two from this EP if you've attended any live shows recently. With four tracks, all in 140 BPM style, this EP simultaneously encompasses a classic old dubstep sound while being incredibly fresh. Not only are the beats from The Power of Sound perfect for the style of the Deep Dark & Dangerous label, but they also hit so hard in live shows that artists like Truth, Ternion Sound, Of The Trees, Coki, and loads more have been teasing this EP in their live sets for months.
This deep dub journey from Chef Boyarbeatz begins with the EP's title track. An eerie echoing voice with a sinister laugh greets listeners to start the track stating, "I don't need to strike you with my fist, I can hit you with the power of sound!" before a wompy drop strikes. This track is a slapper and perfect for introducing the listener to the sounds to come on this project.
The next track, "Cruise Control," comes creeping in with a wubby but minimal sound that goes hand in hand with the overall eerie and haunting aura of The Power of Sound. It precedes the track that is without question the biggest and most exciting release from Chef Boyarbeatz, and that is the infamous tune Steady Slurkin'. It would be a serious understatement to say that this track had blown up before anyone even knew its name or who wrote it.
"Steady Slurkin'" has been one of those IDs that everyone attending bass shows this summer was hearing everywhere, leaving them wondering what that madness was. It has the perfect structure to be doubled with other dubstep tracks in live sets for a crazy mashup or just left alone to shine loud and clear on its own. You have to listen to this track to understand how huge it is. It's one you could show a newbie to dance music and tell them, "This is true dubstep at its core."
While it's difficult for any track to follow up "Steady Slurkin'," the final track, "Signal Dub," is the perfect cool-down after the madness, making it a solid closing track. It has another creepy beat with signal-type sounds that seem to be transmitting from deep space. As a whole, The Power of Sound EP is an incredibly well-rounded project that covers all corners of deep dubstep. It's been shown an insane amount of love from producers and fans alike well before its official release and is only the beginning of what's to come from Chef Boyarbeatz.
Don't walk, run! The Power of Sound EP is out now on Spotify or your preferred platform for your listening pleasure.
Stream Chef Boyarbeatz – The Power of Sound EP on Spotify:
---
Chef Boyarbeatz – The Power of Sound EP – Tracklist:
The Power of Sound
Cruise Control
Steady Slurkin
Signal Dub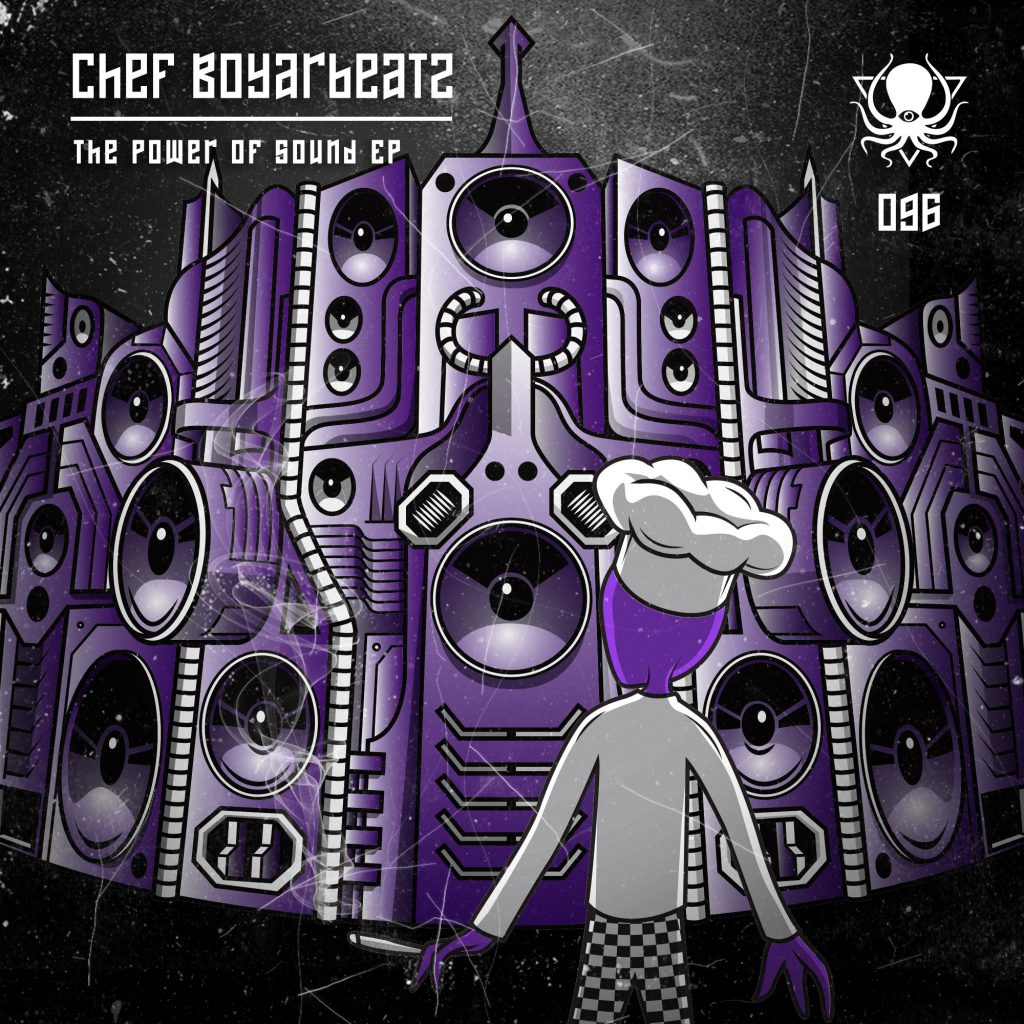 ---
Follow Chef Boyarbeatz on Social Media:
Facebook | Twitter | Instagram | SoundCloud