Dirtybird brings forth a new, edgy compilation, Heavy Heaters, featuring Shaded, BOT, Lubelski, Justin Jay, C.H.A.Y., and more!
---
Dirtybird has taken their fans on the ride of their lives with music that runs the gamut from classic house to tech house, bass house to g-house, and all sorts of experimental beats in between for nearly two decades. Just this past April they also made it crystal clear that they'll never settle for being locked in a box, delivering Deep Cutz to show off their own unique deep house style. Today, they flip the script once more to show off their techno-inspired passions with a brand new compilation called Heavy Heaters!
Featuring 11 spine-tingling offerings from past Campout compilations and EP packages, as well as one awe-inspiring rework, Dirtybird hand-picked this eyebrow-raising group of tunes to leave listeners shook. Musical madmen including Shaded, MDE, C.H.A.Y., and Emery Warman are present and accounted for, while Dirtybird regulars like Marc Houle, BOT, Lubelski, and Justin Jay have circled back home to get in on the underground shenanigans. Of course, label head Claude VonStroke has fully unleashed his dark side to the world, especially after his recent open-to-close tour, and he gifts the compilation with "Tiny Tamborine," and a Detroit Edit on "Grenade" with EPROM.
While each and every tune will have you running straight for the nearest warehouse to get unapologetically sweaty alongside your fellow raver, we can't help but point out the tunes that will turn you inside out. First on that list is BOT's "You Feeling Good." There's something about that horrifying voice asking us if we're feeling good that just hits me right in the pleasure center. Add in all the delirious details and you don't have to be on any party favors to get lifted into a different dimension.
The same can be said about Dimiz & Baley's "Raw Motion." The crunchy synth waves pop and flow straight through my body and it's nearly impossible to stay sitting when this track gets a spin. When it comes to impressive surprises, Justin Jay takes the crown for the most subtle character flip on "Don't Trip." It starts off with a gentle flow but, watch out because it progressively gets weirder and weirder until bee-lining straight back to normalcy. It really messes with your head in the most perfect way.
Finally, we have to give a shout-out to C.H.A.Y. and his ability to light up the night with lightning bolts of techy electricity on "Telegram," plucked straight off the 2019 Dirtybird Campout West Coast Compilation. This track will zap the life back into you within seconds. With that being said, it's time to live your best life and relive the dark splendor of the underground Dirtybird sound for yourself.
Grab your copy of Heavy Heaters on your favorite music platform, stream the album below on Spotify, and let us know which tracks gave you the most nightmarish nostalgia in the comment section!
Stream Dirtybird Heavy Heaters on Spotify:
---
Dirtybird Heavy Heaters – Tracklist:
Claude VonStroke & EPROM – Grenade (Detroit Edit)
Shaded – Holla Atcha Boy
Marc Houle – Min And Soda
BOT – You Feelin Good
Dimiz & Baley – Raw Motion
Justin Jay – Don't Trip
MDE – Game Over
Claude VonStroke – Tiny Tambourine
Lubelski – Impulse Response
GetCosy – Izzo
C.H.A.Y. – Telegram
Emery Warman – Bonesaw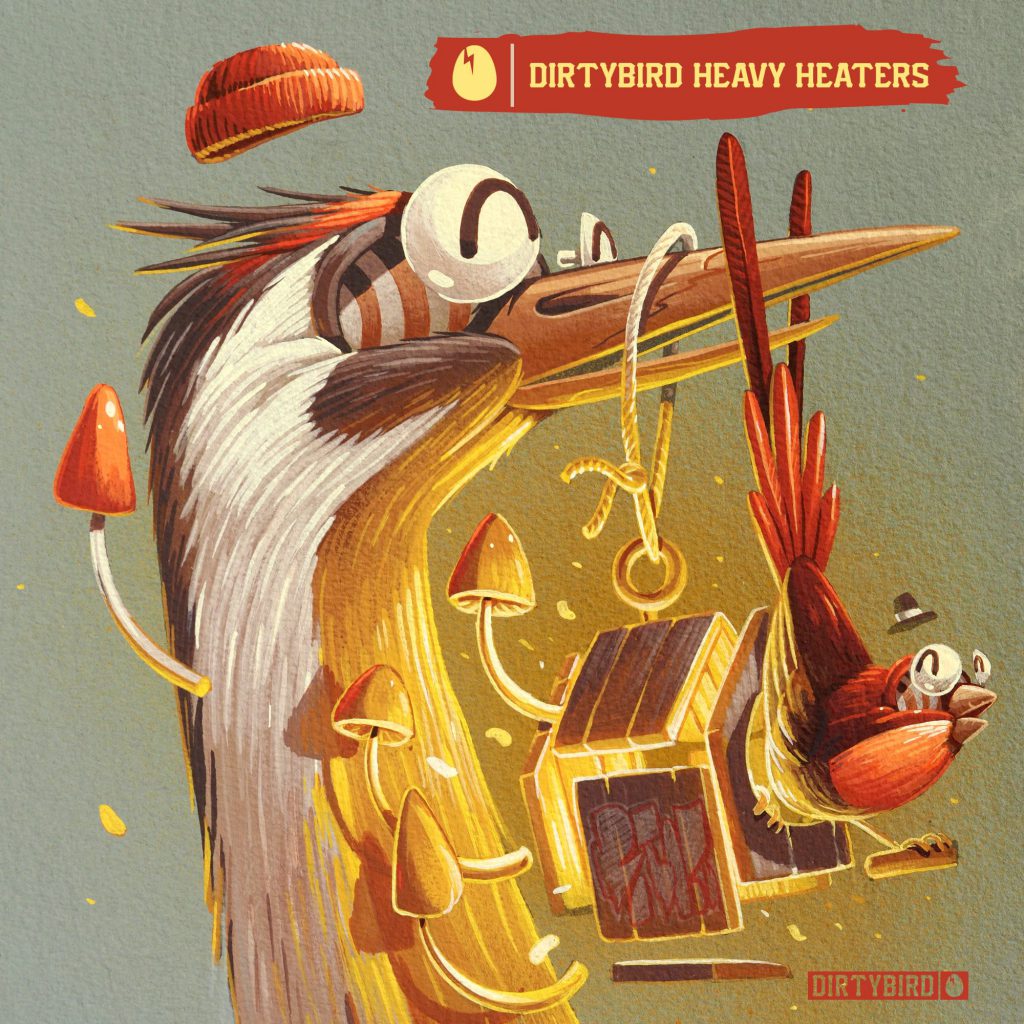 ---
Connect with Dirtybird on Social Media:
Facebook | Twitter | Instagram | SoundCloud | Twitch