Ardalan, Justin Jay, VNSSA, The Librarian, Of The Trees, EPROM, and more will join Claude VonStroke at Dirtybird Campout this year!
---
Dirtybird Campout isn't your average festival experience – it's a weekend filled with intimate moments, exciting games and activities, plenty of tasty eats, and of course, loads of amazing music. Members of the Dirtybird flock have faithfully followed Claude VonStroke to the Modesto Reservoir Campgrounds over the past few years to let loose for the weekend, and now it's making its return on October 7-9 once again.
Today, after teasing that the initial lineup was coming soon, Dirtybird has unveiled the juicy details for this year. The Dirtybird Campout festivities will begin on Thursday night at their renowned early-arrival party with a massive b2b2b featuring three legends in the scene – Derrick Carter, DJ Sneak, and Mark Farina. From there it will be off to the races that weekend, figuratively and literally, with standouts from the Dirtybird flock such as Justin Jay, Mz Worthy, Nala, Walker & Royce, VNSSA, and Ardalan.
The performances from Nikki Nair, Rebūke, Lubelski, Ben UFO, and Mary Droppinz are ones you shouldn't miss if you're looking to get down to some highly curated sounds during the weekend. Those craving some unique bass beats at Dirtybird Campout will be treated to sets from artists like EPROM, Goldie, The Librarian, Roni Size, and Of The Trees, all of whom are sure to impress. And Papa Claude will also be taking the stage with his longtime friend Green Velvet for a Get Real set that is sure to be a highlight of the weekend.
Stay tuned for future updates, including more additions to the lineup and the activities that will be taking place for campers to participate in, that will arrive in the coming months. This year's edition of Dirtybird Campout is shaping up to be one of the best yet – so don't sleep on attending if you're looking for some fun this fall.
Tickets and camping passes for Dirtybird Campout 2022 are available now. Head over to their website to get more details and make sure to lock your experience today if you're planning to attend!
---
Dirtybird Campout 2022 – Phase 1 Lineup: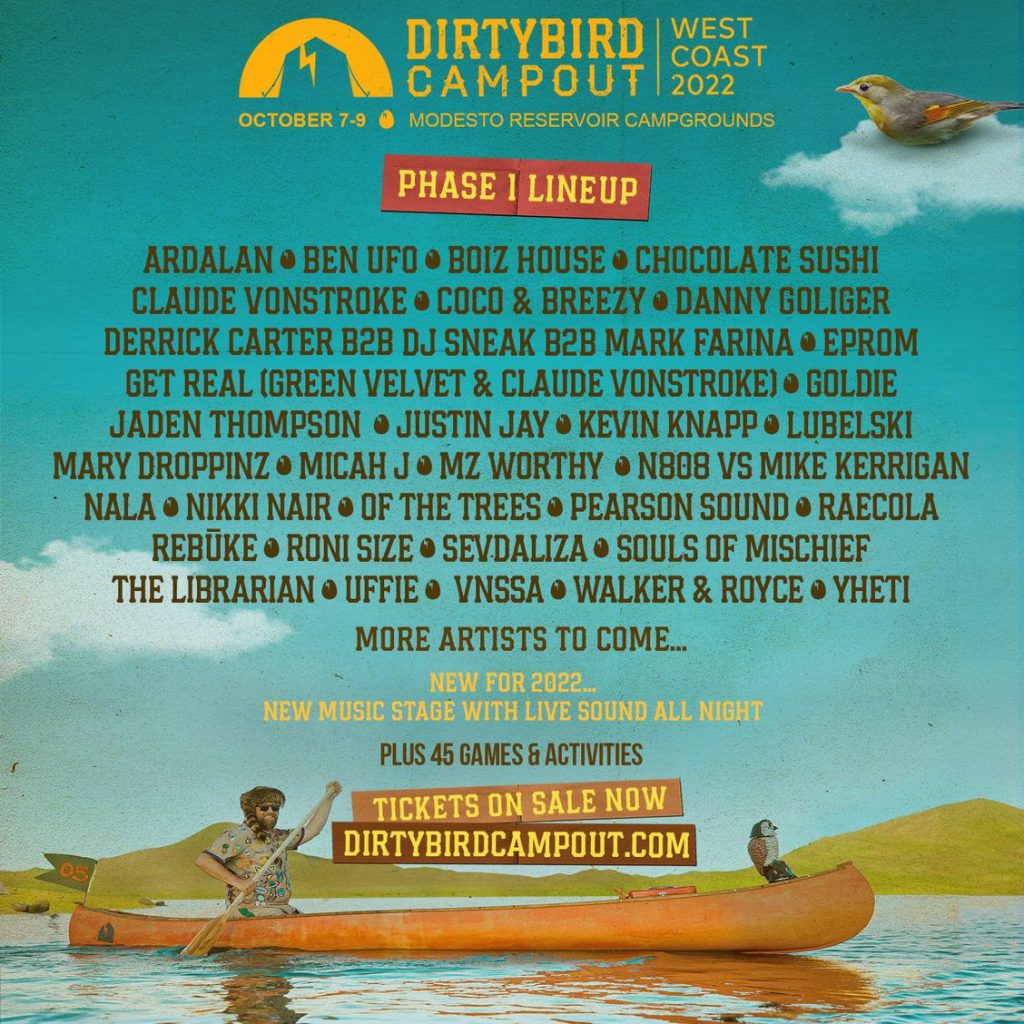 ---
Dirtybird Campout 2022 – Phase 1 Lineup By Artist:
Ardalan
Ben UFO
Boiz House
Chocolate Sushi
Claude VonStroke
Coco & Breezy
Danny Goliger
Derrick Carter b2b DJ Sneak b2b Mark Farina
Eprom
Get Real (Green Velvet & Claude VonStroke)
Goldie
Jaden Thompson
Justin Jay
Kevin Knapp
Lubelski
Mary Droppinz
micah J
Mz Worthy
N808 vs Mike Kerrigan
Nala
Nikki Nair
Of The Trees
Pearson Sound
Raecola
Rebūke
Roni Size
Sevdaliza
Souls Of Mischief
The Librarian
Uffie
VNSSA
Walker & Royce
Yheti
---
Connect with Dirtybird Campout on Social Media:
Website | Facebook | Twitter | Instagram | SoundCloud | YouTube