Dillon Francis, Subtronics, Dab The Sky, CloZee, and more are set to join ILLENIUM at the upcoming edition of Ember Shores in Cancún.
---
Setting sail from his thrilling roller coaster of performances at Sunset Music Festival and The Gorge, ILLENIUM, in partnership with Festication (Disco Donnie Presents & Feyline), docks his ship to reveal the lineup for the second edition of Ember Shores in 2022. Last year's edition left fans anticipating to Takeaway another "star-studded" and "legendary" adventure. After announcing back in April that Ember Shores would recommence, Illenials have had their Hearts on Fire for the next lineup to be disclosed and now those prayers have been answered.
This year ILLENIUM has invited some groundbreaking headliners and many returning artists to the sun-kissed, all-inclusive Four-Diamond Paradisus Resort and all-inclusive Four Star Fiesta Americana Condesa in Cancún, Mexico on December 2-4. Attendees should have no fear about missing any sets as well because much akin to last year's edition, Ember Shores will feature no set time conflicts across its three stages.
Headlining the sophomore edition will be Dillon Francis, Subtronics, Dab The Sky, and CloZee. Also washing ashore with bone-shaking bass are Blanke, Crankdat, along with Brondo and Decadon for a b2b set. If you are pursuing more unique flavors, do not miss out on Sumthin Sumthin, Juelz, and Paws. To add spice to a bass-heavy lineup are Ilan Bluestone, CloudNone, Arty, and Kareem Martin. Artists on the rise who will bring the heat are MPort, SoDown, Afinity, and Project 26. In addition to many other performances, surprise sets and impromptu B2B's are in-store, so stay tuned!
Over 90% of accommodations have sold out, so grab your spot now so you don't miss out on the ultimate Illenial experience of the year. Head to the official Ember Shores website for more information and to lock in your package.
---
Ember Shores 2022 – Lineup: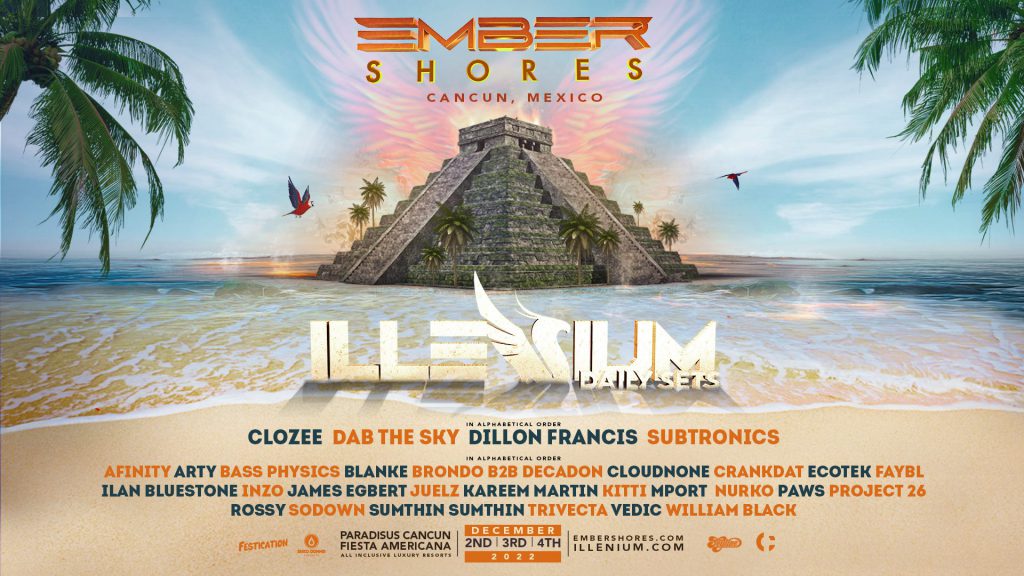 ---
Ember Shores 2022 – Lineup By Artist:
ILLENIUM (Daily Sets)
CloZee
Dab the Sky (Dabin and Said the Sky)
Dillon Francis
Subtronics
Afinity
Arty
Bass Physics
Blanke
Brondo B2B Decadon
Cloudnone
Crankdat
Ecotek
Faybl
Ilan Bluestone
Inzo
James Egbert
Juelz
Kareem Martin
Kitti
Mport
Nurko
Paws
Project 26
Rossy
SoDown
Sumthin Sumthin
Trivecta
Vedic
William Black
---
Follow Illenium on Social Media:
Website | Facebook | Twitter | Instagram | SoundCloud | YouTube | Twitch
Follow Ember Shores on Social Media: