Bass behemoth Subtronics releases FRACTALS – his first full-length album that is sure to have the Cyclops Army falling in line to headbang.
---
Over the past few years, Subtronics has become an influential artist in the bass scene with a considerable following. Whether dropping solo tracks or collaborating with other big-name artists such as Excision, GRiZ, and Zeds Dead, he's consistently impressed and stunned his fans. Subtronics further propelled his career last year with shows like Cyclops Rocks and Cyclops Cove while also taking the stage at EDC Las Vegas and Lost Lands as well.
In the latter months of 2021, Subtronics announced that he would embark on a new tour and dropped "Griztronics II (Another Level)" with GRiZ. Then, in December, he released his collaborative single with NEVVE, "Spacetime," with the news that his debut album, FRACTALS, would arrive in early 2022 as well. Now, after nearly two years of pouring his emotional, mental, and sentimental weight into creating this album, everything has finally come to fruition.
Subtronics' FRACTALS is out now on Cyclops Recordings and spans a whopping 16 tracks showing off the range of influences he brings to his productions. Throughout its runtime, it shows the consistent leap forward that he takes with each passing release and the versatility he has when crafting up tunes in the studio.
Join the madness by listening to FRACTALS on Spotify or your favorite streaming platform, and read on for a deeper dive into Subtronics' debut album.
Stream Subtronics – FRACTALS on Spotify:
---
FRACTALS is making Subtronics' intentions of dominating the bass scene in the new year crystal clear.
Subtronics kicks off FRACTALS with an epic opening track, "O.P.U.S.," which sets listeners up for the bass-fueled experience that's to come. It's a meditative piece that sparks emotion and will teleport you to a comfortable headspace before blasting you off into the rest of the sonic journey. Created in one studio session with Subtronics stating that he had "no idea what happened" while aimlessly hitting keys, it's a picture into the mind of this bass artist as he explored the depths of his creativity.
The diversity from Subtronics begins to show as he offers up some sensational features from vocalists in the scene. He brings to the charts some of the more melodic and electro pop-driven cuts, such as the aforementioned "Spacetime" with NEVVE that will have you daydreaming about the feeling of zero gravity during the deep drops.
Another stunner found within FRACTALS is "Into Pieces" with Grabbitz, which might have you crumble after hearing the vocals and fierce production style of heavy, rip-off-your-face bass. Subtronics said that there was "huge emotional effort put into writing an intro that fit with the rest of the album and captured the theatrical, cinematic, emotional feeling" by stepping out of his comfort zone and playing with the tempo.
Other tracks such as "Flute Dub" and "FUNcKED" show his exploration of genres beyond riddim and dubstep expressing his familiar but unrepeated sounds.
"Flute Dub" is a stroke of brilliance with a modern take on original dubstep tracks. The prominent sub-bass frequencies and rhythmic patterns become displaced with deep beats and flute accents that make the track stand out. Subtronics also breaks the genre barrier and adds distinctive sounds with his "FUNcKED" track. This piece has a very intricate rhythm, with that gritty-fast drum pattern and kicks on the track to take it to the next level.
"Hieroglyph" pops off with a calm and upbeat intro that drops into a mental melt of liquid bass. Subtronics has a weakness for creating angry music, so "Cabin Fever" really heated the album with his aggressive, filthy sound. And to pay tribute to his first Red Rocks appearance that sold out last June, he crafted up the aptly titled "Cyclops Rocks." This piece reminds you of the unforgettable experience of his recognizable sounds, which are unsympathetically loud bass and melodic bops.
FRACTALS also showcases the immaculate energy brought forth with his collaborations as well.
Subtronics looked to Zeds Dead and Flowdan to craft "Gassed Up" and keep the energy flowing. This masterpiece will have you throwing your neck out to the familiar sounds of dubstep and high-pitch distorted sections between these aSubtronics'tronics' follow-up with GRiZ, "Griztronics II (Another Level)," also packs a heavy-handed punch, while his collaboration with Sullivan King, "Take Flight VIP," features rail-ripping, face scrunching sounds as well.
With the release of FRACTALS, Subtronics is making it clear that this year is set to be one of his biggest yet. After completing an exquisite wrap sheet of performances and releases from last year, the sky is the limit for such a dedicated artist. He seems to consistently breach the boundaries of his own unknown while expressing himself along the way. So stay tuned for more from this bass maestro.
---
Subtronics – FRACTALS – Tracklist:
O.P.U.S.
Spacetime ft. NEVVE
Cabin Fever
Open Your Mind (Anthology 999) (with Cristina Soto)
Gassed Up (with Zeds Dead and Flowdan)
Flute Dub
Gummy Worm (feat. Boogie T)
Cyclops Rocks
Taking Flight VIP (with Sullivan King)
Morning Coffee (feat. Sony)
Into Pieces (feat. Grabbitz)
FUNcKED
Griztronics II (Another Level) (with GRIZ)
Tuba Demon
Heiroglyph
MetaFractal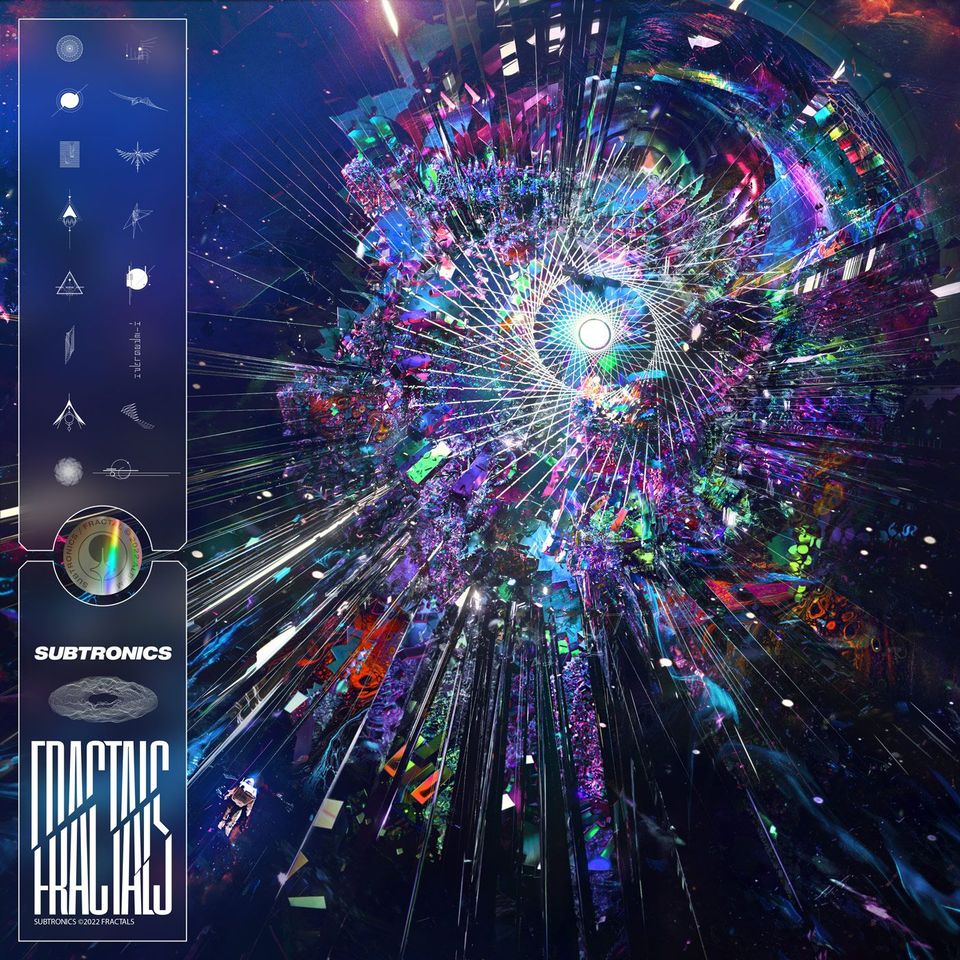 ---
Follow Subtronics on Social Media:
Website | Facebook | Twitter | Instagram | SoundCloud | YouTube | Twitch