Rusko, LSDREAM, Ternion Sound, A Hundred Drums, Of The Trees, and more are set to play the upcoming edition of WAKAAN Music Festival.
---
After WAKAAN Music Festival announced its return in 2022 back in February after a stunning debut edition back just a few short years ago, one question from attendees remained – who would be playing this year. Today, after months of waiting and plenty of anticipation built, Liquid Stranger and his team have dropped the full lineup of who is set to head to Mulberry Mountain to play on September 28 – October 1.
Immediate standouts on the WAKAAN Music Festival lineup include the likes of Rusko, CloZee, BUKU, Of The Trees, Mr. Carmack, OPIUO, Ternion Sound, and Truth, but there's plenty more depth as well. Whether you want to bask in the LIGHTCODE performance from LSDREAM, catch some b2b action with Kumarion and REAPER, or get down to the funky sounds of Barclay Crenshaw – the dynamic range of sounds offered will surely captivate anyone who attends.
Liquid Stranger will play two sets over the course of the weekend for those looking to get their fill of his sublime tunes. There is also a flurry of rising stars taking the stage including A Hundred Drums, Canabliss, Sharlitz Web, VEIL, Wreckno, Smoakland, and Mersiv – all of whom have impressed with their releases and sets lately.
GA and VIP passes, which include primitive car camping, as well as pre-party passes are available now via SeeTickets. Head over to their website for more details and let us know who you're most excited for in the comments!
---
WAKAAN Music Festival 2022 – Lineup: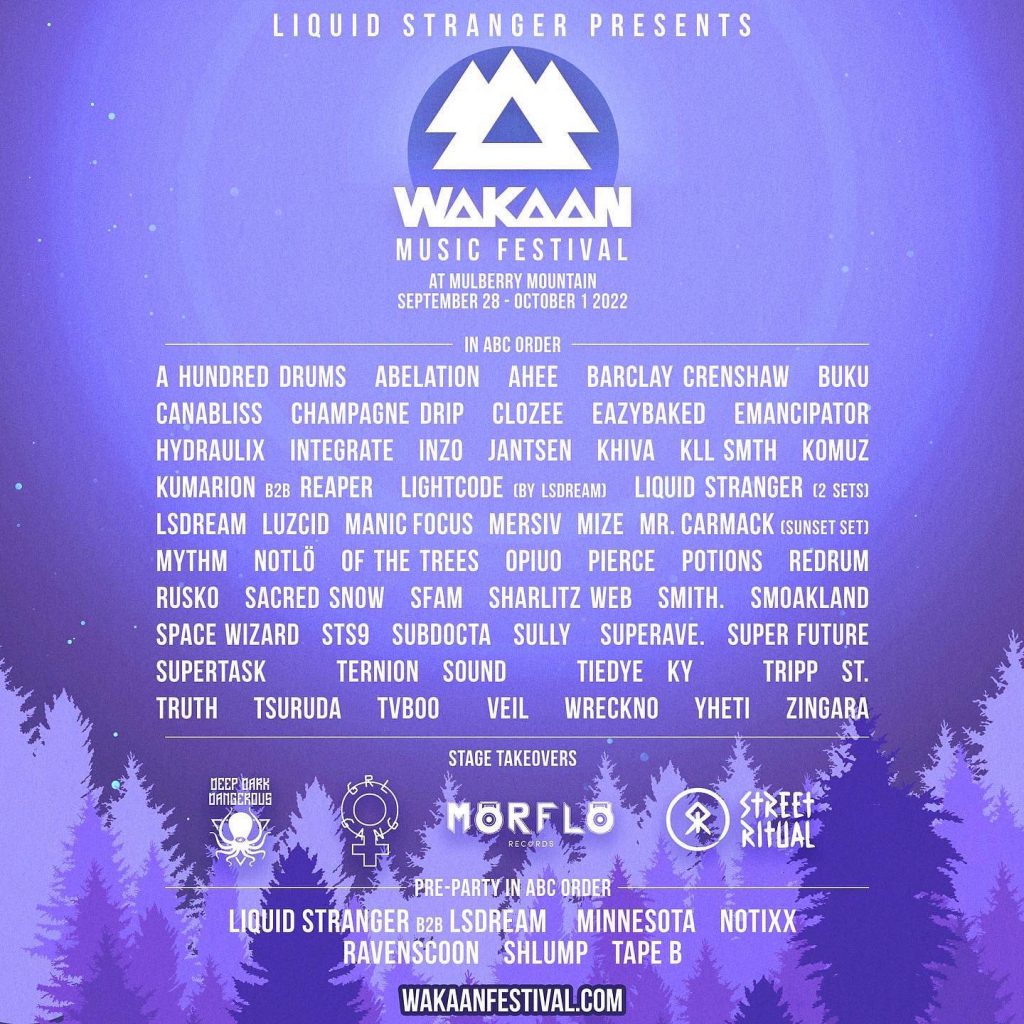 ---
WAKAAN Music Festival 2022 – Lineup By Artist:
A Hundred Drums
Abelation
Ahee
Barclay Crenshaw
BUKU
Canabliss
Champagne Drip
CloZee
EAZYBAKED
Emancipator
Hydraulix
Integrate
Inzo
Jantsen
Khiva
kLL sMTH
Komuz
Kumarion b2b REAPER
LIGHTCODE (By LSDREAM)
Liquid Stranger (2 Sets)
LSDREAM
Luzcid
Manic Focus
Mersiv
Mize
Mr. Carmack (Sunset Set)
MYTHM
NotLo
Of The Trees
OPIUO
PIERCE
Potions
Redrum
Rusko
Sacred Snow
sfam
Sharlitz Web
Smith.
Smoakland
Space Wizard
STS9
SubDocta
Sully
SuperAve.
Super Future
Supertask
Ternion Sound
Tiedye Ky
Tripp St.
Truth
Tsuruda
TVBOO
VEIL
Wreckno
Yheti
Zingara
---
Follow WAKAAN Festival on Social Media: