The rivalry between Team Bassrush and Team Basscon came to a head at Project Z, complete with blistering bass and piercing hard dance tunes.
---
Team Bassrush and Team Basscon finally had their chances to shine as they put everything on the line in their yearly battle at Project Z. Both teams were stacked with the best leaders in both bass and hard dance music making for a lengthy clash with no clear winner. However, both teams had their strong points, and this year could have gone either way regarding who won the battle for brand supremacy.
During the event, warriors had the opportunity to take their brand loyalty one step further and fight during the epic laser tag battles where Team Basscon and Team Bassrush met face-to-face. And for the first time, Project Z was home to five different stages, creating an abundance of aggressive music and ammunition to fuel soldiers through the fight. Other than those two aspects, Project Z was like any other standard Insomniac music festival, complete with tons of free water refill stations, kandi bars, merch vendors, and great food options.
Something that did set this festival apart from others was all of the different music and artists. Insomniac markets it as "bass versus hardstyle," but variety is abundant within those two genres. Fans could be listening to riddim and walk into euphoric hardstyle or drum and bass right next door. In addition, this event also gave shine to many of the smaller, rising artists in the scene, and they still made for a great turnout with the event nearly sold out.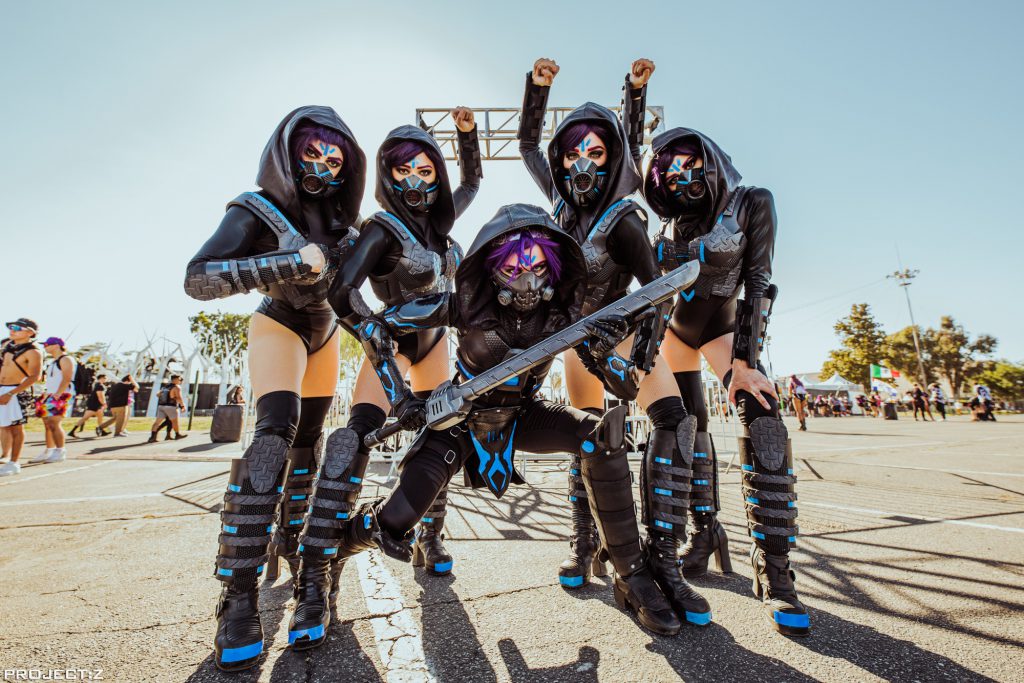 The five stages at Project Z made it challenging to settle on who to pick set-wise.
This year, Project Z hosted five different stages, two for hard dance, two for bass, and one for drum and bass. Initially, I thought this would be overwhelming as a fan because Project Z has been known to be a relatively small event. However, in the end, this was a great decision by Insomniac because it allowed more artists to showcase their music, and there was something for everyone there. While I spent most of my time at both hard dance stages, I had an absolute blast venturing out and grooving to the sounds of SubDocta, Kumarion and REAPER, and Sumthin Sumthin.
Another standout from Team Bassrush was RATED R, who brought energy like no other.
If RATED R is ever in your town, check him out because his track selection is an experience. In short, I wanted heavy bass music, and he delivered some and then more. He also went RATED TECHNO for a new ID dubbed "Scarface," and the crowd reaction was unlike anything I've ever heard. This new ID is one of those records that introduce techno music to the bass crowd in an easily digestible manner, and the crowd loved it. RATED R has something special with his project, and there's no doubt he's one to keep an ear on for the future with his heavy and unexpected style.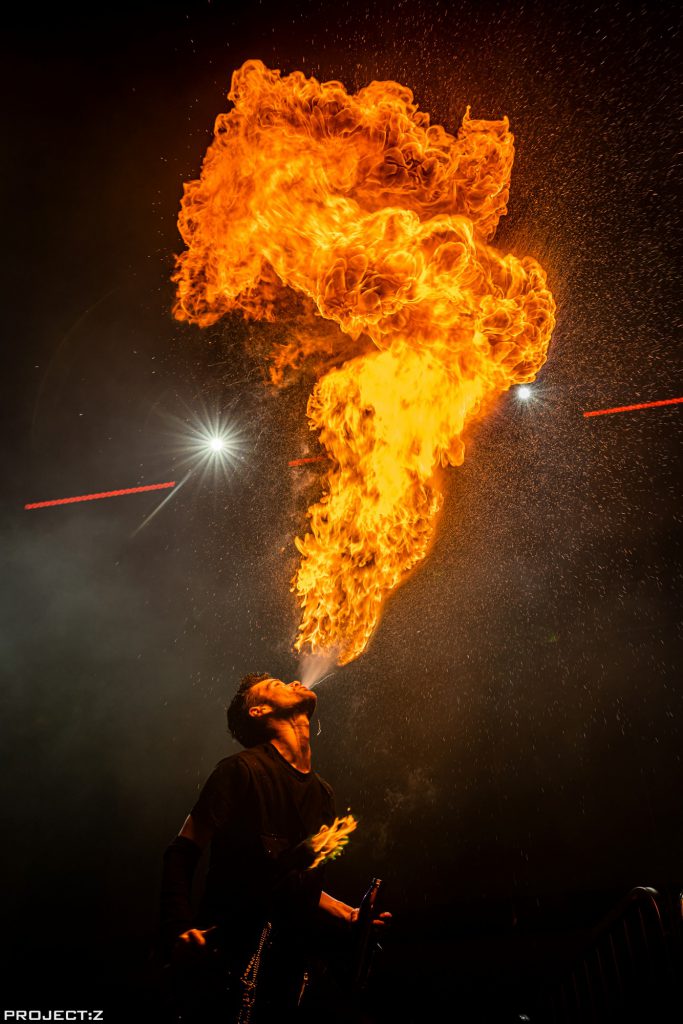 American Hard Dance showed up in full force for a full-day takeover at the Osiris stage.
One of my favorite parts about Project Z was seeing American Hard Dance finally get a chance to stand on its own two feet. Throughout the day, the Osiris stage was home to all of the unique sounds that American Hard Dance has to offer. At this stage, fans would hear the entire spectrum of hard dance with acts like Water Spirit, NTXC, Mrotek, and many others. Just with these acts, this stage already covers hardcore, reverse bass, and rawstyle – a testament to the diversity found in American Hard Dance.
The only negative feeling I had about the Osiris stage was that it felt like an afterthought. It was a very tiny stage in the corner of the festival, completely separated from everything else that was going on. Granted, American Hard Dance is still on the rise, but many standouts could have easily been on the main hardstyle stage, like TYEGUYS and KAMI.
Speaking of those two acts, they brought completely different sets – TYEGUYS provided fun, bouncy energy that perfectly captured their personalities. At the same time, KAMI delivered destruction in the form of the most brutal hard dance tunes. TYEGUYS also brought out J. Slai to play out some of his new music and showed love to DJ Infinity by playing his latest bootleg of Bad Bunny's "Despues De La Playa." This sort of support creates unforgettable moments, making American Hard Dance a special scene to be a part of.
Despite this difference in subgenres, both acts had the stage packed from front to back, and I hope this is something Basscon notices moving forward. American Hard Dance might not be seeing the success that bass music is currently seeing, but it's a legitimate genre with fans flocking in droves to hear these eclectic sounds. There's also no doubt that the genre's future is in good hands, and it will only continue growing until mainstage sets are undeniable.
In addition to the homegrown artists, the European headliners also made quite the impact during battle.
This year, Project Z brought back a lot of the talent from EDC Las Vegas to lead Team Basscon to victory. I was admittedly a little bummed out at this initially. Still, the difference in performances between EDCLV and Project Z was completely unexpected, as Darren Styles and TNT blew me away with their sets.
At wasteLAND at EDCLV, many artists played it safe, considering that the festival is the biggest platform for hard dance in the US. However, Project Z felt different. Darren Styles played a lot of tunes that he didn't play back in Vegas and TNT included a lot more aggressive records as opposed to their usual reverse-bass-filled sets. Both acts always deliver no matter the circumstances, but I enjoyed the performances at Project Z much more as they were catered to more extreme and die-hard fans like myself.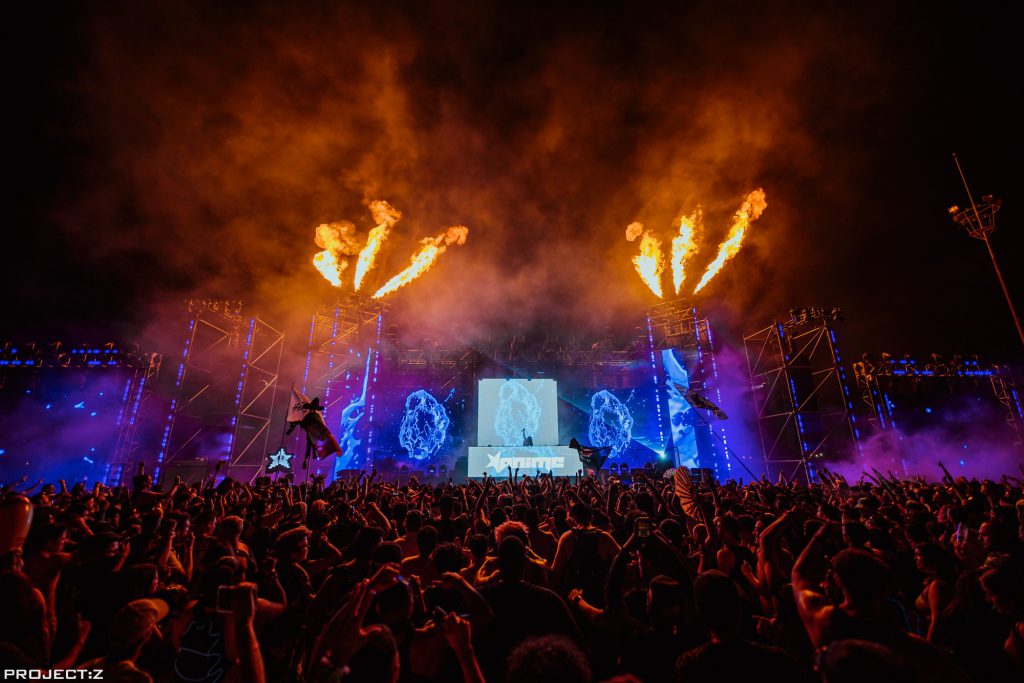 Overall, Project Z was a great event that made it apparent that Insomniac is open to experimenting with smaller artists.
While it's hard always to see and agree with Insomniac's vision, I truly hope that the five-stage edition of Project Z is a concept that is here to stay. This was the perfect festival to showcase the best of the best alongside the rising talents in both bass and hard dance. None of it ever felt like too much, and I never "settled" for a set because there was something great at every corner. Fan service sets the good events apart from the great events, and fan service was the name of the game for this year's edition.
In terms of what Project Z means for American Hard Dance, it made me hopeful.
American Hard Dance has been brewing under the radar for so long, and it's finally feeling like a golden era has begun with so many incredible records coming out and great artists leading the charge. It's tough quantifying the support for this experimental genre but seeing how many people showed love and support for the homegrown artists at Project Z is almost unbelievable. It's truly an exciting time to be a fan, so hop on the wave or get out of the way because it's coming no matter what.
To close off, the battle for brand supremacy isn't over. This is a war that will rage on for years to come, but among all the chaos, pure magic is created when bass and hard dance come to a heated confrontation.
---
Follow Project Z on Social Media: