KAMI destroyed EDC Las Vegas with the hardest set of the weekend at wasteLAND, and we caught up with them to discuss their backstory and future.
---
Of everything that EDC Las Vegas had to offer this year, one particularly special stage was the mighty wasteLAND. Throughout the weekend, this stage was home to all styles of hard dance, and while every performer had something unique to bring to the table, the trio known as KAMI brought a storm with them like no other.
KAMI had the honor of showcasing their unique style at EDC Orlando in 2021, but the deadly trio has been on quite a roll this year. They took the stage for their first-ever sold-out headline show in Tampa earlier this year and earned releases on Gearbox Digital and Basscon Records. Additionally, they dropped a stunning self-release with Australian producer, Colin Hennerz, titled "LEVEL UP."
KAMI rode this wave of momentum to EDC Las Vegas, where they made their debut on hard dance's biggest stage in America. Just before their set, we were able to catch up with the trio to discuss their backstory, their feelings before heading into their biggest show to date, and what the future holds for them. So check out "LEVEL UP" on Spotify and read on for the full conversation with the future stars of American Hard Dance.
Stream KAMI x Colin Hennerz – LEVEL UP on Spotify:
---
A number of years ago, you guys introduced KAMI to the world and haven't stopped since, earning yourself a spot at this year's EDC Las Vegas. Before we get to the present day, can you share a little more about how you three met and started making music together?
Vinny: I met Alex through Instagram, and we became best friends over the internet through talking about music. Alex had his EDM Bangers Instagram page, which had like 20,000 followers, and I asked to do a mix for it. From there, we kept doing mixes and eventually said, "Alright, we want to start learning how to make music." Fast forward another year or two later, we went to Ultra Miami and met Lucas through our buddy Pablo, AKA Maddix, because they went to school together for music production in the Netherlands.
Lucas: My teacher in the Netherlands, Aabel, taught me a lot as far as music production goes, and he's the one that introduced me to Pablo. I became friends with Pablo, he asked to stay with me during Ultra Miami, and that's how [Alex, Vinny, and I] all met.
V: KAMI was never going to be a trio, but I called Alex and said, "Yo, this is kind of crazy, but maybe we should be a trio. I want to bring Lucas on. There's a lot of cool stuff that I think we can do together between the three of us." 
Alex: The plan [in the beginning] was to take every dance music genre like bass, hard dance, and even big room and blend it all together. We did that for years, and you can tell in our early productions. [Among the three of us], hard dance took over because it was more so our style. We could express what we wanted to express, and that's where we are now. It's kind of unplanned, but it's the natural progression.
Over the years, the main motto for KAMI has always been "RAGE 2 HARD." What does this motto mean when implemented into the world of KAMI?
V: For some reason, we're attracted and drawn to [music] that's a little bit more angry, high energy, and faster, and that's what's always driven us. I don't know exactly where we got "RAGE 2 HARD", but we came up with it and thought it sounded pretty cool, so we ran with it.
We want to go to the festivals, and we want to play. We just want to RAGE 2 HARD, bring some crazy energy, and do something that the crowd can get hyped about and have fun with.
A: We made a special intro based on RAGE 2 HARD [for EDCLV], and it's crazy to see how it all came together as one. We're trying to still use [RAGE 2 HARD] as the brand for KAMI while focusing more on the music and letting that do the talking for itself. RAGE 2 HARD will still be a part of the little brand that we created.
Given that you three live all around the country, how do you approach making a record together?
L: When it comes to production, it's a case-by-case basis. For example, I can start a project on Ableton and send it to Vinny, and he can improvise and send a project file back, or I can Zoom with Alex. Sometimes, all three of us will hop on Zoom simultaneously, and one of us will be producing while the other two will give their input as we make music. So it's actually not too difficult, and there's no one formula we fall into when making music.
V: Lucas and I don't live far from each other, so we used to have boot camp weekends. We'd lock ourselves in my room and work on music all weekend until we had to go back to work on Monday. Now, the process for producing tracks is that there is no specific process. I'll start ideas, or Lucas will start something, and Alex will have vocals or start loops, and we'll send it to each other. If the three of us agree on the best idea and we're on the same page, then we'll run with that idea, and that's what we'll focus on.
A: It's pretty easy to do that now. It was tough in the beginning with the creative side of things. They wanted something, and I wanted something else, and we would clash at times. Now, we trust each other, and if they think something is good, I trust that it's good too. From there, we just keep going.
V: The three of us have a unique dynamic. I have my production techniques, Lucas has his style, and Alex has a special ear, especially for vocals and melodies. Between the three of us, we're able to collaborate smoothly, and it brings something special that just two people or only one wouldn't have at all.
Back in 2020, you guys shared that you felt like aliens trying to find your place in the scene. Do you still feel that same sentiment with everything you have accomplished now, or has that changed over time as the KAMI project has grown?
V: Yes and no. We're very inspired by European hard dance music, and we're trying to do our version of that by adding the "American flavor" to it, so it's been tough for us to break into the hard dance scene this year. We feel like what we're trying to do is almost a little too aggressive or different, and people still don't know how to feel about it. We're pretty dynamic, and we want to show people that we're not just hardcore or hard dance. We're trying to be diverse while staying in the realm of hard dance music. Over time, more people will start to realize that. So in a way, I still feel like we are aliens trying to find our place, but we're closer to carving that space out for us.
L: We've always felt like we're the underdogs for the most part because our style is different and niche compared to other American artists. I still somewhat feel [like aliens], but I can say it's been feeling like that less now that we're finding ourselves.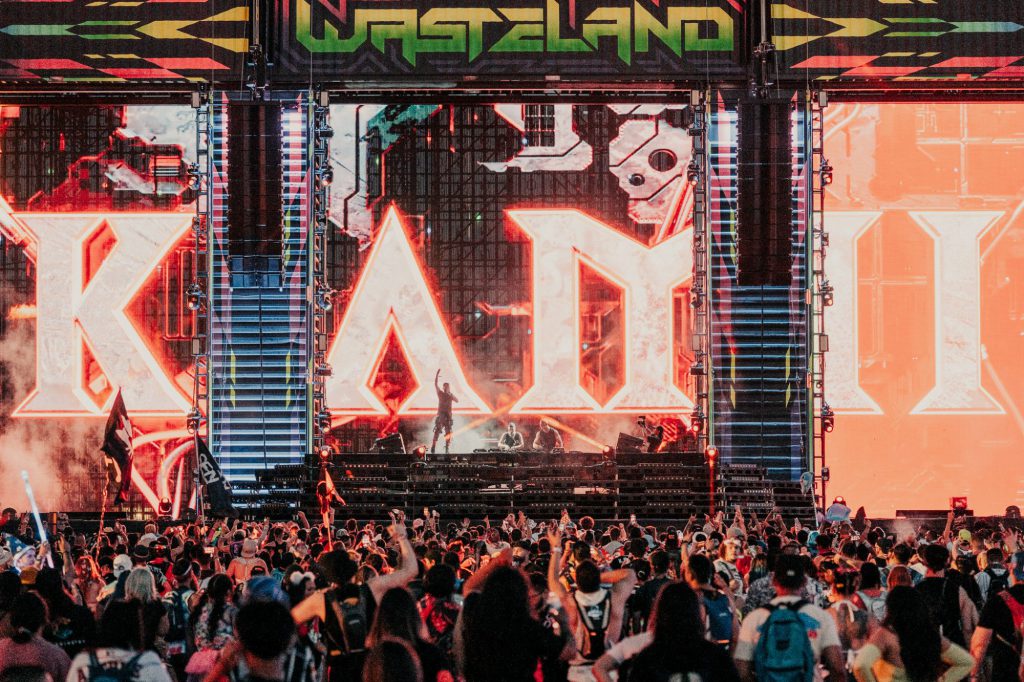 This year has been one of the biggest for KAMI yet. You guys have earned releases on Gearbox Digital and Basscon Records and now have the honor of playing EDC Las Vegas for the first time. How have you been preparing for arguably your most significant show to date, and what can fans expect to hear from you all?
V: Quality over quantity is a big thing for us, so we've been focused on finishing specific tracks and strategic collaborations with other artists so we could premiere [at EDC Las Vegas]. Preparing for the set itself has been easy because we've been making mixes and sets for the past ten years, like with RAGE 2 HARD Radio. We are so passionate about music, so we know exactly what we want to play.
It's also been the most energy and work we've ever put in for a show. We've had a team create new visuals to premiere at the show, linked up with a really good VJ, and we have two photographers and videographers coming. We also have a unique intro we've created and four new tracks to premiere. We've never put this much preparation into anything else, and that's because the goal is always to get to EDC Vegas. Then we'll see where we go from there.
L: When it comes to making mixes, that's one of the easiest parts of preparing for our set. The production is definitely the more complicated part of it all because we have to pour our souls into it to make it something we all agree on and like. The sets are always fun to make, and we usually agree on what we want to play and how we're going to play it.
A: This one was tougher to prepare for because it's only 50 minutes long, and it will go by quickly. At EDC Orlando, we got two hours! But what I love doing with [Lucas and Vinny] is hitting up all of our close producer friends and even artists we hadn't discovered to say, "Hey, send us the good sh*t."
You just mentioned brand-new visuals for EDCLV, and you've been teasing them on social media recently. Can you give us some more insight into the meaning behind the visuals?
A: We took the KAMIVERSE, what we love, and what inspires us and had someone create these visuals for us. This included sci-fi, the future, technology, aliens, and AI, and we wanted to keep that industrial vibe at the same time. It's essentially all our personalities.
V: Our music is different and forward-thinking. We try to learn new styles, but we don't catch trends – we just create different things. So with our visuals, we want that industrial, sci-fi, and unique feel while still being aggressive. We're excited for people to see them.
The KAMIVERSE has taken fans all over the music spectrum like the dark depths of hard dance and the 'acid pools' of techno. Can you share with fans where you want the KAMIVERSE to go next in the near future?
A: The KAMIVERSE is constantly developing its journey. In our music, we emphasize bringing raw emotion into the melodies while keeping the high-octane energy throughout the drops. The next step for us is to make our music more accessible to those who aren't really into [hard dance]. We're trying to make it so that people who are barely getting into it, especially in America, can [easily digest] it, but we also want to compete with the elites from all over the world.
V: It's not about going mainstream; it's about getting more accessible in the future. Our music is out there and crazy. It's not stuff that [casual listeners] are used to. We've also grown a lot as producers, so the next step is more about our productions maturing into legitimate music instead of only a buildup and a drop.
L: We want to reach a broader audience. We're still making what we feel we enjoy the most. However, we want to make the music so that there could potentially be a large audience that likes it. We love the hard dance and will stay in that realm for the time being. We also love the hard techno, so maybe we will bring some more of that into our music in the future, but only time will tell.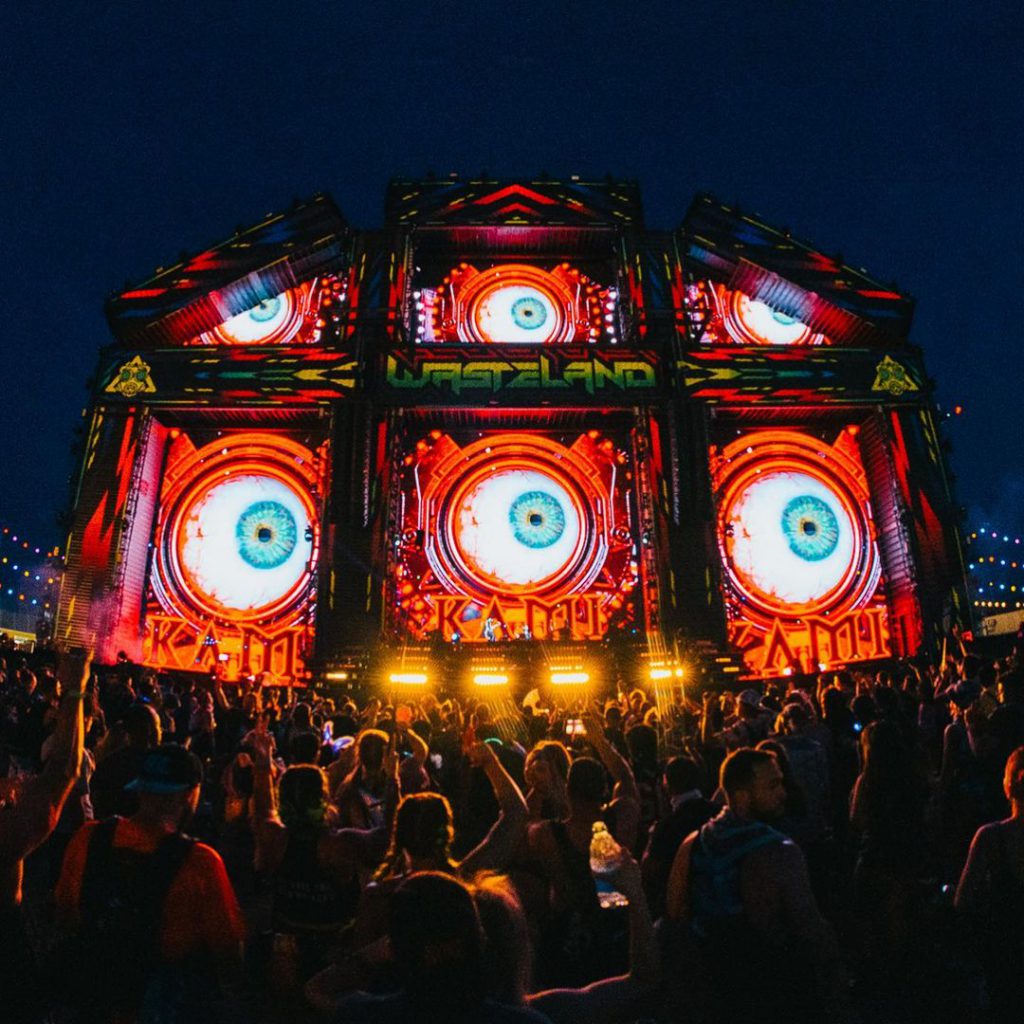 With all of the new perspective you have on American Hard Dance, I'd like to revisit a question I asked you all nearly two years ago. Where do you think the American Hard Dance scene is headed in the future, considering the progress made in terms of growth and popularity?
L: For the most part, America is always a step behind Europe regarding dance music. Hard dance will grow in America, but it'll take some time. Once the American producers reach a higher level of production quality all across the board, similar to Europe, it will continue to build and reach a wider audience.
V: We're not saying there aren't good producers in America; there's just not that many compared to the thousands of producers all over Europe. There's so much more music over there, which means more people see and hear that music. Over time, we'll see more artists getting into hard dance and new people coming up. We just need time to build, and we need more music and more producers.
A: What's cool about the American scene is that the audience is embracing anything over 150 BPM as hard dance. It's exciting because there's no set direction for hard dance or where it's going. If the electronic music culture [in America] can embrace that hard dance is a staple of electronic music, and people like other talented producers and us put out enough good quality tracks to create a buzz, then hard dance will get the respect it needs.
L: To add on, we've all had the same feeling that hard dance in America has been stagnant for the past eight years. So if hard dance ever had a chance, it's right now.
Finally, do you have any last words for the fans before going on stage and making history at EDC Las Vegas?
A: Our set is 50 minutes of everything that represents us at this current moment in time. It's where we've gone, where we are, and where we're going. We sat down and visualized all of this. I didn't know how we were going to get [to EDCLV], but we did everything we could to manifest it and put it out into the universe, and this is it. It's a proud moment, and we know this is the first of many. This moment shows that we're confident that we deserve more and that this is the beginning of a lot more.
L: I feel grateful for everything that's happened throughout the years. Everything's coming together and coming full circle. We've all been working towards this particular set for years now. I want to thank anybody that's ever listened to our music, supported our mixes, come to our shows, our manager Chris, Rob, and our families. Without the team around us, this wouldn't be possible. And, get ready to f*cking die on Sunday!
V: We don't do this for the money. We do this because of our bond over the music and styles we truly love. The goal has always been to get to EDCLV for the past ten years, and it will be really emotional for us. This isn't just some show or festival for us. Everything we've done has led to this, and we're going to leave it all out there on Sunday. Then, we'll ride the wave and see how much further we can take KAMI. At the end of the day, we're grateful. Get ready to f*cking RAGE 2 HARD!
---
Follow KAMI on Social Media:
Facebook | Twitter | Instagram | SoundCloud | YouTube | Spotify