J. Slai stopped by to discuss his early beginnings and artistic vision, as well as the future of the American Hard Dance scene.
---
For more than a decade, the American Hard Dance scene has slowly been on the rise while making its way from the depths of SoundCloud to the stages of the biggest festivals in the North American circuit. The genre emphasizes creating energetic music and hybrid genres that nobody has ever heard of before, and one artist leading the charge since its earliest days is J. Slai. He's committed himself to bringing something fresh to the scene, while also taking great pride in the fact that his listeners never know what's coming next with every release.
J. Slai's unique style has found itself a home within the hard dance scene, landing releases on Be Weird Be Original, Speed House Movement, and DYEHARD Records, plus countless other self-releases that showcase the eclectic sound of American Hard Dance. The Bay Area-based producer has definitely earned his stripes, becoming a community favorite that is projected to start dotting all of your favorite lineups in 2022 and beyond.
With a tidal wave of momentum behind J. Slai, there's no stopping any time soon for him – and if you don't hop on it, you might just get taken out by the tsunami of energy he brings along with him. Looking to gain some extra insight on this hard dance maestro, we caught up with him to discuss his early beginnings, artistic vision, the future of the hard dance scene in America, and much more.
In addition, J. Slai spun up the 300th EDMID Guest Mix featuring a number of his favorites like "CRANK IT" and "This Music," plus some unreleased treats and a sprinkle of a brand new hard dance subgenre brewing in the States, ustempo. So make sure to crank up on the volume to get a taste of J. Slai's unique, energetic style, and read on to take a peek into the mind of one of the pillars of American Hard Dance.
Stream EDMID Guest Mix 300 || J. Slai on SoundCloud:
---
You've been making hard dance records for a few years now, and recently started picking up serious momentum, this year especially. Going back in time, can you share what influenced you to start the J. Slai project and where the name originates from?
Originally, I dove into being a DJ for pure pleasure. I was inspired by big room in 2013 and decided that I wanted to make my own sets that featured my favorite songs. I also felt that there was too much downtime in the sets that we were listening to at the time, and I wanted to mix at a faster pace.
I used to DJ at house parties in college with my tablet and the eDjing app hooked up to the aux. In 2015, my buddy gave me my first mixer and I started taking DJing more seriously under the name Sexpak. The [reason for that] name was so that I wouldn't be too serious about the project. And once I asked for my first show in 2016, the promoters didn't want to put that on the flyer next to Wiwek's name, so I had to think of a name fast.
I remember sitting in my car with the radio on, thinking of random, corny names. Then Beyonce's "Formation" came on and she kept singing "I Slay. I Slay." I was like "Waiiiiiit. Let me incorporate that phrase with my first initial", and BOOM, J. Slai was born.
Your tracks have been played at a variety of stages at festivals like Beyond Wonderland, Audiotistic, and EDC Las Vegas, which is a testament to your versatility and unique sound that always keeps your listeners guessing. Taking that into account, has there been any standout moment that made you realize your place in the music industry?
Hmm, that's a tough one. Every time someone plays my track at a big festival like that, it's truly an amazing feeling. If I had to pick one moment that really lit a fire in me, it has to be when K?D and Gammer played "Za Warudo" at Project Z in 2019. Around that time, I had been experimenting with hardcore, and I felt like my music wasn't going anywhere and it wasn't good enough. Having them play it in front of thousands and [seeing] the reaction the crowd gave it was enough validation to last a lifetime. I knew then, that I was truly meant for this music s**t.
One of your recent releases, "Speed Trap," saw you team up with Hexane to bring the tune to life. Can you walk us through the production process on this one specifically?
Yes!! This was my second collaboration with Hexane. He's one of my close producer friends who I know personally, and I urge everyone to check him out if they like trap/bass music. At first, this song was supposed to be more of a speed house track with heavier leads. But once Hexane got his hands on the stems I sent, he incorporated more trap elements and I liked the new direction that he chose. Then, we decided it needed a little bit more J. Slai sound in there, so I created the gated kick and incorporated minimal rawstyle elements to bring the second drop to life. 
The name "Speed Trap" is a play on words because the song sounds like a sped-up trap song, but also the cover art is a cop car chasing someone after they ran a speed trap.
Your discography is littered with releases that range across a number of genres such as hard dance, speed house, hardcore, and trap. When you make a record, how do you pick what to make next? Is there a combination of genres you feel can click together immediately to make a great tune?
As cliché as it sounds, I like to go with the flow. Oftentimes, my ears and mind get fatigued with producing only one genre, so I just open up my laptop and make whatever feels fun at the time. I am always looking forward to learning how to produce new genres so I can incorporate little tricks I learn into my main genres and become this all-genre-knowing producer who can do whatever he wants on Ableton. 
As far as making hybrid genre songs, I try a lot of different combinations. Sometimes I sit there and say, "Imagine if I combine reggaetón and hardcore! That would be stupid crazy!" Then I go and try it, and it actually sounds pretty solid. Most of the time though, I combine genres and they don't sound too good, so I never follow through with the idea. [However,] I am always experimenting because I want to do things no one has ever done before. Where's the fun in being stale and copying everyone else?
You've been an advocate for the unique sound coming out of the States for quite some time. Now that there's a bigger community around the American Hard Dance scene, where do you see the scene and the sound going in the future?
When I first started DJing, people wouldn't know what to do when a hard dance song came on at a mainstage, or a mainstage club. But the American crowds have been exposed to it so often that they eat it up now! It's amazing. The American Hard Dance sound is full of up-and-coming producers who don't follow the cookie-cutter rules, and aren't afraid to be chastised by their fans for experimenting by adding new genres and blending them with the hard dance sound. You will see that the producers who take these risks are going to be the ones who will keep the sound alive and keep it evolving. As time goes on, these same producers will only get better and better, so the music will get better too. It's truly exciting to be part of this community.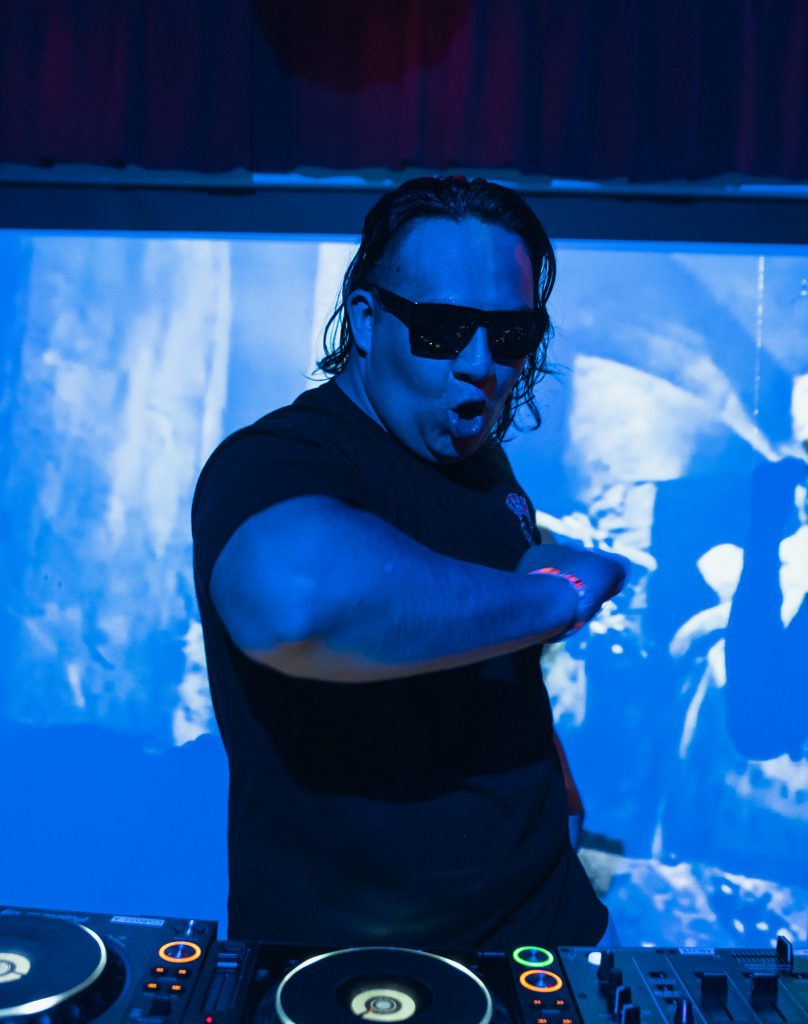 The J. Slai project has found a home within hard dance music, but are there any genres you explored before making hard dance records? In addition, if you had the ability to go into any genre apart from hard dance, what would it be and why?
I am a huge fan of disco, R&B, and future funk. These are the main genres that I listen to on a daily basis. You'd be surprised that on my Spotify Wrapped you won't find electronic music. This keeps my ears nice and fresh for when I produce hard dance, and it influences my production at times.
For the J. Slai project itself, I do not want to steer it away from hard dance, but I am planning to create an alias that revolves around nu-disco, disco, and future funk. I actually have 2 future funk tracks finished right now. Again, this is purely for my enjoyment. I think of producing these genres as something that relaxes me, and I can groove to these genres to take a break from the hardcore J. Slai kicks I am always making.
Your brand incorporates a lot of adult humor, and it's in a style reminiscent of hardcore producers, GPF. Are you trying to send a similar message through your art and music, or is it purely for entertainment?
GPF is super amazing. Their IDGAF attitude is something I look up to. It's empowering that I can open up my laptop and make a fun song like "Super Horny" that literally has no sentimental value, except to rage and have fun. More producers should try to take themselves less seriously and just have fun! As far as the stuff on my Twitter, that's just me. I am an out-of-pocket person who likes to laugh at out-of-pocket stuff. I'm very glad I can incorporate my own personality into my music no holds barred.
Finally, with 2021 coming to a close, can you share anything about what's on the horizon for J. Slai in 2022?
"Make music that cannot be ignored" is my motto. [My] new EP will be coming in 2022. It will feature slaicore/hardcore, and I am so excited to show everyone. Next year, I want to continue to push the boundaries of hard dance. I want to keep making music that will have the crowd and the DJs Shazzaming my songs at festivals. With the music I will be releasing, everyone will start to ask themselves why J. Slai isn't on all of the festival lineups, and I want people making the decision to notice. Lastly, I want to connect with my supporters on a personal level and get to meet them at shows, so if you guys see me there, come say hi!
Again, thank you for taking some time to chat with us!
---
Follow J. Slai on Social Media:
Facebook | Twitter | Instagram | SoundCloud | YouTube | Twitch | Spotify