Multi-talented Australian artist BRUX is making some major moves in 2022 and swung by to give us some insight on her journey so far.
---
It was only just a few short years ago that a mysterious artist named BRUX first emerged on the scene with her unique style in tow. Originally shrouded in mystery by donning a mask, her debut single "I'm Back" on DIM MAK caught the attention of tastemakers and led to her touring the globe. From there, BRUX delivered a number of stunners including the Fruit EP and tracks such as "Belong" and "Covet" as she bolstered her discography.
Flash forward to the present and BRUX is no longer hiding behind the mask she wore early on, nor is she living in Australia. Instead, she's moved to Brooklyn and come into her own in 2022. Earlier this year she took her talents to Zeds Dead's imprint Deadbeats to show off some of her best work yet on the Take EP. Not only that, but BRUX also joined the Canadian duo at their beloved show at Red Rocks, Deadrocks, and won over the hearts of those in attendance with her alluring vocals and gritty sound.
More recently, BRUX looked to longtime friend Pat Lok for her latest collaborative track in the form of "BADBOI." This club-ready tune draws inspiration from the releases on Ed Banger Records and offers up a wide array of elements to explore from analog synths to distorted drums. And after the release of this fresh track, BRUX graced us with a conversation to dive into the making of the track, her roots in the scene, and plenty more.
Listen to this exclusive guest mix from BRUX on SoundCloud, download or stream "BADBOI" with Pat Lok on your preferred platform, and read on for the conversation!
Stream EDMID Guest Mix 331 || BRUX on SoundCloud:
---
Hi BRUX, thanks so much for chatting with us today. Before we dive into your project let's learn a bit more about you. Can you share who some of your earliest influences were musically and what led to you falling in love with dance music?
Some of my early influences were (and still are!) The Chemical Brothers, The Knife, Bjork, Prodigy, and Groove Armada.
Your identity was hidden prior to this year, but you spoke with Nina Las Vegas and decided to reveal it after the release of the Take EP on Deadbeats. Can you share what inspired you in that conversation and led to that realization?
Nina is a dear friend and someone I very much look up to and am inspired by. We had some conversations in 2020 on Zoom while lockdown was happening and got onto the topic of branding and visual aesthetics. It was Nina who helped empower me to let go of the mystique and embrace who I am.
There's a lot of control that you have over your project beyond your music from your own artwork to your merch. What prompted your desire to be the creative force behind all these different aspects? Do you ever find it a bit difficult to navigate timewise?
I don't think I've ever known otherwise – I studied fashion and design when I left high school so that side of the project has always been a natural part of my expression along with the music. In saying that though, I love to collaborate with designers, illustrators, animators, etc, all of the recent Take EP graphics, videos, and art has been made with Dylan Reyes – he also shot my press pics too! All-round highly skilled legend.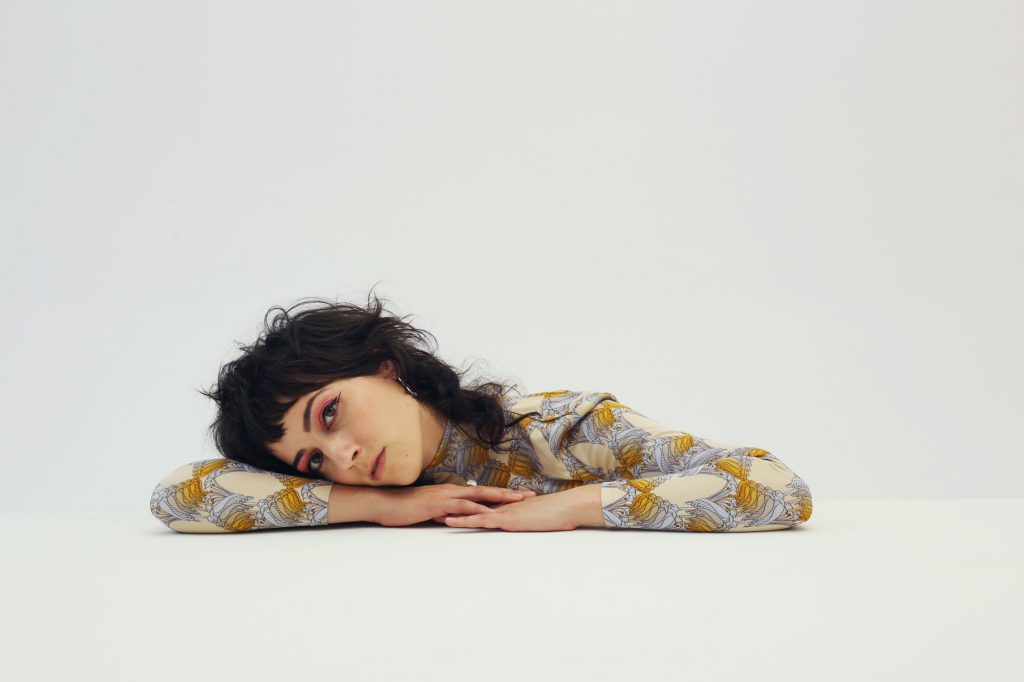 While you're originally from Sydney you've since relocated to Brooklyn. What differences have you noticed between the two cities in regards to the scene? Do you miss anything specific about living in Australia?
It's so densely packed with creatives over here and I've noticed that everyone is always busy working on various projects at once. It keeps a fire burning under me which I love! Apart from my family and friends I do also miss the beaches and coastline back in Sydney – it doesn't quite compare over here…
Moving onto your new releases, you recently collaborated with Pat Lok on "BADBOI," a club-ready tune that packs a punch with plenty of energy. What was the production process like on this tune? Was it different compared to tracks off the Take EP?
We made that track over Zoom in 2020 while the world went into lockdown. It spawned from a synth line that Pat had lying around and we thought we'd be making a chilled-out Daft Punk-y house track… but then it turned into this chaotic beast and we rolled with it. It all happened quite quickly… Pat and I have more tracks in the bag to release soon! Most of the Take EP tracks were made in lockdown too, while I was living back in Australia and I had all this time on my hands. I made good use of my Moog DFAM percussive synth as I bought that shortly after the Pandemic kicked off.
Your friendship with Pat Lok dates back years, what's the story behind how the two of you first connected?
We first connected after I remixed his track with Thandi Phoenix "Freefall" – from there we bonded immediately and started to do writing sessions over Zoom which proved to be hugely productive. He's a good mate.
Beyond releasing banging tunes you also graced the stage at one of the world's most iconic venues, Red Rocks, earlier this month during Dead Rocks. What was your experience like playing at this beloved venue?
Red Rocks was incredible!! I still can't believe that happened – hearing my tracks on that massive sound system was just insane and to see the crowd vibe with the music was so awesome. I also managed to sign the famous "tunnel" where all artists who've come through and played sign their name on the concrete wall… that was a really special moment for me.
Finally, since we're halfway through 2022, what goals do you hope to achieve in the rest of the year that you haven't crossed off your list yet?
To play many more shows here in the US! Playing Red Rocks was at the top of my dream "venues I want to play" list. So now that's ticked off I'll move Hollywood Bowl to the top. I also hope to collaborate with some more of my favourite electronic artists – so far some really exciting ones have just kicked off like Cobrah and Joe Goddard. 
---
Follow BRUX on Social Media:
Facebook | Twitter | Instagram | SoundCloud | YouTube