Before going toe-to-toe at Project Z this weekend, RATED R and LINK make their attempts to win over ravers attending the festival.
---
On July 2, Bassrush and Basscon are reigniting their heated rivalry for brand supremacy once again on the battlefield dubbed Project Z. For many years, Insomniac has enlisted the greatest figures in the dance music to lead Team Basscon and Team Bassrush to victory in their epic clash. This year, the rosters for both teams are once again filled to the brim with the best talent that the two sides have to offer – and two artists who are sure to be needle movers during this event are RATED R and LINK.
The unique circumstances that these two artists find themselves in call for elevated performances from both sides so fans can make a clear decision on who they think will come out on top at this year's Project Z. For both RATED R and LINK, playing this festival means that they're even more pumped and ready to take advantage of this platform to deliver an experience like no other – so let's dig a bit into these two artists' backstories.
Growing up, RATED R always knew he was meant to be involved in music. He "used to play the drums and fell in love with it," which led to his inspiration for creating dubstep as he equates modern bass music to today's version of heavy metal. In more recent memory, he has been on a tear through the music industry, climbing through the ranks and carving his own space to sit at the top of bass music alongside all of the heavyweights.
Apart from the release of his viral single, "WOMP WOMP" with VRG, he's found success in the scene by releasing on labels such as SLUGZ MUSIC and Subsidia, while he kicked off 2022 with the Funeral EP on Bassrush Records. Now, RATED R is gearing up to make his debut in San Bernardino at Project Z as a part of Team Bassrush for what is sure to be one of the heaviest sets of the entire weekend.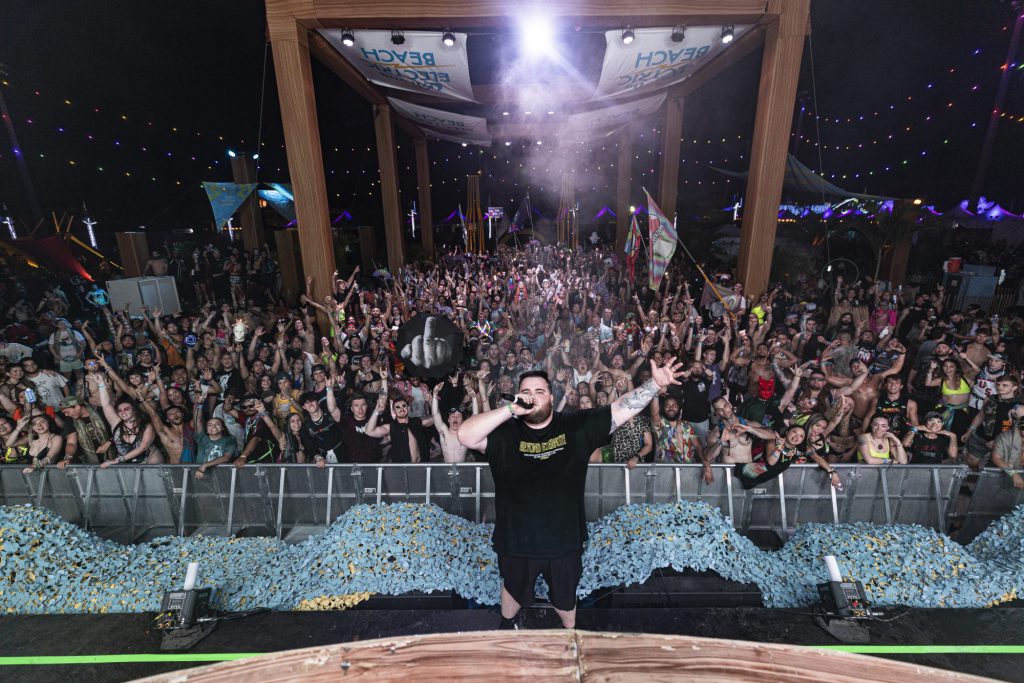 On the flip side, LINK has taken the hard dance scene by storm with his unique style dubbed "Turbo."
Originally from the UK, LINK "experienced all different styles of dance music from a young age and had fallen in love with hard dance music in the Eurodance and Trance records on the radio." These records always influenced his style of music and now, he can "use [his] influences to bring them into the modern-day."
LINK has captured the ears of many with each passing release resulting in bookings at Basscon Wasteland and EDC Las Vegas in 2022. This initial success in the scene has led him to find himself waving the Team Basscon flag proudly at this year's edition of Project Z. Although this is the second time LINK is set to perform at the festival, it's safe to say that anyone catching him should expect a unique experience.
With the stories behind these two artists and their styles in mind, catching RATED R and LINK are two musts for attendees.
LINK's set is sure to be an exhilarating time as he guarantees that he will "have the hairs on the back of your neck standing and your knees weak." RATED R won't be counted out or left behind, expressing his excitement for this set because his "energy is genuinely unmatchable and [his] driving force with this music stuff is pure energy unlike anything else." And for those warriors attending Project Z, RATED R advises to "expect the unexpected; no one is safe."
As the friendly rivalry between Team Bassrush and Team Basscon heats up, which side do you find yourself on? Sound off in the comments! And don't forget to snag a ticket on their website as Project Z is 95% sold out!
---
Follow RATED R on Social Media:
Facebook | Twitter | Instagram | SoundCloud | YouTube | Spotify
Follow LINK on Social Media:
Facebook | Twitter | Instagram | SoundCloud | YouTube | Spotify