Homegrown hardcore producer Water Spirit reflects on EDC Las Vegas and their unique style, and delivers some heat with a fiery guest mix.
---
Among the rapid-growing American Hard Dance scene, Water Spirit has nestled themselves a spot in the realm of speedy hardcore music. Over the past few years, they've created a brand new artistic direction for hardcore music that goes far beyond the music, artwork, or visuals and celebrates the simple but important message to always be yourself.
Water Spirit's artistic style has helped them garner support from the community and big names in the scene alike – most notably Porter Robinson in his Virtual Self performances – to become one of the USA's premier homegrown hard dance artists. Their dedication to their craft and artistic vision is like no other, which has opened many doors for the producer.
Most recently, this continued dedication paid off in a big way in the form of a booking at EDC Las Vegas this past October on the wasteLAND stage. With so much support behind their project, there's no doubt that Water Spirit will be one of the future stars of hardcore as they showcase a raw and genuine love for the music through every kick drum created.
After performing at the festival, Water Spirit took some time to stop by and reflect on their experience at EDC Las Vegas, their recent releases, the future of the scene, and much more. In addition, they spun a fiery guest mix for us, showcasing their influences from genres including hardstyle, psytrance, bass, and of course, hardcore. So turn your volume up to 11, press play on Water Spirit's brand new guest mix, and read on to get to know one of hardcore's brightest prospects.
Stream EDMID Guest Mix 297 || Water Spirit on SoundCloud:
---
Hey Water Spirit, thanks for taking some time to chat with us. We appreciate you stopping by. First off, congratulations on getting to play EDC Las Vegas. Before you took the stage, you mentioned you were very proud to represent the LGBTQ+ community on such a big stage. Can you share what emotions are running through you now that EDCLV is said and done?
Thank you! It was an amazing time. It was an honor to get to represent hard dance and my community. Now that it's over, I'm thankful for everyone who took the time to support me out there, and I'm also looking forward to the future and continuing to push my music and my message.
Following EDCLV, you released a brand new song with Sihk on Barong Family titled "Funky." Similar to your collaboration with MADGRRL, this one shines a light on the out-of-the-box and unique records you can create within the hybrid genre space. What approach or role did you take on when making this record?
When I made "Funky" with Sihk, I was going for a combination of hard psy and hardstyle/hardcore. I've always wanted to work with Sihk. When we linked up on the track, it was a dream come true! We wanted to make a fun, out-of-the-box, hard dance tune, and it turned out perfect!
Earlier in the year, you appeared on Basscon Records' Recon Vol. 1. This led to your latest release on the imprint and most melodic track to date, "Chaos Euphoria." Fans are used to ground-and-pound hardcore records from you, so what inspired you to create a record with happy hardcore influences? Does this tune hint at any other melodic or happy hardcore productions for the future?
With "Chaos Euphoria," I really wanted to show off some melody work as well as atmospheric sound design. I love tracks that can take me on a journey into another world through sound design and melody. "Chaos Euphoria" is 100% a hint towards the future of Water Spirit, but I will always be releasing hard, in-your-face kick drums along with more melodic and hybrid tracks.
You've been making hardcore records for a few years now, so who or what are some of your earliest influences in wanting to make this genre of music?
Oh geez, I have so many, and my influence list continues to evolve all the time. Back when I first started releasing hard dance, Headhunterz had just released his [comeback] to hardstyle album, "The Return of Headhunterz." The track, "Our Church" with Sub Zero Project, changed my view of hard dance and opened my eyes to how powerful a single kick drum could be. The opening kicks on that track are f*****g incredible. Angerfist is also a huge influence. I was constantly listening to "The Promqueen's Finest Drug" when learning hard dance production. Lil Texas, of course, did a lot to help my direction as well as Virtual Self, Delete, S3RL, Furyan, Miss K8, and a ton of others!
Knowing your early influences, are there any genres you explored before going into making hard dance records?
Yeah, I have made a ton of other genres and projects. In my early days of learning music, I would make anything to see what resonated with me. Some genres I used to make are future bass, hard trap, dubstep, chillwave, ambient, chiptune, DnB, and a ton of random beats. Water Spirit actually started out as an ambient project. It's funny how things change.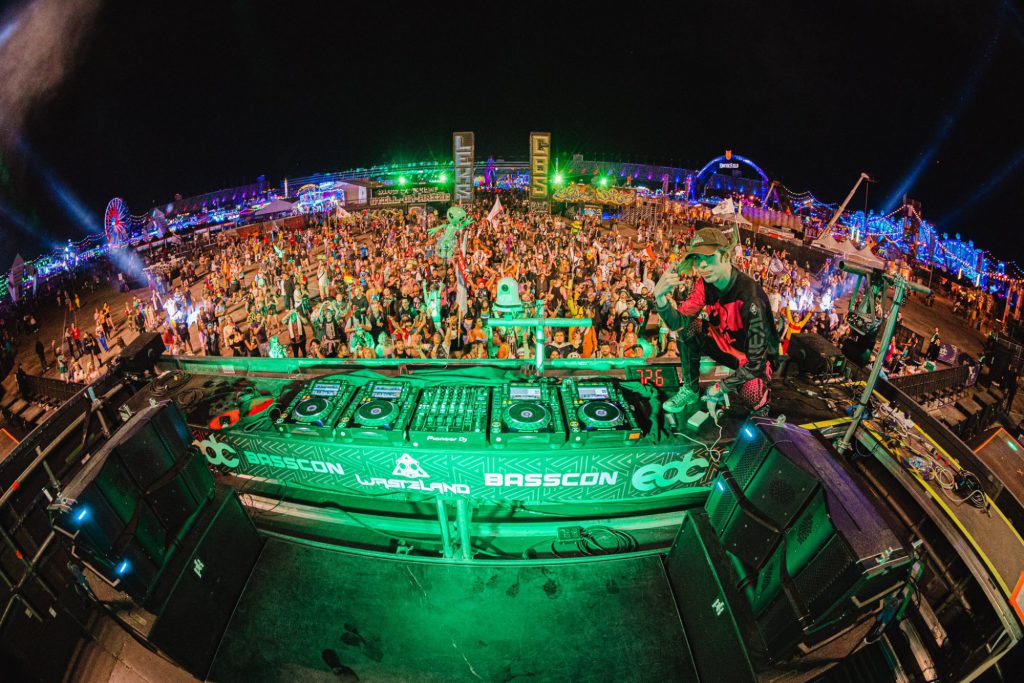 Now that you've arguably solidified a spot for yourself among the growing American Hard Dance scene, can you shed some light on where you believe the scene is headed in the near future?
First of all, thank you for saying that. It's an honor to be recognized in the scene among all of the great up-and-coming producers! American Hard Dance is really good at pushing the hard dance genres forward with experimentation and the punk energy [that] the scene carries. I'm not exactly sure where the sound is headed, but I do know it will be weird and fun as f**k.
Some people may not know that you do a lot of your cover art and live visuals, and it's very easy to spot Water Spirit work with your signature style. How do you develop such intricate art for your project, and what are you trying to show through your artistic style?
Every good music project should have a strong evolving art style to build a world around the sound. I do my best to show what is running through my head when I listen to the tracks. I strive to show[case] the world, the environment, and the messages that my music is made for. I used to do animation for small random jobs and projects before making music, so it was fairly obvious for me to use those skills to enhance the aesthetic of Water Spirit. Of course, I love working with my hard dance homies to help create their visuals and cover art as well.
With EDCLV over and 2022 on the horizon, what does the near future hold for Water Spirit?
A lot of kick drums, collaborations, new and improved visuals, live shows, and a more refined sound and style for all my upcoming tacks! Thank you so much for having me!
---
Connect with Water Spirit on Social Media:
Facebook | Twitter | Instagram | SoundCloud | YouTube | Spotify