OMNOM selects a rousing list of talent for Space Yacht's Tech My House Vol. 4, including Arnold & Lane, MISS DRE, Ocean Roulette, and more!
---
It's time once again to sink our ears into the latest Installment of Tech My House! For over a year the Space Yacht founders, Rami Perlman and Henry Lu have been highlighting a vivid array of future stars on the party-forward compilation and we have been loving every single second of it. For today's release, the label decided to shake things up a bit and invite the one and only OMNOM to choose the brilliant beat makers tasked to bring Tech My House Volume 4 to life!
Featuring 16 tracks with the goods to shock your body to life, you'll be begging to hear these on the big speakers by the time this adventure comes to an end. Of course, the wild and wacky OMNOM kicks off the festivities with "Skinny Jeans" featuring Techno Tupac. This track is a direct reflection of what you can expect on the rest of the album – tunes that fuel your dance tank while also making you stop dead in your tracks to wonder, "what on earth is happening right now."
Cruising through the soundscapes you'll find everything you need to make your booty bounce including sexy throwbacks with a twist. There are vocal bangers that have the potential to do major damage on the dancefloor and a plethora of auditory elements that will toss you straight into a twisted carnival. There's even a track that would make your mama blush, delivered by the infectiously fun duo, Arnold & Lane. It's literally called "I Wanna FXXX" and it's a firey bop.
Speaking of delivering a bop, Not The Father, Dillon Marinez, and Point Set definitely got that memo. Their offerings, "Rolled Up," "This Is The Moment," and "Olive A Sudden" make sure to keep listeners engaged with the perfect balance of power, from the delightfully dizzy top-end details to the super-cool vocal expressions. You're going to continuously smash the replay button on these three after hearing them for the first time, it's impossible to not get caught in the loop.
If you're a sucker for something that drives you down deep then MISS DRE and MNTRA & ALAFLOW take the crown in that category and give you what you need. The techy growl on both "Take Me Back" and "Control," featuring Hannah Olsen, will send shockwaves through your body as you grab your lover for a debaucherous out-of-body experience under the strobes. These are just a few examples of the rollercoaster ride that is Tech My House Vol. 4, now it's your turn to dive into the sweet chaos.
Grab your copy of Tech My House Vol. 4 on Beatport, stream the compilation below, and let us know what you think about the tracks in the comments!
Stream Tech My House Vol. 4 (Curated By OMNOM) on Spotify:
---
Space Yacht –Tech My House Vol. 4 (Curated By OMNOM) – Tracklist:
OMNOM – Skinny Jeans 9 (Ft. Techno Tupac)
Maximono – What U Get
Not The Father – Rolled Up
GIANT – Magic Gravity
Arnold & Lane – I Wanaa FXXX
Galo – Get Another Love
Kimba – Backwards Magic
Ocean Roulette – Neurotic
Morelia – Rollin' Deep
MISS DRE – Take Me Back
Dillon Marinez – This Is The Moment
ZOF – Leader
MNTRA & ALAFLOW – Control (ft. Hannah Olsen)
Point Set – Olive A Sudden
Sergik – Music Is My Drug
eta – IDK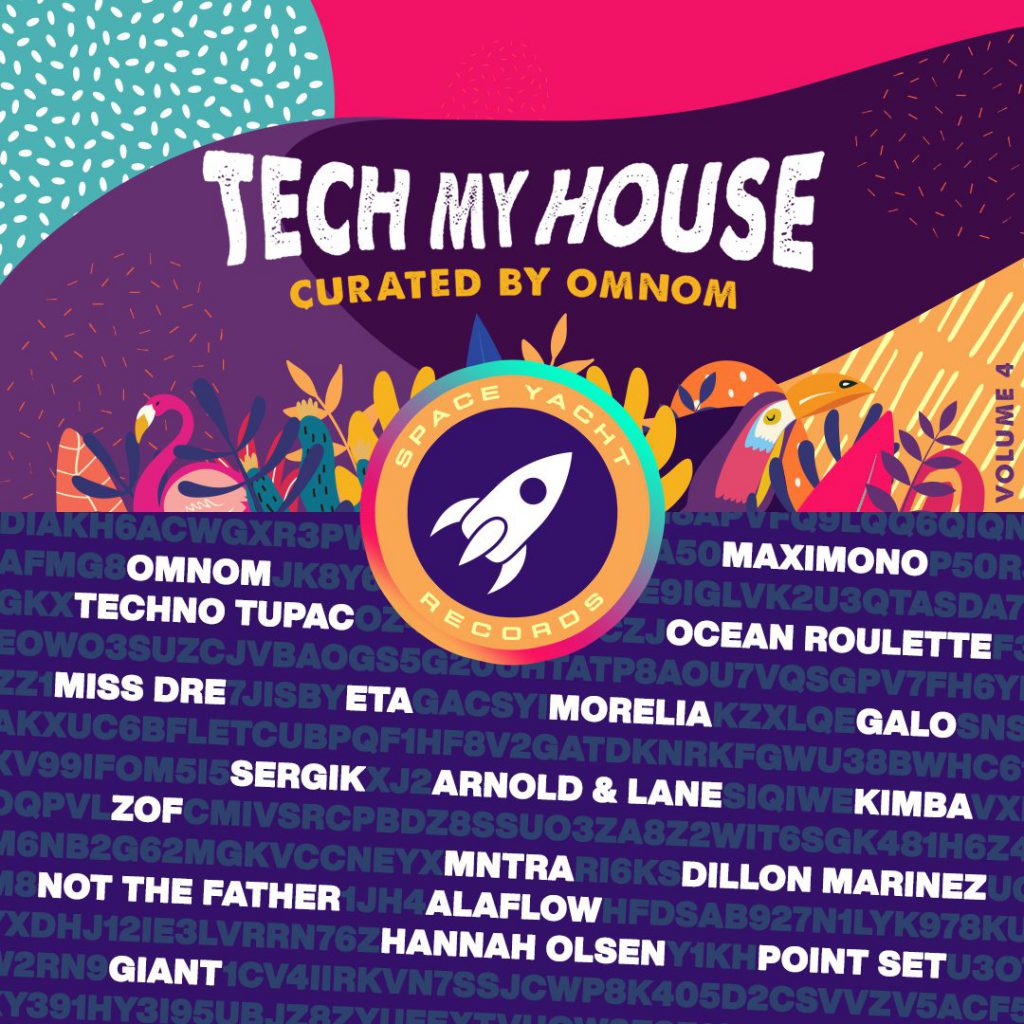 ---
Follow Space Yacht on Social Media:
Website | Facebook | Twitter | Instagram | SoundCloud | Twitch