Insomniac's Bassrush and Basscon unveiled their teams for their ever-growing rivalry, Project Z, and this year is shaping up to be a battle for the ages!
---
Over the years, Basscon and Bassrush have grown into their own massive entities that champion the sounds of the freshest bass and hard dance music. They've had their own massive standalone events like Basscon Wasteland and plenty of Bassrush takeovers, but one of the fan favorites has certainly been Project Z. This year, both brands brought their most lethal weapons in the form of an absolutely stacked lineup.
Team Bassrush called upon their grizzled veterans including Flux Pavilion, Getter, Kompany, Space Laces, INZO, along with a special SVDDEN DEATH: Into the Inferno performance to carry their banner into battle. In addition, they've also looked to others such as SubDocta, Jessica Audiffred, RATED R, and also made sure to bring in some drum and bass artillery like REAPER B2B Kumarion, Grafix, Culture Shock, and Delta Heavy to bring some fresh beats into battle.
In response, Team Basscon assembled a lineup of warriors like no other. This year, they looked to giants of the scene like Brennan Heart, Darren Styles, TNT, DJ Anime, and the new live act from Audiofreq, Code Black, and Toneshifterz called 3 Blokes to be on the front lines of battle. Basscon looked to the future of hard dance and brought in homegrown artists to proudly wave the Team Basscon flag including names like KAMI, TYEGUYS, Water Spirit, NTXC, Rob Gee, HPNOTIC, Lucky Rabbit, GEO, and so many more!
There's no doubt that this year is shaping up to be one of the biggest battles between bass and hard dance, and you definitely don't want to miss out. Choose your side, fight proudly for brand supremacy, and make sure to grab your tickets when they go on sale on April 7 to see Basscon and Bassrush go head-to-head in the ultimate battle for supremacy.
Tickets for Project Z go on sale Thursday, April 7 at 10 AM PT on their website. Layaway will also be an option for just a $10 deposit, so make sure you don't miss out on snagging your ticket if you want to experience this event!
---
Project Z 2022 – Lineup: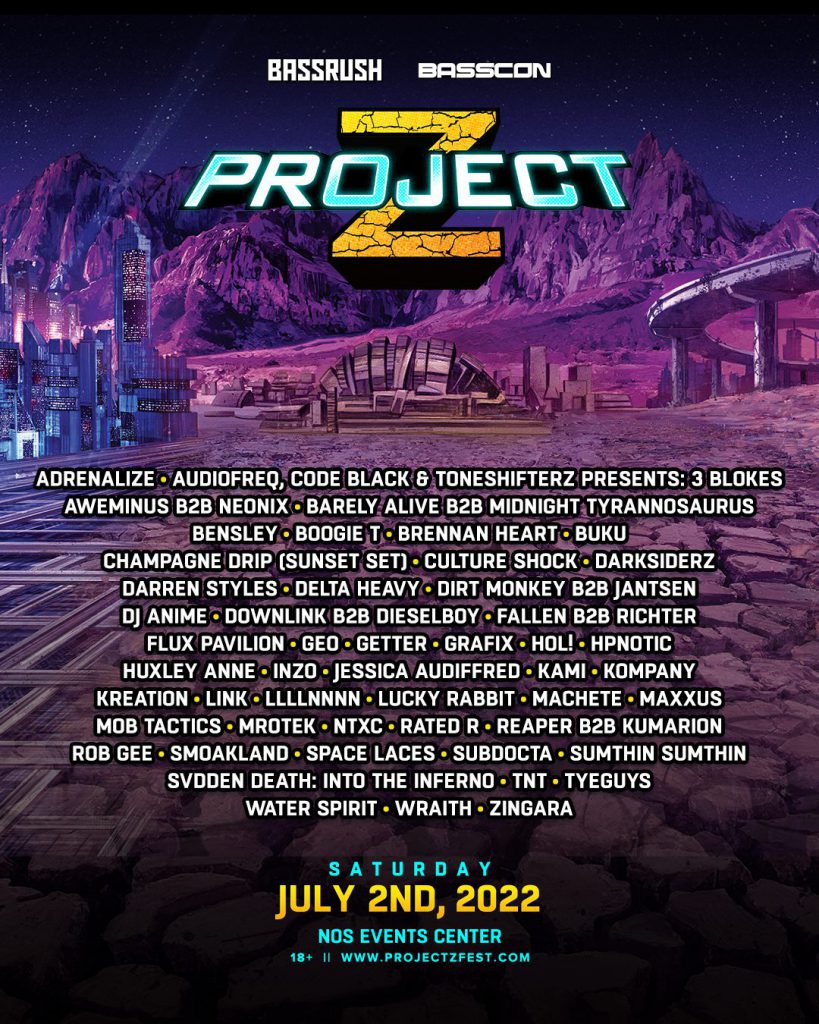 ---
Project Z 2022 – Lineup By Artist:
Adrenalize
Audiofreq, Code Black, & Toneshifterz Presents: 3 Blokes
Aweminus B2B Neonix
Barely Alive B2B Midnight Tyrannosaurus
Bensley
Boogie T
Brennan Heart
Buku
Champagne Drip (Sunset Set)
Culture Shock
Darksiderz
Darren Styles
Delta Heavy
Dirt Monkey B2B Jantsen
DJ Anime
Downlink B2B Dieselboy
Fallen B2B Richter
Flux Pavilion
GEO
Getter
Grafix
HOL!
HPNOTIC
Huxley Anne
INZO
Jessica Audiffred
KAMI
Kompany
Kreation
LINK
LLLLNNNN
Lucky Rabbit
Machete
Maxxus
Mob Tactics
MROTEK
NTXC
RATED R
REAPER B2B Kumarion
Rob Gee
Smoakland
Space Laces
SubDocta
sumthin sumthin
SVDDEN DEATH: Into the Inferno
TNT
TYEGUYS
Water Spirit
Wraith
Zingara
---
Follow Project Z on Social Media: