Space Laces takes his Vaultage project to the next level with his latest release, the five-track High Vaultage EP, out now on Never Say Die!
---
Space Laces has mastered the art of letting his music do the talking for him. There's always been an air of mystery about him and he always leaves listeners wanting more after sprinkling releases out sparingly. It was all the way back in 2018 when Space Laces dropped the Overdrive EP, yet he returned to unleash his Vaultage 003 mix on the world in 2021 with 20 minutes of that classic sound that many have grown to love.
This year, Space Laces is continuing the evolution of the Vaultage project by debuting a brand new "Space Laces Presents: Vaultage" set on February 19 at the Mission Ballroom with Zomboy. Fans can expect a new set of visuals and tracks that expand beyond the genre of dubstep into a wider variety of genres and tempos. Adding to this, today, Space Laces delivered the High Vaultage EP, which brings five previously unreleased, electrifying tracks to the table.
On High Vaultage, Space Laces returns back to his roots and decided to release some of his house and electro house tunes as well. He kicks it off with "Droid," a track that had found a home on Vaultage 003 and one that is incredibly fun and bouncy. The main synth that is showcased throughout the song is fantastic, while other elements will quickly draw in fans of Star Wars to take them to galaxy far, far away.
Next up is "Run DLL," which gets its name from the ominous Windows error, completely switches up the vibe of the EP, and gives listeners that distinctive Space Laces sound. The track is full of altered hip-hop vocals, glitched-out elements, and a dark hybrid trap beat that makes you feel as if you're a computer running into an error. "Not Bees" sees Space Laces return to electro house and the result is a thumping tune that is pure energy from start to finish. Originally seen on the Vaultage 001 mix in 2018, listeners have been excited to get their hands on this track.
The final two tracks off the EP are arguably the two biggest standouts. Fans were awestruck as Space Laces ended his Vaultage 003 mix with the impeccably beautiful "Splinters." The amount of emotion that this song entails is unbelievable and it is definitely a step away from his usual sound. Rounding out this phenomenal release is "Disco Bloodbath," a track that has been around since the early 2010s. Despite it being nearly a decade old, the mastered version sounds amazing. It is filled with that funky disco sound paired with Space Laces' ability to create driving tracks. You'll be dancing to this one, no doubt!
Space Laces has done it again with his High Vaultage EP and showcased how timeless his songs are. We could not be more excited for this new era of Space Laces as he embarks on his Vaultage voyage, so listen to Space Laces' latest EP on Spotify, stream it on your favorite platform, and let us know what you think of the new tracks in the comments!
Stream Space Laces – High Vaultage EP on Spotify:
---
Space Laces – High Vaultage EP – Tracklist:
Droid
Run DLL
Not Bees
Splinters
Disco Bloodbath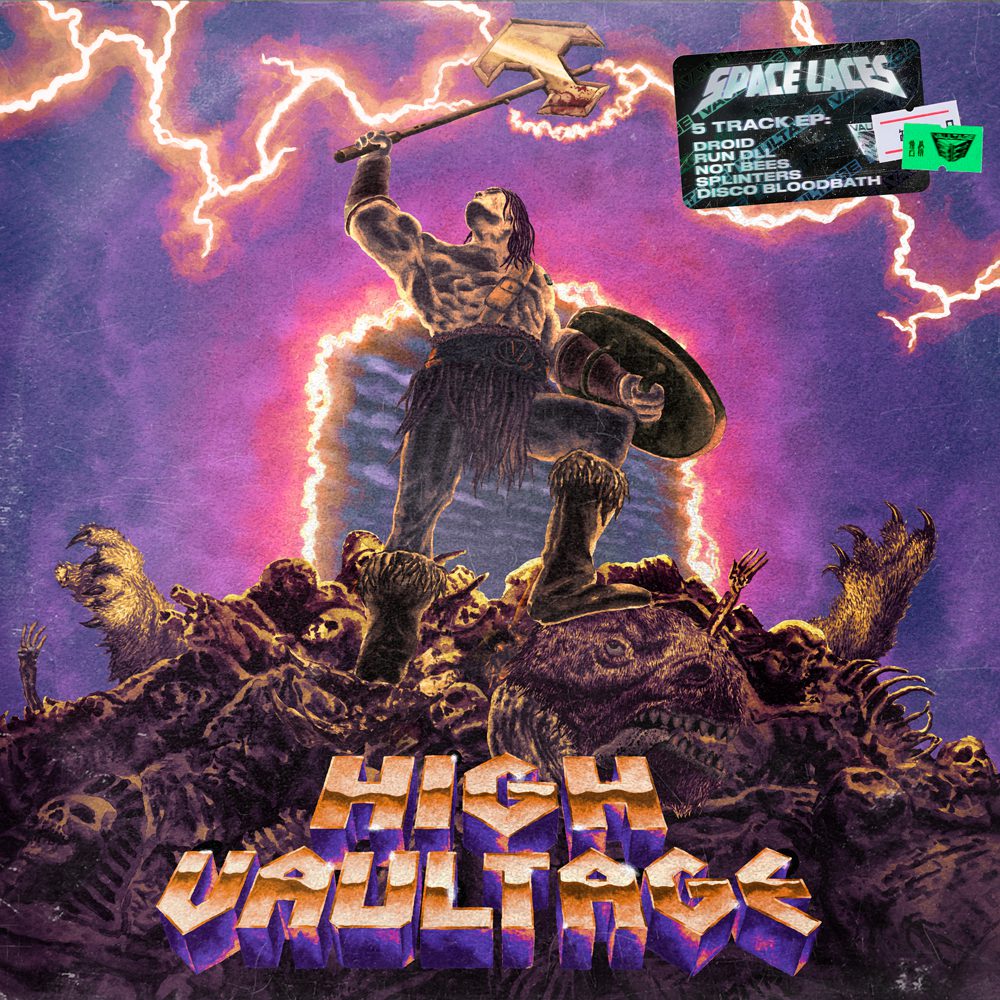 ---
Connect with Space Laces on Social Media:
Facebook | Twitter | Instagram | SoundCloud