Basscon Wasteland made its triumphant return to the scene in SoCal – and it was quite the epic experience for fans of the harder styles!
---
Hard dance isn't everybody's cup of tea, but there's no doubt that there's something special about the genre, and I've always kept that close to my heart – but during the pandemic, I struggled to keep the fire alive. While I continued to write about hard dance, further deepen relationships, and foster new ones, the loss of events hit hard and left me feeling lost and confused at times. As the world began to reopen, new energy emerged inside me. First, it was the Basscon Park N Rave, then was EDC Las Vegas, and this year saw the triumphant return of Basscon Wasteland.
Basscon Wasteland is the premier hardstyle festival in America and it was sorely missed by me and many others in the hard dance community. After the announcement of its return at the end of last year, I couldn't help myself from counting down the days as I patiently waited for a pure hard dance festival to make its way back to Southern California. It motivated me to keep pressing on and before I knew it, I was in line at the NOS Events Center to attend.
Entry to the festival was quick and my group was in within a matter of minutes.
My group and I made sure to be there a little early since most of us had to pick up our wristbands at the will call. The team in charge of getting our wristbands worked very quickly to get us sorted out, but many of us in our group ended up with different colored ones which made it difficult to differentiate what each one meant.
Upon entry, you had everything you could find at your standard Insomniac festival: food, bar, merch, free water, and a few different vendors. One thing I was a fan of, and I hope that a lot more people used, was the kandi-making booth. Not many people make kandi for events as much as they used to anymore, but it's still very fun and it's a little piece of rave culture that I hope never truly dies out.
After checking out everything on the outside, I walked into the building to see the brand-new Wasteland stage in all of its glory.
For a number of years, passionate fans have been clamoring for a new stage design for Wasteland. While the one at EDC Las Vegas and years prior has been great, it was definitely time for something new and fresh considering that Basscon has been hyping up a "new era" for so long. Fans finally got what they wanted and the new design is very reminiscent of a cathedral which is fitting since many dedicated hardstyle fans are religious about this music. It might also be a nod to one of the most popular hardstyle tracks out there, "Our Church" by Headhunterz and Sub Zero Project.
The new stage made for tons of epic moments like Headhunterz playing "Destiny" or Sub Zero Project playing out "The Darkest Hour." The church-like design made the DJ feel like the most important piece on stage with all eyes and ears directed on them – and the production was top-notch complete with all the lasers and smoke machines your heart could desire. The indoor stage even had lights coming in from the roof to make it look like light was bleeding in. Every moment looked beautiful, and I hope to see this stage outdoors at a festival like EDCLV so they can throw in some pyro and fireworks in the mix.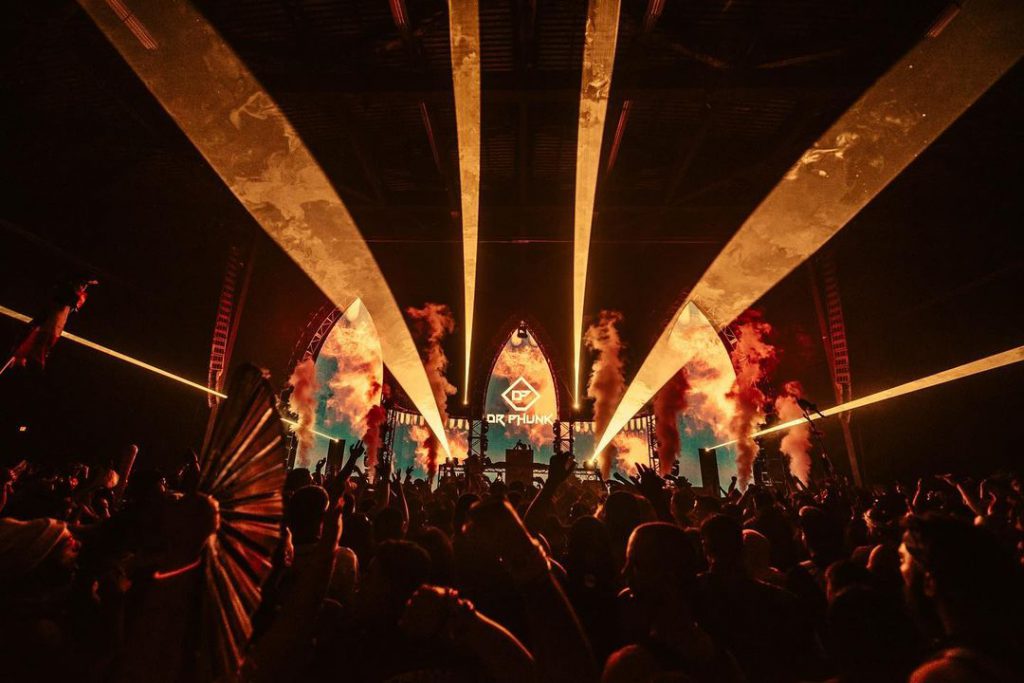 The new stage was beautiful, but it would've been nothing without the incredible performers on it.
The Basscon Wasteland lineup was a good mix of homegrown artists and top artists from Europe, and this made for the best opportunity to showcase the many different styles of hard dance music. There was a set for almost every subgenre of hard music like the bass/hardstyle hybrid of Talon, the euphoric melodies of Headhunterz, the brutal rawstyle of Warface, and the high-octane beats of DJ Mad Dog.
There were too many sets to talk about individually, but there were a few standout performances that I greatly enjoyed. Warface absolutely stole the show and gave the best set of the entire weekend. He started out his set with a crazy dubstep tune before transitioning into his signature raw kicks that punch you in the face. In the middle of his set, he cranked back the tempo and dropped the future house bit from his newest release, "Sensory."
Warface also had a sit-down with the crowd where he played the slowed-down part of "We Always Rise," the three-way collaboration between Warface, Dither, and Deadly Guns. It's rare to see hard dance DJs from Europe throw in different styles like dubstep and future house, so this set was quite a treat for fans, and it showed that Warface isn't your average, cookie-cutter hard dance DJ.
The only person that could follow up such an insane set was none other than Headhunterz.
Headhunterz played lots of his recent releases, but I'm a sucker for the classics. Getting to scream "DEF… QON… 1!" in the crowd during "Scrap Attack" was one of the most epic moments of the night and I can't wait to hear it at the motherland in the future. There's something special about the melodies Headhunterz creates, and "Destiny" is one that I can never get out of my head. Although it was released relatively recently, there's no doubt it's going down as a classic hardstyle record. The lyrics and the melody make you feel powerful and at the same time, helps lift you up when you need it. This was one of the moments in the night where the music made me shed a tear or two.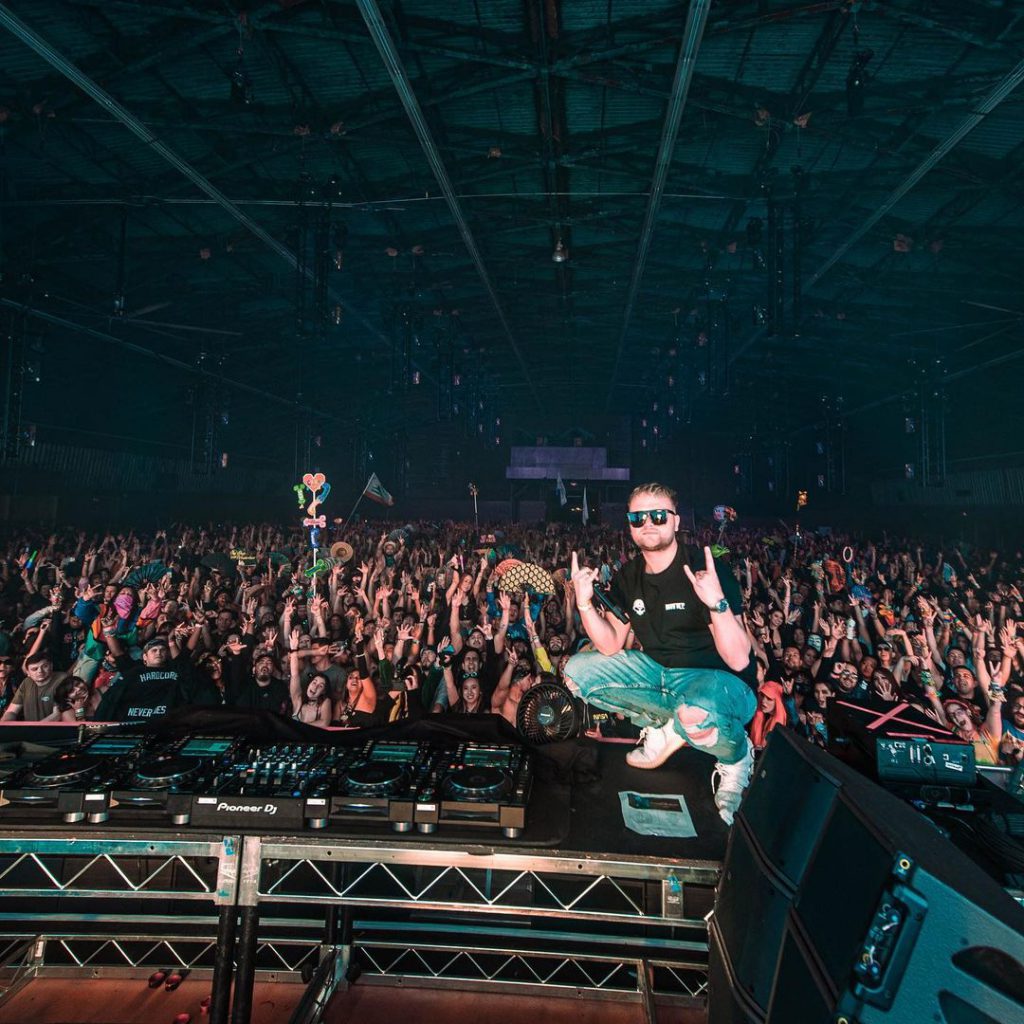 The second day was all about the star power as fans got to see Audiofreq into DJ Isaac into Da Tweekaz into Sub Zero Project.
This run of artists made for quite the party, but DJ Isaac took the lead for the best set of the night for a very specific reason. There are a lot of artists who are either one or the other: good DJs or good producers, oftentimes filling their set with gimmicks and lots of talking on the mic if they are the latter. One thing I absolutely love about DJ Isaac is that he's a great producer and even greater DJ. He can hop on stage and get the party going by only saying a few words throughout, and his set stood out from the rest exactly for that.
The real magic at Basscon Wasteland came from the homegrown artists who were tasked to set the tone for the entire night.
Despite being first up in the night, the homegrown artists had the building packed for their sets, speaking volumes to how much the demand has grown for US-based artists at hard dance events. On the first day, Talon threw down a set showcasing his unique hybrid style, followed by LINK who brought a more classic hardstyle feel to the event. Lady Faith came on right after and although I've seen her many times, she always brings a good time and great tunes to the table.
The second day opened up with HPNOTIC and her euphoric sounds which made for a great introductory set to reel everybody in and prepare for what was to come with the aforementioned epic transition from DJ Isaac to Da Tweekaz to Sub Zero Project. Right after her came Hartshorn who undoubtedly had the best set from the homegrown artists. He was the only artist that specialized in UK/happy hardcore, and it was incredible to see how many people he brought in to hear that style of music. Not only that, but Hartshorn has been grinding for nearly a decade in the scene and if there's anybody that deserved and earned this booking, it's him.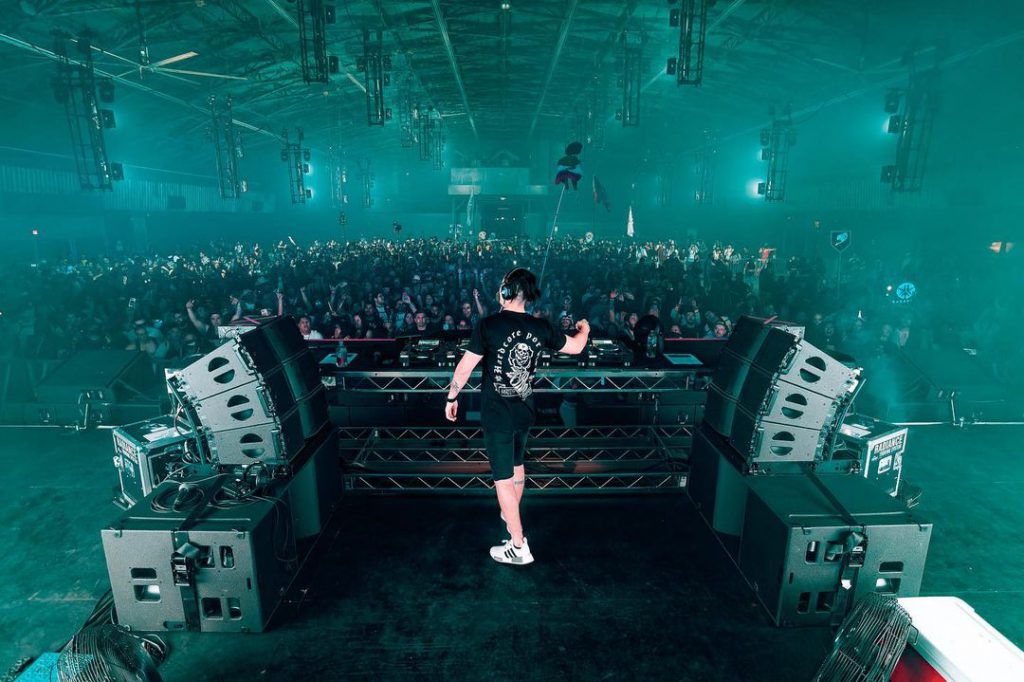 Despite all of the positives of this event, there's still room for improvement.
This year's Basscon Wasteland heavily promoted Sound Rush to be performing, but the duo themselves never acknowledged the show. After getting in touch with them a month before the event, they said they were still working on getting their visas, which didn't give me much hope they'd perform at the event. Sure enough, just four days ahead of the show Basscon announced Sound Rush wouldn't be making it.
It's important to note that it's especially hard for international DJs to get US visas right now, but this isn't the first time this has happened with Sound Rush either. Back in 2019, they were supposed to play Escape: Psycho Circus but announced they were having visa issues on the day of the show, quickly followed by a Basscon announcement and replacement. There could've been better communication ahead of the show this time around, and I hope the Basscon team notifies their attendees of situations like this with more lead time moving forward.
The "new era" of Basscon felt over-hyped and so far it has under-delivered.
Since September of last year, Basscon has claimed that a new era of the brand was upon us. This arrived after they released the first volume of their Recon compilation series in March, which featured some of the hottest rising stars in hard dance. This was an amazing start that foreshadowed the new era and was even followed by a second volume.
The hope for a truly new era was there but fell flat to me with the lineup for Basscon Wasteland. This year heavily relied on talent that has graced the stage in the past, with only five artists making their Wasteland debut and only one, Hartshorn, making his Basscon debut. It felt like it was more of a reskinned edition from the past as opposed to something fresh.
While I understand that this is the premier hard dance festival in the US and that their team wants to give fans the best they can, there could be deeper curation with artists who are experimenting with new styles in the hard dance realm. Perhaps that will begin to be seen more prevalently at their one-off, curated club shows, but there's a vast array of talent to pick from and I hope to see Basscon lean more heavily into diverse, homegrown talent in the future.
This criticism stems from my passion for hard dance and my desire to see this community grow further.
In more ways than one, the American Hard Dance scene is special. This community is passionate and knows how big it could get if it was truly given a chance to shine. Every supporter of this genre is still early and it's safe to say that many of us are going to stick around until we finally see hard dance rise to the top.
Despite the work that could still be done, I can confidently say that Basscon Wasteland completely revitalized and rekindled my love for hard dance music and the community. Every single person I met was genuine and honest about their support for the music, and it's pretty rare to find that nowadays. So maybe "new era" is just a phrase to get some buzz from Basscon, but the one thing I can be sure of is that the fans of today are the new era of tomorrow.
---
Follow Basscon on Social Media:
Website | Facebook | Twitter | Instagram | SoundCloud | YouTube