With the new year fast approaching it is time once again to take a stroll down memory lane with EDM Identity's favorite moments of 2019!
---
The dance music scene has offered us a safe space to be who we want to be, free from judgment and packed full of sensory stimulation and fun. There is nothing that we here at EDM Identity are more passionate about than traveling the globe in search of the special moments that define the unique essence of our beloved scene. It is what we live for.
These are the moments cultivated from the magic of honest human to human interaction, eye-opening displays of hand made art, and soul igniting sound waves served up by all who have dedicated their lives to the groove. These moments are profound in the sense that they give us an opportunity to let go of everything weighing us down so that we may find true happiness in this crazy world around us.
While we may hold each and every experience near and dear to our hearts there are some moments that will stay locked in our memory bank for the rest of our lives. So, join us as we relive our favorite moments from 2019 and be sure to fill us in with your favorite moment in the comment section!
EDM Identity's Favorite Moments of 2019
---

Maria's Moment – Gifting Sacha Robotti with sloth swag during his Slothacid Atlanta show
To understand my favorite moment of the year we must first rewind back a couple of months. This past October I was determined to show some love for my favorite sloth king, Sacha Robotti, and gift him with a couple of sloth stuffed animals during his solo set at this year's Dirtybird Campout. Alas, I couldn't make it happen as there was just too much happening for me to even attempt to catch his attention. Fate would have it that Sacha Robotti would soon be making his way over to my city of Atlanta, Georgia with his open to close Slothacid Tour in promotion of his brand new label!
Fast forward to December 13 and I was ready to lose my mind on the dance floor with five full hours of Sacha Robotti! With stuffed animals in tow, I worked up all of my courage and made a beeline straight to the DJ booth as soon as I arrived. There was only a handful of people on the dance floor since it was still fairly early so it was easy to catch his attention. What happened after that was nothing short of magical! He graciously accepted my gift and perched them up on the DJ booth for all to enjoy!
From that moment forward we embarked on what would end up feeling like a private show due to the crappy weather that seemed to keep people away. Very intimate, yet incredibly intense, you could find me running all over the venue fanning fellow ravers and living my best life as I danced with my beloved friends.
Towards the end of the night, my year would reach the peak of amazing when Sacha Robotti came down and had a chat with my hubby and I. While we all embraced in hugs, my heart began to pound and my soul felt fuller than it had ever felt before. This was a true fangirl moment that I will never forget.
---

JSkolie's Moment – A Magical 18 Hours in Ibiza w/ Above & Beyond
Early this summer, with a calendar already filled with fabulous events, there was an oddly timed announcement: Above & Beyond and Armin van Buuren would play a single show in July at Ushuaïa in Ibiza. Much of the Ibiza summer calendar was already locked in, and most American party-goers had already booked their Ibiza trips. Something told me that this was going to be an epic party and that it wouldn't sell out due to the odd timing. I needed to be there.
It was a totally crazy plan: use airline miles for a free flight, chill on the beach for a few hours, do the Ushuaïa show from 5pm – 11pm, jet over the DC-10 and dance till dawn with the legendary Carl Cox, and catch my return flight. No sleep, no hotel. Oh, and land back in NYC with just enough time to shower before a ten-hour Anjunadeep Open Air show in Brooklyn. Piece of cake, right?!?
Well, my instinct was correct – this was both totally insane and absolutely worth it. I was able to ride the rail for Above & Beyond and, of course, met a bunch of new Anjunafamily members along the way. The magical moment was when I was spinning around to fan a cool breeze on those around me and when I was facing the boys Tony pointed at me and gave me a pumping hand heart. My absolute favorite frame of 2019! (You can read the complete story here.)
---

Lisa's Moment – Witnessing the ASOT Tomorrowland broadcast LIVE and meeting Ruben de Ronde!
2019 was a breathtaking year full of great music and adventure for me. I got to revisit festivals like Tomorrowland and Electric Zoo. As Tomorrowland celebrated its 15th Anniversary, it was amazing to see what had changed during my second time there, as well as to see the inner workings of the event.
I explored the residential area that is right next to the venue and found out how wonderfully supportive the neighborhood is of the festival and the patrons. With this year's return to the Book of Wisdom theme, they brought back the stage designs of past events as well as an orchestral musical tribute to some of the biggest electronic tracks with the Metropole Orchestra.
But, of all the moments at the festival, my favorite was being in the Tomorrowland ASOT studio with Armin Van Buuren and Ruben de Ronde as they hosted the ASOT Tomorrowland show. I have been A State of Trance listener for the last five years and seeing the show live in front of me felt like a dream come true. It was amazing to see how quickly they move through each segment with everything being done all in one take.
As Armin Van Buuren left the festival studio to get ready for his two sets that night, Abisola and I were lucky enough to take a photo with Ruben de Ronde and chat with him a little bit. It was a once-in-a-lifetime experience that I won't be forgetting anytime soon.
---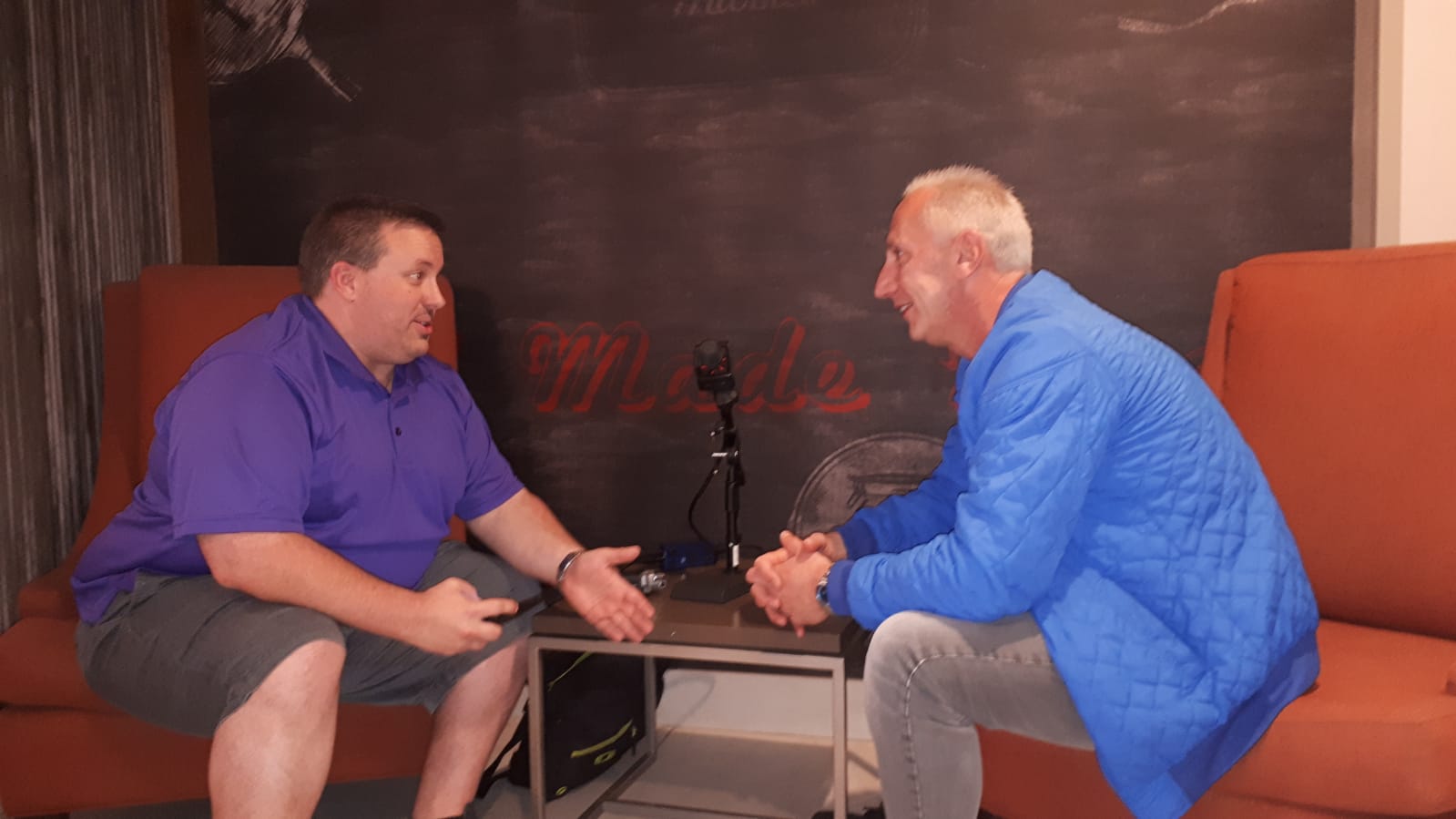 MyStro's Moment – Interviewing My Idols
While I laid pretty low this year – no major festival madness due to other life plans – I kept my focus on honing other skills in the industry. Most of my focus was helping our growing trance scene locally – big Lucent nights and the small one-offs local promoters – including performing with some world recognized talent with international friends in attendance! I tried to maintain other creative efforts that were personally meaningful but life got in the way their too.
That said – I had some amazing opportunities to interview some of the legends I grew up with in the scene.  First was the unique chance to interview GAIA after the release of their album Moons of Jupiter in what's still an in-depth EDM Identity exclusive. Arranging meaningful questions sparked a fire in me to dig deeper than the superficial that tends to bubble up when creating questions.
The next draw out of the bag for me came with Dreamstate SoCal. After some reaching out to two artists on the lineup, I was fortunate enough to get arrangements in place to perform both interviews. The first was Johan Gielen – the man best known as Mr. Trance Energy! It was a pleasure to sit down and discuss the worldwide appeal of his trance sound.
The second, well, involves a unique taste that we're still slotting into the schedule here, but I cannot wait to have everyone read it.  So while the year was a quieter one for me, I creatively still feel I accomplished so much!
---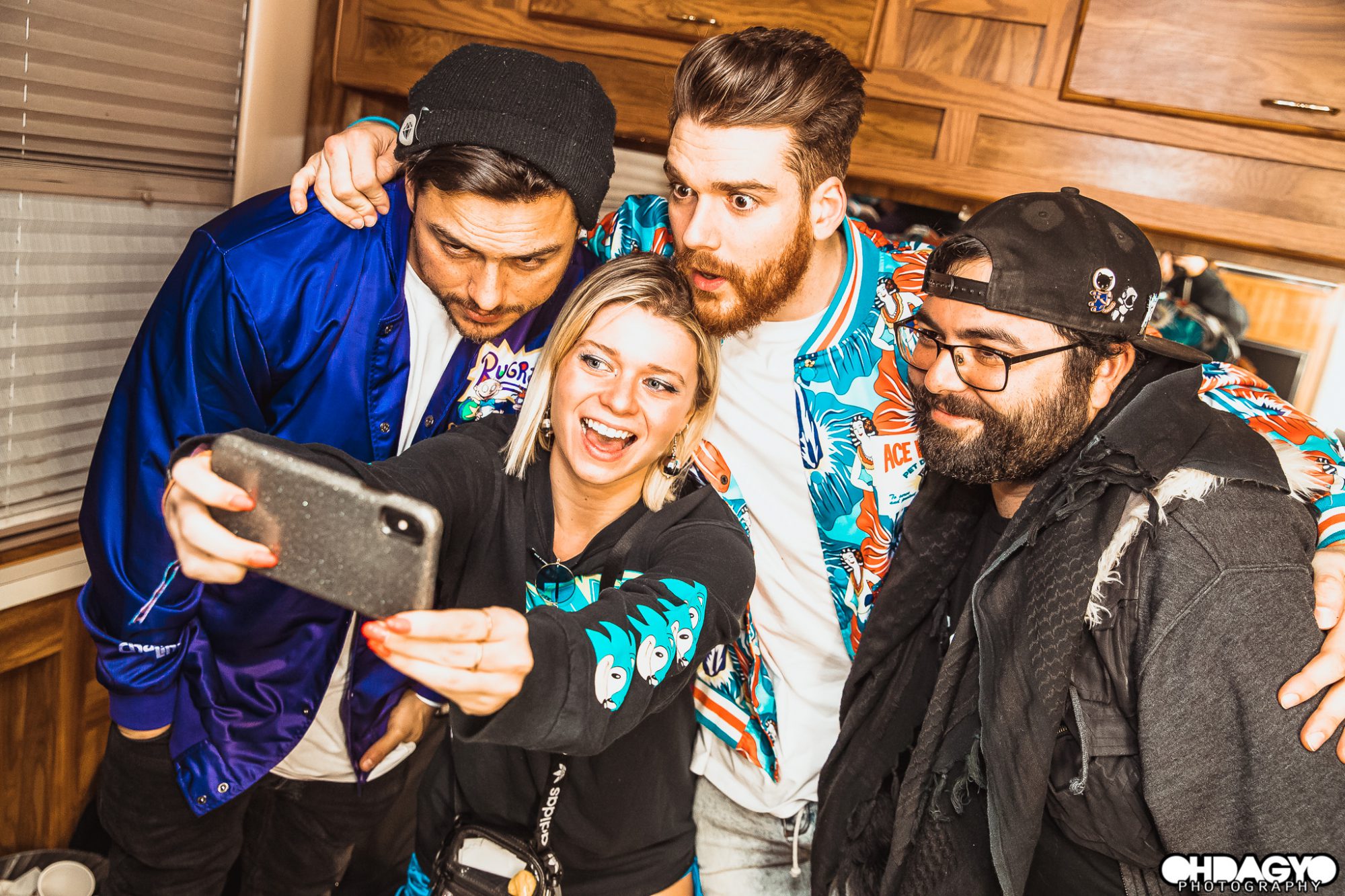 Sydney's Moment – Interviewing Adventure Club at EDC Las Vegas
Although I'm sure everyone can agree that 2019 certainly had its hiccups, it also was one that marked many milestones for me. I had the opportunity to attend many festivals for the first time that ultimately ended up being new favorites like Splash House, CRSSD Festival, and Insomniac's Secret Project.
My favorite memory, however, was at EDC Las Vegas, which I have attended in the past but got the chance to experience in a new way this year. 2019 was the year that Grant and I tackled covering this beast of a festival and however challenging, the weekend was packed with unforgettable moments.
There was one highlight that stood out among the rest of EDC Las Vegas madness, however. As a long-time fan of Adventure Club, interviewing them ahead of their Sunday night set was an experience I still can't fully believe actually happened. If someone had told me just a little over three years ago when I first started writing for EDM Identity, that one day I would interview two of the artists that first got me into electronic music, I would have laughed in their face!
Now, with that interview to look back on, 2019 has certainly set a precedent for next year. Although 2020 has a lot of great memories to live up to, I can't wait to see what new experiences and bucket-list accomplishments it brings!
---

Raven's Moment – Becoming an i_o stan
Sometimes it can be difficult to step out of your comfort zone, especially when it comes to new music. I'm guilty of listening to the same artists over and over again. This year I pushed myself to switch things up and check out new artists. In March, I was attending Beyond Wonderland SoCal. The lineup was stacked with the usual suspects—Rezz, Armin van Buuren, deadmau5—and a bunch of talent I didn't recognize. So, I decided to check out all the artists I didn't know.
Honestly, it wasn't fun at first, it was actually pretty rough finding artists who jived with my vibe, but that all changed when I listened to i_o. Words can't describe how quickly I fell in love with his music. The first track I heard was "Let Me Go," a collaboration track with Tommy Trash, followed by "Low," and "Bad Things," a collaboration track with No Mana. I couldn't stop listening to his music and went through his entire discography. It was imperative that I check out his set at Beyond SoCal.
Fast forward to Beyond SoCal, and I missed his set because my rave family is allergic to arriving at events on time. And then at EDC Las Vegas, I missed his set because of the traffic. I started to believe the universe was against me and I'd wouldn't get the chance to see him. Luckily that all changed in August.
My favorite moment of 2019 was watching i_o at Halcyon in San Francisco. The venue was small, intimate, people were shuffling, and i_o smoked an entire pack of cigarettes during his set (if you know, you know). He had just released his House of God EP, so I got to hear "Possession" and "Come with Me." For hours I was immersed in his industrial style. I danced my little heart out during "Death by Techno" and his remix of "Alchemy" by Above & Beyond. It was truly a special evening, an evening I will never forget.
---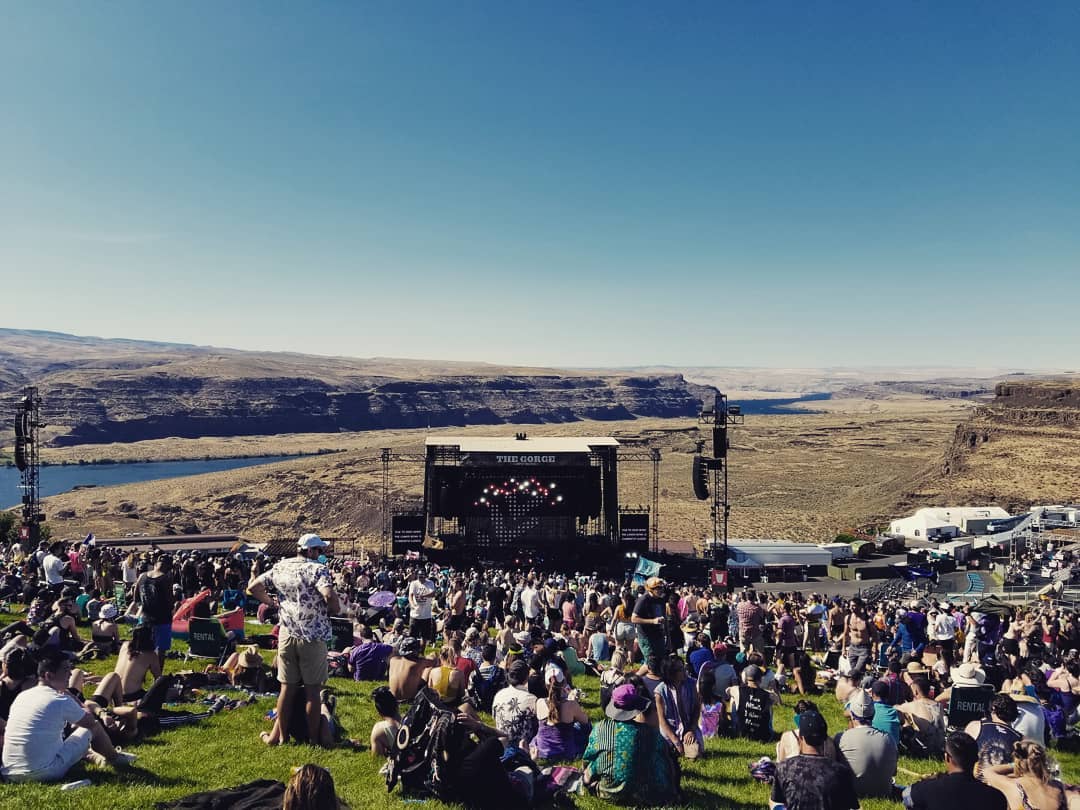 Grant's Moment – Returning to The Gorge for a dose of Group Therapy (Weekender)
This year has been a whirlwind of emotions, moments that brought me to my highest highs and lowest lows, and was filled with experiences that I will carry with me for years to come. I had the chance to attend new festivals I hadn't been able to check out yet like EDC Orlando, returned to some of my favorites like Coachella and EDC Las Vegas, and started plotting my next moves for 2020 as well.
It is truly difficult for me to say there was just one "moment" that was the most memorable because I was blessed to be able to accomplish so much this year and share so many memories with so many friends. But if I have to pick one of the many moments, it would be Group Therapy Weekender because that was an experience that was absolutely sublime.
I can gush about the amazing sets, the fact that it was such a seamless experience from start to finish, or the beauty of The Gorge as a whole, but that's not the main reason why I loved it. No, the biggest reason was that throughout that entire weekend I was surrounded by some of my best friends as we spent time getting to know each other better, laugh until we were crying, and finding out who was the fastest person that could chug a White Claw out of a Flabongo.
I'll never forget that weekend and that's a good thing because I also rarely took my phone out to even take a picture or video the entire time. I guess that's a positive sign in this day in age, right? 😉 Anyways, I can't wait to return and have another amazing experience with some of my favorite people and artists. See you all next year because we've got plenty more to do before our return to The Gorge in 2021!
---
Connect with EDM Identity on Social Media:
Facebook | Twitter | Instagram | SoundCloud | Mixcloud | YouTube