Electric Zoo: Evolved brought stunning sets from Dog Blood, Eric Prydz, Seven Lions, and a record-breaking attendance for another massive edition.
---
Last year, Electric Zoo celebrated its 10th anniversary in style with a huge crowd that surpassed over 100,000 attendees. This year, the festival continued its strong growth with even more dance music lovers descending upon the festival to dance away all weekend long. The increase in attendance was due in part to the good weather that the festival experienced. Past editions of EZOO have suffered from severe weather conditions that have caused sets and even entire days of the festival to be canceled, but this year it was clear and sunny!
While good weather played a part in the increased attendance, the other part was definitely the massive lineup that was featured this year. Electric Zoo has always been known to curate great lineups, and this year brought a bit of something for everyone. From the house music featured of the AMF stage and the progressive vibes of the Pryda Arena, to the hard-hitting basslines of the Ophelia Records takeover of the Riverside stage.
Those who headed to EZOO this year witnessed a ton of massive sets this year that included a b2b between Borgore and DJ Diesel as well as the return of Boys Noize and Skrillex performing as Dog Blood. There was no shortage of good music at Electric Zoo this year and the experience definitely left a positive impression.
While there was a wide variety of music to choose from, my favorites this year were the variety of artist-curated stages from Eric Prydz' Pryda Arena to Seven Lions' Ophelia Records.
I spent most of my Saturday at the Pryda Arena listening to Cristoph, Yotto, Joris Voorn, and Eric Prydz. While I liked Prydz's mainstage set the day before, his set at the Pryda Arena was insane and riveting as he played for two hours. While no Prydz set is without IDs, he did play a variety of Pryda tracks from "Vega" to "Niton (The Reason) (Pryda 82 Mix)".
Other than Pryda tracks, he even snuck in a few Cirez D tunes to wow the audience and give them a view of green lasers as they were pummeled by techno. With one song left to go in the set, he played his private remix of M83's "Midnight City", the perfect song symbolizing the magic city of New York.
While the Pryda stage was my favorite for Saturday, I lived at the Ophelia Records stage on Sunday.
It's no secret that I am a pretty hardcore fan of Seven Lions so when it was announced that his label would be hosting a stage I was through the moon with excitement. At the festival itself, it was clear that I was not alone in this excitement and soon found myself among other Seven Lions fans throughout the day at the event.
Featuring artists who had collaborated with him on previously released tracks, it was great to see some of my favorites take the stage over the course of the takeover. It's worth noting that it was curated to bring a diverse range of styles to the festival with a range of genres from psytrance and progressive house to bass house and melodic dubstep being featured.
Glancing backstage, I couldn't help but notice a sort of familial vibe coming from everyone who was behind the scenes. Seven Lions was hanging out, watching each act go on before his and other artists got on the mic to thank him for asking them to come to the event. During the Seven Lions' set the other artists would join Seven Lions on stage when he played their collaboration.
My favorite set from the Ophelia Record stage came from Dabin.
I love how Dabin brings out the emotional side of melodic dubstep with the songs that he makes and plays. Combined with beautiful music, live guitar, and colorful visuals, Dabin captivated the crowd and made us feel when he did a mashup of his song "Alive" with "First Time", his collaboration with Seven Lions, Slander, and Dylan Matthew.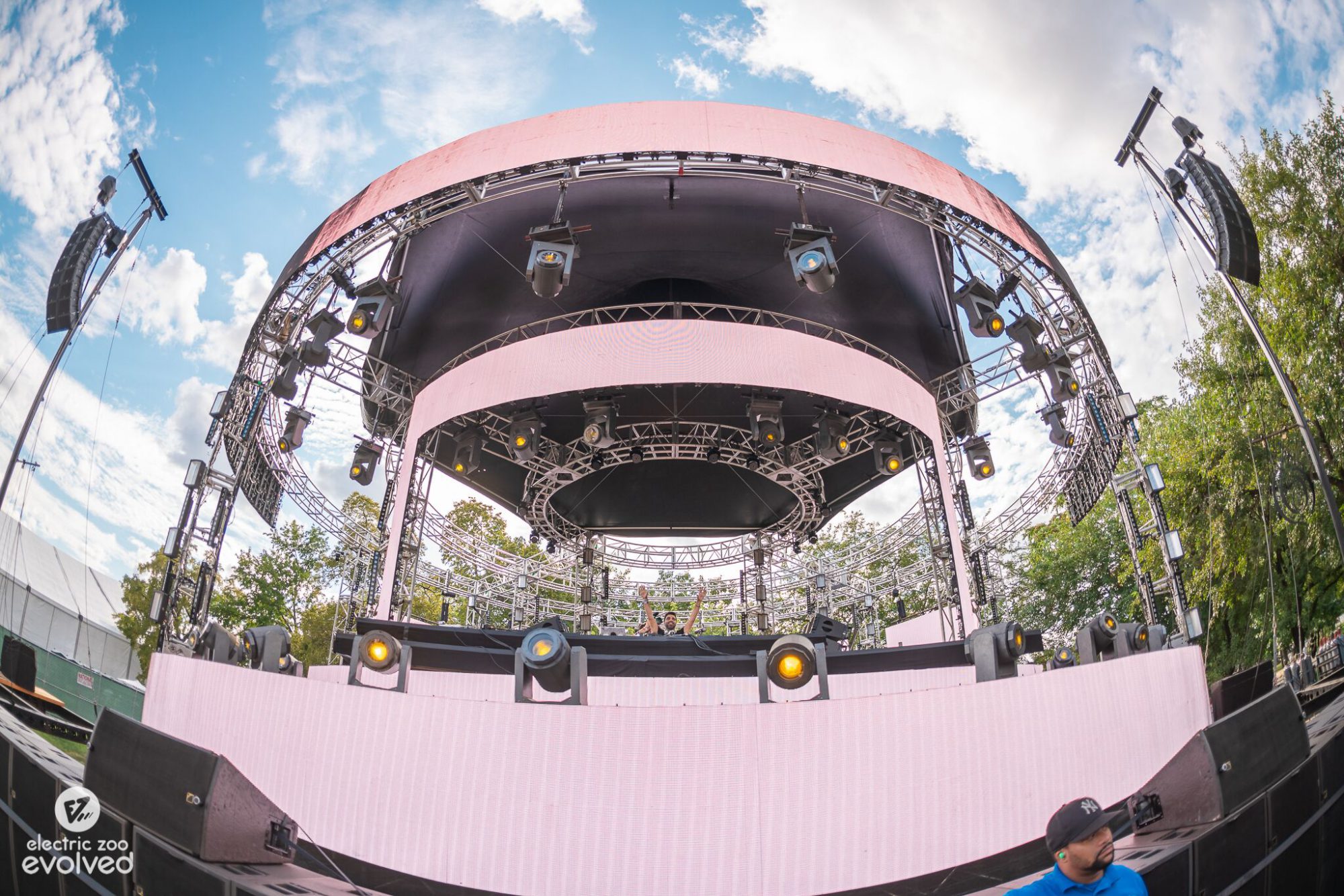 Aside from the amazing music played at EZOO this year, there were a variety of thoughtful vending and sponsor booths.
With this being a summer event, I appreciated the festival offering very reasonable $6 Red Bull slushies to keep patrons cool from the humidity and heat. For those looking to get drinks at the bar, they offered cold Heineken or Tecate in 16oz cans for $11 and the bars rarely had lines of over three people. It helped that they offered 21+ cocktail gardens for those looking to get drinks with hard liquor. Due to the drink-making process, those lines were long but the festival compensated the wait with a nice trailer bathroom and a handful of port-o-potties.
Festival food tends to be expensive no matter which event you attend and prices were definitely standard at EZOO. With New York pizza so readily available near my hotel, I opted to eat a large meal before going to the festival. However, I did love how the festival had two sweet sponsors: Sour Punch and Darrell Lea. Both frequently gave out a significant amount of candy to keep attendees pumped full of sugar to burn off while dancing.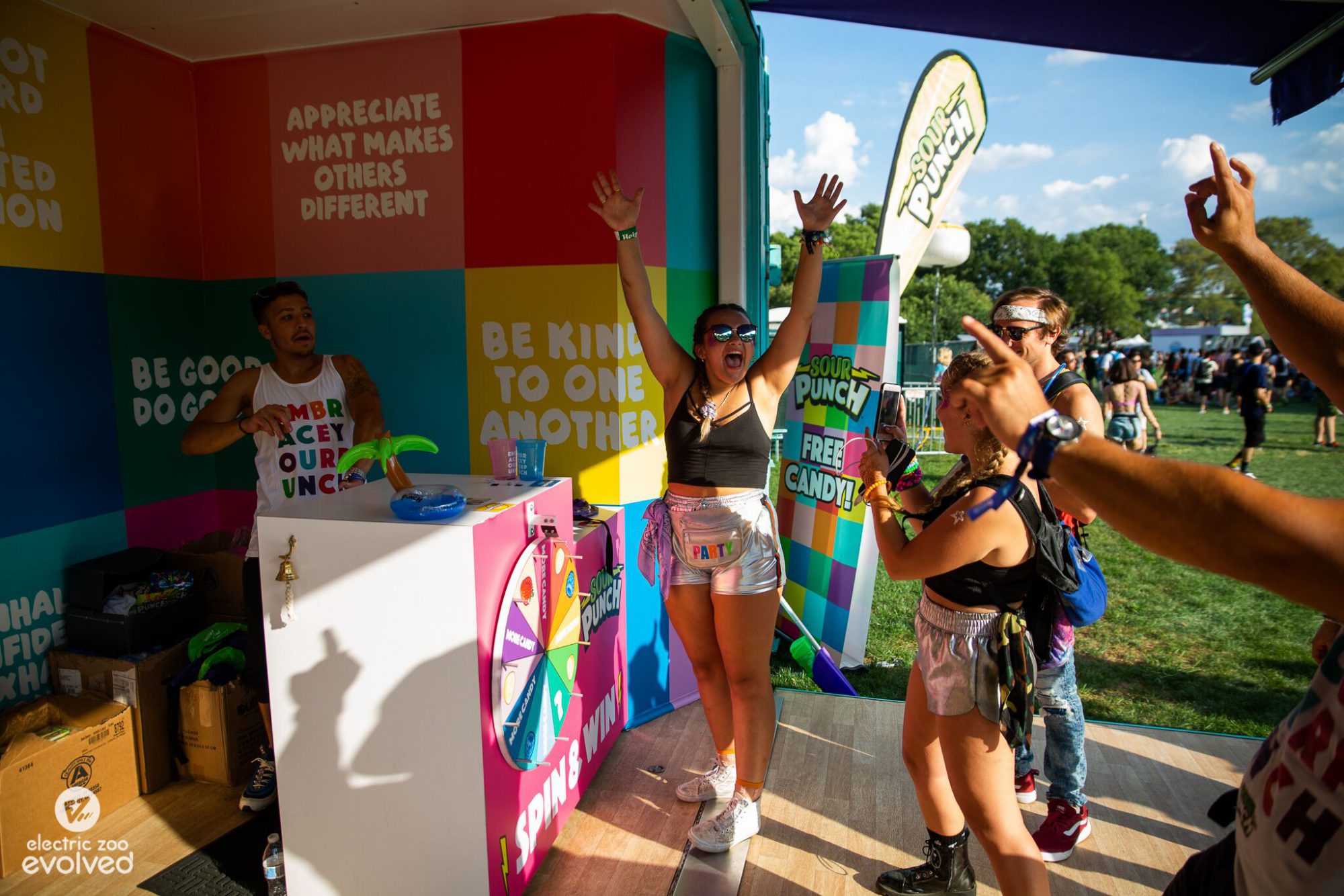 Something else that made Electric Zoo stand out was the cashless vending.
Sadly we live in a world where pickpockets find their way to festivals, so it was great to see Electric Zoo move forward with cashless vending. Attendees were able to "top up" at the event or on their phone via the Electric Zoo app. Based on my experience, the cashless system ran flawlessly with no internet issues affecting the vending. You could look up the charges on the wristband to ensure that none of the vendors overcharged you or if you double paid. I found the system very safe and easy to use and hopefully, other events can incorporate the same system at their events.
As a T-Mobile user, I was able to access the special T-mobile viewing deck near the mainstage and entrance to the festival.
For the first day of the festival, I enjoyed watching Kaskade, Diplo, and Eric Prydz from the second floor for a fun, elevated experience. The special viewing deck also sold beverages, had a kandi station, and on Saturday, Above & Beyond had a special meet and greet from 7:30-8:30pm. This experience was something that really stood out and one that I hope to see continue at other festivals as well!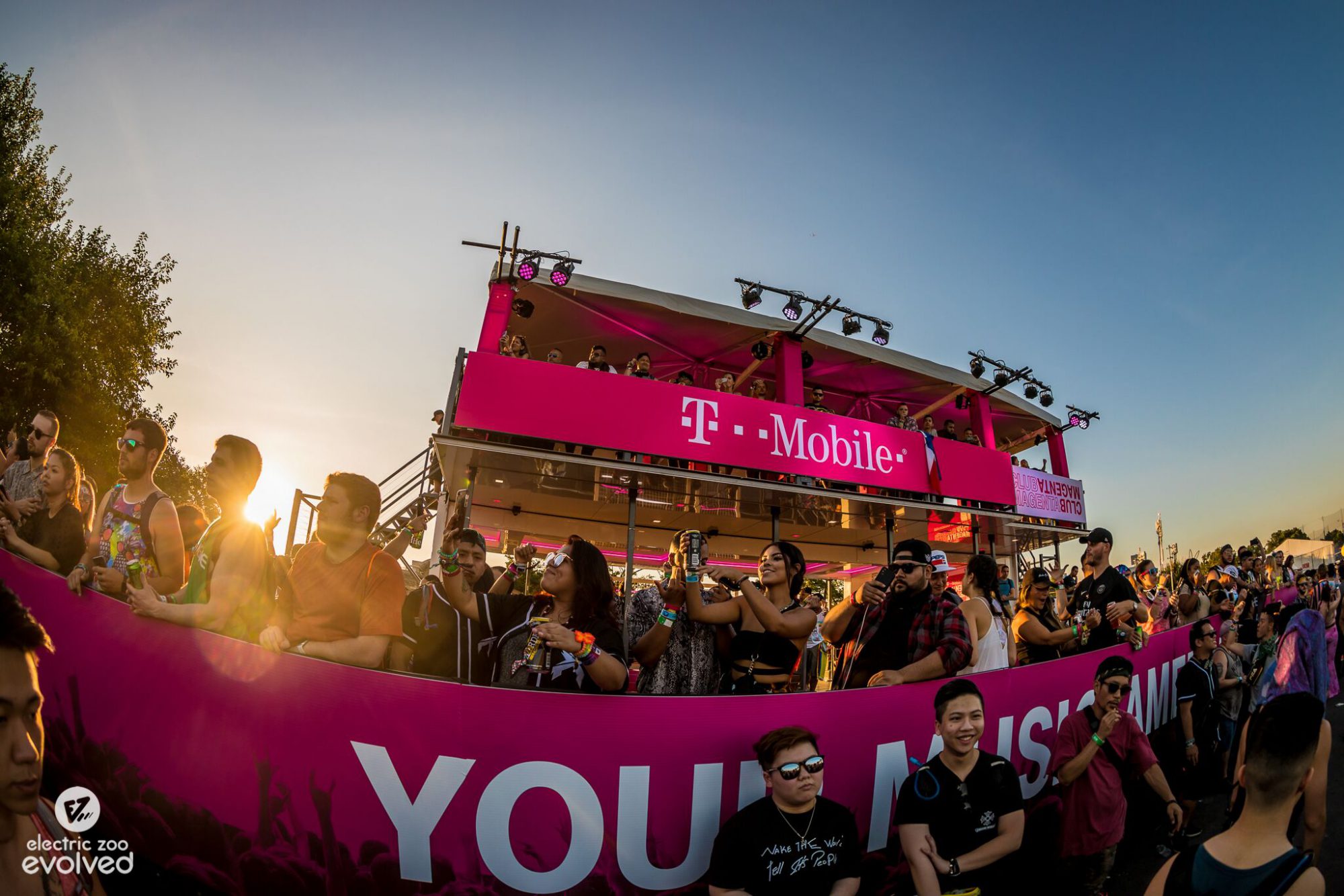 While Electric Zoo knocked it out of the park in some areas, it did have a few flaws with long lines at water refill stations and security issues.
Festival organizers made the right call to have two water stations but the fact that they were faucet refill stations that were unmanned was not the right choice. Once people started coming into the festival after 3pm though, the lines for water refills were horrendous. My boyfriend ended up waiting for 45 minutes to refill his CamelBak due to the "mobbing" of people at the water stations. People were constantly pushing to get to the faucet since there were no lines to manage entry and exit from the station. It was a mess!
Next year, Electric Zoo should add a third water station or bring in some volunteers to man them. Even barricades to help with line organization for attendees getting water and exit quickly would be an improvement. I did like their attempt to remedy the water station situation by offering free water bottles at the help point. However, this quick fix wouldn't have been needed if they had organized the water stations a bit better.
After the festival, a number of patrons posted their stories about their run-ins with security at the festival. 
These stories ranged from people being denied from entering or held up for no real reason to interactions with the security members with drug dogs who were "hitting" on those in line who didn't have anything on them.
From my experience, I did see drug dogs at both the East and West Gates and the experience was definitely odd. While the procedure may have been standard for how that company searched, it seemed off that the handler was directing the dog to sniff certain areas instead of letting the dog search for themselves. Hopefully, next year's security team will be more experienced than the ones who were hired this year because protecting attendee safety is important.
In response to these claims, the Electric Zoo team did release an official statement on their social media platforms:
Please see attached below for full statement

We remain proactive and dedicated in protecting our attendees and ask that anyone with first-hand knowledge of any such incident contact us at [email protected] pic.twitter.com/FZzkGPhy1V

— Electric Zoo (@ElectricZooNY) September 5, 2019
Another issue I saw at the event was the East Gate being overwhelmed by attendees.
This resulted in people crowding at the ID checkpoint and confusion on where the end of the line was. As well, a lack of any sort of barricades made it difficult for those with VIP wristbands to make it past the crowd to use their expedited admission. In the future, they might want to expand the East Gate checkpoint to meet the increase in traffic, since it is responsible for attendees coming from the shuttles, rideshares, and buses.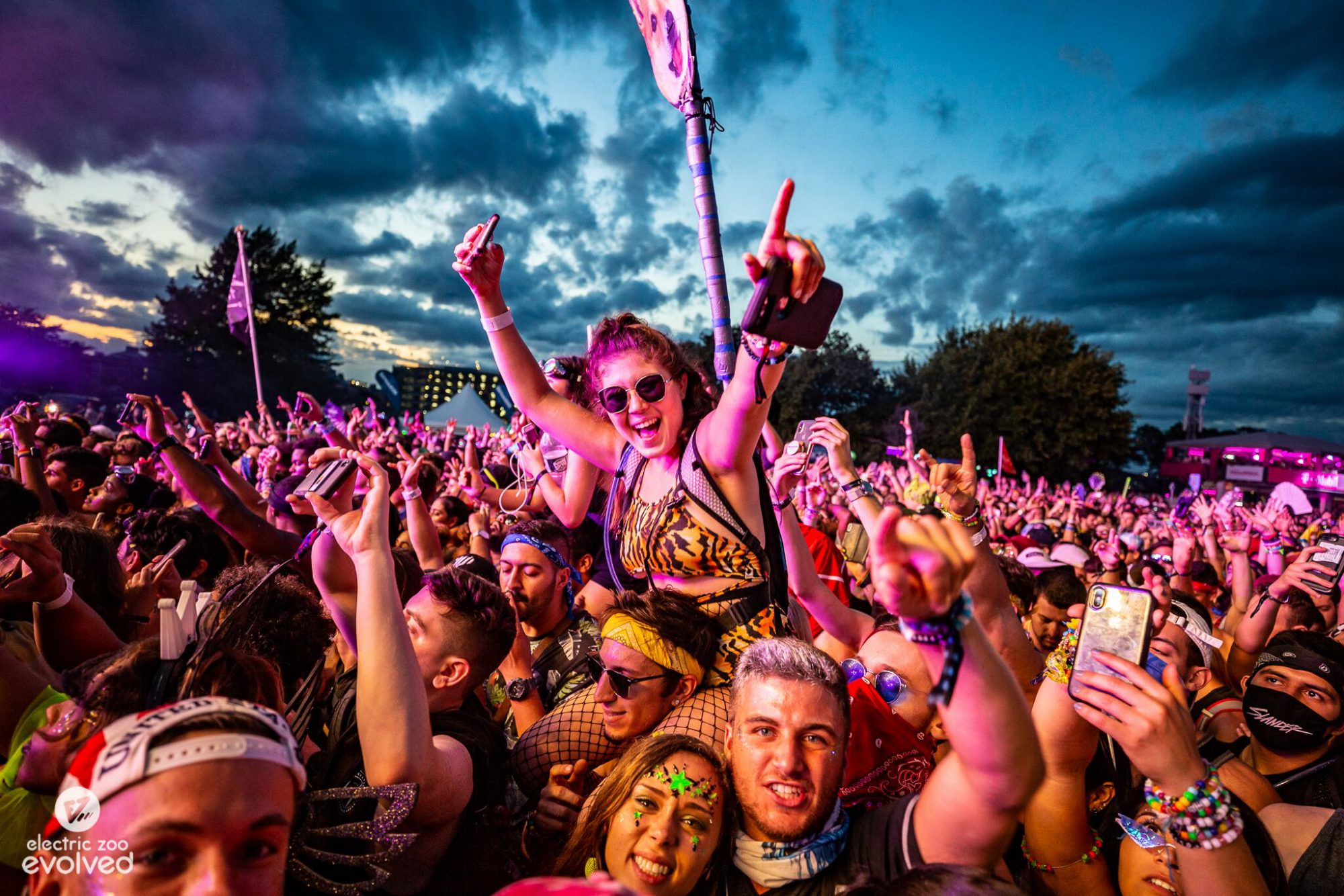 Overall, I had a fantastic time at Electric Zoo this year and would definitely come back to this festival in the future.
I can see the demand for EZOO continuing to grow as electronic music lovers search for a good time over Labor Day Weekend. Not only that, but EZOO operates in one of the most famous cities in the world, and who doesn't want to go to New York City to explore its rich history and culture while checking out some of the hottest acts in electronic music?
Assuming the weather conditions that we experienced this year keep coming back and the lineups pack a punch, the sky is the limit for this festival's success. Keep an eye on their socials for the upcoming Electric Zoo 2020 early bird ticket announcements and don't miss out on next year's edition!
---
Connect with Electric Zoo on Social Media:
Website | Facebook | Twitter | Instagram | SoundCloud