While there is still room for improvement, Dirtybird Campout West proved once again that it is the most lit festival on the circuit!
---
Every year, Dirtybird Campout makes its mark on the scene as revelers of house and techno from near and far convene for a weekend of freedom and fun. This year's edition came with the promise of a few major upgrades including closer festival access for early arrival pass-holders as well as fixing the sound issues that plagued the venue last year. So, as my crew and I loaded up to head to the Modesto Reservoir Campgrounds, all of the "what if's" were far from our minds. We were on our way to experience something magical.
Before I go any further I must make this very clear. No matter the few missteps that were felt throughout the weekend, Dirtybird Campout continues to be the best festival on the planet to me. In my heart of hearts, there is no event that can compare and everything discussed in this write up helps make future editions even more spectacular. If you have never been to Dirtybird Campout, I hope you join us next year for an experience that will change your life.
Related: Looking for some sounds that highlight everything Dirtybird is about? Check out the Dirtybird Campout West 2019 Compilation!
Read on for all the good, bad, ugly, and spectacular as I relive the moments that made  Dirtybird Campout West 2019 one for the history books!
---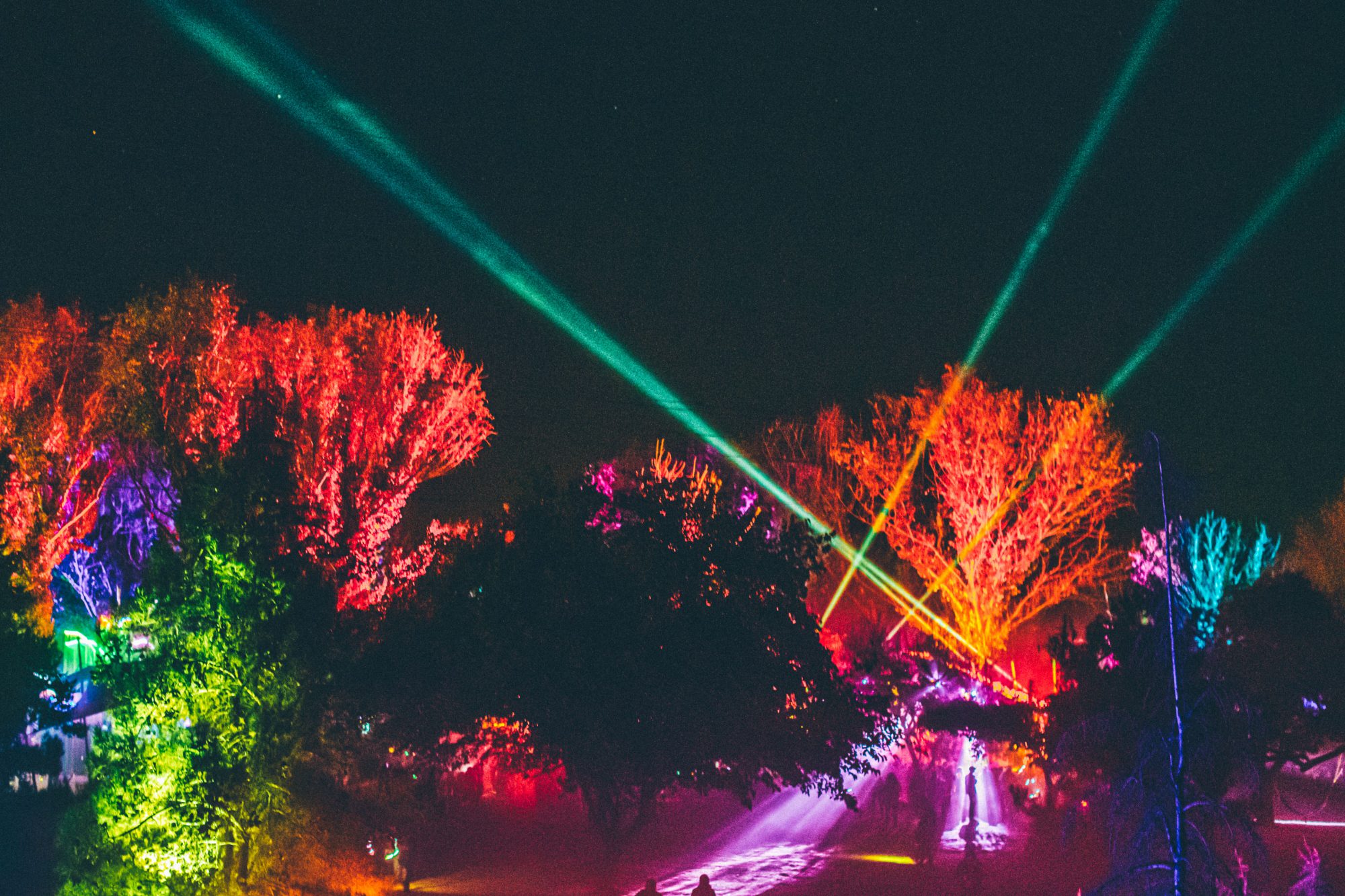 After driving a few hours from the Airbnb we approached the grounds around 3pm and anticipated a quick entry.
When we arrived I assumed it would only take an hour or two to get through security and find our camping plot. But our excitement suddenly took a dive as we were directed to get in line with the massive amount of cars at an almost absolute standstill. One hour turned into two, then two to three, three to four. At this point, a bit of sadness crept in as we noticed that the pre-show was now beginning at 6pm (earlier than had been advertised).
The security checks were tighter than ever before and this was causing a severe delay in getting campers in and placed.
With just three lanes open for searches and paired with the increased number of early arrival holders, there was just no way to handle the influx in a timely fashion. Once we were finally past security there was another wait to get placed in camp. When we were finally assigned a spot around 8pm, we couldn't set up our tents behind us as that was reserved for the emergency lane. So, we were told we had to share a plot with the campers in front of us. It was so tight that we had to wedge our tents in between our cars just to make space for our fellow neighbors.
By the time we had everything set up the pre-show was already over with.
It blows my mind that we could arrive just one hour after gates open to ultimately miss the entire pre-show featuring Claude VonStroke and Tiga B2B Matthew Dear. However, this would not keep us down for long. There were already renegade parties popping up all over the grounds and let's not forget about the Silent Disco kick-off that brought in big guns, Steve Darko and Black V Neck. We were ready to immerse ourselves in the Campout culture more than ever before and quickly, the drama of the day melted away as we danced to our heart's content!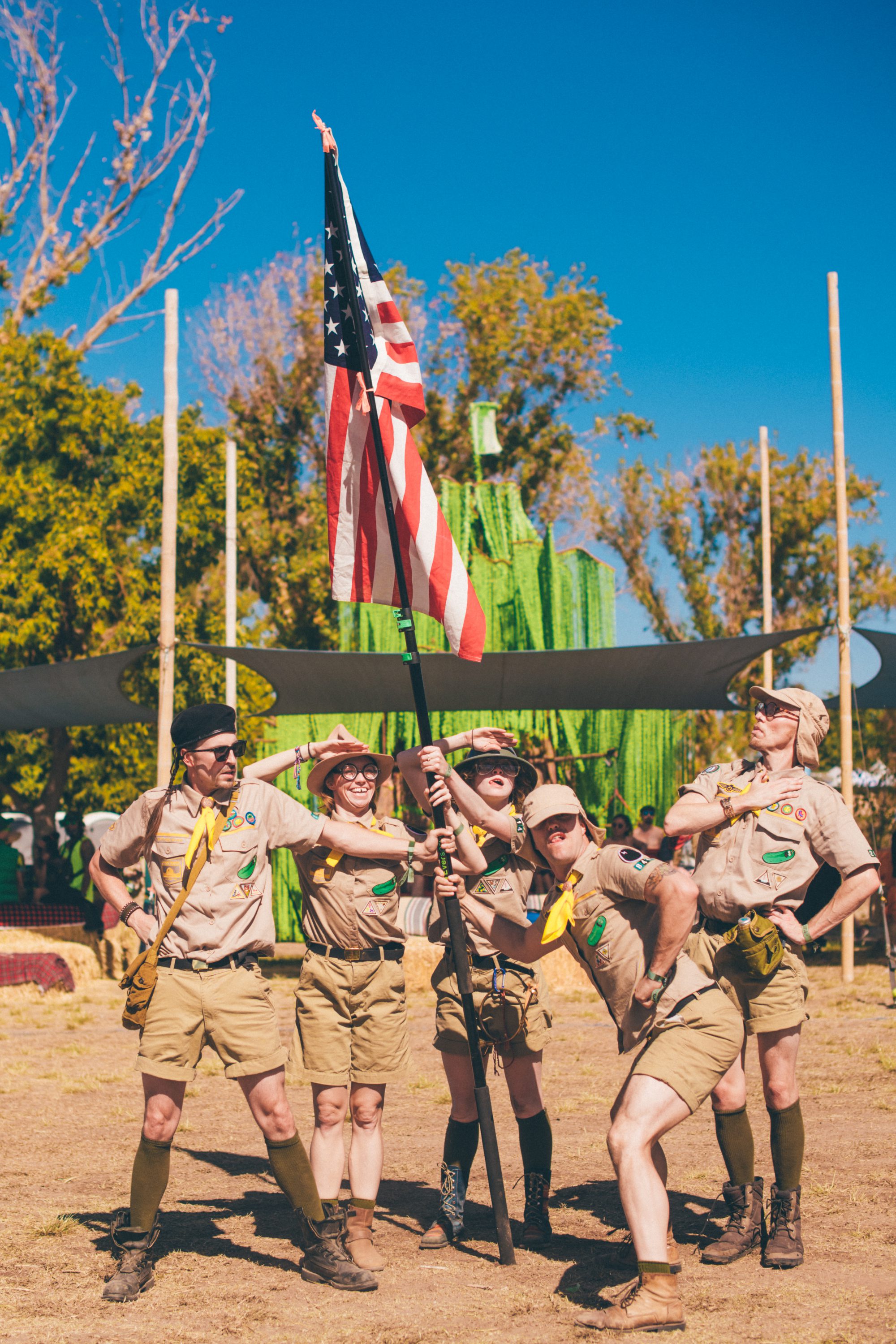 With the dawn came the raw anticipation for a weekend fueled by festive beats and heavy-hitting basslines!
Making a beeline straight to the Birdhouse we had to figure out what was happening to the lineup as the set times had shifted by an hour. But, once everyone figured out the new time slots all that flooded through my senses were the incredible upgrades to the sound quality.
Claude was not lying when he announced that they would be going full tilt and I don't think I have ever heard a sound system more crystal clear. Every single quirky detail could be heard as the thumping bass balanced perfectly with the festive melodies. From the front of the stage to the beach that sat far behind the dance floor, you could hear everything.
Now, I can't say that the volume was a perfect win all weekend long because unfortunately on Sunday, the sound system was turned down in what I assume was them dealing with the sound ordinance from the nearby town. As I stretched out under a tree by the beach, would I have been more connected with the daytime sets on Sunday had the volume not been tampered with? Maybe. All I know is that for the closing few sets brought to us by Heidi, Nastia, Shiba San, and the Dirtybird family, this is when we all want to rage the hardest and the loudest.
The only other issue that would rear its head every once in a while is the sound bleed from the Bass Lodge as it was placed closer to the Birdhouse to make for easier access. So, do we keep it there for access purposes or do we move it back to last year's location so that the stages don't affect one another? This is definitely something worth talking about in preparation for next year's edition of Dirtybird Campout West.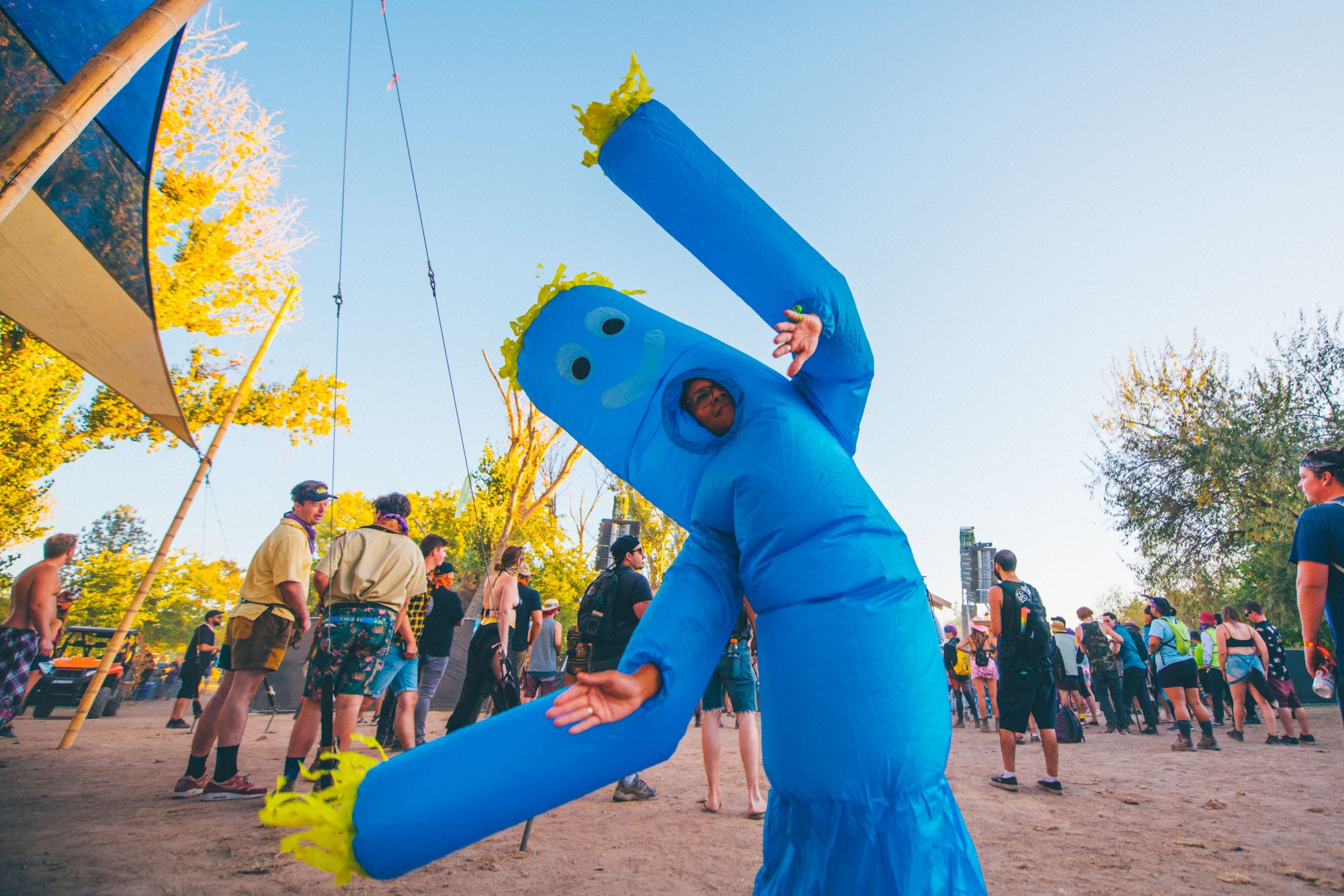 For three glorious days, I found myself fitting in with the wacky, weird, and beautiful flock that I call my true family! 
One of my favorite things about Campout is the bond that we forge with like-minded individuals. There is no hate, no drama, no judgment, and sometimes… no clothes. And that's what truly makes my heart shine. From left to right, front to back, people are exchanging gifts, hugs, kisses, and conversation. Nothing is off-limits.
If you want to run around with a shark and his fellow lifeguards as they dish out the comedic edge, then go for it! If you want to celebrate personal freedom with a group of beautiful drag queens at Claude's Cabin, have at it! If you are drawn to the magical pineapple art car for a sultry dance on the cushiony bedspread, well jump on in! And if you want to get your butt buffed by an actual car buffer, that was possible as well! (From personal experience, that was the best buff of my life!)
From the vast array of happy faces at the gaming field to the wild shenanigans at each stage, the Dirtybird family came with an attitude that could be felt through every fiber of my being. My only wish is that this energy would continue to spill out into the real world. Can you imagine how beautiful and unified this planet would become? It gives me goosebumps just thinking about it.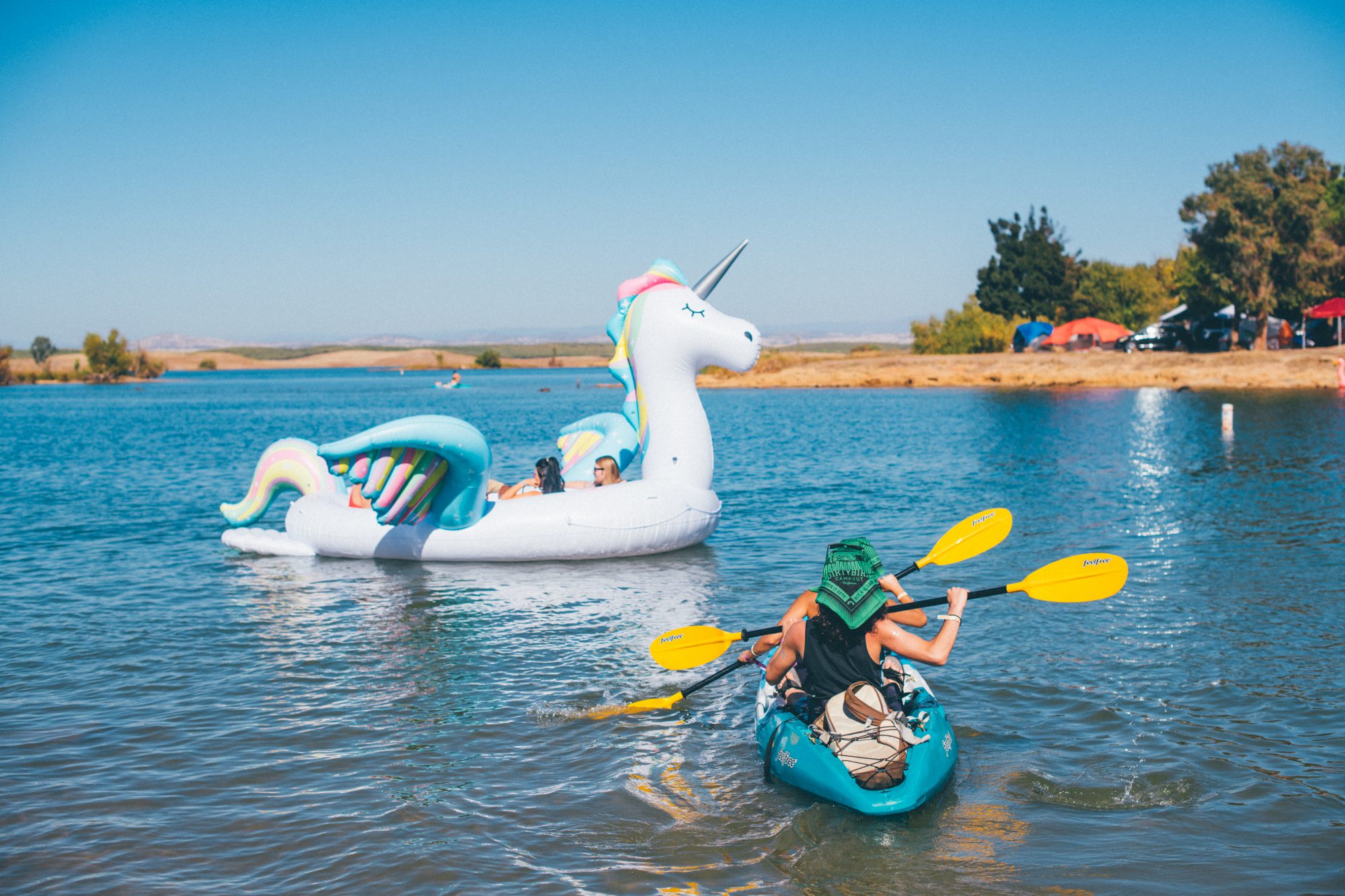 Food, games, relaxation, and everything in-between…..
As with every Dirtybird Campout, I can say that they do a pretty excellent job when it comes to ensuring our satisfaction with a staff that adds to the good vibes. Nestled in a perfect location next to the Birdhouse, you could grab yourself a slice of pizza, rice bowl, or basket of chicken tenders (just to name a few) all the while never missing out on the music.
The multiple bars were also a fan favorite as there was some concern about the fact that bringing in alcohol from camp was restricted this year. However, there was never a time in which you would get stuck in a long line which made all of us a little less concerned with the changes.
When it comes to fun beyond the dance floor, Dirtybird Campout is the master at working our muscles and our brains.
It's the only place that I know of that includes the artists in all of the activities. While I didn't partake in any this year, I took a cruise through the gaming area and saw everything from corn hole and frisbee to archery and arts and crafts. There was also ping pong and even a beauty station. All of which were kept in close quarters under a nicely shaded area to escape the beating sun. And if it fit your fancy, the beach area behind the Birdhouse offered canoeing, paddle boarding, and plenty of room to swim or sunbathe too.
I must also give a shout out to the bathroom situation. The porta-potties were located all over the grounds and it was always easy to find one when you felt the pee-pee dance begin to overwhelm. This has always been one of my biggest pet peeves at festivals; having to go and not a toilet in sight! Dirtybird certainly understands this and included enough porta-potties to keep lines from forming.
And now for the most important piece of the puzzle… the music!
It goes without saying that the Dirtybird brand knows how to hit us right in the feels with an array of talent that seems like they have stepped off of an alien space ship! Things really started grooving when Redlight and Herbert made their mark at the Birdhouse but for me, the world was flipped upside down when Josh Wink took to the stage, delivering jaw-dropping techno mayhem unlike I had ever heard before. From this point on and all the way through Walker & Royce, I felt like a giddy school girl gushing over the out of body experience that this opening night had inspired.
Saturday was stacked with some of the greatest house, techno, and bass behemoths that the brand could muster up.
My day kicked off with a fun-filled dance floor romp with Worthy but once my favorite DJ, Sacha Robotti, appeared on the stage, all bets were off. He was probably one of the more unique sets I heard all weekend, delivering us into a sloth paradise that felt tribal-inspired and incredibly upbeat. With the energy bubbling through the grounds, J. Phlip pulled us back a few notches and Christian Martin really shook things up with an intense bass house explosion.
While I appreciate the inclusion of many different styles at the Birdhouse, the flow seemed a bit confused as after getting blasted by Christian we dove back into the more uplifting techy side of life with Ardalan, Justin Martin, and Claude closing out the night. Maybe if Sacha had been given a later time slot after J. Phlip it would have helped to smooth out the style transitions a bit. I like to start with the more melodic/downtempo stuff and then build from there, but this was just minor and bred from my own musical taste. At the end of the day, each and every act truly came prepared with their best!
Sunday was the day I was looking forward to the most as there were so many artists that I haven't had the chance to see live before.
Names like German Brigante, DJ Glen b2b Bruno Furlan, Heidi, and Nastia, were all high on my list of must-sees and many of them truly shook my world to the core. Now, I had mentioned earlier that the sound had been dialed back quite a bit on this day and so it was up to the crowd to make the best of our final day at the Modesto Reservoir. And holy moly, did we turn it out! Heidi and Shiba San were by far my favorite acts of the night and as I looked around at the madness that was unfolding before my eyes, I felt completely in tune with every note that pummeled through the speakers.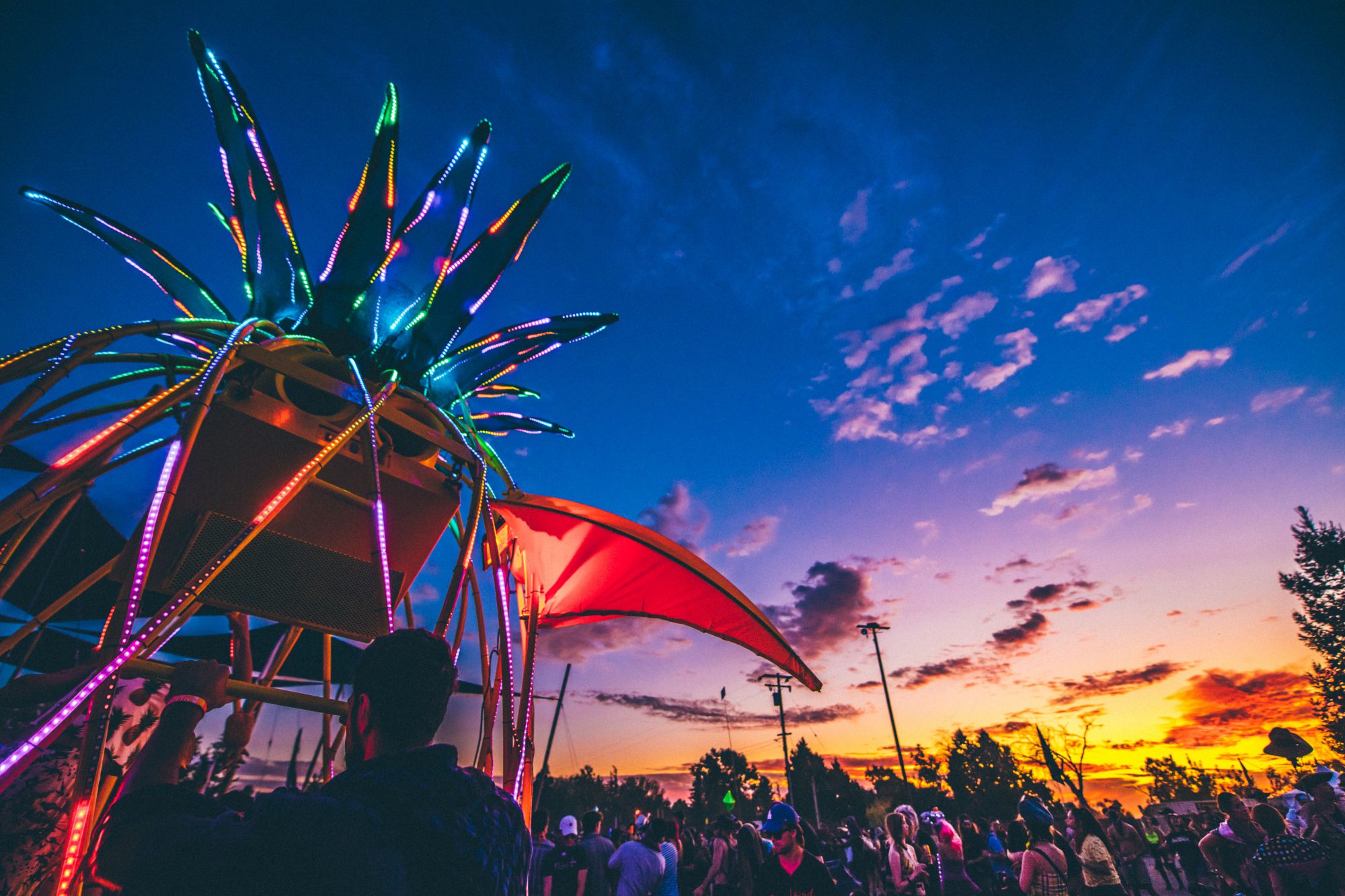 With the family set upon us, the flock went absolutely buck!
Glancing over at the vibrant pineapple art car that had festival-goers swinging from the poles, climbing aboard, and enraptured by its colorful glory, everything that had happened up to that point seemed like a small drop in the bucket. This was our moment to let everything go. This was our moment to embrace the weird. This was our moment to show the world who we truly are.
As the family set geared up, I have never felt so unified with a group of people in my entire life. One big happy family celebrating freedom of expression in the most epic way imaginable. I will never let go of that magical moment and will look back on this year's edition of Dirtybird Campout West fondly. Until next year my friends, I love you all!
---
Connect with Dirtybird Campout on Social Media:
Website | Facebook | Twitter | Instagram | SoundCloud | YouTube