We sat down with GAIA to chat about the importance of an alias, how they've approached their past performances, and explore the Moons of Jupiter!
---
The duo comprised of Armin van Buuren and Benno de Goeij, better known as GAIA, continues to wow audiences worldwide with trance anthems and the unique black robes they don during live performances. Together, they've combined they produced some of the biggest dance anthems over the past three decades and just a few months ago GAIA unfurled the map to the Moons of Jupiter. 
If you are unfamiliar with Gaia, don't fret. First, swing by the history piece we wrote earlier this year before the album dropped – where we acquaint you with the first Gaia tune, "4 Elements," and bring you up to speed with all the majesty before Moons of Jupiter. If you missed out on reading the review for Moons of Jupiter, we recommend reading that as well.
After a year of experiencing the journey GAIA brought with their first album, we were fortunate enough to receive the chance to sit down and explore how two icons of the industry continue to make waves. So stream the Moons Of Jupiter below or on your favorite platform, and read on as we dive into the realm of GAIA and grow deeper in the lore of trance legends.
Stream GAIA – Moons Of Jupiter on Spotify:

---
Looking back over ten years ago at the return of the GAIA namesake, please explain what drove the creative elements that brought you both together and how you settled on using the moniker of GAIA from "Tuvan" to the present?
GAIA boils down to our roots as producers, and the sound of GAIA is the sound that inspired us to start producing music ourselves. And that's also how we decide if the music gets released under the GAIA alias or not. It has to fit a certain mold, our mold. It has to be GAIA.
Given the alias GAIA was born of the licensing issues of yesteryear, and that its rebirth hails from the creative spirit of two of dance music's prolific producer core, do you feel that alias work is overall an effective tool in today's modern market?
I think it's a good tool to redefine creative boundaries and to manipulate people's expectations. Fans will always tie a name to a certain sound, and it's hard to change that idea once it has settled in. An alias could help artists venture into a different direction without having to revoke the music they created before.
What role does social media play in decisions regarding how you portray the collaboration? Does the anonymity of the alias offer you creative freedom or restrict you in some way? I recall the rather fun "interview" during ASOT 700 in Sydney.
Definitely more creative freedom, although it rarely is as anonymous as people may think. In this digital age, people can find practically anything on the internet, so keeping an alias secret is next to impossible. But even if people know who's behind an alias, they'll still (somewhat) regard it as a different entity.
As an artist, it can help you step off the beaten path without actually having to do start the entire journey from the beginning again. And nowadays, we're openly doing interviews as GAIA. So even though people know that it's us who are behind GAIA, they're still ready to accept that the sound is different from the music we'd play or create under other monikers.
Where did the idea for the dark robes come from when performing? How does it feel when performing? For instance, is it more liberating to focus on the performance than the crowd or does it feel more like an art project?
It should always be about the music. Especially with all the big festivals around, where it's almost more about cool show elements and sick stage production than the music itself, I think it's great when there's less focus on WHO is playing and more focus on WHAT the performer is playing.
The music is always the most important part for me, both as a performer and a fan, and I think that should always take center stage. Choosing a more sober approach to performing is a great way to shift that focus, I believe. And it's not easy because the robes are very HOT…..
October brings with it one of the biggest weeks for dance music on the planet, ADE. What makes this week stand out as special to you, and for those who haven't been able to attend can you describe the energy in Amsterdam during this time?
During this week, Amsterdam is packed with tens of thousands of music lovers, ranging from devoted fans to those looking to build a career in music themselves. The city streets are oozing with passion for music during these days, and I love that. I'm always looking to show my face whenever I can, and I've got some great projects running myself as well. I even launched a limited-edition escape room to celebrate the release of my seventh artist album, Balance.
Last year saw you both take the stage for a monumental performance during ADE as well. Can you take us back to that night and share what it was like to take that crowd at Paradiso on an intimate journey?
To be honest, I was a bit nervous. It was the first time for us to take the stage in this new setting and there was no knowing how the crowd would respond, especially since they were used to somewhat trancier stuff being released under the GAIA alias. In hindsight, I had no reason to be nervous at all. The crowd was phenomenal, and we had an amazing time on stage.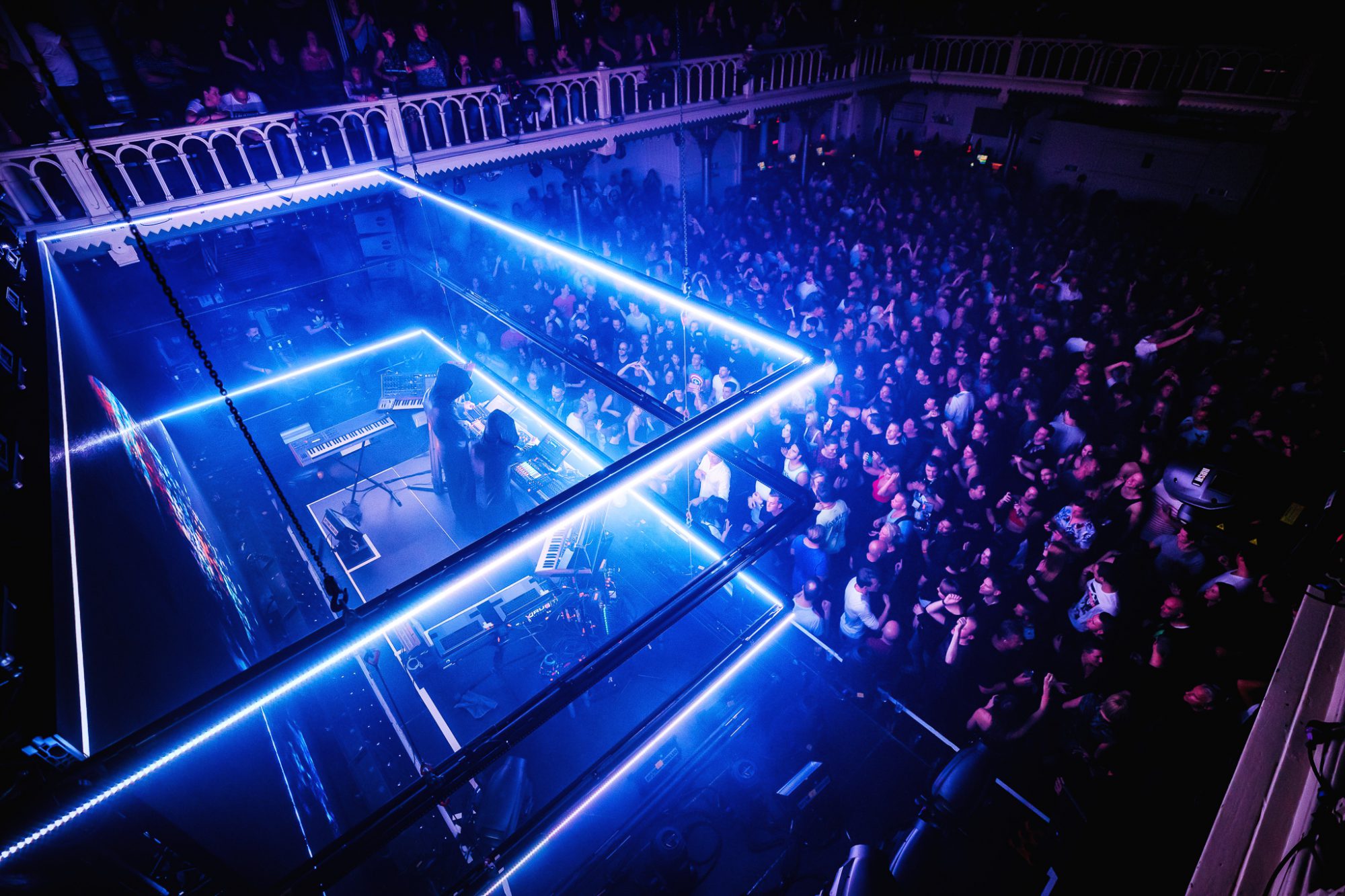 Moons of Jupiter offers a very different but rewarding experience for listeners and fans. Creatively, you mentioned the limitations placed during producing the album with a single software synthesizer. Was that an initial goal to challenge yourself at the beginning of the production or was it something you decided on as the album developed? If it was not something you started with, did it require rework to go back and change earlier tracks?
We first did the live show in Paradiso and then did the album arrangement. We could then take the crowd's reaction into consideration when arranging the album. Limiting ourselves to one plugin was simply for a practical reason: we didn't want to drain the CPU of the MacBooks. Especially in a live environment, these can get very hot.
Also, I felt it was liberating in a way to have just one plugin. We really had to dig under the hood of the software to get the most out of NI's Massive synth. But that had another advantage: we got to know the plugin in and out!
While GAIA is known for major trance anthems like "Tuvan," "J'ai Envie De Toi" and "Empire of Hearts," Moons of Jupiter clearly opened the door for new styles. How exciting is it for both of you to break out of the creative confines of the familiar?
To us, it's what being an artist is all about. We're always looking to do (and create) what inspires us, and to discover new sounds to work with. It's a very exciting process and one that gives me the energy to do what I do. The world of music is much more magical than people believe it to be. You just have to be willing to see beyond your own box.
Building off the prior question, one has to ask how you decided on which styles to produce. You mentioned in the album notes that the album was arranged live on stage for instance rather than in a studio environment. Was the variety intentional or the product of being creatively free?
I think we both wanted to make an album inspired by the sounds we love as electronic music lovers. In a way, Moons of Jupiter is more the result of letting go of pre-set styles. We just made music. Letting go of any expectations or pre-determined styles was liberating. In a way, I think it serves as a testament to the heroes that inspired us to become electronic music producers ourselves, like Daft Punk, Jean-Michel Jarre, Klaus Schulze, Jon Hopkins, Speedy J., Chris Liebing, Oliver Lieb, System 7, etc.
Finally, with Moons of Jupiter in the rearview mirror, where will GAIA be taking fans next? 
That's actually a tough question to answer. We'll be doing more live shows in the future, and keep experimenting in the studio to see how we can further the sound of GAIA. I can't really predict if there's going to be another album soon, but who knows. The universe has so much more to offer than "just" the moons of Jupiter.
---
Follow GAIA on Social Media: