Ever wanted to see a show across the globe but couldn't justify such a short trip? Well, here's what happens when you actually do it!
---
I live in New York City and have access to some of the best music events in the world locally. But sometimes an event across the country, or across the world, gets my attention and I can't shake the feeling that I need to be there. That's what happened when Armin van Buuren and Above & Beyond announced a single show at Ushuaia in Ibiza. Something told me I had to be there; and while I did make it happen, this may have been the craziest trip of my life.
Why was it crazy? Because I'd only be in Ibiza for about 18 hours, would forgo a hotel to party all night, and needed to get enough rest on the return flight to do a 10-hour party in Brooklyn with Anjunadeep just hours after I'd land.
After about 10 hours of flying, I arrived in Ibiza and took a short bus ride to Playa d'en Bossa.
From the bus it was a modest walk in the scorching heat to get to the beach area where I saddled up to a lounge chair at Sir Rocco Ibiza. Sir Rocco is kind of part of Ushuaia and kind of not – I say this because you can't easily get a single lounge on the beach at the Ushuaia Beach Club unless you are a hotel guest, but Sir Rocco was happy to accommodate me. For €22 I got a lounge chair, an umbrella, a towel, and beach service for food and drink. This was the perfect way to spend three to four hours before the big show.
Ibiza is no stranger to travelers with unique needs, so it's very likely that they can accommodate any strange requests.
In my case, I was travelling with only a backpack, but no hotel. So what could I do with my backpack? Enter Drop and Enjoy, a service providing bag check, showers, and changing rooms 24/7. For about €15 they locked up my backpack and I could return for it at any time. I could also pay just €1 to access the bag as needed while it remained in their possession. This was such a clutch service! 
Ushuaia is an open air club situated in a hotel and around a pool, so the shows are on the early side and end before midnight. I arrived about 18:00 to a very sparse crowd as Ruben de Ronde b2b Estiva opened the show. Although most of the pool is closed during the show, a small knee-deep pool remains open in the back for party-goers to keep cool.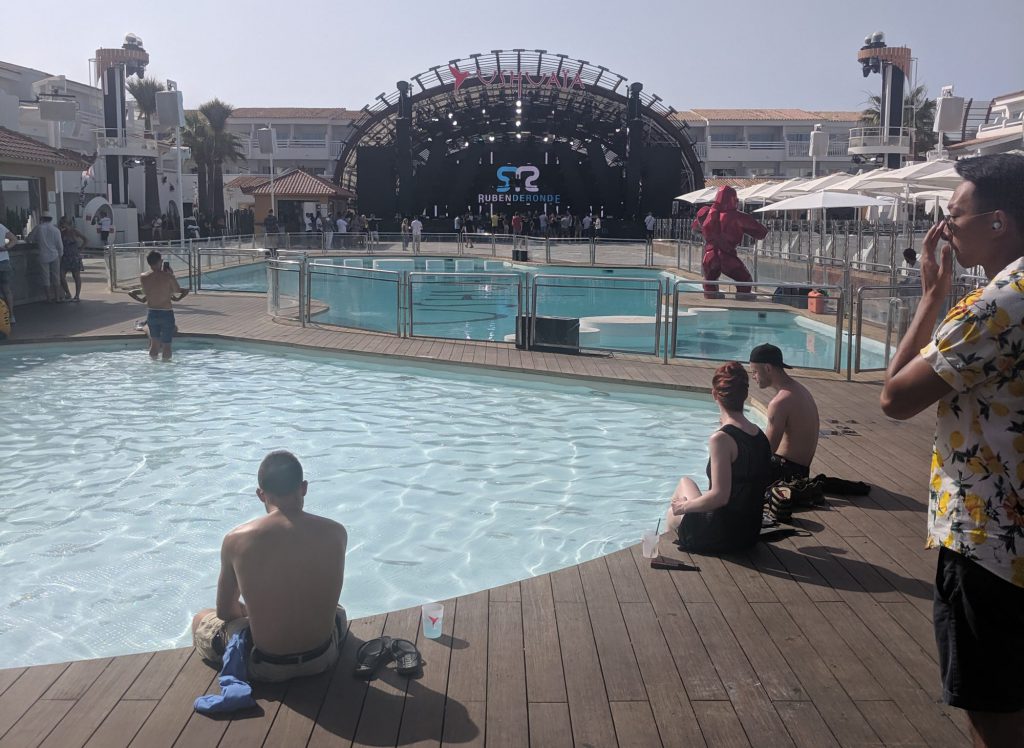 As the 19:00 Above & Beyond set approached, it still wasn't terribly crowded, so I made my way to the front rail with the hope that I could actually remain there for their set.
Sure enough, I had a perfect spot that was never really challenged, and even as the crowd completely filled it, there was always just enough space to move and dance!
As Tony and Paavo from Above & Beyond began their set, a wave of emotion carried over me and I realized that I was truly meant to be there; in this moment, at this show. It was a powerful feeling and carried throughout their set.
Being up front felt like I was partying with Tony and Paavo as they regularly engaged with the audience and Paavo typed his magical messages on screen. At one point I was using a hand fan to cool those dancing around me. I then turned back to the stage and saw the message LOOK OUT FOR EACH OTHER on screen.
Then, Tony pointed at me and gave me a "hand heart" – I was swooning! Their set was pure energy for me and I knew I'd be able to push through the night as I rode that wave.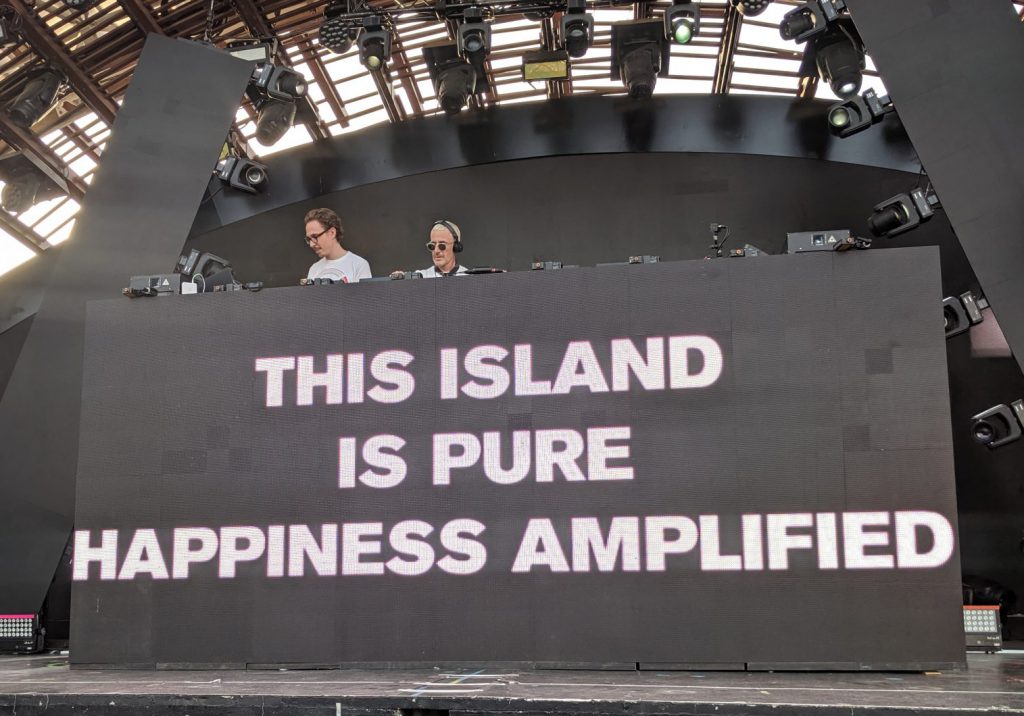 At 21:00 Armin van Buuren took over and played solid 75 minutes of trance before turning up the dial.
I'll admit that I wish he'd put the darn mic down, but the man is a legend and does know how to work a crowd. There's no denying that the crowd was getting down, jumping, and raising their hands precisely to his instructions.
But for me the Armin magic happened later in his set as he slowly went deeper, and darker, and faster. Without any screaming into the mic, I noted that we were crossing into his famous "Who's Afraid of 138?" territory, and I very much appreciated this transition. I was absorbing even more energy to carry through the night!
As 23:00 approached we skipped out to catch a cab to DC-10 for One Night Stand by Carl Cox.
We arrived in time to catch about 15 minutes of his early set to close out The Garden before heading inside for a night of deep, dark, techno beats.
Carl Cox is an Ibiza legend for many things, including the former (and soon to be renewed?) Space. But DC-10, where this show was taking place, is a unique venue in Ibiza for a number of reasons. It's very secluded right near the airport (hence the name) and it's frequented by a lot of locals (it's the only Ibiza venue where I can recall hearing more Spanish than English spoken).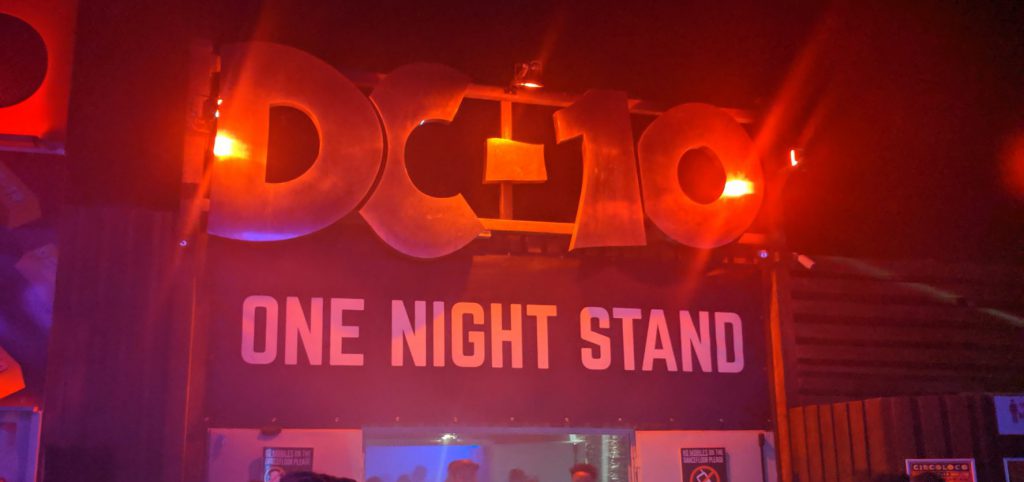 They strongly discourage phone use on the dance floor and most of the crowd abides by this rule.
I bounced between the rooms and even met a few locals over the course of the night. I can't say that I can identify any of the performers from one another based on this show, but I definitely enjoyed them all! Of course I was looking forward to the 04:30 hour when Carl Cox would close things out in the Terrace. As I made my way into the room for his set, I wondered why they put him in the smaller room.
We were all elbow to elbow, sweaty, and tired, some drunk (or drugged) and barely able to focus. At first I found this terribly uncomfortable, but then something magical happened. About 15 minutes into his set, I felt the room start to undulate. I was no longer a single person trying to dance in a crowd, I was suddenly one small part of a larger body all moving precisely to the same rhythm.
This was a purely techno moment and I suddenly understood the power of the music and why Carl Cox is treated as a god-like preacher of this religion!
Alas, at 05:30 I cut out to catch a cab so I could retrieve my bag before heading back to the airport for my 07:00 flight home. I slept most of the return flight, got home, showered, dressed, and sped out to Brooklyn Mirage at 19:30 for another 10 hours of magical music and dance. I made it till the bitter end and slept most of Sunday. As I write this weeks later I'm still energized by this trip… what a journey, what a memory, and what a story to share!
---
Follow Above & Beyond on Social Media
Website | Facebook | Twitter | Instagram | SoundCloud | YouTube
Follow Armin van Buuren on Social Media:
Website | Facebook | Twitter | Instagram | SoundCloud | YouTube
Connect with Carl Cox on Social Media:
Website | Facebook | Twitter | Instagram | SoundCloud