This year's lineup for Dreamstate SoCal is packed full of interesting and exciting collaborations that you simply won't want to miss out on!
---
For years now, Dreamstate SoCal has been one of the most anticipated events for trance lovers all across the country and the world. Being dubbed "Trance Family Reunion" or "Trancegiving," it is the nation's largest trance event and gives a platform for talented trance acts to perform. Held at the NOS Events Center, this event is back to celebrate their fifth anniversary and are packing a punch with a stellar lineup.
Every year, Dreamstate brings something new and fresh for its attendees, and this year is no different. Along with the stacked lineup of great b2b and solo sets, they've also incorporated showcasing collaborative project sets. This year's lineup includes some groundbreaking collabs such as Gentech (Scot Project and Mark Sherry), Fables (Ferry Tayle and Dan Stone), Key4050 (John O'Callaghan and Bryan Kearney), and a whole slew of new collab projects set to debut at the festival.
With so many acts to choose from, we've compiled some who you should definitely try to catch. To learn more about what exciting new collaborative projects are featured this year, keep reading!
Tickets for Dreamstate SoCal 2019 are still on sale via their website, so don't miss out on your chance to trance!
Four Must-See Collaborative Sets at Dreamstate SoCal 2019
---

ReOrder and Standerick Present SkyPatrol
ReOrder: Facebook | Twitter | SoundCloud
Standerwick: Facebook | Twitter | SoundCloud
There is one collab that makes all trance fans come "Running" to the stage the moment they step on. The one and only ReOrder and Standerwick are here to present the massively uplifting project SkyPatrol. This euphoric collab project has been the reason for fantastic trance tracks such as "Skyres," "Folding Your Universe," and the infamous "Running" with Aly & Fila. Having played at huge festivals such as A State Of Trance, Future Sound Of Egypt, and Grotesque, they are a very well-known and established group that many (including myself) are ecstatic to hear play once again.
SkyPatrol started off with their euphoric release of "Sailing Airwaves" in 2014, and have been releasing hit after hit ever since. This powerful trance duo rarely plays a SkyPatrol set, as their previous set before this year's Dreamstate SoCal was back in 2015 at Future Sound of Egypt festival. During their set expect to hear beautiful chords and arpeggios, emotive lyrics, and fast heavy beats. ReOrder and Standerwick really give their all into these sets so expect the production to be absolutely top-notch.
---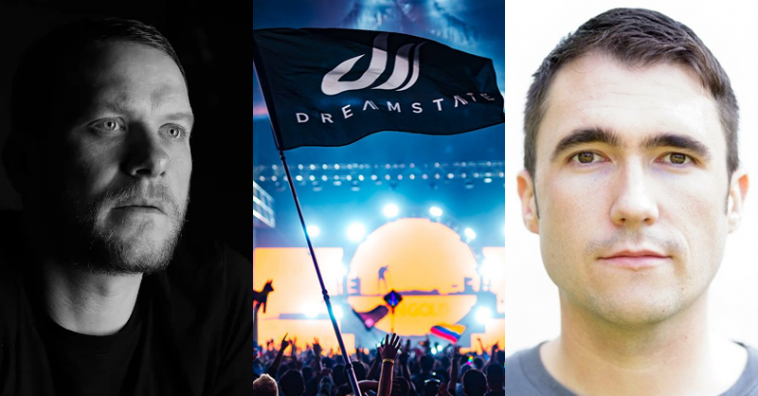 AA Meeting (John Askew and Activa)
John Askew: Facebook | Twitter | SoundCloud
Activa: Facebook | Twitter | SoundCloud
This year also marks the debut for numerous projects and one of them is the combination of John Askew and Activa – two trance legends teaming up to bring you the most imaginative and innovative project playing this year: AA Meeting. This is a special performance as both producers are talented and eager to show off their skills in this all live set filled with completely new and original tracks they've poured their hearts and souls into.
What's unique and exciting about AA Meeting is the fact that every track that's being played is created by Askew and Activa originally, and specifically for this set. Every element is controlled by them – the bassline, kick, melody, harmonies, etc – making this set all-new, and never before heard. That being said, they have not released any music under the name AA Meeting, but that's what makes this project such an anticipated performance.
Looking at their repertoire, with hits like Activa's hits "All Is Now" and "Indigo" and Askew's "Black Coffee" and "Recalibrate", one can only assume that this performance will be one to remember. I cannot emphasize this collab enough, and really urge all the Dreamers coming to see this debut set because this is not something you want to miss.
---
Pathfinders (Chris Schweizer & James Dymond)
Chris Schweizer: Facebook | Twitter | SoundCloud
James Dymond: Facebook | Twitter | SoundCloud
Combining both classic and contemporary styles, trance pillar James Dymond and recent trailblazer Chris Schweizer combine powers to present Pathfinders. This exciting duo brings us a new sound of riveting basslines and beautiful melodies. Schweizer's signature hard-hitting beats mixed in with Dymond's energetic melody writing comes together in a perfect blend and sure to tantalize all that come to see them perform.
Their sound is well exemplified in their recent release "Lost Generation," released on A State Of Trance sublabel Who's Afraid Of 138. The songs start off intense and techy with a driving beat and a heavy bassline, then flows right into a piano-led melodic breakdown, eventually building back up to an explosion of sound and energy during the drop. If this release is any indication of the type of set they're going to through, I'm absolutely pumped to see what's in store for us at Dreamstate.
---
Abraxis (Seven Lions & Dimibo)
Seven Lions: Facebook | Twitter | SoundCloud
Dimibo: Facebook | Twitter | SoundCloud
Last but not least, is one of the most anticipated collabs between popular melodic bass legend Seven Lions and psytrance duo Dimibo who are teaming up to introduce 'the Institute of Abraxis'. This satanic ritual psytrance trio is set to debut during the headlining slot of Saturday at Dreamstate SoCal, and fans a part of Codex couldn't be more excited. Considering Dimibo's style and Seven Lions' habit of shifting from dubstep to psytrance, Abraxis is set to stun the audience with hard, dark, psytrance sure to bring out demons of all types within the crowd.
Seven Lions and Dimibo have worked together outside of this project such as their remix of Excision's "The Paradox", and Dimibo's remix of Seven Lions' "Island," so the synergy we already know is there. According to the ominous postings on socials, this set is something special and will be an even darker sound from what they normally do. Their only single "Old Gods" was just released on November 15 and gives us a taste of what's in store.
Clocking in at nearly six minutes, this track is a certified 140+ BPM psytrance rager with tribal chants, psychedelic percussions, a fast bassline, everything you'd expect from a quality Seven Lions and Dimibo collab. If the set is anything like this single, the crowd better be ready for a hellish show.
---
Connect with Dreamstate SoCal on Social Media: