Seven Lions took us along on his Journey II Tour with an exceptional Sunday night performance at The Van Buren.
---
Having had the pleasure of seeing Seven Lions multiple times, the anticipation of seeing him on the Journey II Tour was palpable.  It is always immensely enjoyable to watch and listen to Seven Lions smoothly blend various genres into a seamless mix of beautiful melodies and rhythmic bass.
On the heels of his epic performance at Red Rocks Amphitheatre in Morrison, Colorado, for Chronicles Chapter:2, the Journey II Tour at The Van Buren provided a much more intimate venue for the telling of his new tale.
The Van Buren, a fairly new downtown Phoenix venue, was the perfect smaller setting for this big room sound.
The Van Buren opened a little over a year ago in the hub of Phoenix nightlife.  Once the showroom for Phoenix Motor Company, the converted car dealership is now an excellent 1,800 capacity concert venue. Perfectly set up for EDM shows, The Van Buren offers the intimacy of a small venue with plenty of amenities and lots of room to dance.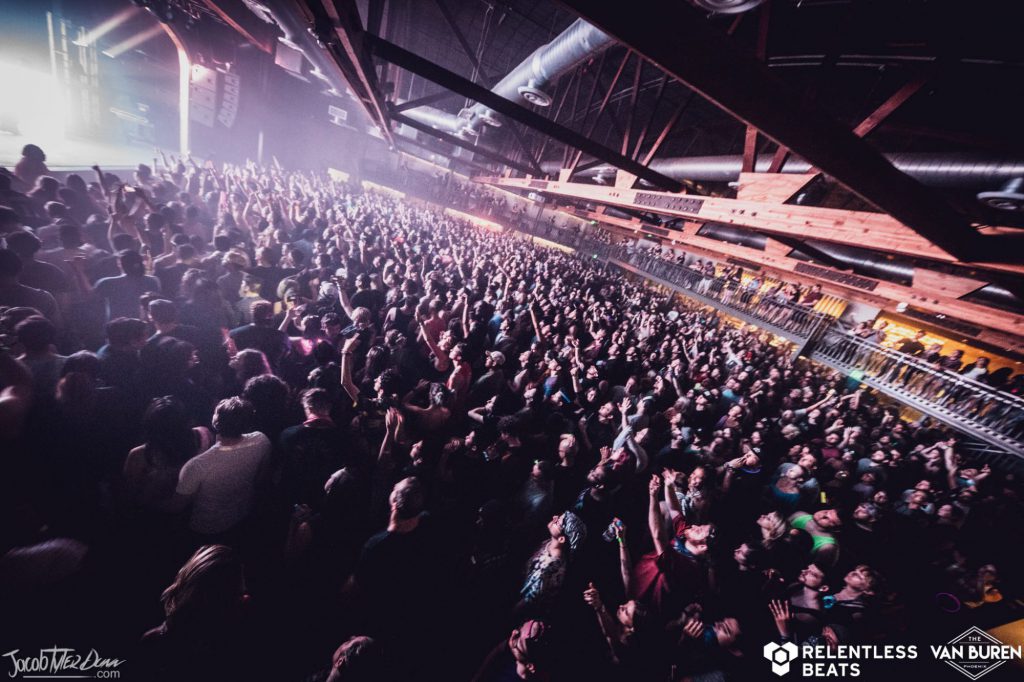 Jason Ross channeled progressive house and trance to get things off to an incredible start.
Anjuna's Jason Ross kicked off the night bringing good feels and effortless vibes to the Phoenix crowd.  Each time I see Jason, his chill yet energetic style blissfully fills my ears with his thoughtful harmonies like so many of his Anjunabeats contemporaries.  Jason's musical odyssey has been accentuated by his exposure to Seven Lions whose influence has encouraged Jason to undertake a more bassy style.
MitiS ratcheted up the intensity with his munchy bass and distinctive drops. 
Following Jason Ross was MitiS, a classically trained pianist turned hard-house and dubstep DJ.  Noting in interviews that he finds the pairing of heavy bass and melodies to be new age classical, MiTis has arrived at the ideal blend of his opposing musical disciplines.  Perfectly bridging the gap between Jason Ross and Seven Lions, MitiS cranked up the heavy beats and pace which prepared the horde for what was to come.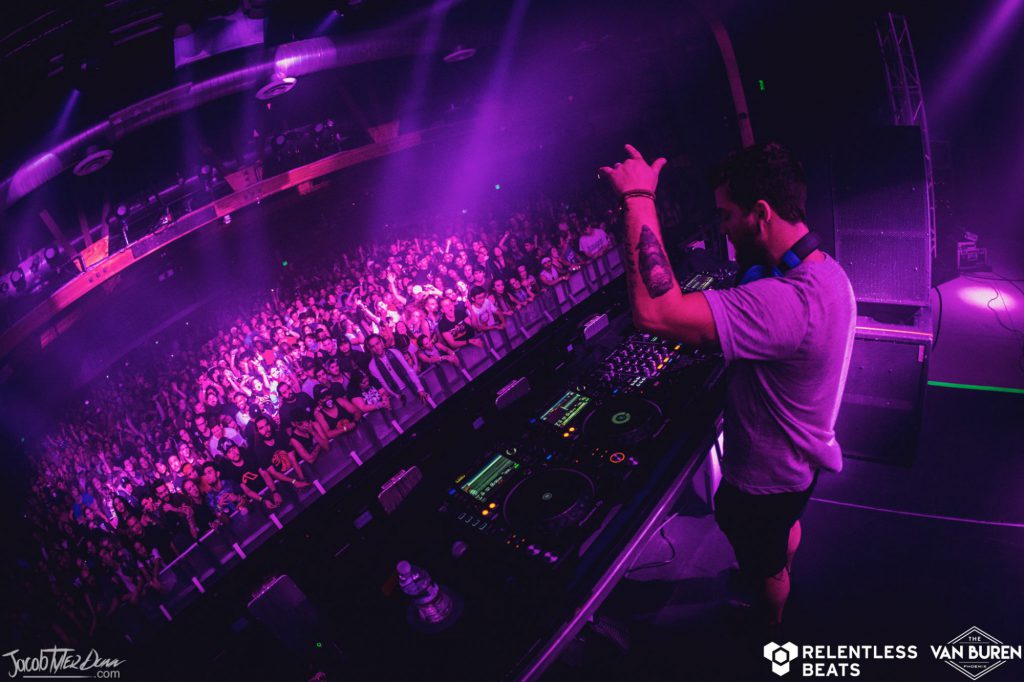 Finally, it was time to get the main show started, and Seven Lions brought fire from the first beat.
A perfect blend of hard-hitting bassline and thoughtful, melodic harmonies, Seven Lions dominates the cross-genre space.  One minute sweet and tender, the next forceful with tremendous amounts of power, the integration of so many types of EDM could get obtuse in the hands of a lesser artist.  Seven Lions has made a career taking the conventional and bending it to his will, to the absolute delight of his fans worldwide.
When Seven Lions took the stage, he built on the momentum created by Jason Ross and MitiS.  The hive-like energy initiated by the opening acts and nurtured by the headliner created a synergy that, when at its pinnacle, allowed this crowd to transcend the normal concert experience.
Alongside so many other favorites, this show also provided my first time seeing Seven Lions' recently released collaboration with Slander and Dabin, "First Time."  This charming song, which reminds us of our first love, was an alluring ballad gracefully framed by compelling images.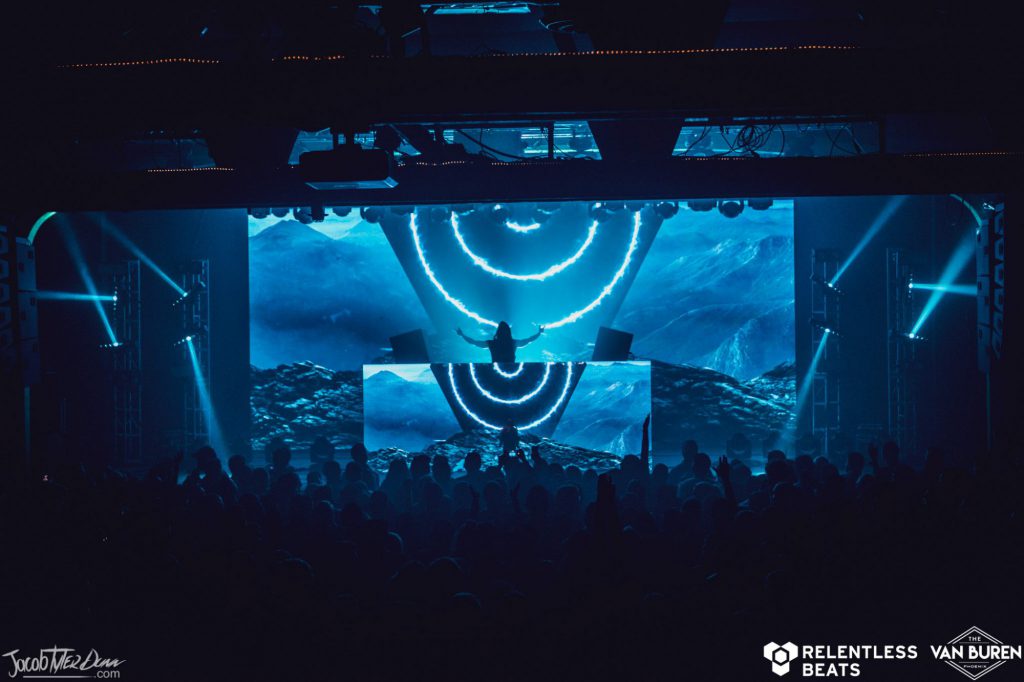 Mixing gorgeous visuals with intense beats, the fantasy journey we were taken on brought us full circle with Seven Lions' vision.  The story, originally inspired by the journey of discovery taken by his fans, is one that encompasses an overarching theme of love in all its glorious forms.
This was such an amazing adventure. Please, do yourself a favor: catch Seven Lions on his Journey II Tour. You will not be disappointed.
---
Connect with Seven Lions on Social Media:
 Website | Facebook | Twitter | Instagram | SoundCloud | YouTube