Serena Harris, founder of Melanin Ravers, speaks about why she created a group to promote diversity and increase the representation of black ravers in the scene.
---
More than just the music, something that brings ravers together and draws non-ravers into the scene is an overwhelming sense of belonging. With each festival and club show, more people find their tribe and their "home" in the rave community. When Serena Harris noticed that there were communities for a plethora of diverse and marginalized groups but a dearth of space for black ravers, she took it upon herself to create one: Melanin Ravers.
Melanin Ravers was born with the overall goal of increasing representation of black ravers in media, social media, and rave fashion sites, and providing a home for black ravers to meet and enjoy festivals together. Read on to hear more about its creation, the negative and positive responses to the group, and the future of Melanin Ravers!
---
How did the idea for Melanin Ravers come about and what led you to decide on the name and the logo for the flag?
The idea came about in 2018 on the last day of EDC Las Vegas and my good friend Ana told me I should create a page to represent black ravers after a discussion about a new clip of a black raver telling the news anchor to show them because they were here too and deserve to be acknowledged as well. It took me from standing in line for security to realizing that Melanin Ravers should be created.
When I came up with the name Melanin Ravers I wanted to have something that pops and when you think of melanin you mostly think of black people. The logo for Melanin Ravers is the ode to the black and EDM culture. In the fist, it says "Peace, Love, Unity, Respect".
Who comprises the core leadership group of Melanin Ravers and can you share a bit of each leader's music tastes?
The owner is me, Serena, who loves just about any style of EDM. You can catch me at any event getting lost in the music. Jasmine is my co-creator who joined Melanin Ravers a few days after I started the Instagram page. Her taste is mostly Trance and Techno. Our admins Alex, Krystal, and Anastachia are lovers of Dubstep with Alex loves Big Room as well.
What are your thoughts on diversity and inclusion in the electronic music scene both  behind the decks and in the audience?
You can feel as though you're alone in the rave community due to it being frowned upon amongst our family and friends, ravers of different races, and just the representation on social media. We have to fight harder to feel as though we belong in what is supposed to be a welcoming culture.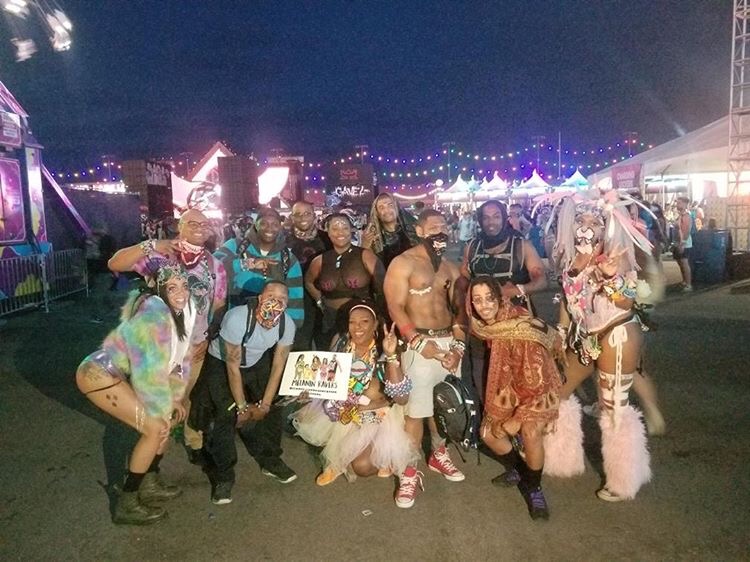 What positive reactions have you received from others?
The positive reactions have taken us by surprise with how much there has been since the beginning. We have received hugs, special kandi, messages, and shout outs on other pages; we get stopped at festivals and events! It's so awesome meeting supporters and raving it out together! We get thanked for creating a safe place.
When one of your co-creators posted on social media about the impetus behind the group she received a small amount of backlash. Can you tell us about what occurred and how you dealt with it?
I was shocked and honestly angry at how the negative people refused to try to understand why Melanin Ravers exists or why the representation for diversity of ravers is so important. They didn't want to hear it. We all stood up for her and defended her for speaking her mind and stating facts on such an argumentative subject.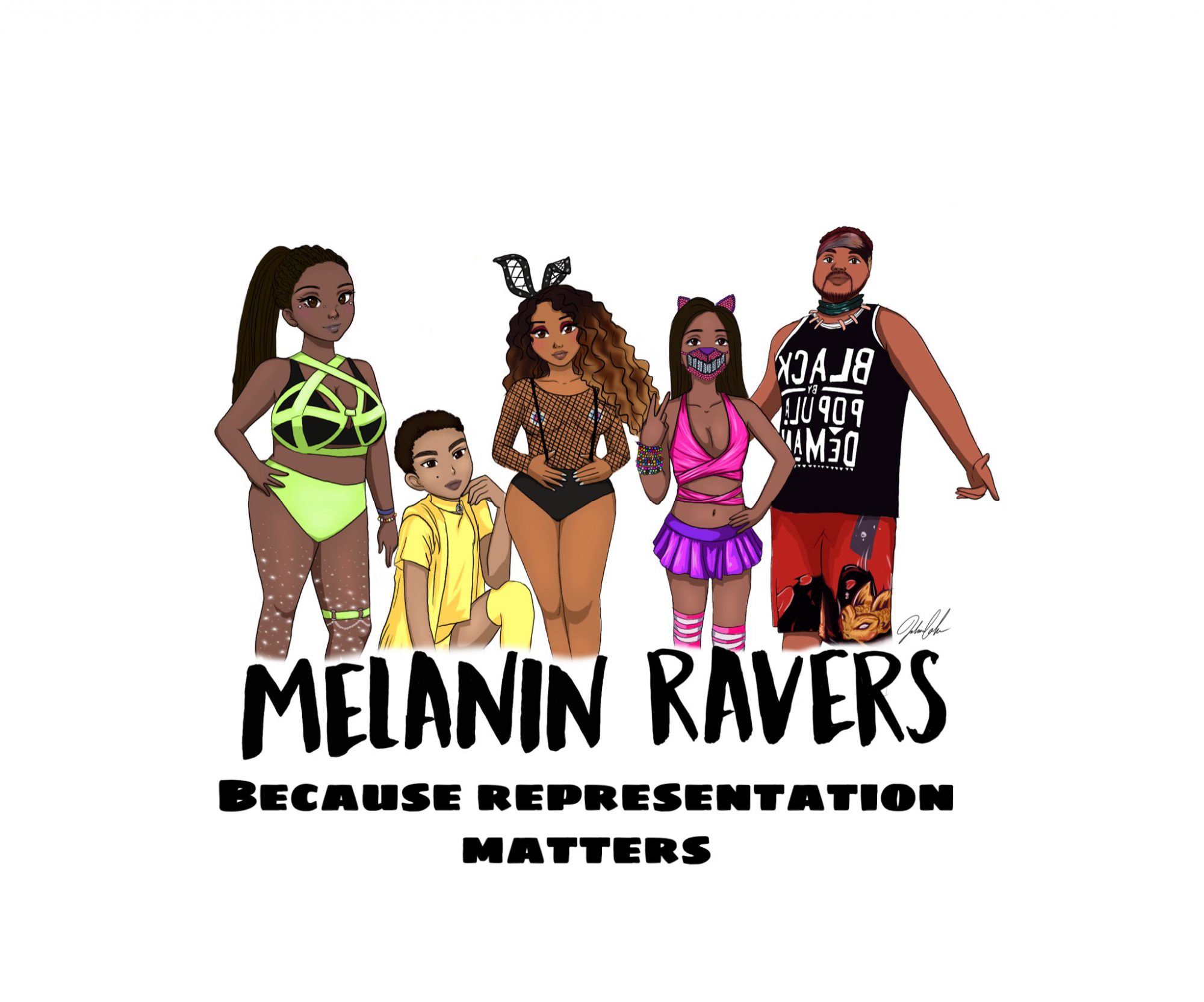 Many will erroneously say groups like Melanin Ravers divide the community but lack the understanding of why it's important for groups like this to exist. What do you do to combat this thinking?
We aren't here to divide or come off as the superior race. Melanin Ravers is a platform for our beautiful black ravers to have a chance to be seen, connect with others and feel belonged. With every negative comment, we just educated on why this page exists. It is our safe space and such a needed platform.
The beginnings of the electronic music scene came from the black, brown, and LGBT (marginalized groups) nightclubs in the Chicago and Detroit areas yet many don't seem to know this history. How do you feel the community can do a better job at teaching new members of the scene about its origins?
I feel as though just sharing the history of EDM and letting it be known where it started and how it got to where we are today. If it wasn't for the beautiful people in the LGBT community we wouldn't be headbanging and shuffling to the music today. We actually shared a few Black DJs for Black History Month, most of which were the founding fathers of the EDM culture.
Can you share at least one memorable story that has come out of cresting Melanin ravers?
I can honestly say our first meetups during EDC Las Vegas 2019. To meet and rave with the ones who have been following and supporting made it all worth creating Melanin Ravers.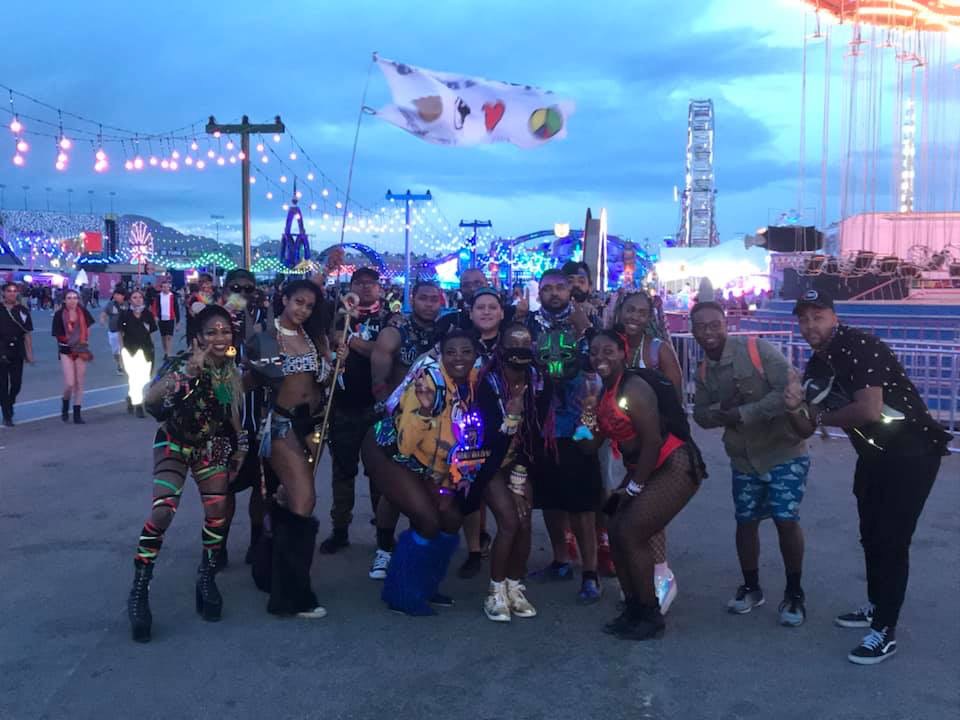 You have already begun expanding your range by supporting and highlighting black-owned rave and rave adjacent companies, In what additional areas would you like to delve into?
We would love to get into the media world such as various styles of interviews, rave photography, music highlights of mixes and songs from black DJs and producers, and merch. The big goal is to one day hold a Melanin Ravers fest!
At what other events or festivals will you be attending for the remainder of this year and how can like-minded ravers find you onsite?
We will be attending Bass Canyon, Electric Zoo, EDC Orlando, Escape, Freaky Deaky, and Dreamstate SoCal for now with local shows in the mix. We promote our meetups and post what we are wearing in hopes people will find us or spot us during the events. 
Is there anything else you'd like to add about yourself for our readers?
I strive to continuously provide a place for my fellow ravers to be seen and heard. I am a tough and positive human being that will support those who need to be supported. EDM has helped me through some dark days and if I can help bring positivity and love in any way I can, I will do it. Thank you for all the support.
---
Follow Melanin Ravers on Social Media: