Already thinking about heading to Tinker Field in November for the upcoming edition of EDC Orlando? Lucky Owl tickets are on sale now!
---
After announcing that EDC Orlando would be expanding to three days this year at the start of Miami Music Week, there is already more news to be excited about far in advance of the upcoming edition. Today, as a surprise to everyone including us, Insomniac has released a number of pre-sale tickets for all the "Lucky Owls" who sign up for their newsletter.
It's clear that being prepared and tuned in for updates has paid off for headliners who listened to the EDC Orlando social media channels over the past few days, as they've hinted at an announcement on the horizon. Now, we know what that news would be, a surprise ticket sale accessible only to those who signed up has been released with some low pricing to boot.
Headliners who purchase their tickets from the link that was emailed to them today will be able to lock in their three-day experience for the cost of last year's two-day ticket. GA Tickets are available on layaway for just a $9.99 deposit today or $169.99 (+fees) for those looking to knock it all out in one go. Also announced at GA+ Tickets for a $14.99 deposit or $249.99 (+fees) total and VIP for a $19.99 deposit or $369.99 (+fees) total. You can also access the sale via insom.co/presale!
Related: Check out our review of how EDC Orlando went down last year and take a peek at our photo gallery on Facebook!
Additionally, with this news and the flyers and stickers passed out during Miami Music Week, we also know that EDC Orlando will officially be returning to Tinker Field as well. While we made the assumption that would be the case this year, we're excited as ever to see what Insomniac will do with their expanded footprint of the festival and additional day.
Stay tuned for more updates as the lineup, details about the expansion, and more will be unveiled in the future.
Are you one of the Lucky Owls who snagged a ticket to EDC Orlando this year? Let us know in the comments below!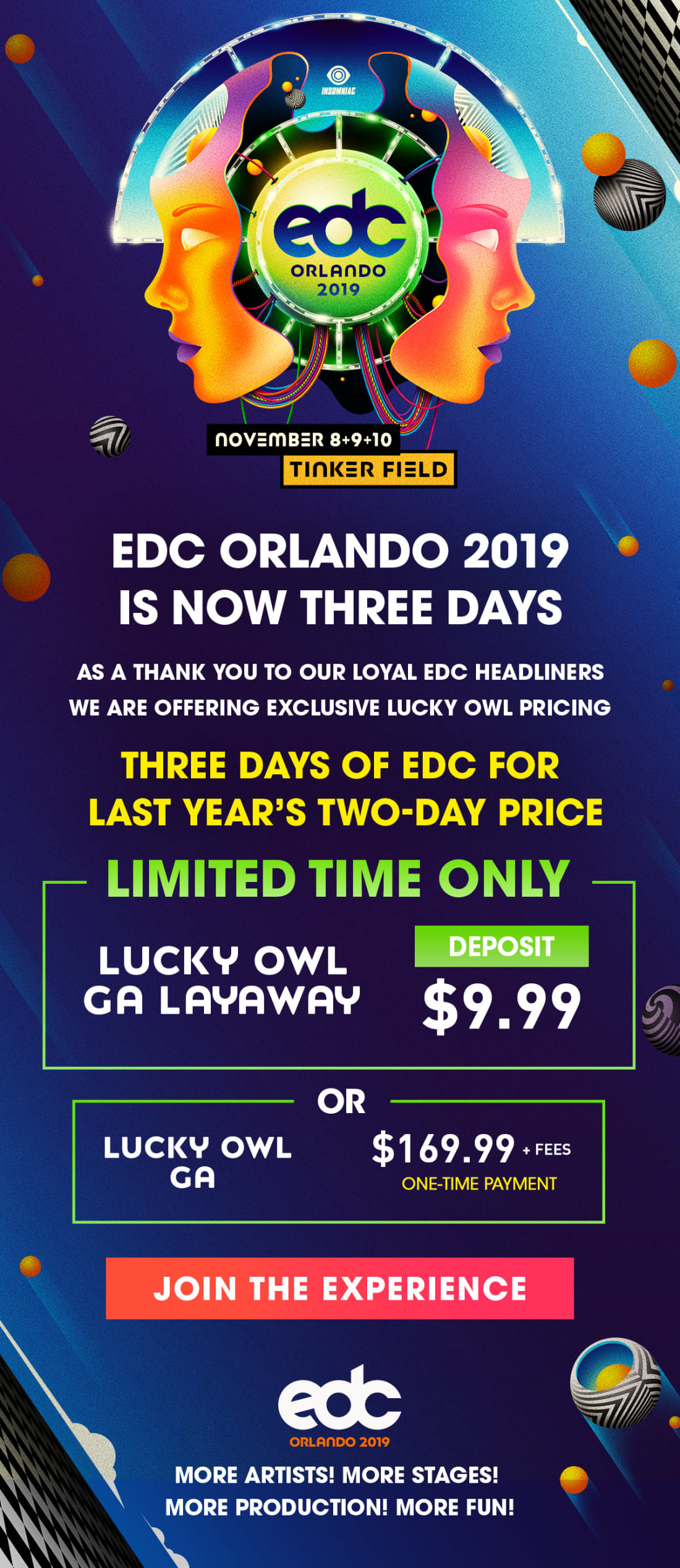 ---
Connect with EDC Orlando on Social Media: