Dreamstate SoCal has begun announcing their lineup for this year's event. Will you be joining us in for the 5th edition of the biggest trance festival in North America?
---
Trance fans have been waiting on bated breath to find out showstopping artists will be featured on the Dreamstate SoCal lineup this year. Each edition of the trance fueled festival has brought a different flavor to the grounds of the NOS Events Center. The first year brought us something new, the second included more subgenres and size, and the third brought along massive names like Armin van Buuren. Last year saw Insomniac load the lineup with back to back sets as well as some heavily anticipated performances including Laserface and System F.
This year, expectations are high as trance family members are predicting a big show for the 5th Anniversary celebration on November 22-23. Set on bringing enhanced production, expanded stages, more performers, and more immersive experience to the venue, the list of artists playing is what many have been patiently waiting for, and today the announcements have begun to roll in.
The first artists that have been announced for Dreamstate SoCal include Aly & Fila,  Gabriel & Dresden, and Solarstone. Additionally, Cold Blue will be delivering a Winter Album Showcase, Bryan Kearney is set to show off his KARNEY alias, and John O'Callaghan will be bringing his Joint Operations Centre alias along for the ride.
The second day of announcements came out of the gate swinging and really brought the heat. We are excited to see German trance and acid master Kai Tracid and legendary British group The Space Brothers! Anjuna fans should be ready for some feels as Spencer Brown, Sunny Lax, and Jason Ross are going to bring their signature vibes to Dreamstate.
For the third day, the announcements branched out into the deeper reaches of Dreamstate introducing veterans like Ace Ventura, Astrix, and Blastoyz. It then shocked the masses by including Anjuna veteran Oliver Smith, the songstress of HALIENE slotted as herself, and the return of hard dance/hard trance legend Yoji Biomehanika!
Day four expands the reach of psy-trance with the figureheads of Vini Vici bringing along some friends. Perfect Stranger, Khromata, and Animato return to the festival and Shpongle will also bring the old school psy experience to the forefront with a live set.
On the fifth day of artist announcements, Dreamstate has delivered a bevy of b2b sets including AA Meeting (John Askew and Activa), Gentech (Mark Sherry and Scot Project), ilan Bluestone b2b Andrew Bayer, Fables (Dan Stone and Ferry Tayle), and more!
The second to last day brings the announcement of the exclusive, worldwide debut of ABRAXIS that will see Seven Lions and Dimibo share the stage together. The final announcement has also been unveiled with Above & Beyond making their Dreamstate debut with an extended set as well!
Tickets for the biggest trance Festival in North America begin at $125 for GA and $250 for VIP. Ticket sales start on Friday, June 21 at 12:00 PM PST via the Dreamstate website and Tier 1 will be available all day until 11:59 PM PT!
Dreamstate SoCal 2019 Lineup: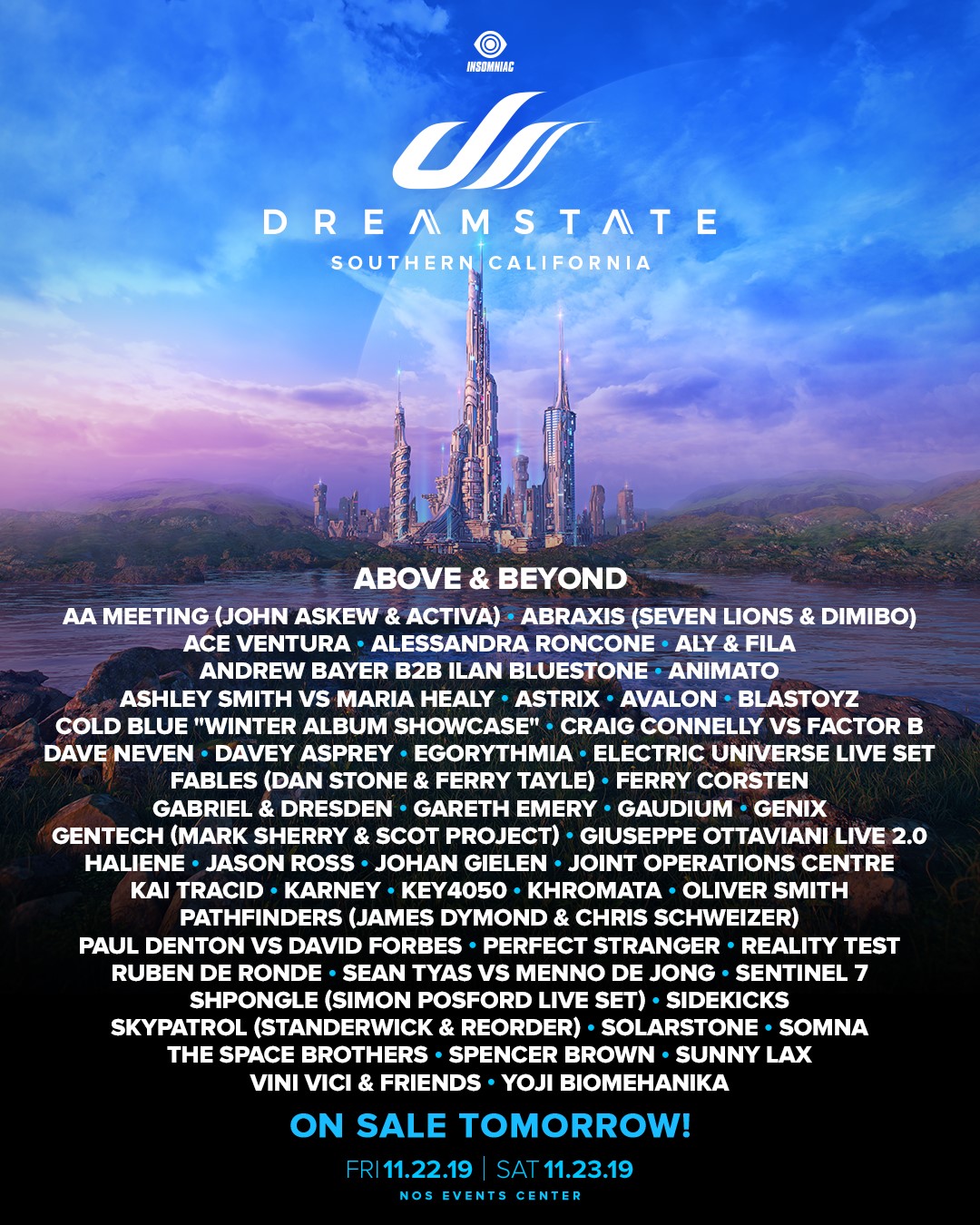 ---
Dreamstate SoCal 2019 Artists Announcements:
Day 1

Aly & Fila
Bryan Kearney presents KARNEY
Cold Blue "Winter Album Showcase"
Davey Asprey
Ferry Corsten
Gabriel & Dresden
Giuseppe Ottaviani Live 2.0
Johan Gielen
Joint Operations Centre (JOC)
Solarstone

Day 2

Alessandra Rocone
Gareth Emery
Jason Ross
Kai Tracid
KEY4050
Ruben De Ronde
Somna
The Space Brothers
Spencer Brown
Sunny Lax

Day 3

Ace Ventura
Astrix
Avalon
Blastoyz
Dave Neven
Genix
HALIENE
Oliver Smith
Reality Test
Yoji Biomehanika

Day 4

Animato
Egorythmia
Electric Universe (Live Set)
Gaudium
Khromata
Perfect Stranger
Sentinel 7
Shpongle (Simon Posford Live Set)
Sidekicks (Chris Ton & Leiel Hazut)
Vini Vici & Friends

Day 5

AA Meeting (JohnAskew & Activa)
Ashley Smith vs Maria Healy
Craig Connelly vs Factor B
Fables (Dan Stone & Ferry Tayle)
Gentech (Mark Sherry & Scot Project)
Ilan Bluestone B2B Andrew Bayer
Pathfinders (James Dymond & Chris Schweizer)
Paul Denton vs David Forbes
Sean Tyas vs Menno de Jong
Skypatrol (STANDERWICK & Reorder)

Day 6

ABRAXIS (Seven Lions & Dimibo)

Day 7

Above & Beyond (2-Hour Extended Set)
---
Lineup Announcements:
---
Connect with Dreamstate SoCal on Social Media: