This year, EDC Las Vegas doubled down on camping, brought back deadmau5 and Skrillex, and gifted us with magical memories for the best edition of the festival yet!
---
Exactly two weeks ago today, 155,000 headliners were getting ready to begin a weekend of raving from dusk till dawn in Sin City. Not only would we be trading in our beloved normal sleep schedules for nocturnal ones, but come Sunday, we would also be missing the last episode of Game of Thrones ever. Ever! All of this to attend EDC Las Vegas, Insomniac's three-day premier festival that has now made the city its home for nearly a decade after moving from Los Angeles. Talk about being a slave to the rave.
If you decided to not ruin the following week of work or school by giving your body a crash course on dancing in the desert from dusk till dawn while also fearing spoilers or missing that series finale, you're probably wondering if it was all worth it. I'll save you the read. Yes, EDC Las Vegas 2019 was worth destroying my sleep schedule and missing the last episode of Game of Thrones episode ever.
So why was EDC Las Vegas that amazing this year? What did Insomniac improve on or modify from previous editions of the festival?
Arriving at the venue this year was pretty painless and aside from some expected Friday rush hour traffic, the drive was relatively quick from where I was staying on the strip. I managed to make it into the festival before the sunset two out of the three days, which I consider a win.
Was I still incredibly jealous of my fellow comrades who opted to camp and were able to waltz in and out the festival each day without ever having to step foot inside a parking lot? Absolutely. Is camping the way to go? Probably. But if you're going to drive, the premier parking is certainly worth splurging on and I'm willing to wager it cut our travel time at least in half.
Related: Looking for some insight into how things went down at Camp EDC this year? Check out our review to find out how they knocked it out of the park!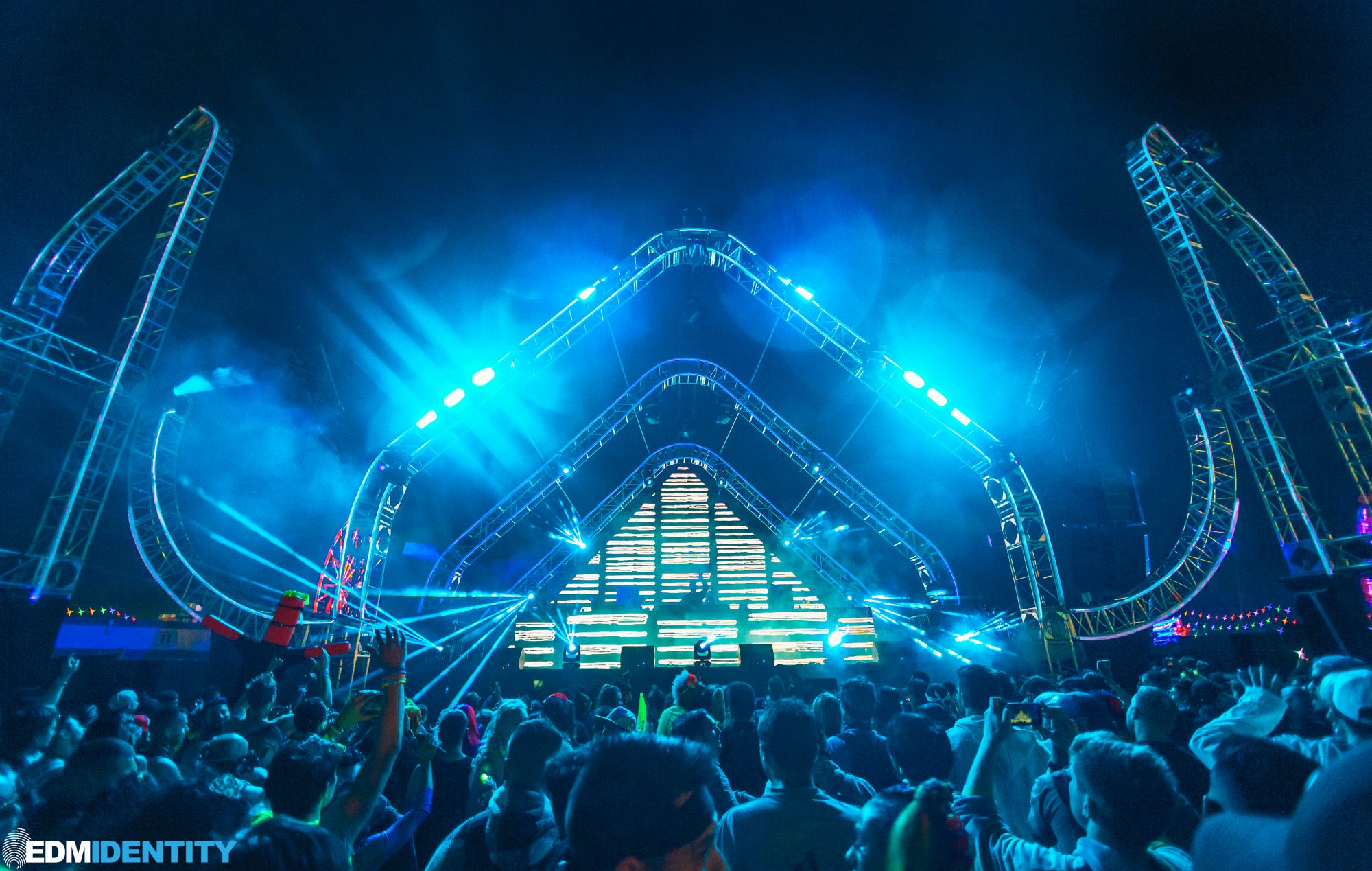 Even though there is no PLUR in the parking lot, this year seemed to have a peace treaty signed.
Although that's a joke, what I'm referring to is the ungodly apocalypse that typically goes down at the end of the festival in the parking lot. This can particularly be the case with EDCLV, or maybe it just seems far worse because, you know, it's five in the morning and all.
This year, however, my party and I were able to blissfully drive out of the lot into the sunrise in no more than ten minutes each morning. Granted, we had upgraded with a premier parking pass that was for a different lot, so your mileage may have varied. That being said, I think it's important to highlight this perk, because I definitely felt as though attendees who paid for premier got their money's worth. It can be frustrating when festivals offer upgrades that do little to actually "up" the experience.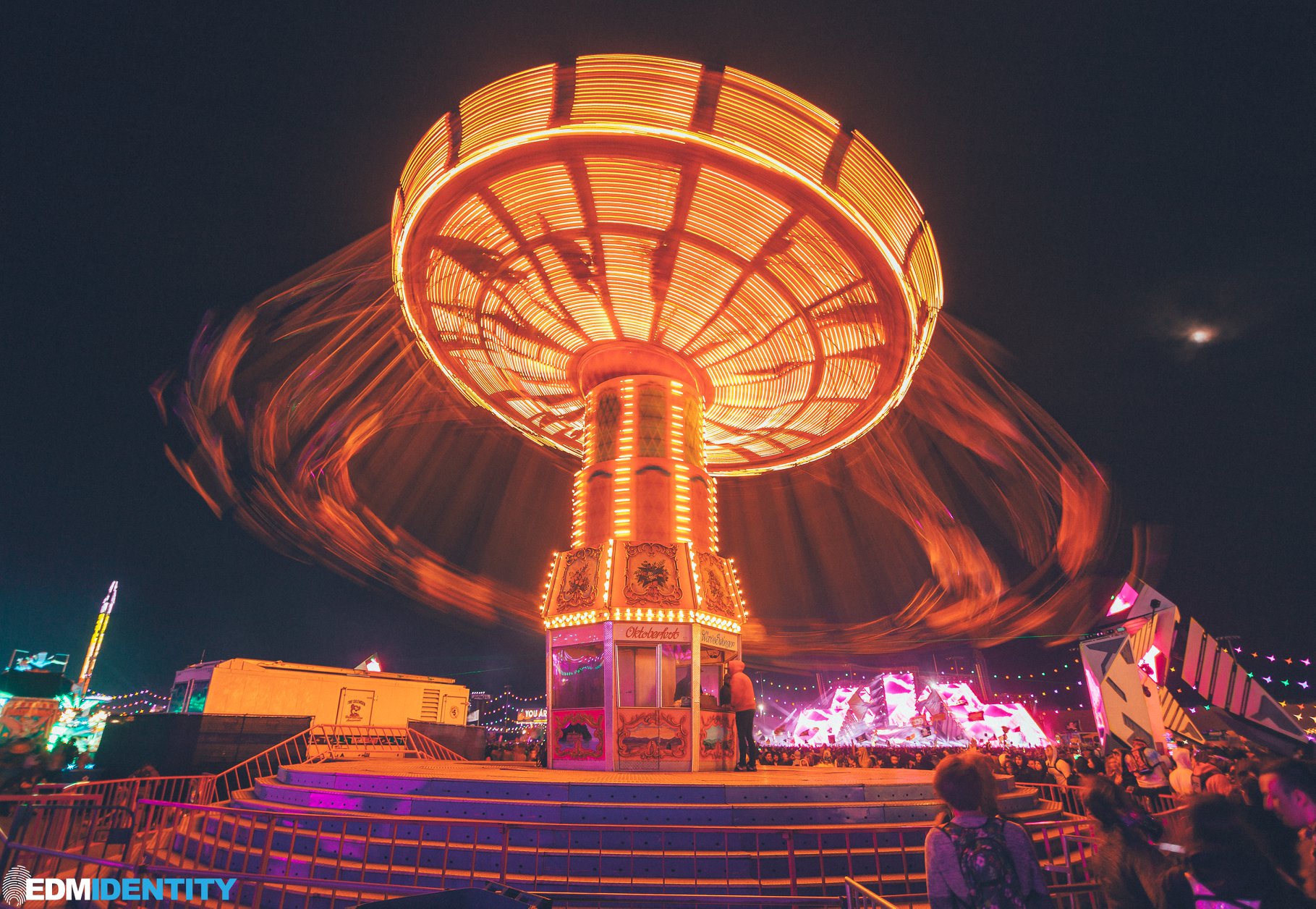 The Insomniac production team truly turned EDC Las Vegas into the best version of an adult Disneyland that they possibly could have!
Over the years, I've heard this description of EDC Las Vegas used many times: "It's like Disneyland for adults!" Admittedly, when first walking into the festival this year, it resonated with me.
This year, Insomniac utilized over 90% of the Las Vegas Motor Speedway, more than ever before, and it showed. Although I never find the time to try out the rides for myself, they definitely seemed to stand out more than in the past. Those who did were treated to surreal aerial views of the festival, whether from atop one of the two Ferris Wheels inside the fest (one of which was inside VIP) or while enjoying the amusement park staple: the famous swing ride. After all, what's a carnival without the rides?
Plus, the firework shows displayed Friday and Sunday of the festival were probably the best I've ever seen in my life, and I've lived through my fair share of Fourth of July's. I swear you could hear the entire crowd "ooohing" and "aahhhing" the entire time. Check out more on the firework show in our five moments we cherished at EDCLV article!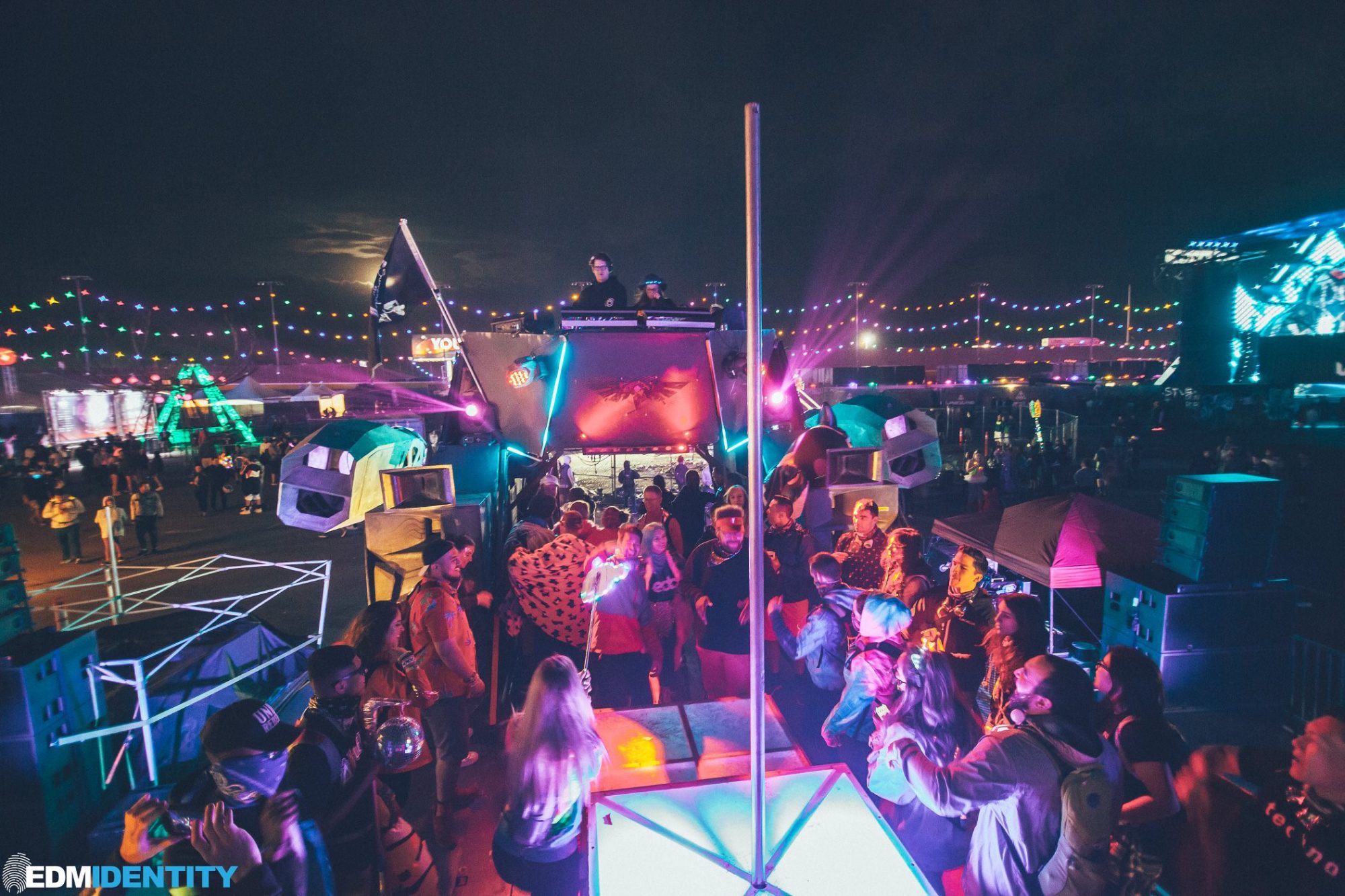 Production and lineup aside, most of my favorite memories from the weekend were created while dancing on top of the art cars that were stationed around the venue.
Designed to withstand Burning Man conditions, these Art Cars were the place to be during the windstorm on Saturday that shut down kineticFIELD and temporarily quantumVALLEY early on… but more on that later.
The best part about the art cars was the intimate show settings they created. While enjoying the view from on top of the car, you could suddenly find yourself two people away from major artists like Alison Wonderland, A nice treat as she threw down a surprise house set at the Parliament Art Car immediately following her main stage performance on Friday.
Some other art car highlights from the weekend were Hook N Sling and the mau5trap takeover that kept the party going throughout the wind ordeal Saturday night, specifically the b2b set from i_o and No Mana. I also won't forget the epic, nostalgic set by Bunny from Rabbit In The Moon who played the first-ever EDC back in the day, all of which went down at the Parliament Art Car.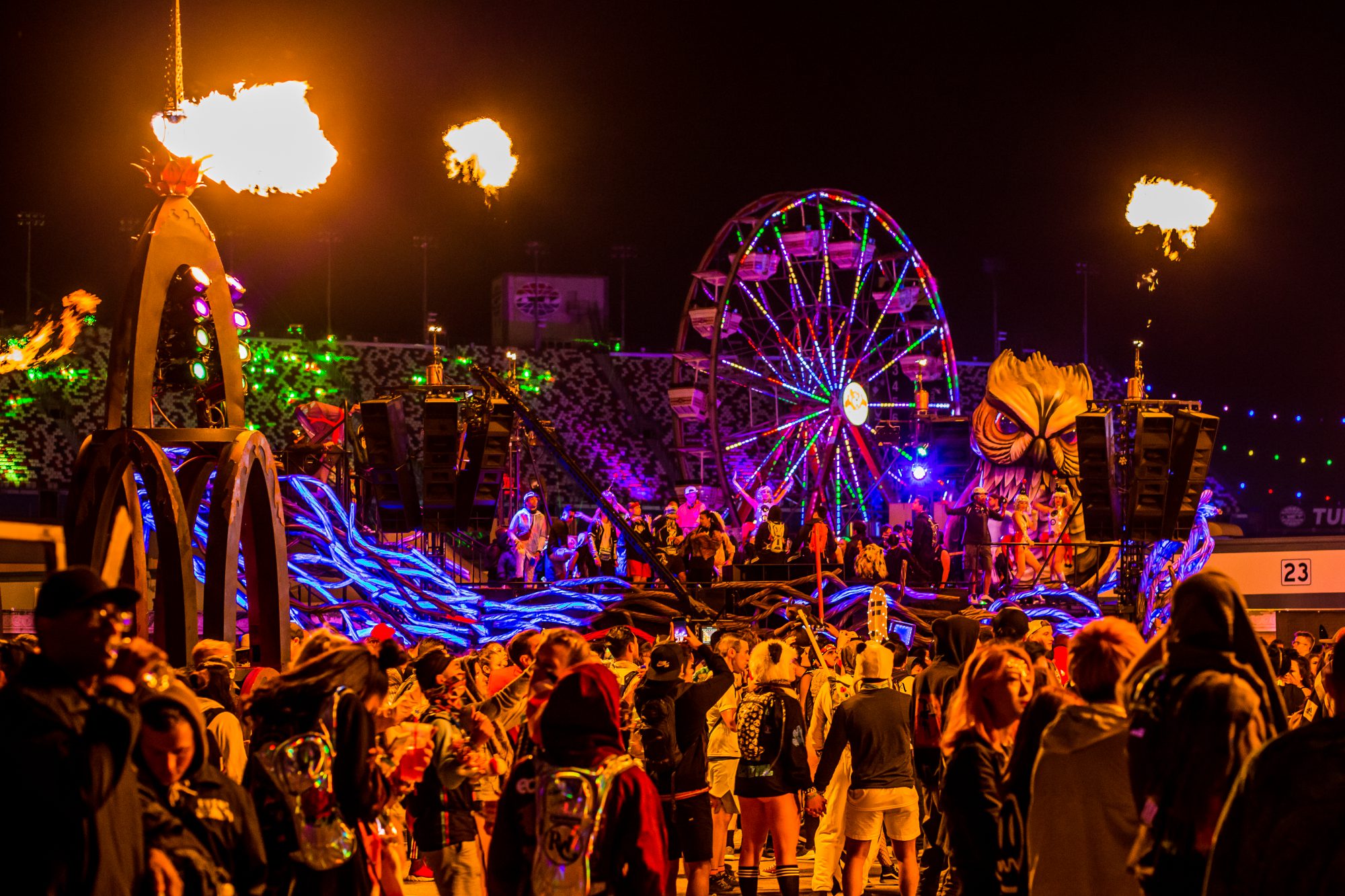 Let's talk about that lineup, because this year was full of amazing acts.
Of course, it wouldn't be EDC without the overwhelmingly large lineup Insomniac boasts each year. From bass legends like Adventure Club and RL Grime to house maestros like Chris Lake and Claude VonStroke, this lineup was comprised of many personal must-sees.
It would be nearly impossible (and rather lengthy) to talk about every set from the weekend, so I'll just touch on the highlights.
Unfortunately, due to traffic and some ticket complications, I missed Bill Nye's opening ceremony, although from what I heard it was exactly what one would expect from a Bill Nye speech: climate change bad, mankind please get it together. You're not wrong, Bill!
After the initial logistics snafu, it was pretty much smooth sailing straight to circuitGROUNDS for a three-hour-long house marathon that began with Blacklizt, aka ZHU's alter ego. If you're not familiar with Blacklizt, it's like Zhu, but more techno and lasers. It was deep, it was techno, it was fabulous.
Next up was Eric Prydz, so we stuck around, obviously, to witness some good ole Prydzian house music. Yes, I just made up the word Prydzian, let's make it happen people! To keep the epic set train rolling, Above & Beyond followed with some of those signature Anjunabeats vibes.
circuitGROUNDS was actually where I spent the majority of my weekend, but no complaints here as the stage setup was one of my favorites. It featured plenty of giant LED screens surrounding the audience to create the ultimate visual experience.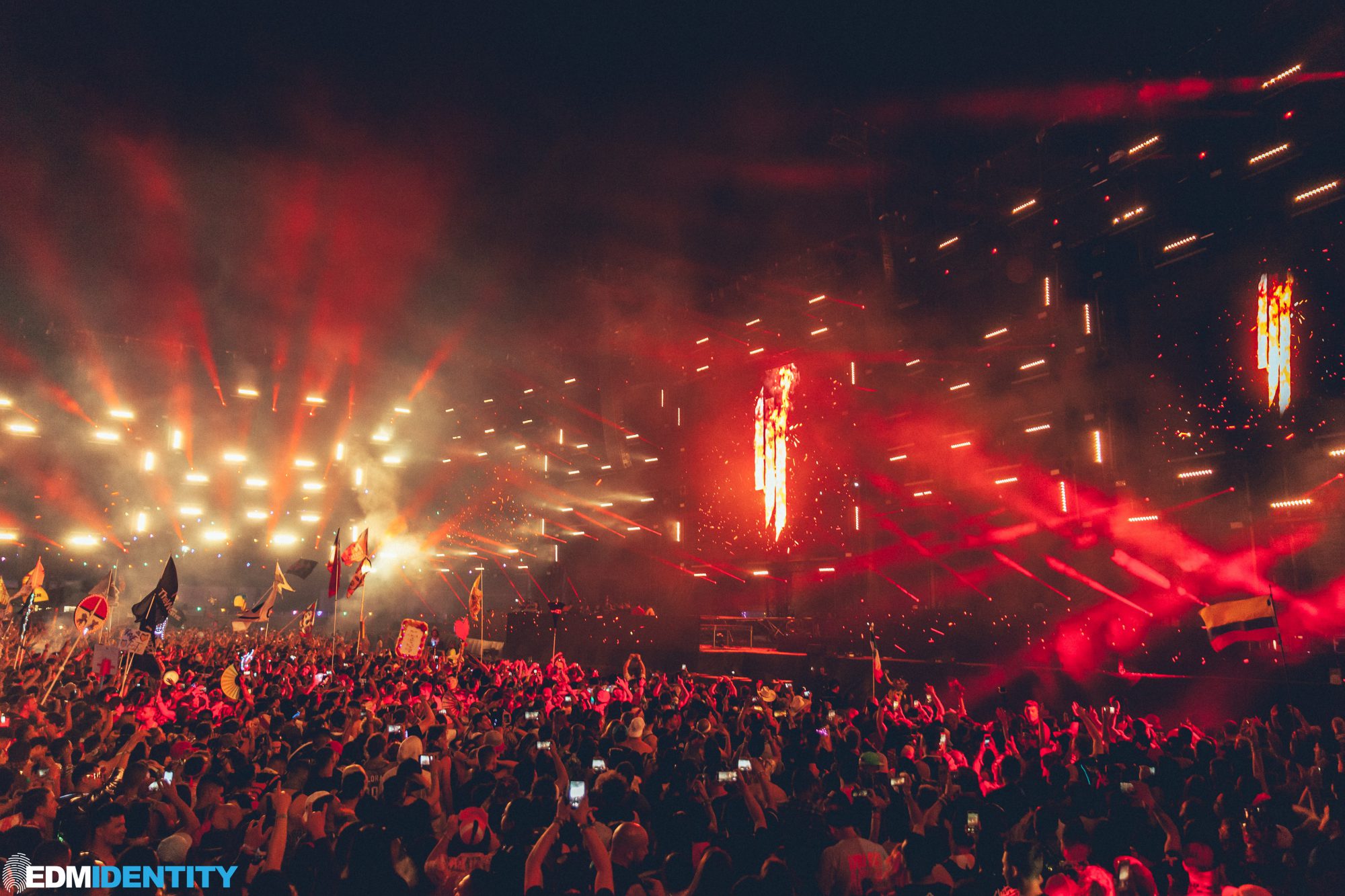 Dynamic duo Yolanda Be Cool kicked off our Saturday night with some groovy house music and dancers.
In retrospect, those dancers were probably just five of their closest buddies dressed in astronaut suits to accent their latest release, "Space Jam". From there, I spent some time exploring artists I had never caught before like South African DJ and producer Black Coffee, who made quite the introduction. He had neonGARDEN rumbling to his percussion-infused beats and I loved every minute of it.
Later that night at circuitGROUNDS, surprise guest Skrillex made his EDC Las Vegas comeback in typical fashion: with a satisfying set that paid homage to his roots in dubstep while also bringing in his popular house, rap, and pop tracks for the crowd to sing along to. After, SLANDER took the stage and had the entire crowd headbanging to their self-proclaimed ethereal genre dubbed "heaven trap" and REZZ transported the stage to outer space with her characteristically trippy visuals.
During his performance at cosmicMEADOW, ZHU got the chance to rock his highly anticipated "fit before the winds hit," a jacket that was comprised of festival wristbands from concert-goers around the world. More on that in our EDC LV 2019 fashion article.
On Sunday, CamelPhat transformed cosmicMEADOW into a groovy house haven that was followed by Chris Lake, whose second set of the weekend awarded attendees with popular fan favorites and new releases alike. Zeds Dead obliterated circuitGROUNDS with their ear-shattering bass and even dropped their new Billie Eilish "Bury A Friend" remix. Adventure Club also made their triumphant return to the festival and rocked the bassPOD. After his set was canceled the previous night, RL Grime made it his own with an epic surprise redemption set as Zeds Dead handed off the reins to him, and we can't forget about Andrew Rayel finding his harmony at quantumVALLEY with a stunner as well.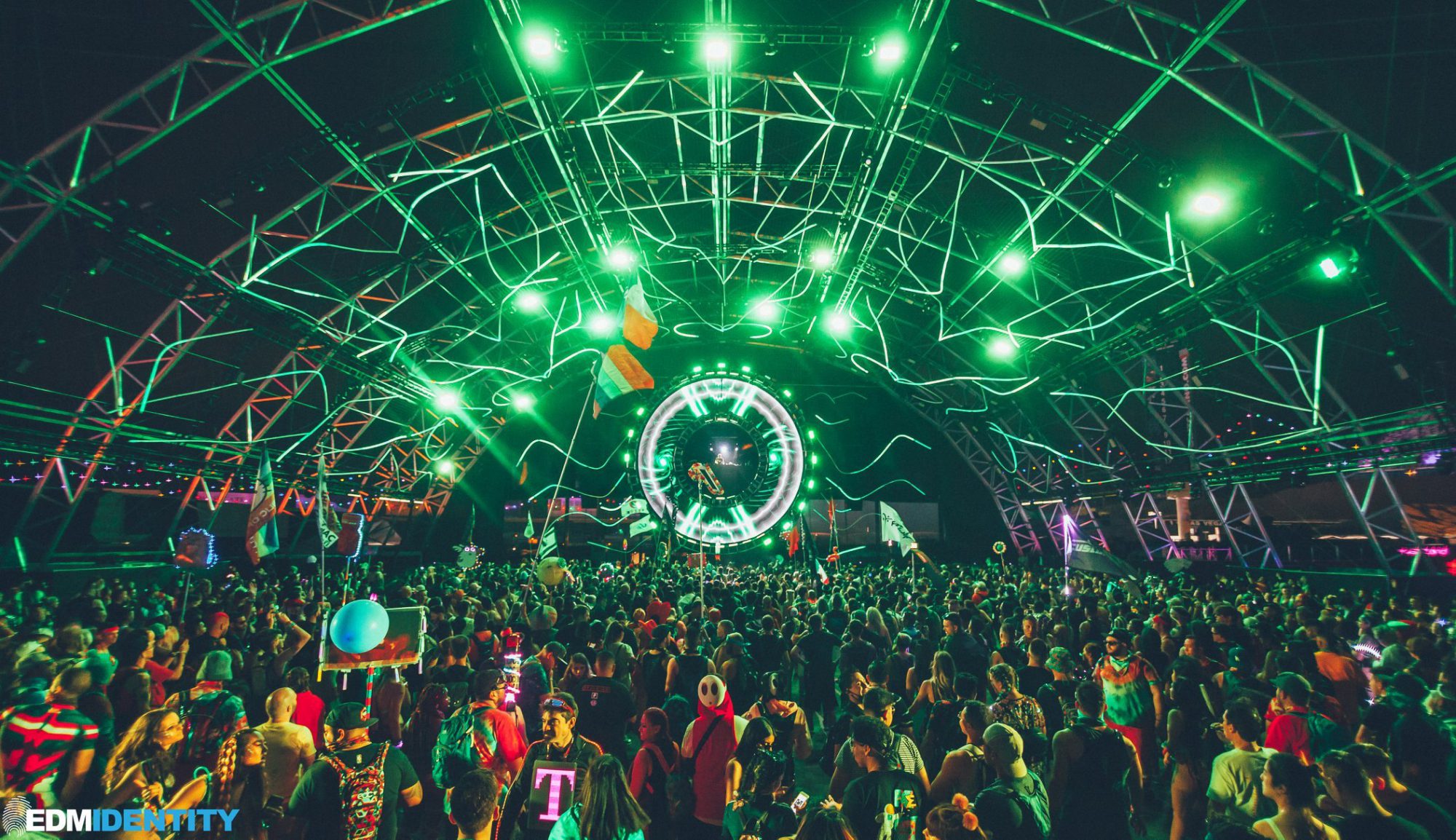 Now, onto the wind that is one of the most highly discussed aspects of this year's edition.
Between 1-1:30 AM on Saturday, high winds picked up on the speedway. Attendees enjoying the end of a massive set by Tiësto were advised to evacuate the stage area, but many took it as evacuating the venue entirely. It was later that we learned that in fact only kineticFIELD and quanumVALLEY had been shut down, with kineticFIELD being the only stage closed for the duration of the night. This was devastating to many as it meant that highly anticipated sets from Kaskade, RL Grime, and Green Velvet & Claude VonStroke aka Get Real were shelved.
Although Insomniac notified those with the Official Insomniac Events app that all evacuees would be allowed back into the venue, many were already on their way back to hotels by the time they saw the message. This, of course, elicited a (rightfully) upset response from those attendees who were asked to leave the venue and they took to social media to raise their pitchforks and voice their concerns.
Ultimately, while Insomniac could have been more consistent with their messaging and had clearer communication, they made the right choice. By shutting down the stages that they felt were unequipped to handle the wind, they prioritized attendees' safety above all else, which is something I've come to appreciate greatly about them as a company.
In fact, the safety of attendees was clearly a top priority at EDC Las Vegas all weekend.
Between Ground Control ensuring everyone had a safe experience, the massive Medical Team that took care of attendees who were feeling ill or needed help, and areas inside the festival allocated specifically for those in need of a break, Insomniac knocked it out of the park this year. With the second year of zero deaths being reported, EDC Las Vegas once again proved that Insomniac is a leading force paving the way for festival safety.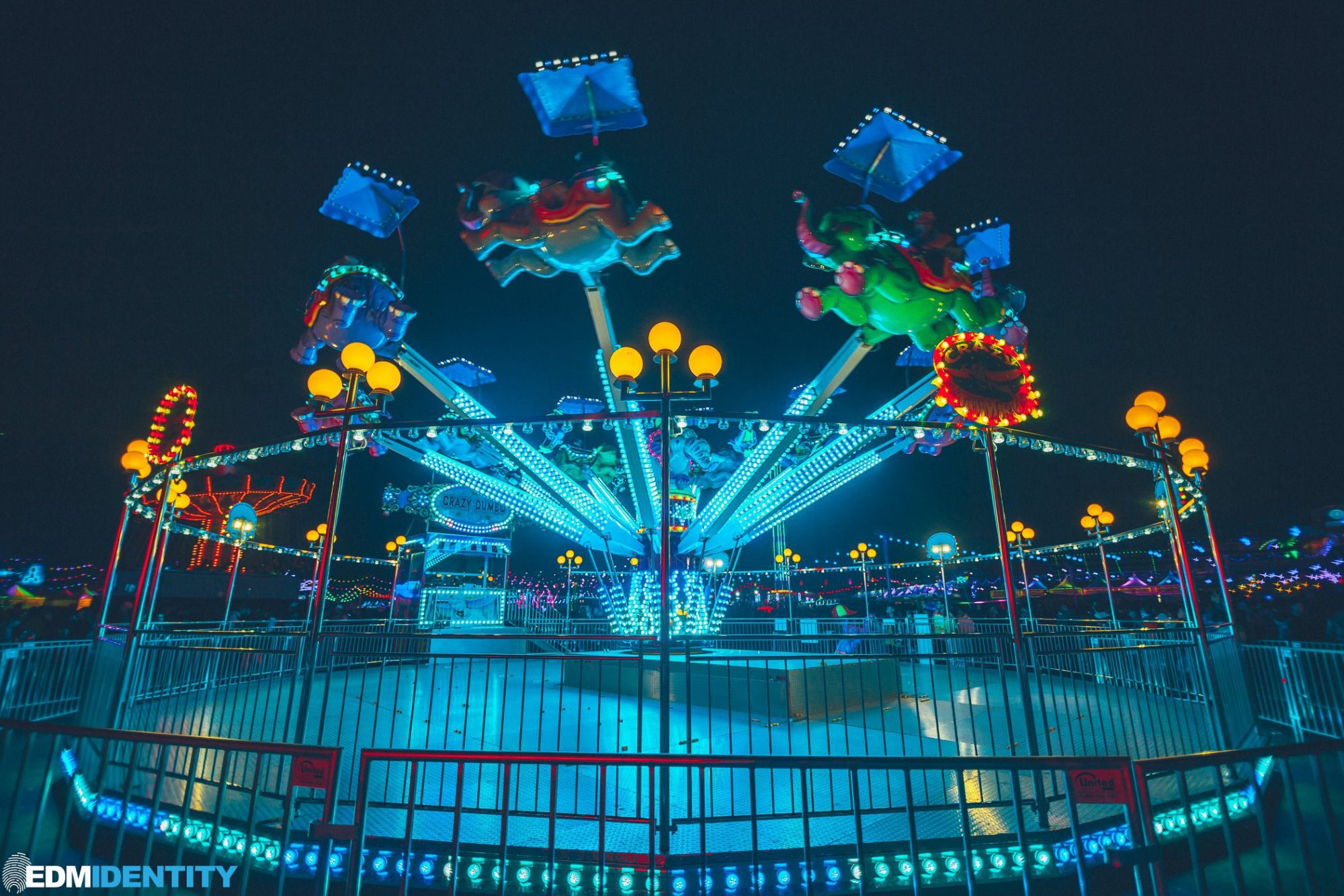 Of course, there are always some improvements that can be made for future editions.
There was some sound bleed between stages, specifically at neonGARDEN and quantumVALLEY which were nestled right next to each other. Next year, if we could get these two further apart or possibly turned at a different angle from each other to avoid that, it would be great.
Additionally, although this year's temperatures were uncharacteristically chilly, the water refill stations had lines longer than the bathrooms and food vendors combined. Making a single line that snaked was the right start, but in the future, it would be great to see another water station added to the venue to help cut down on the time spent refilling our hydration bags.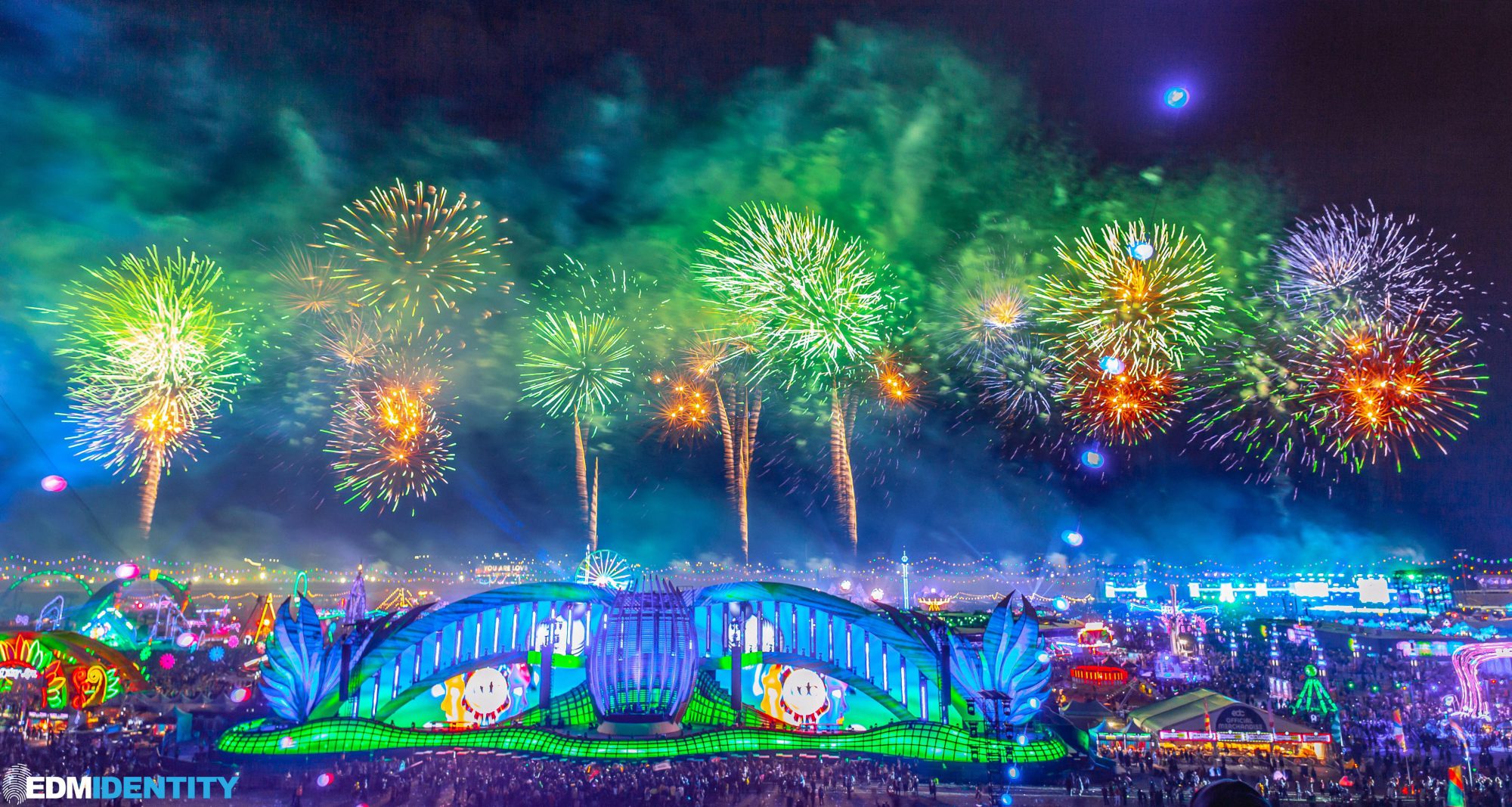 Overall, I felt EDC Las Vegas 2019 was the best it's ever been.
Armed with a new and improved camping layout that made the weekend's fun a 24-hour affair, improved VIP areas, plenty of fun art installations to explore, stunning production elements, and more, this year's edition of EDC Las Vegas was just breathtaking. It truly was an enjoyable weekend, which can certainly be difficult to do when partying in a neon-LED oasis overnight for three days in a row.
The entire experience was much more relaxed while still packing a punch and at the end, it made me hungry for a return trip to celebrate the 10th Anniversary of their arrival in Sin City next year. So kudos to you, Insomniac, for putting on the party of the year at EDC Las Vegas; I can't wait for my return trip in 2020!
---
Connect with EDC Las Vegas on Social Media:
Website | Facebook | Twitter | Instagram