John Kenefick was suffering in unimaginable ways. After he ended up in a wheelchair, he created Dances With Cardboard to uplift others — and himself.
---
Growing up, John Kenefick always loved music. As an adult, he rubbed off on his two kids, nurturing a family unit that shared his passion. Fast forward to a decade ago, and his daughter ended up working for Bonnaroo Music & Arts Festival, getting her dad a job at the festival. He'd previously attended many concerts, but this was his first festival and he never looked back. He wasn't an electronic music fan at the time, per se — but he did find that he always gravitated to Manchester, Tennessee gathering's Other Stage, so perhaps he really was. Eventually, he'd find his way to events hosted by Insomniac, and the love so many of us feel for the community at dance music festivals.
But this is only a small part of his story. John was a military man, and his body took the toll of that life. As a pilot, he had miraculously survived multiple crashes, but luck wasn't on his side in the following years as a civilian. Over a few years, he was rear-ended in three separate car accidents and his neck and spine suffered severe damage. He eventually had nearly all the vertebrate in his neck fused, severely limiting his mobility.
For years, he suffered in silence, trying to hide his pain and sadness as many with disabilities often do. "We do a lot of faking. We fake that we're happy, we fake that we're not in pain, and we try not to use assistive devices," he said.
But John wanted more. Despite his challenges with painkillers and depression, something told him there was more, and he was determined to find it. He discovered the joy of festival life and attached himself to that. After years of struggles, he was finally approved for the assistance needed to get an electric wheelchair, and that was when everything began to change.
I talked with John and found his story truly inspiring! Read on below to learn all about him, and why you should look for him at your next festival.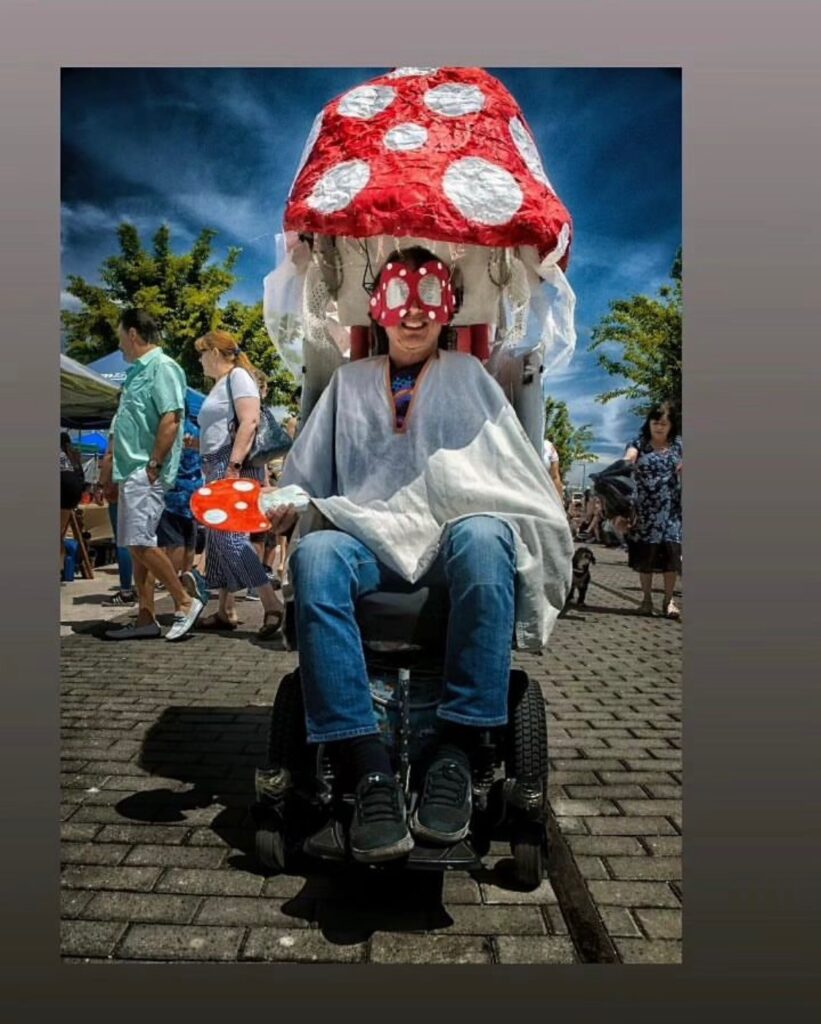 Those with disabilities often feel that they are invisible. People ignore them because they don't know how to interact with someone who is different.
When John shared this feeling with me over the phone, it reminded me how another disabled raver I talked to found that music and community changed their social dynamic so wonderfully. With joy in his voice, John beamed, "At festivals, I'm no longer invisible in the crowd — now I attract so much interaction and so many uplifting interactions. This is so therapeutic for me. My purpose is to spread love, acceptance, and everything positive."
John received his new wheelchair early in the pandemic and immediately knew what he had to do: make it into an art car. Always a creative person, he took cardboard boxes destined for the trash and experimented with different designs, such as a robot, on the local streets of his hometown of Albuquerque. He ultimately landed on his instantly recognizable mushroom. It got the best response, hands down.
The birth of the mushroom marked the birth of Dances With Cardboard.
Dances With Cardboard isn't just about the chair, or even John himself. It's so much bigger. Dances With Cardboard is about spreading love and joy, bringing people together, and sharing art. If you encounter Dances With Cardboard early in the day at a festival, you'll likely get a small piece of personalized cardboard art that he creates to hand out each day (but supplies are limited!).
For John, becoming Dances With Cardboard is a transformation not unlike that of Clark Kent as Superman. John is much more of an introvert in his daily life. When he becomes the human element of his art car, however, he's incredibly outgoing.
He clearly remembers the moment at his first EDC Las Vegas when he learned about PLUR. A young woman took him through each of the letters, each of the hand symbols, and proceeded to give him a kandi bracelet.
She then said to him, "I wish we could all be this way in the outside world. It's the way we're supposed to be. It's the way the world is supposed to be." John found this so inspiring that he's carried the PLUR torch ever since.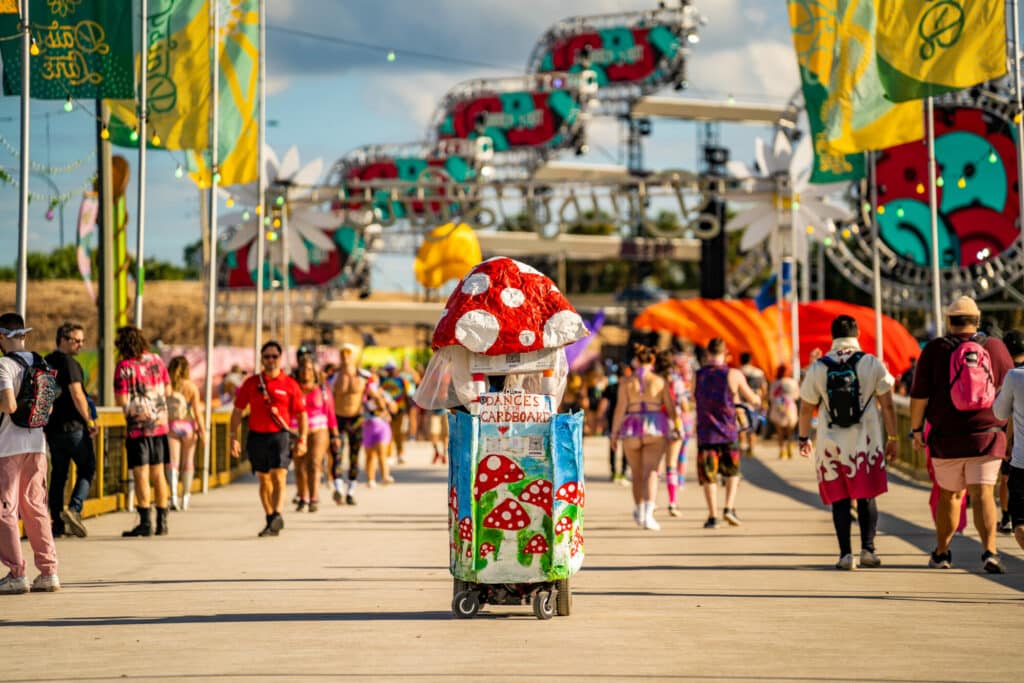 Dances With Cardboard and John's mission so touched the Insomniac team that they reached out to him to collaborate.
I was introduced to Dances With Cardboard through an Insomniac team member named Grace. As a writer, I figured she's simply a PR or marketing person reaching out to get more Insomniac coverage. Perhaps that was part of the reason, but John's connection with Grace, and her intentions, are so much more pure.
Grace initially reached out to John because he was interacting with the Insomniac team on socials. Grace said, "I love what you are doing, can we do a video with you?" From there, an amazing friendship has blossomed.
John told me, "She's a beautiful soul who is full of light and love and positivity and kindness. Her team is very lucky."
Dances With Cardboard stops at EDC Orlando next, so be sure to go look for him there.
John has become a devotee of Insomniac events and will next be found at one of his favorites, EDC Orlando. While he hopes to take in more events in the future, these days he commits to four Insomniac events a year. Wintering in Clearwater, Florida makes EDC Orlando a no-brainer for him. If you see him there, he has a simple message for you: "let's dance!"
He has a secondary message as well: "MAKE ART! Take the boxes you'd throw away, make a template of something, trace it, cut it out, decorate it. Now you're being creative, you're upcycling, and you're sharing love at events. Everyone loves to get a gift, especially when they learn it was an Amazon box that was headed for the trash."
I left my call with John Kenefick feeling so recharged and inspired. He's an uplifting human who understands the virtuous cycle of putting positive energy out to others. I personally hope I get to meet Dances With Cardboard in person at a future festival!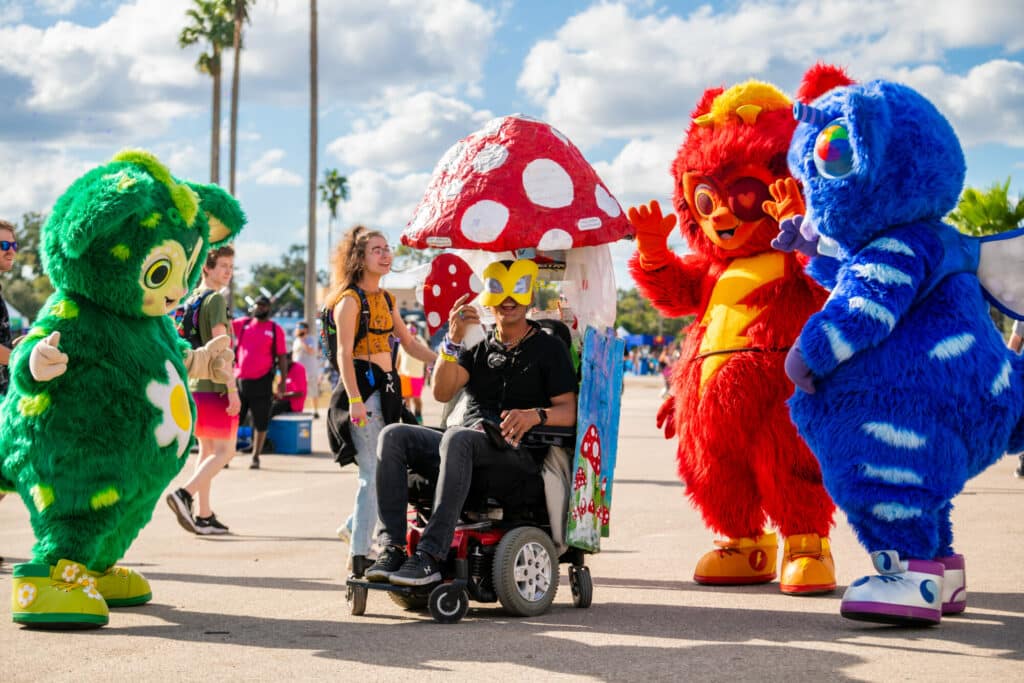 ---
Follow Dances With Cardboard: