Female Ravers United took over Electric Forest and curated a number of inclusive events!
---
Female Ravers United (FRU) is a community that was created by Ellie Barker to unite and uplift female, gender-fluid, non-binary, and gender-nonconforming voices in the dance music scene. Alongside the amazing admin team, they created and cultivated this inclusive community. What started out as a Facebook group that provided a safe haven for these voices has evolved into a wide-reaching, holistic community that hosts meetups, events, and conversations around the industry, artists, fashion, and more.
One place where FRU especially shines is in their events and meetups. One such gathering was the massive undertaking that was their Electric Forest takeover! Electric Forest is a magical environment and unique festival on its own, but that feeling was amplified by the myriad events Female Ravers United put on and collaborated with during the festival.
Female Ravers United x Electric Forest Brainers (The Brainery x HerForest)
In this collaboration with Electric Forest's The Brainery, Female Ravers United hosted a special panel discussion called "Female Ravers United: The Importance of Community and Mindfulness." The Brainery is a space where Forest Family shares their knowledge and passions by holding workshops based on a variety of self-selected topics. Female Ravers United's workshop was hosted by Ellie and moderated by Devin Dalakouras and Brittney Puariea, as well as other group members Kandi Diva and Alycia Grace. The panel focused on the community's origins and what it means to be part of something as vibrant, supportive, and inclusive as their own.
Electric Forest's Plug-In Programs are an amazing way for Forest Family to be involved in the curation of the festival. It allows individuals to collaborate with Electric Forest and create unique and personalized experiences through workshops, projects, and more. Many members of the FRU community contributed to the Electric Forest ecosystem in numerous ways!
Member Karlee Petrucci taught a shuffle class on behalf of the collective inside the HerForest space. Ellie continued to exert her influence alongside Imani Williams, also known as Givemeplur, as they participated as unmediated members in the Plug-In Program at Electric Forest, representing Female Ravers United. Alycia Grace was also there, representing as one of the voices of Electric Forest Radio.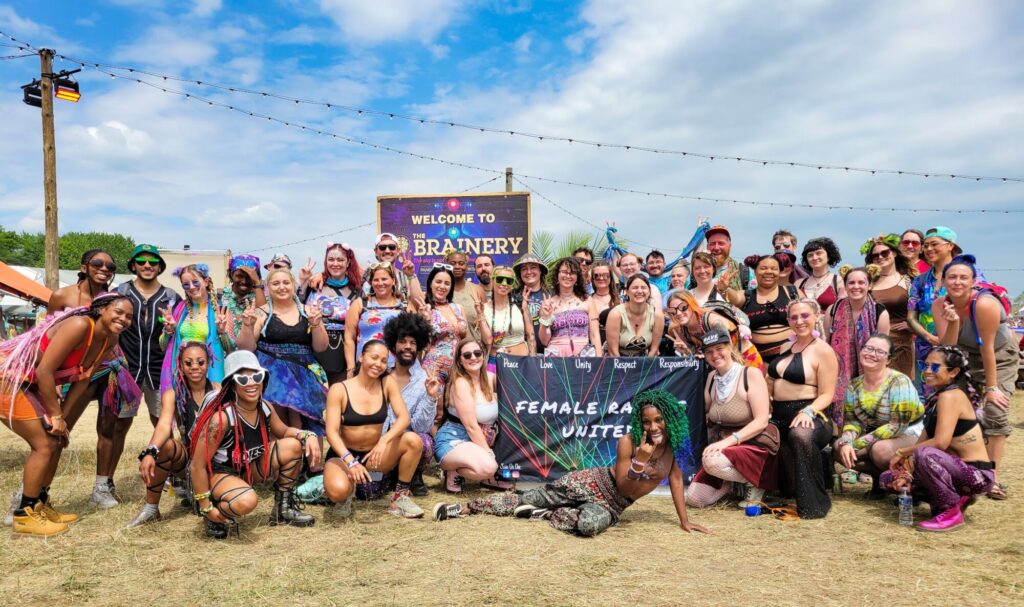 Female Ravers United x Aluna x Electric Forest
Another way that Female Ravers United stands out is by collaborating and uplifting artists, promoting inclusivity in the scene. One such artist is the amazing Aluna.
A few months ago, Aluna made a call on Instagram to Black ravers in the scene to meet up at festivals around the world. One such festival was Electric Forest. From there, Female Ravers United, alongside Basslollipop and Givemeplur, teamed up to curate an experience and meet up with Aluna on the festival grounds. They worked with businesses such as Bassheadbeads, Kandi bar, and Lunautics to provide custom kandi and accessories for attendees.
Additionally, they collaborated with Slam Academy to give away discounted Ableton courses as a way of making music production more accessible. Slam Academy is a Minnesota-based music academy specializing in teaching people to use music production software; it shares the mission of striving to make electronic music more accessible. While the meetup did not go as planned due to an evacuation on the grounds following a storm, Aluna was still able to meet with many of her fans and supporters before delivering an amazing performance on stage.
This is just the start of the grand-scale collaborations that Female Ravers United has in store in terms of community, amplification, and volunteer work.
Beyond their recent takeover at Electric Forest, Female Ravers United are spreading their mission by cultivating subchapters in Chicago and Minnesota. Female Ravers United is an amazing group that will continue to uplift voices and unite like-minded individuals throughout the scene, and we can't wait to see what else they have in store for 2023 and beyond!
---
Follow Female Ravers United: