HALIENE's Dream In Color (The Remixes) features special guests Ferry Corsten, Jason Ross, Ruben de Ronde, and more!
---
Officially released earlier this year, HALIENE's "Dream In Color" offered listeners an inspirational healing experience that was paired with a stunning music video as well. Today, after months of waiting, we have finally received a remix package to soak in the track in an entirely new way.
Featuring six remixes in total from artists like Ferry Corsten, Jason Ross, and Ruben de Ronde, each remix reflects the diversity in the electronic music scene. Some of the artists brought the track to a trance-like state while others chose to remake it with some heavier bass, but each one showcases the vocal flexibility of HALIENE.
Download or stream Dream In Color (The Remixes) on your favorite platform and read on for my take on the entire package!
Stream HALIENE's Dream in Color (The Remixes) on Spotify:
---
One of the first standout remixes of the song comes from Ruben de Ronde.
You may have heard this special version in some of Ruben de Ronde's more recent sets. He retains HALIENE's sweet vocals but adds multiple different sound layers to enhance the sound and give it a more of a trance feel. The echo layer in the song where it sounds like HALIENE chanting "Dream, Dream, Dream" is a certified earworm and will quickly be stuck in your head.
Mazare gave us a beautiful drum and bass version of the track.
I found Mazare's version to be absolutely perfect and it is one of my favorite remixes. The addition of electric guitar in the chorus was a beautiful sound choice and gave the track a unique rock feel. I love the contrast between HALIENE's ethereal vocals and the intense nature of drum and bass. While we may be used to her vocals in a trance-like, uplifting way, I can now picture her vocals with drum and bass tracks.
As for Stonebank, I was expecting a happy hardcore remix but was left surprised.
Stonebank flipped the script and put together a more bass-heavy version of "Dream in Color". The opening portion of the track delivers a long, drawn out, and almost orchestral intro that leads into those filthy wubs. The remix brings out a very dramatic and loud interpretation of the song. For those looking for the heavy version of the song, Stonebank is perfect for just that.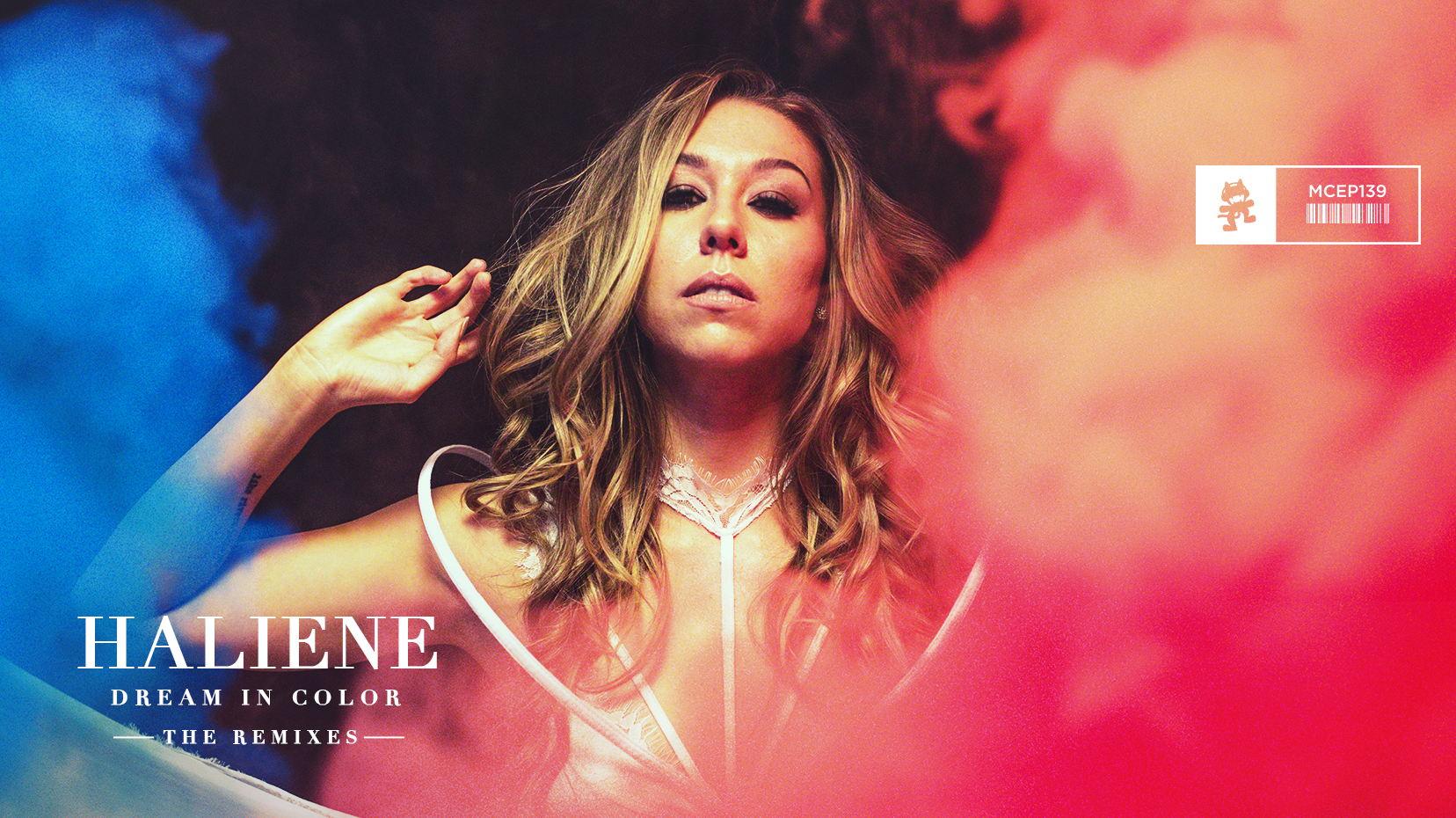 For those looking for a more melodic, dubstep version of "Dream In Color", the AMIDY remix is what you want.
AMIDY delivers a level of dramatic layers and sounds that bring out a huge cinematic vibe. There are loud drum samples and heavy dubstep drops that complement HALIENE's vocals but never drown her out. The real treasure in the track is the added layer of the violin hidden at the beginning that makes a surprising solo appearance towards the final moments. It definitely gives the song a more classical approach and a lovely artistic point of view.
Well-known Anjuna artist Jason Ross also put his spin on the track.
While I would love to see HALIENE work with an Anjuna artist (hint hint), this might be the closest we get for now. Jason Ross presents a more upbeat, progressive dubstep interpretation of the song. I really enjoyed how Jason Ross opened up the track with a more virtual sounding direction, and the pacing of the track moves a little quicker with pulsating kick drum beats compared to the other remixes.
Also included in the package is a remix from legendary artist Ferry Corsten, who worked with HALIENE previously on his Blueprint album.
From start to finish, Ferry Corsten injected his sound into the song. The song opens in true dramatic Ferry Corsten fashion with lots of electro and synth sounds. Out of all the remixes, I particularly like dancing to this one the most especially when the chorus hits and Ferry Corsten brings in that layer of euphoric trance sounds we all know and love.
Which remix of "Dream In Color" took your breath away? Let us know what your thoughts are on each song in the comments!
---
Connect with HALIENE on Social Media:
Website | Facebook | Twitter | Instagram | SoundCloud | YouTube