This year was my 5th year on Groove Cruise Miami. It's hard to believe that every January for the last five years, I've embarked on this wonderful adventure. With a new ship and a new destination, I had total mixed emotions about what was in store! However, just like every year, GCMIA completely exceeded my expectations and continues to remain the best electronic music event that I've ever been to. This is the event of a lifetime. Read my experience below, and make sure to book your cabin on Groove Cruise!
---
"Here's to the nights that turned into mornings, and to the friends that turned into family."
Heading to the Port of Miami is always fun for Groove Cruise. You never know what you'll see there — people dressed in random costumes, music blaring from speakers, and the Groove Cruise family members excitedly conversing with each other, some of whom haven't seen each other since the last GCMIA. This year, we were heading to a completely new destination, on a completely different cruise line and ship too. I was excited to see Grand Turk & Caicos Islands, but my feelings about being on a different ship were mixed. I had come to remember every nook and cranny of the Norwegian Pearl, having sailed on the ship the past three editions of Groove Cruise Miami. This was going to be a completely new ship! I didn't know where I'd go or where I'd meet up with people! However, I reminded myself that change can be good, and sometimes it's great to have a refreshing view on things.
The Carnival Victory ended up being better than I anticipated. I had no problems with the crew, other than them being pretty pushy on asking you if you wanted to buy a drink, even after telling them no. Outside of that, they were awesome! Unlike the Norwegian Pearl, our steward was at our beck and call. He was always there to help us with anything we needed and did an amazing job cleaning and organizing our room. I can definitely say he's the best I've ever had in the last 5 years. The food on the Victory was amazing as well…especially the pizza!
There were a few things that I missed about the Pearl, however. I can't decide if it was due to the sheer size of the Victory, or if it was due to the stage layout… but I felt as if I didn't see members of my GCFAM as much as I'd hoped to. Perhaps there could have been more at the Main Stage Pool Deck to get people together. That being said, the layout of the Main Stage Pool Deck wasn't my favorite in comparison to what we've normally seen. The "dance floor" was underneath where the DJ was playing, which provided a less intimate setting, in my opinion. Also, there were two hot tubs in the middle of it. This might not have been so bad if there weren't huge metal poles sticking out of it, which obstructed your view of everything. However, they were completely necessary I'm sure, otherwise, people would slip and fall.
Regardless, I did enjoy the production. I feel as if they did an amazing job this year production-wise on both the Main Stage Pool Deck & Aft Pool Deck Stage! I was highly impressed and liked the big screen on the Main Stage that showed different pictures, as well as the tiered seating levels. There were chairs to lay out in, sit on, and you could still see the DJ playing on the 2nd deck. Optional bottle service was also available on these tiers.
Identity & Greek Mythology: The Odyssey
On each day of the Groove Cruise, there are different costumes themes to participate in! It's so fun to join in and is highly encouraged. For the first day, the boarding theme was "Identity", and at night, the theme was "Greek Mythology: The Odyssey". Soon after leaving the port of Miami, the night was upon us and the music was already going. The sail away party was amazing and Sam Feldt absolutely killed it. We listened to him play while we watched the beautiful Miami skyline disappear into the distance. This beautiful view is one that everyone just HAS to see some time in their lifetime.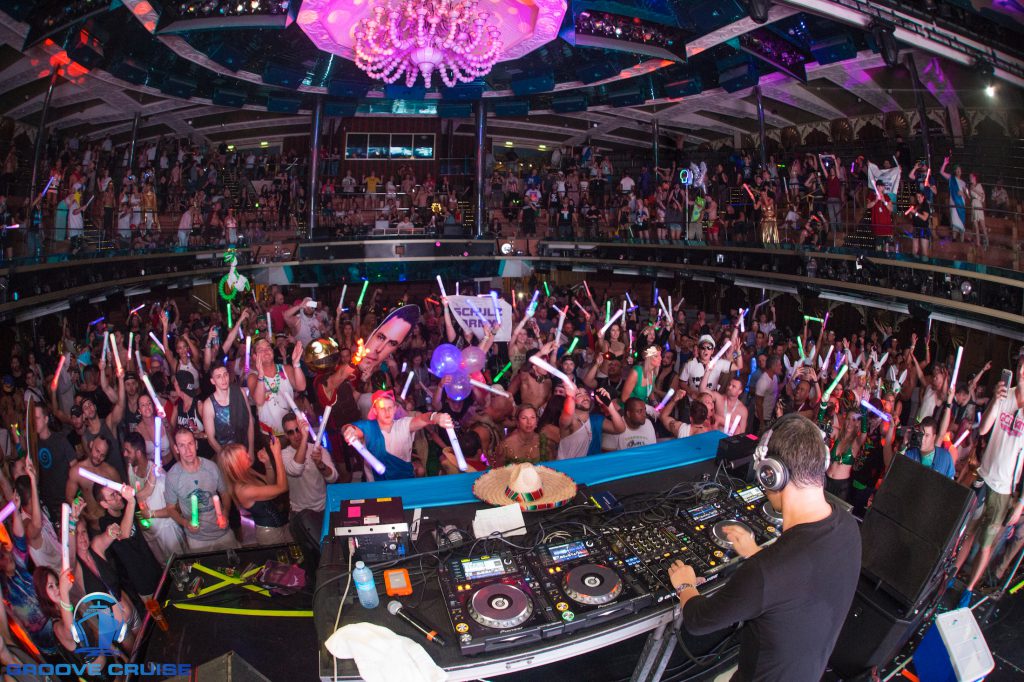 Musically, I would say that night one was one of my favorites. First, we went to support Peter Kontor, who is a local Chicago DJ and was part of our GCFAM this year. He won the Markus Schulz remix contest, where contestants remixed "In The Night", and the winner was hand picked by Markus himself. The remix can be heard here if you're curious! Next up, was none other than the legend and Groove Cruise veteran, Markus Schulz. He played an open to close set, and per usual, absolutely nailed it… it was epic and one of my favorite sets of the event. Unfortunately I didn't make it to UMEK, as I was exhausted from the day's activities… however, I was told that his set from 4 AM – 7 AM was one of the best sets of the cruise too. It's a marathon, not a sprint!
Something absolutely beautiful happened during the sunrise too. There was an actual sunrise wedding of two individuals who are part of the GCFAM.
Paul and Nikol — congratulations to you both! It was absolutely beautiful and many were in attendance, even Dash Berlin.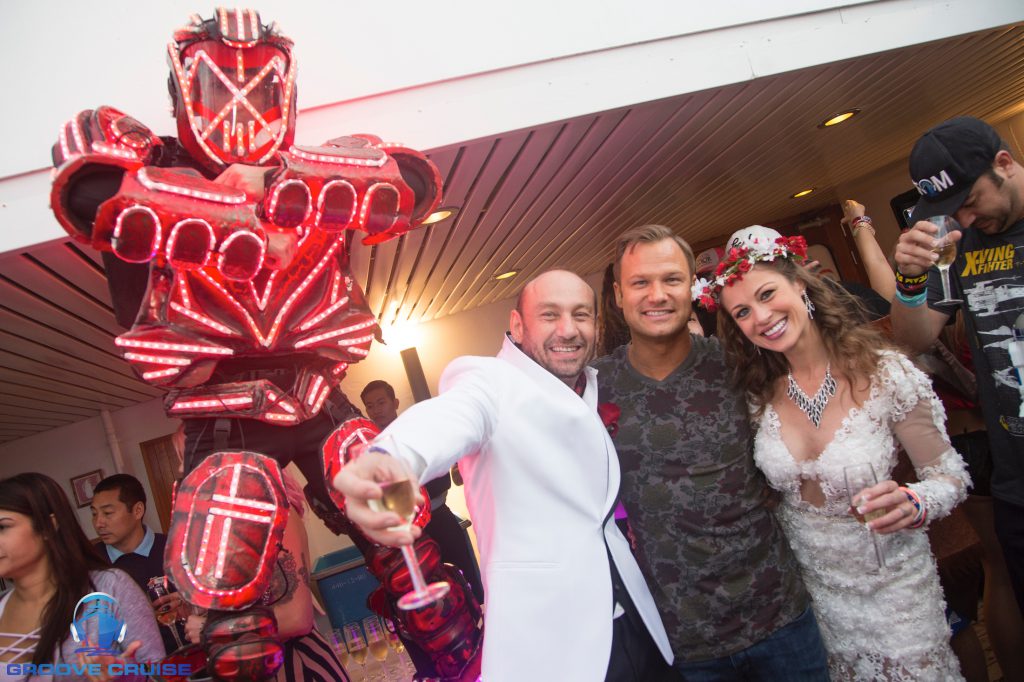 Neon & Old School Raver Night
More great music was upon us on Tuesday. I was super impressed with Goldfish, who I'd never heard before, and Chocolate Puma was great as well. Of course, being a trance fan, Tuesday night was my other favorite night! Unfortunately, Darude didn't make it on the ship… but Adam Scott played longer and Cosmic Gate followed. Next was Dash Berlin and finally Grum. Every set was awesome. I would have to say that it was one of the best Cosmic Gate sets I've heard yet. During the day, I was able to go to the Mini-Golf tournament with the artists. Cosmic Gate, Andrew Rayel, Adam Scott, Nifra, and many more artists were in attendance.
One of the greatest things about Groove Cruise is you get to hang out with the artists! 
It's true. Most of them stay for the duration of the trip or at least part of it. They are roaming the ship having a vacation of their own. Most of them love to take the time to talk to fans, snap a picture, or enjoy a set with them. It's absolutely amazing. The highlight of my evening was attending the Markus Schulz presents Dakota Listening Party. Markus took the time to explain what his newest album, presented by Dakota and called The Nine Skies, means. He even prepared a listening mix which included songs that represented different portions of The Nine Skies. I've been a Markus fan for years, but after attending this, it made my love and appreciation for his dedication and passion to music grow even more.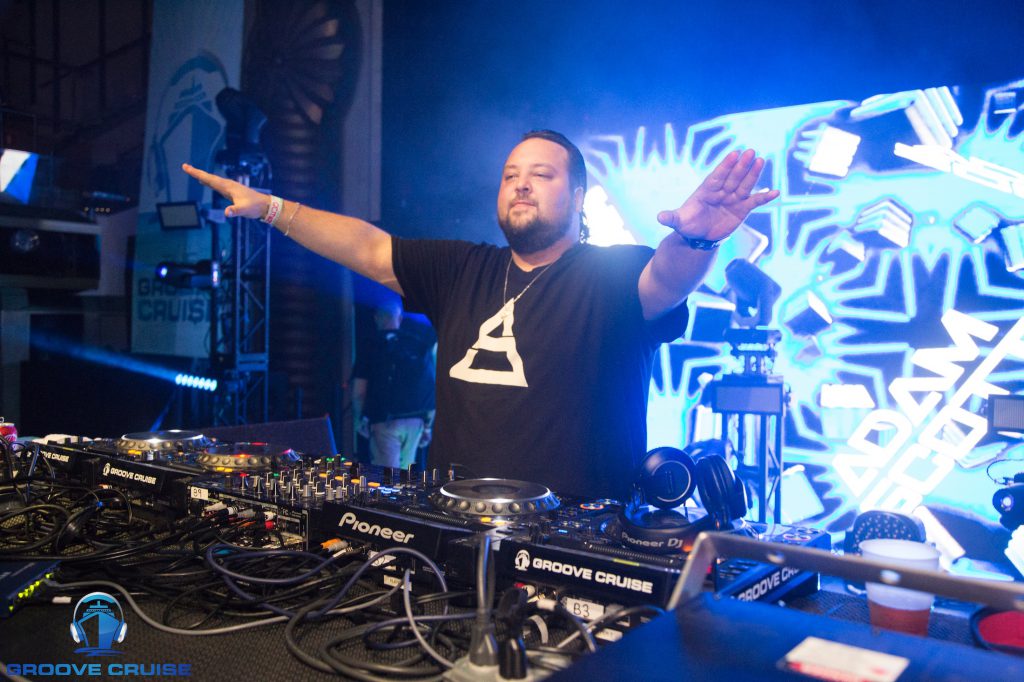 Destination: Grand Turk & Hippies vs. Hipsters
I headed off the ship to Grand Turk as early as possible on Wednesday. I wanted to maximize the time on the island, and I'm glad that I did because it was amazing and very beautiful! The weather was perfect and so was the clear blue water. I enjoyed that I actually got to spend time in the ocean this year, while still being able to listen to the music. Drums of the Sun was AWESOME! I must say that I was disappointed by Borgeous' set, and I feel as if a lot of other attendees felt the same. What he played wasn't so much the issue really, it was more that it just didn't fit in with the rest of the music that day, nor with what attendees really wanted to hear. No matter, though, because it was still an absolute fun time and the food and drinks at Margaritaville, though expensive, were on point! I will say that I enjoyed the "vibe" last year in Jamaica better as it seemed that there was more culture to appreciate, and it was less commercial overall. However, I didn't get to swim in the ocean and enjoy the beach and sun as much as I did this year on Grand Turk, which is a huge plus in my opinion.
That night… guess where I was? The theater of course! There was more trance to be heard. We headed to the theater as soon as it opened to see the wonderful Kristina Sky. David Gravell was up next, then Andrew Rayel, and then Jochen Miller. Despite being a complete Trance snob, I had a hell-of-a-time at Andrew Rayel. I thought he played an energetic and very fun set. Jochen Miller ended up being one of my top sets on the Groove Cruise, hands down. It was my first time seeing him and I was super impressed.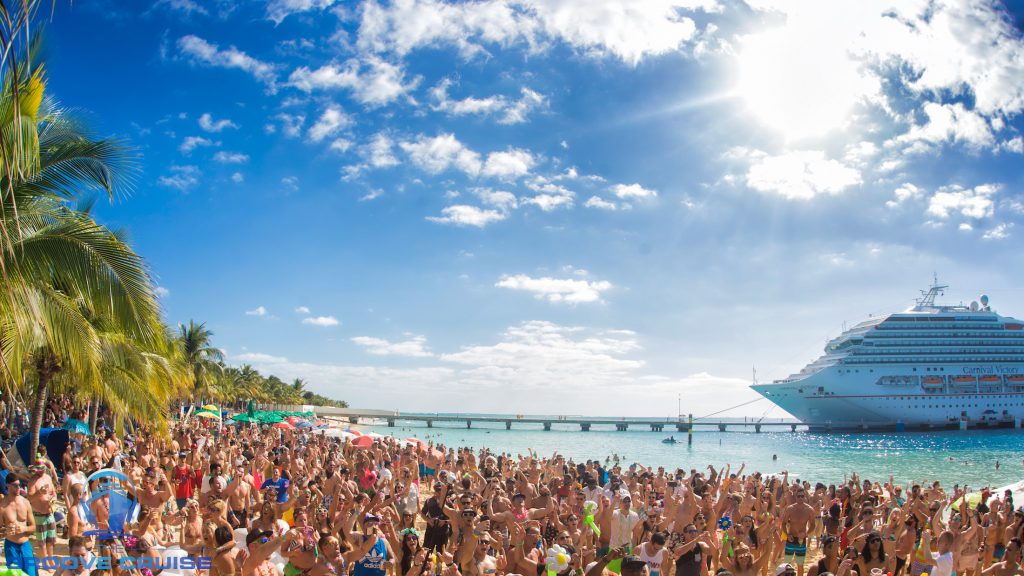 Brides & Chippendales & Carnival vs. Mardi Gras
The last day on Groove Cruise is always bittersweet. You're exhausted from the lack of sleep and all the talking, dancing, and walking around. Most people can't even speak because they no longer have voices. However, you maximize your energy because you know it's the last day and you want to get the most out of it. Grube & Hovespian played, then I hit up the EDX pool party of course, because who would miss that? Nifra was up next… and then Markus Schulz again! He took us into the night as the sun set in the background. The highlight of this day for me was the George Acosta b2b Kristina Sky throwback trance set in the casino at 2 AM. What a perfect way to close out Groove Cruise. All of my crew was there with me as we listened to some epic Trance!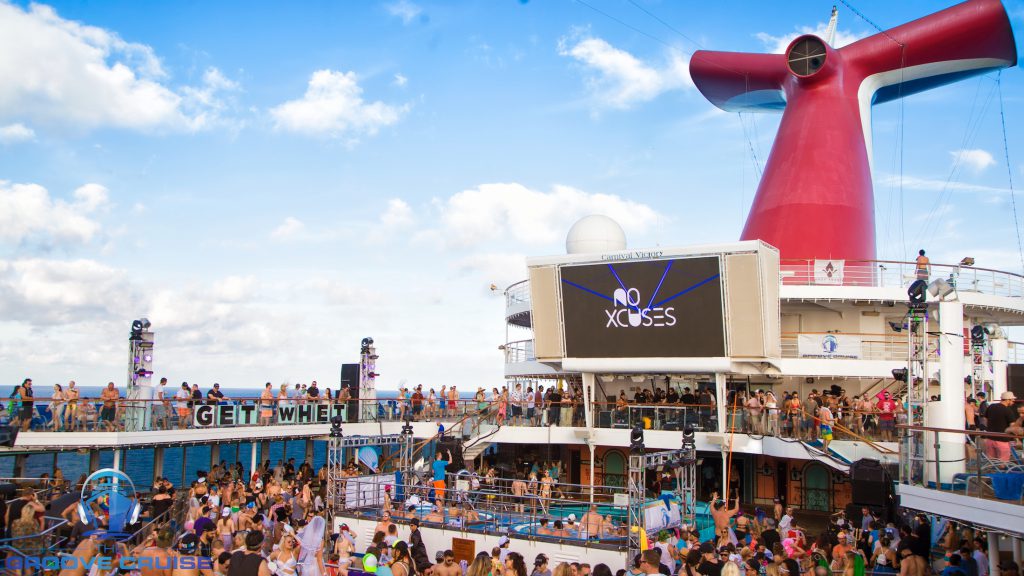 Memories to Last a Lifetime…
If you're contemplating Groove Cruise – my advice is to just do it! If you opt in early, Whet Travel graciously allows you to make monthly payments which make the trip affordable. It's 96 hours of non-stop music and fun with the best people you could ever ask to be around. Every year, it's music mixed with a tropical destination making Groove Cruise even cooler than other events. After you experience Groove Cruise, you'll find that you have another extended family. This family is one that you'll see at other events you go to who can't wait to see you again, individuals who will be there for you if you ever need somebody, and friends for a lifetime who will make memories with you that you'll hold dear forever. You won't regret it! Disconnect from the world and listen to epic music while you watch the sunsets (or sunrises) with your new Groove Cruise Family!
A huge thank you to my Groove Cruise family and to Whet Travel for everything. The impact you've made on my life is one thing I'll be forever grateful for!
Check out some of my Groove Cruise Memories:
This slideshow requires JavaScript.
---
Watch the Groove Cruise Miami 2017 Aftermovie:
Sign up here to stay informed about Groove Cruise Miami 2018! Groove Cruise LA pre-sale is now open and can be booked here. Use code "EDMIDENTITY" for a discount!
---
Connect with The Groove Cruise and Groove Cruise Miami on Social Media: