Groove Cruise Miami is headed to beautiful Grand Turk (Turks and Caicos Islands) on the Carnival Victory next month on January 23rd – 27th. Included in this trip is 4 days of non-stop music from an outstanding range of artists. To celebrate this incredible journey packed with music, fun, and the Groove Cruise family, we will be highlighting six artists specifically picked from the lineup. Next up in our Countdown to Groove Cruise Miami 2017 artist series is… George Acosta! 
Want to see what Groove Cruise is about? Check out our Groove Cruise Miami Recap Video here!
---
George Acosta:
Passionate about his craft, Cuban-born George Acosta is no stranger to the music scene with over twenty years of experience as a producer and DJ. In the 80's, he started exploring a career in music in Miami, where Acosta resides now. His skills in being a DJ were recognized early on in the 90's by famous artists like Roger Sanchez and Erick Morillo. Accrediting this next career move to Josh Wink, he began taking an interest in the craft of music production as none other than Planet Soul. Planet Soul was signed under Strictly Rhythm with the famous hit, "Set You Free", but Acosta did not slow down. His next move was to start a DJ residency in South Beach, playing trance to many fans throughout. During his residency, he continued to produce masterpieces in the studio such as his track "Emotions" and compilations focused on trance such as 'The History of Trance'. After that, his career continued to soar!
Not only is Acosta a Groove Cruise veteran, he has also played at many events and renowned clubs worldwide such as Ultra Music Festival, Privilege, Space Miami, and more. There's no denying that he is a unique and diverse artist, showing off a variety of genres including trance, techno, house, and electro that he has produced in the studio, or played his live sets and radio show. His weekly radio show, "Lost World Radio", airs every Friday on the Techno channel on Digitally Imported. I am super excited to see George Acosta tear up Groove Cruise Miami again! Check out my favorite track of his, "Beautiful", below and make sure to hit up his set on the ship!
Listen to George Acosta feat. Fisher – "Beautiful":
Stream the latest episode of Lost World Radio on SoundCloud:
---
If you are unable to catch George Acosta on Groove Cruise Miami this year, or if you want to see him spin again, you can check him out at the second annual Groove Cruise Miami Recovery Party at Wynwood 5th Ave on Friday, January 27th where he joins a killer line-up alongside Lavelle Dupree, Keith Christopher, and Jenny Disko.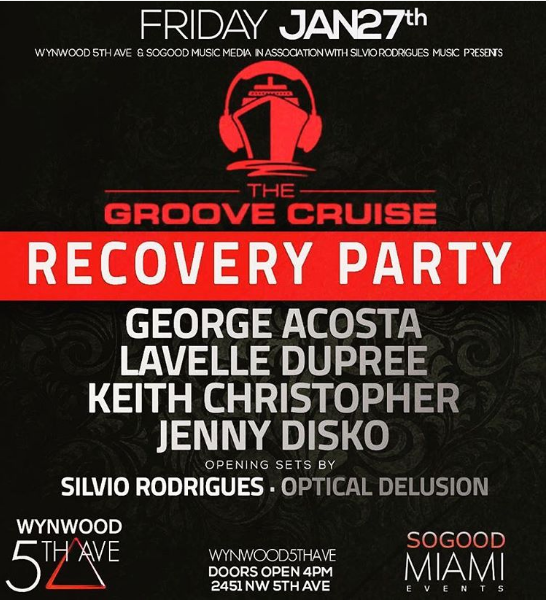 ---
Follow George Acosta on Social Media:
Website | Facebook | Twitter | SoundCloud
Follow Groove Cruise on Social Media:
Website | Facebook | Twitter | Instagram
When choosing a cabin, don't forget to use code 'EDMIDENTITY' for a $50 per person discount!
Featured Photo Credit: Max Soussan